Putting on the Ritz
by Corinna Lothar
London

e was young, handsome, intelligent, a lady killer before he became a killer of ladies. Henry VIII was not quite 18 years old when he ascended the throne of England in 1509, a talented and well-educated prince.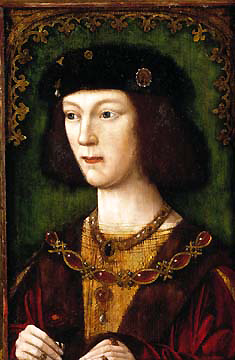 Young Henry.
Credit: English School, Portrait of Henry VIII, ca. 1509. Oil on panel set in its original
frame; 15 x 9-3/4 in. Berger Collection at the Denver
Art Museum.
Depicted in history primarily for his girth, his dedication to the institution of marriage, if not necessarily dedication to his wives, and for his bloodthirstiness, Henry had another, less well-known side. England is celebrating the 500th anniversary of his ascension to the throne with exhibitions, performances and festivals, all to make sure that that other side is known.
Henry was deeply religious, a voracious reader and a revolutionary monarch before his time, whose ideas changed the course of British history. His mother, Elizabeth of York, taught him to read, and the 2,000 books in his library are now in the British Library. He annotated his books with thoughts and opinions, both personal and political. He composed music and even wrote poetry. More changes occurred during his reign than at any time since the Norman Conquest in the 11th century.
Visitors can learn about Henry's prowess as a sportsman and warrior in a temporary exhibition, "Dressed to Kill." The king's personal arms and armor and the military equipment associated with him are on display in the Tower of London until January 17, 2010. Although not as finely crafted as Spanish armor of the same period, Henry had access to the best armorers in Britain and the exhibition highlights the king's power, money and taste.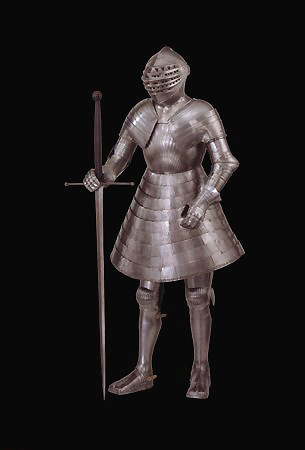 Tonlet Armor of Henry VIII, c.1520.
Photograph:
Gary Ombler.


Tudor life as it was under Henry can be experienced at Hampton Court Palace, the king's residence. The Palace hosts a series of events including Tudor cookery, a simulated royal wedding, and an exhibit explaining the characters and stories surrounding Henry: Catherine of Aragon, his wife for over 20 years; Cardinal Wolsey, chief minister and trusted ally; and the young Henry, a lusty and courageous prince.

Windsor Castle's special exhibition includes the king's hunting sword and a portrait of Henry Fitzroy, Henry's illegitimate son by Elizabeth Blount.
In the Jewel House of the Tower of London, visitors can see the crown jewels, used to this day in the coronation ceremony. The jewels were originally brought to the Tower in 1303, but several were stolen, others were secretly sold. After the execution of Charles I, Oliver Cromwell ordered the jewels sold or melted down for coin. It wasn't until the Restoration in 1660 that 32,000 pounds were set aside for new crown jewels, which Colonel Thomas Blood attempted unsuccessfully to steal in 1671.
The only pre-Commonwealth piece to survive is the golden ampulla and spoon, used in the coronation ceremony to anoint the monarch's head, palms and breast with holy oil. The "new" jewels on display at the Tower have been in the Jewel House since 1967. Among the many crowns is St. Edward's Crown of 1661, which weighs 5 pounds and is worn during the coronation ceremony for only 15 minutes. The display includes swords of state, banqueting plate, silver trumpets and the largest diamond in the world contained in the Royal Scepter.
Kensington Palace is less a palace than a private mansion, which it was when built in about 1605. It was purchased by William III and Mary II in 1689 and adapted for royal residence by Sir Christopher Wren. Until George III made Buckingham Palace his London home, Kensington was the center of royal life.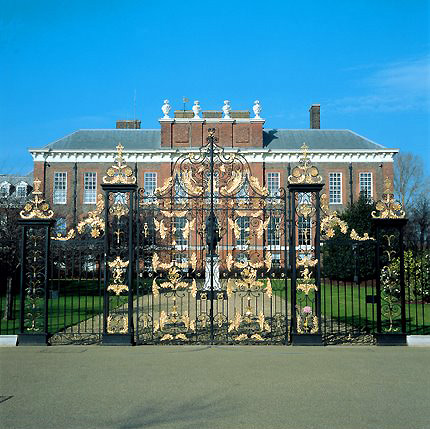 Kensington Palace
It was in Kensington Palace that the Victorian Age began when Princess Victoria was born there in 1819. She was still living in Kensington Palace when she was awakened early in the morning of June 20, 1837 with the news that she had become queen during the night. The State Apartments, although slightly shabby, and the Royal Ceremonial Dress Collection, which contains many of Princess Diana's ball gowns, are now open to the public.
Tea in the Orangery at Kensington Palace is a special treat. The Orangery is a separate neo-classical building. Tea is served on the terrace overlooking the palace and a beautiful green lawn with rose bushes growing along the side. It's a unique and delightful experience.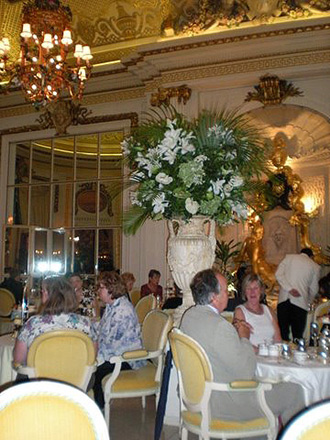 Tea in the Palm Court
Perhaps the most famous spot for tea in London is the Hotel Ritz, where tea is served at five daily sittings in the elegant Palm Court. The china is delicate, the choice of teas vast, the sandwiches and cakes traditionally small and delicious. Tea is accompanied by a string ensemble performing classical music. Be sure to reserve a table well in advance.
A visitor can't turn back the clock to partake of Tudor splendor, but a quasi-royal experience awaits anyone staying at the Ritz where old-fashioned style, service and elegance reign supreme. You can treat yourself to the "Ritz Experience" and feel every bit as royal as a king (or queen).
The Ritz London, conceived by hotelier Cesar Ritz, opened its doors on May 24, 1906. It features a French chateau style of architecture and Louis XVI inspired interiors with lots of decorative gold leaf moldings. The 113 rooms and 24 suites are all slightly different; all have spacious bathrooms featuring amenities by British perfumer Floris.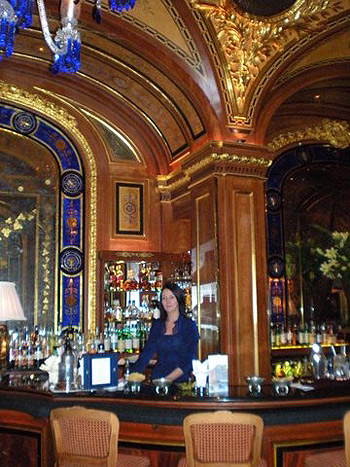 Ritz Casino bar
The Ritz has a first-class kitchen – good enough, in fact, for Queen Elizabeth to have celebrated her 80th birthday in a private dining room of the hotel in the neighboring William Kent House which was incorporated into the hotel in 2006. The Rivoli Bar, re-opened in 2001 is pure art deco. The Ritz Club Casino and bar are located in what was the hotel's ballroom. Guests of the hotel are given complimentary membership in the casino.
Even if you don't stay at the hotel, you can go for tea, lunch or dinner, or for the dinner dance on Friday and Saturday evenings. For 85 pounds (approximately $130) per person, you can dine in the beautiful turn of the century dining room and dance to your heart's content. But remember, no jeans or athletic shoes are allowed in the public rooms of the hotel.
When you're in London, "And you don't know where to go to/ Why don't you go where fashion sits/ Puttin' on the Ritz."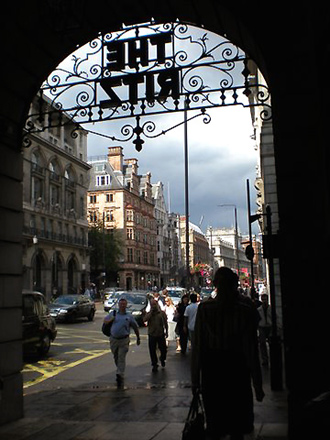 View of the Ritz
When You Go:
Mayfair is currently the "in" neighborhood for dining, which includes traditional restaurants for serious dining, restaurants owned by famous chefs, and trendy restaurants where people go to see and be seen. Here are some traditional and some new popular spots:
Wilton's (55 Jermyn St.) has been a London fixture since 1742. The style today is more Edwardian than eighteenth century, but the restaurant is replete with the charm of an era gone by. The walls are covered with paintings in all styles, lending a bit of color and amusement to the classic décor of paneled walls, elegant table settings and beautifully prepared and presented traditional dishes such as house smoked Scottish salmon, dressed crab, a carving trolley with the roast of the day, seasonal vegetables and divine Dover sole.
St. Alban (4-12 Lower Regent Street) is the opposite. It's a relatively new restaurant featuring contemporary cooking based on Mediterranean influences. Breads are delicious and baked in-house. Dishes vary from a delightful salad of different varieties of tomatoes to slow roasted pig belly. Pizzas and pastas are on the menu too as are 24 wines by the glass.
Wild Honey (12 St. Georges St.) is a delightful small restaurant in Mayfair where the informal atmosphere belies the quality of the kitchen. A cold carrot soup with grapefruit segments and hazelnuts was splendid, as was a smoked eel salad. It's noisy, not the least fussy, with very good food and a prix-fixe lunch of 19 pounds (approximately $30).
Murano (20-22 Queen Street), owned by super chef Gordon Ramsay, has been receiving rave reviews. It's more traditional than Wild Honey, but the Italian influenced dishes prepared by Chef Angela Hartnett are very good. The restaurant offers a lunch special of a three-course prix-fixe for 25 pounds (approximately $40).
Wolseley's (160 Piccadilly) is a trendy café-restaurant, where guests go to see and be seen. It's a European-style brasserie, noisy, busy, attractively decorated, frequented by actors and artists. Waiters and waitresses scurry about with good cheer. Breakfast is the star attraction with lunch not far behind. A puff pastry tart of cheese covered with tiny roasted tomatoes was delicate and fragrant, and finely chopped steak tartare was adorned with a pretty quail's egg. Steak frites is on the regular menu. Good wine selections and excellent coffee too are part of the attraction. The building was constructed in 1921 as a showroom for the Wolseley automobile. The car didn't sell well so in 1927, Barclay's Bank took over the building. It became a restaurant in 2003. It's great fun along with good food.
For a special treat, take lunch at the elegant Ritz (150 Piccadilly) and enjoy the superb cuisine of Executive Chef John Williams and the best service in town. On a nice day, you can lunch on the terrace overlooking Green Park.