Vancouver, British Columbia
Then and Now

y love affair with Vancouver began at age ten. Even though it was a mere three-hour car drive from my hometown of Seattle, it seemed a distant land of exotic teas, English toffee and towering totem poles. With spectacular views of snow-capped mountains and pristine bodies of water at seemingly every turn, it was a fascinating blend of beauty and multi-cultural sophistication that even a young adolescent could recognize. At eighteen - when the drinking age in Washington was twenty-one - the pilgrimages continued, with my pretending to be a big shot by frequenting the pubs and drinking rooms in Gastown, followed by sobering early morning meals of tantalizing Cantonese food in Chinatown. Twelve years later, it was the destination of choice for my honeymoon, where each day featured a trek into Stanley Park for picnics, hikes or just lazying around on one of the many driftwood-strewn beaches.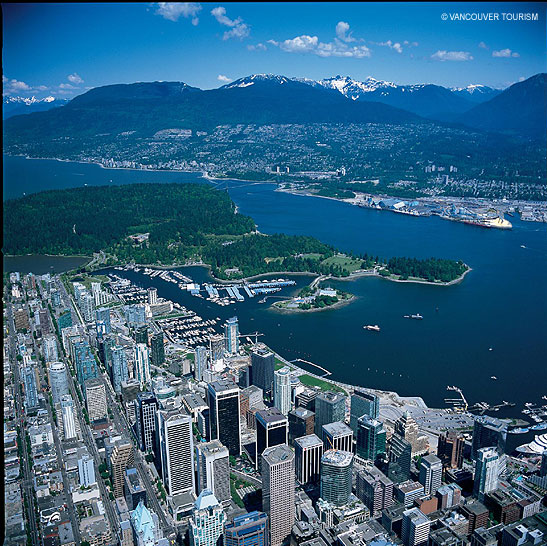 As the years marched on, I would return to Vancouver often, and the city never failed to engage me. Yes, Vancouver has changed; Robson street, once coined 'Robsonstrasse' - where little European bakeries and delis lined the street - has evolved into the city's hippest boutique street, and now coffee is the preferred beverage, with more than 75 Starbucks in a city proper of 611,869, but it will always be my special place just on the other side of the border. The world has discovered it too; Vancouver was voted the "Best City in the Americas" for 2004, 2005 and 2006 by Condé Nast Traveler magazine. It all makes perfect sense to me, for this is a city that really does - and always will - live up to its accolades.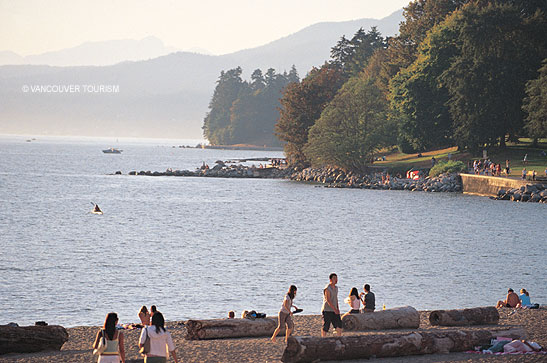 Stanley Park
Quite simply, Stanley Park is the greatest urban park in North America. Located in the heart of the city, it is a breathtaking evergreen peninsula that jets out into the bay. Established in 1889 as the city's first park, it consists of 1000 acres of woodlands, hiking and biking trails, lakes, a lagoon, beaches and an array of wildlife. Other attractions include the Vancouver Aquarium, public gardens, children's farmyard, tennis courts, golf course, a heated ocean-side swimming pool, refreshment stands and four restaurants. I once walked the paved 5.5-mile perimeter in two-hours, but found doing it by bicycle was even more fun.
Gastown
Gastown is brimming with tourists, and some locals will suggest you shouldn't even bother with it, but this is the historic center of Vancouver and a visit is essential. : Named after "Gassy Jack," who opened a saloon in 1867 for forestry workers on the shore of Burrard Inlet, Gastown still retains much of its old flavor. Established in 1971 as a historic district, it is today a mix of renovated brick and stone buildings, vintage street lamps, tourist shops, galleries, restaurants and pubs.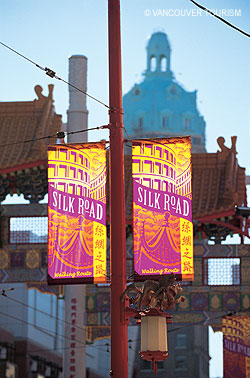 Chinatown
Vancouver's Chinatown is the second largest in North America, but most importantly it is here to serve the city's largest ethnic group - 30% of Vancouver households speak Cantonese or Mandarin as a first language - and not its tourists. Located on the edge of downtown, it has been the center of Chinese culture in Vancouver for more than a century, and part of its very charm is its sense of authenticity and lack of souvenir shops and tourist kitsch.
Robson Street
Lined with boutiques, fashionable restaurants and hip coffee bars, Robson Street is Vancouver's most famous shopping street. Nestled between the downtown business center and Stanley Park, it is also the city's most walked street and ideal for watching people from all over the globe. This is the street where there are two Starbucks kitty-corner from one another.

Granville Island
Redeveloped in the late 1970s, Granville Island is known for its public markets, craft stores and commitment to the arts. The city offers lower rent to designers and artisans and does not accept large "chain" stores.
Aboringal art
Yaletown
Formerly a no nonsense warehouse area on the edge of downtown, Yaletown has been given a complete makeover, and now houses restaurants (many with outdoor patios), coffee bars, hip boutiques and apartments. A must-eat is Brix Restaurant, one of the first destinations restaurants in Yaletown. The establishment features modern Canadian cuisine with local ingredients, plus wine bar, offering over 50 vintages by the glass. Its refurbishing is a mix of both eclectic and chic, and for me the symbol of district's renaissance.

Three Ethnic Neighborhoods
While much smaller than Chinatown, these three enclaves south of Grandville Bridge make an excellent mini excursion out of the downtown core.
Kitsilano
Along West Broadway, the Kitsilano neighborhood shares the dual identity of being both a hip, counter-culture district - Greenpeace was founded here back when it was Canada's answer to Haight-Ashbury - and the site of its informal 'Greektown'. Among its numerous shops you'll find plenty of places to get your fill of Greek delicacies.
Little Italy
A short drive down 1st Ave leads to Commercial Drive, site of Little Italy. Home to regional Italian restaurants, robust cafes, delis, shops and even a ravioli factory, it makes a fun street to stroll on.
Little India
Several miles to the south, along Main Street and 49th Avenue, rests a two-block stretch of businesses that make up Little India. It's a good place to shop for Indian music, searching the Punjabi Market for the best deal on masala sauce, or having an Indian buffet lunch.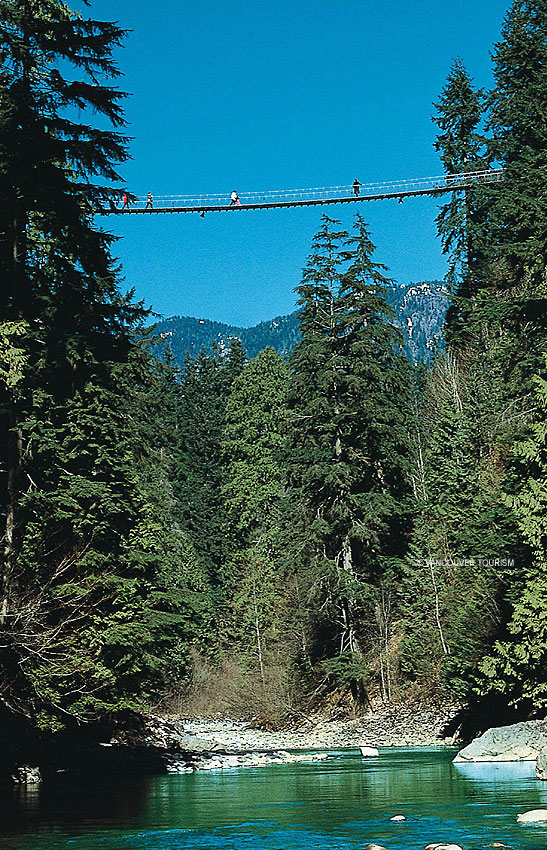 Just Outside of Town
Capilano Suspension Bridge
Considered Vancouver's oldest tourist attraction, the 450 feet-long Capilano Suspension Bridge is located in a lush twenty-seven acre West Coast Rainforest Park, 230 feet above the Capilano River. Originally made of hemp rope and cedar planks, today's bridge is constructed of reinforced steel, safely secured in 13 tons of concrete on either side of the canyon. A walk across this swaying footbridge is more thrilling than a trip to an amusement park, and certainly more beautiful. A new addition to the park is Treetops Adventure, which features seven separate suspension bridges, unobtrusively connected among the evergreens. Seeing the park from 100 feet above the ground gives participants quite literally a tree-like perspective.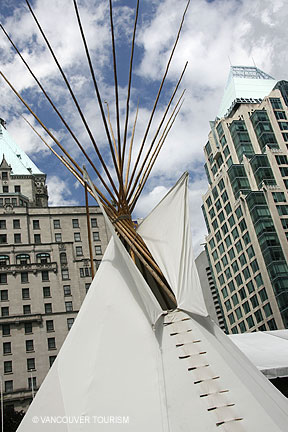 For further information about travel to Vancouver, contact TourismVancouver.com