ur memories of Madrid -- this glorious city, the capital of Spain since 1562 -- include sunshine that's almost blinding, architecture that's magnificent with beautiful buildings soaring above you, delightful people who want to make you welcome except they don't speak English, and restaurant menus that are virtually undecipherable and dishes that are not easily recognized. It all adds a touch of mystery to a Spanish vacation. Even cachet. It certainly adds charm.
Madrid is a walking city but you really must look around as you walk. It's like watching a flamenco dancer where you look up to observe the sinuous beauty of the hands and down to admire the gravity-defying movements of the feet. So in this delightful city you gaze up to absorb the incredibly romantic architecture and down to enjoy the Spanish people walking toward you: lithe, attractive, busy persons striding out with such apparent purpose.

They seem to walk everywhere in this city. Maybe that's why you sometimes draw a blank when you ask for driving directions: "Sorry, I don't drive," is a frequent reply.
But they sure walk. And why not? Although Madrid is big (half the size of Los Angeles), it was built before the automobile; the city center has everything close by. Walking is a pleasure: not like Rome, a city bombarded with noisy, smelly motorbikes that seldom stop at pedestrian crossings. Madrid doesn't have so many tourists thus there's room for the natives. The treasures of Madrid are perhaps less known to American visitors; Rome on the other hand can be a déjà vu even for first time tourists.
So how should a newcomer manage Madrid?
First, as always, by getting city maps and tourist material. The very helpful Tourist Office of Spain has four locations in USA www.okspain.org/quicklinks/offices.asp and an abundance of free walking maps and tourist-friendly walking suggestions. The Madrid metro system is equally friendly and an unlimited 3-day Tourist Travel Pass, for example, can be bought online for about 10 Euros. Public transportation is well organized, easily understood and the trains are very clean. You'll want to become familiar with the metro system. There are more than 35 museums in Madrid. Tour operators like Viator sell tours ranging from simple Madrid Vision two day hop on hop off bus tours for less than $35 per person to more sophisticated trips into the country.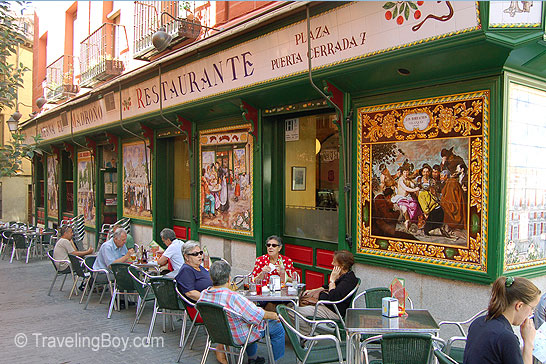 | | |
| --- | --- |
| | Find out the opening hours for the major museums and buy the museum pass online. The three major museums are a mere 15 minute-walk apart. The Museo del Prado, based on the former Spanish Royal Collection, is world-famous; it's the only one of the three that allows photography (non-flash). Its exhibit of Spanish artists, not unexpectedly, the greatest in the world. Amongst its more than 1000 paintings are arguably the finest works of Velázquez, Goya, Murillo and El Greco and much more of Europe's classic art. |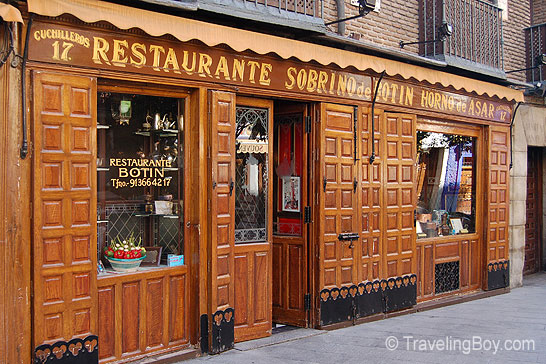 Madrid's oldest restaurant
There are more than museums to endear you to Madrid. Architectural gems all over the city, for example. You pass a magnificent structure, a palace maybe? You ask your guide; she replies, No, it's an apartment building! You glance at the beautifully varnished and paneled Restaurant Boutin on the Calle de Cuchilleros. Looks nice, you murmur. Says our guide, Actually it's the earliest restaurant in the world according to the Guinness Book of Records.

Madrid has churches and cathedrals to visit, statues of generals and former kings on horseback to gaze at, and a magnificent monument to Don Quixote, Sancho Panchez and Cervantes himself at the Plaza de Espana. (Sculptor Lorenzo Coullaut Valera began it in 1925 and his son finished the project in 1957.) There are artists at their easels in Plaza Mayor as well. This square, Madrid's veritable drawing room, has many cobbled and ancient streets fanning out from it.
Don't feel like walking but still want to have fun? It's only a hundred yards on the Calle Mayor to Number 78 where a Segway agent will train you and pop you on one of those contraptions for a peaceful trip around the quieter streets of Spain's capital www.urbanmovil.com . If you prefer walking there's the vast Retiro Park to wander around, perfect with its cool shade on a hot day. Wear sensible shoes and take a whole day to explore this restful green in leisurely fashion and watch the people.
And the best location for dinner and a flamenco show? The Corral de la Moreria at #17 on Moreria. Its show has been enjoyed by a formidable list of European crowned heads and Hollywood celebrities: www.corraldelamoreria.com a perfect memory from Magical Madrid.