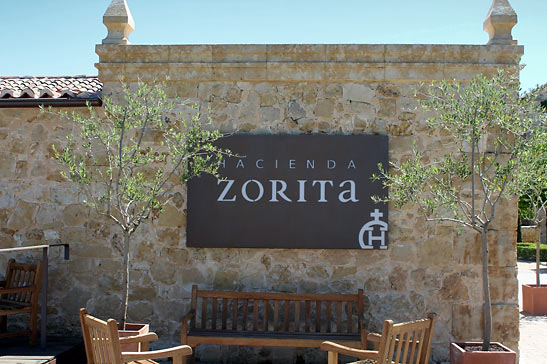 One of the Largest Organic Farms in Spain:
Hacienda Zorita
Story and photographs by Richard Frisbie

n a recent journey along the Ruta de Santa Teresa in Castilla y Leon, Spain, to celebrate St. Teresa's 500th birthday, I detoured for a bit to indulge another passion of mine: the Farm-to-Table movement. Located just a half hour or so outside of Salamanca is a company-run nearly 800 acre facility pioneering in natural and organic farming in Spain. It is Hacienda Zorita, and it is a cutting-edge facility affiliated with the finest restaurants and hotels of many European capitals.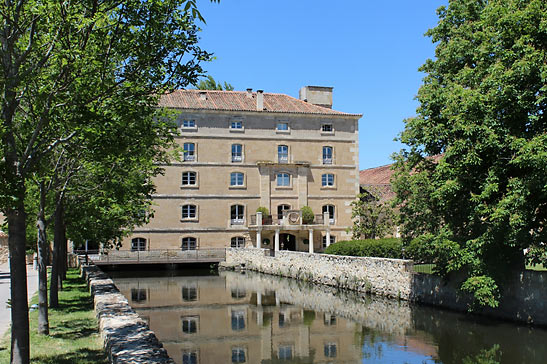 Hacienda Zorita is difficult to categorize. It is a 300 hectare (740+ acre) organic farm, luxury hotel, restaurant, vineyard and slow food headquarters in the Duero Valley of Spain that specializes in preserving heritage breeds while making award-winning olive oil, cheese, balsamic vinegar, Iberico hams and charcuterie, besides growing a full range of heirloom organic vegetables and fruits. They even host an heirloom seed bank! It is the total one-stop place for everything to do with the Farm-to-Table movement in the Castilla y Leon region of Spain.
As foodie and chair of Slow Food Duero Valley, Jaime Boville García de Vinuesa is fond of saying "No need to travel the world for the 'Eat. Pray. Love.' experience, just buy a one way ticket to the Duero Valley. Here the sky is the limit." Jaime, in his management position on the organic farm, is also committed to the preservation of endangered species, what we would call heritage breeds of farm animals.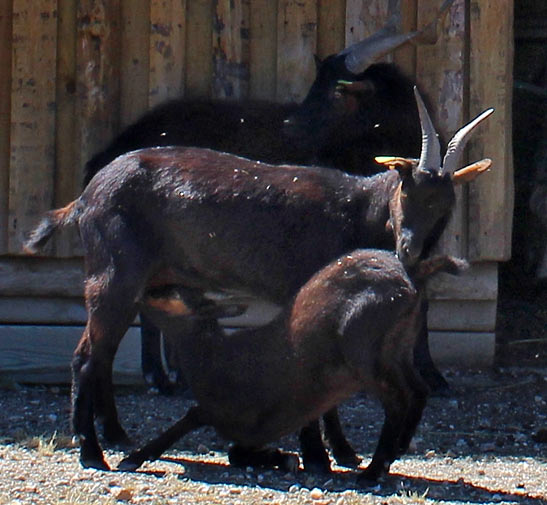 About them he said "we created The Slow Fund, in which 1% of the farm's gross revenue is invested annually. Thanks to this, we can offer shelter to different near extinct or simply rare animal species so they don't disappear… sometimes it feels a bit like being on Noah's ark here!"
The rare Churra breed of sheep, normally grown for its wool and/or meat, is used at Zorita to produce milk whose delicate flavor and fat content make their excellent, award-winning cheeses. The organic farm at Zorita's also nurtures the endangered Verata goat for its herb-crusted goat cheese, and is experimenting with imported Italian water buffaloes which are used to make mozzarella cheese. Even the European cousin to Spain's famous Iberico "black-footed" pigs, the wooly Mangalica pigs, can now call Zorita home. If it has anything to do with excellent food and farm products, Hacienda Zorita does it.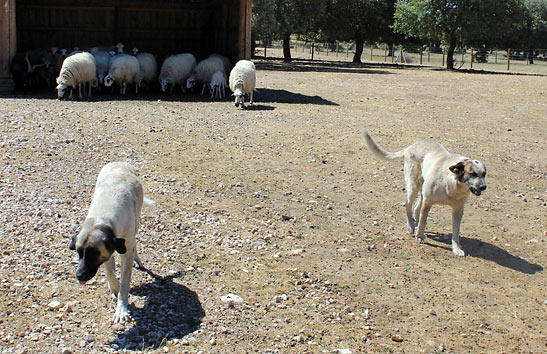 On a recent visit to Hacienda Zorita I met two huge sheep-sized hounds moving freely among the sheep and goats in their pasture. Javier Vizcay, from the public relations branch of the company's management team, laughed when I asked what the dogs produced, but then seriously explained that what parts of the farm that are not under cultivation and pasture remain 100s of acres of natural preserve. The dogs are specifically kept to protect the animals from wolves and other predators. "There were 30 documented wolf attacks in the area last year; 12 so far this year. The dogs tend to keep them away from our property."
Obviously I wasn't a wolf, so the huge beasts behaved like puppies, craving the attentions the goats and sheep don't give them.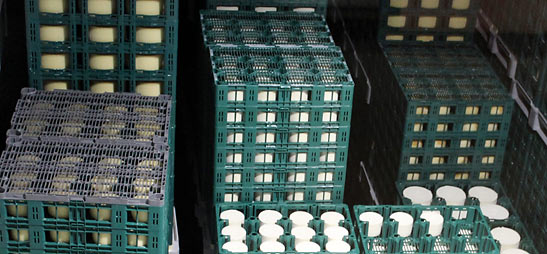 It was Javier who taught me how to taste Zorita's six month aged raw ewe's milk cheese in a manner similar to tasting wine. He broke it down into three categories: visual, olfactory and taste. It goes like this: "After tapping the wheel to check on compactness, be sure the slice of cheese is an even color. Pale yellow is ideal. Then examine the surface to be sure it has small even indentations. These are called the "eyes". Without them a cheese would be called "blind" and is not desirable. The aroma should be strong and clean, and the taste should be a balance of acid, spice and salt, with a creamy melt-in-your-mouth feel and a taste that lingers on your palate."
Since this award-winning cheese was named "Best Cheese of the World" in 2012, you know it passed the taste test with flying colors!
The wine and other product tastings were less formal. We sat down to a lunch of them at the Zorita Hotel and Restaurant on the other end of this huge property.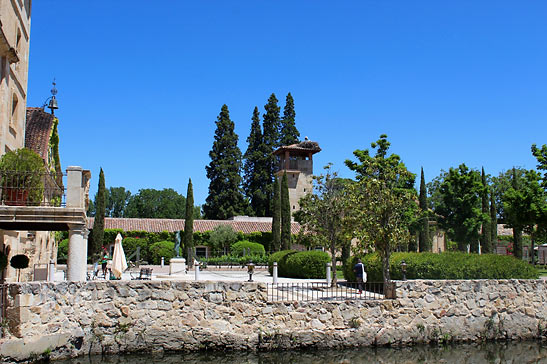 Four towering redwood trees grown from seeds Christopher Columbus brought back from the new world. They are the tallest in Europe.
Hacienda Zorita is a place where history was made. In the 14th century the Hacienda was being used by Dominican monks as a summer retreat. One of the monks was Queen Isabella's trusted adviser. She sent Christopher Columbus to stay with him at the monastery so he could evaluate the explorer's plan to develop a new spice route to India. Columbus stayed for more than 6 months, after which it was determined the plan was feasible, Columbus was trustworthy and the monarchy wanted to support him. The rest is history.
As a gift to the monks, Columbus brought back Sequoia seeds from one of his travels to the new world. Today Zorita is home to four of the oldest and tallest redwood trees in Europe. We strolled past them and a field of grape vines on our way into Zorita's Kitchen farm restaurant whose motto is "We're farmers – since 1366."
Hacienda Zorita is set at the end of a huge lake with a watermill-spa at water's edge channeling the spillway along the front of and then beneath the winery and restaurant. The setting is spectacular, with dramatic stone work and lush landscaping framing the ancient buildings. Inside, past a display of what they produce on the farm, we were seated at an 18 foot long, zinc-topped wine tasting table and served a meal that chef Rubén González described thusly:
"We do contemporary farm cooking. It recreates a lighter, healthier version of the traditional simple dishes of our ancestors. We serve simple, healthy country-chic farm produce in soups, salads, tostas (traditional open-faced toasted sandwiches on paysan bread), torta rustica, pasta & other Veneto specialties, homemade pastries… including many vegan and vegetarian options."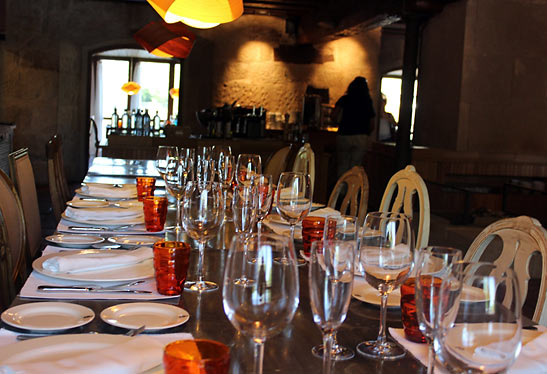 The meal started with what looked at first like "sliders" but were instead towers of roasted vegetables called "Parrillada," fresh, organic and roasted-to-perfection goodness, with their superb textures and flavors showcasing their noble origins. The wine was Vega-Reina Verdejo, crisp and refreshing, served for both this and the fish course. It is from Rueda, a small region within Castilla y León, and is Spain's alternative to Sauvignon Blanc.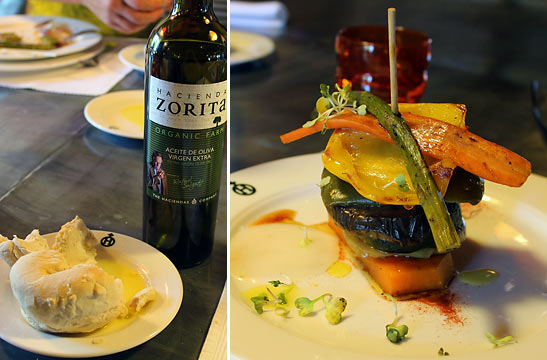 The entrée was a skin-on hake filet nicely crusted, then softened with their balsamic and oil sauce. (Zorita makes the only 10 year aged-in-barrels balsamic vinegar in Spain.) It was served on a bed of lightly sautéed white onions creating a simple and deliciously healthy entree. I wish you could smell the clean freshness wafting off the beautifully plated dish - fantastic!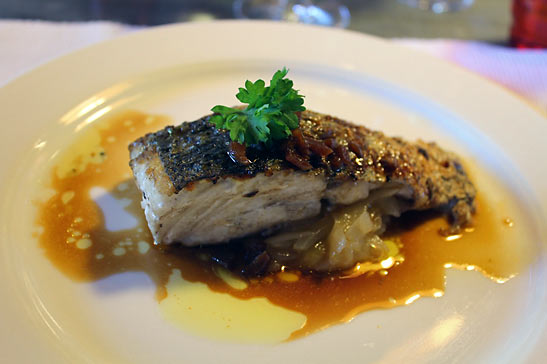 Dessert was served with their sparkling rose' wine – Monistrol – paired with a cheesecake ice cream in a strawberry sauce decorated with blueberries and "frisales" which are a very tasty yellow cherry-like fruit from a shrub, with its papery husk pulled up and together over it like a closed umbrella. The presentation was as pretty as the taste was sublime. It was the perfect end to a simple but elegant meal.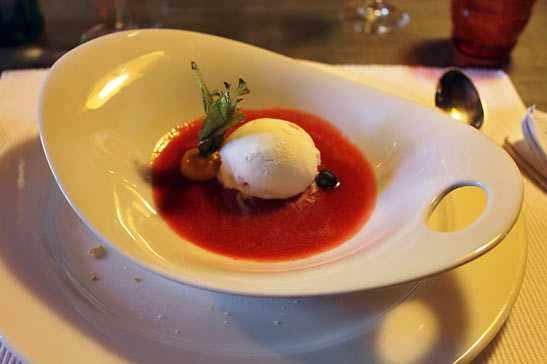 There are currently five Zorita's Kitchen farm restaurants, but more are planned worldwide. Many of the farm's products are in such limited supply that they are only available at the restaurants, but some are also available on site and online. Check out the fine quality products from Zorita here.
Rooms at Hotel Zorita are 227-289 Euros a night, breakfast included. With the glorious setting, the waterfront spa and the luxurious accommodations, Zorita makes an excellent wedding site, honeymoon or romantic getaway. It's a place to recharge during a pilgrimage or while following the Ruta de Santa Teresa. For more information see the Hacienda Zorita website and the Junta de Castilla y León tourism portal.
Related Articles:
Spain celebrates the 500th anniversary of Saint Teresa's birth
Traveling to Spain this Summer for Food and Fun!
Visiting historic La Alberca in the Castilla y Leon region of Spain