Nemacolin:
The Ultimate in Laid-Back Luxury
Story by Fyllis Hockman

was halfway through my Dreamcatcher massage when the masseuse started dancing around the table. Now, I'm somewhat of an experienced spa-goer, but this was new for me. As were so many other things at the Nemacolin Woodlands Resort in southwestern Pennsylvania. I also drove an off-road Jeep Rubicon over rocks, through streams, up hills, scaled a climbing wall and shot a rare white buffalo – with my camera.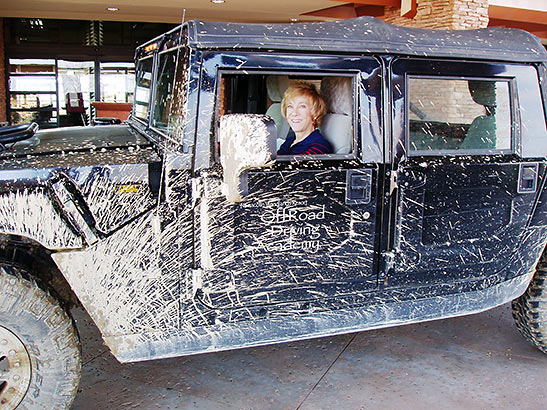 The ultimate in upscale but with a sense of humor, Nemacolin is a combination of sassy sophistication, world-class whimsy and pricey pranksterism.
Doubling as a top-of-the-line museum, the resort's art and sculpture worth a mere $45 million would be equally at home in a high-end gallery. Every corner you turn, each nook and cranny, lounge and library, cubby hall and crevice features another piece of art, flight of fancy or quirky creation to marvel at. You could walk the halls for days and see something different each time.
Picture these: booths in the old time ice cream parlor made from antique car seats; a replica of a bumper car stranded in the middle of a hallway, a six-foot high unicycle and rider, and a dress worn by Marilyn Monroe. Half the time, I couldn't decide whether to ooh, ahh or giggle.
Oh, and then there are the real live animals cavorting around the grounds. Lions and Tigers and Bears, Oh My – yup, literally. Also a herd of zebras, some llamas, and a couple of wolves, hyenas and cougars.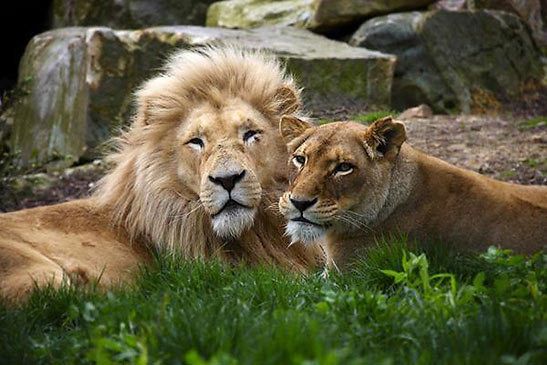 And did I mention they also have part of the Berlin Wall on display and a building dubbed the Auto Toy Store full of grown-up size vintage cars? Or the Fisherman, Gardener, Bathing Beauty and other sculptures by renowned artist J. Seward Johnson, so life-like I tried to engage several of them in conversation? Clearly, Dorothy, you're not in the Holiday Inn anymore.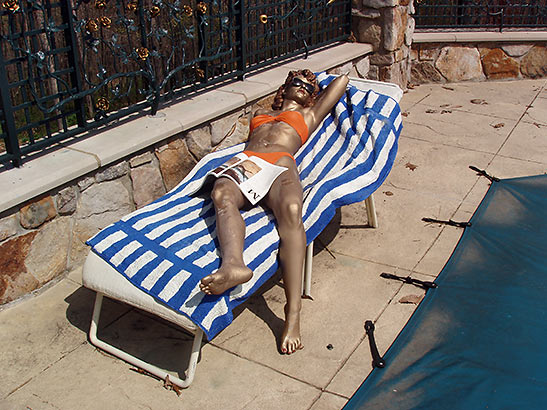 Now about that off-road driving. I watched with amazement as the Jeep approached a large expanse of gray rock looming ahead; then gazed in disbelief as I realized that we were in fact driving over it – casually mounting at a 60-degree-angle a sharp incline one would not normally think of as a driving option. Even more amazing? Five minutes later, I was the one in the driver's seat. Tilted at times at a 40-degree angle, I felt like I was falling off the end of the world, and a moment later it seemed I was driving straight up into the clouds. The instructor was not exaggerating when he said: "You may be going no more than five miles an hour but they'll be the most exciting five miles you'll ever drive."
But the excitement didn't end there. I surprisingly excelled at Paintball Target Practice in which you take aim at any of the components, large and small, of a movie-set sagebrush town. As I pointed out to my husband: "Well, I can drive a Jeep and shoot a gun. I may be sent to Afghanistan any day now…"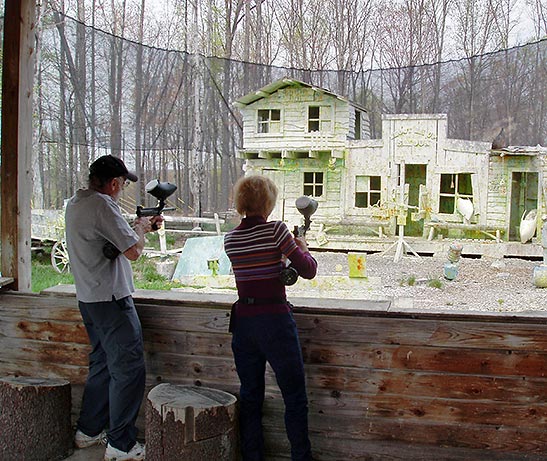 Like everywhere else at Nemacolin, luxury shrouded in a relaxed setting pertains to the accommodations as well. There are definitely affordable options but we're not going to concern ourselves with those. Nope – we're going to take a tour of the hip, sleek Frank Lloyd Wright-inspired 42-room boutique Falling Rock Hotel. All angles and curves, the impressive structure with its sumptuous views reflects the triangular theme of Wright's famous nearby Fallingwater home in everything from tissue boxes to patio furniture.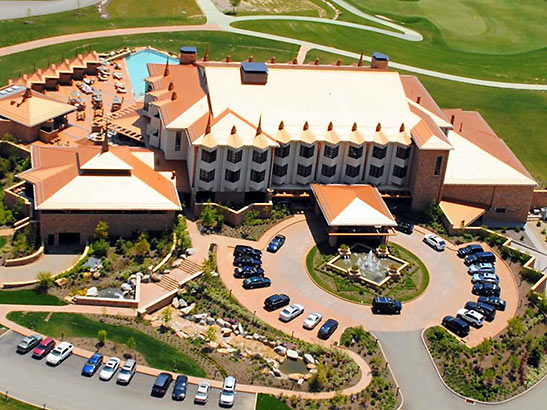 Of course, many resorts boast of upscale lodging and amenities, but how many come with your own 24-hour butler? A laid-back, low-key, whimsical butler, of course, but still…
After he unpacks your suitcase, ironing those items which might have garnered a wrinkle enroute, and stows them amidst layers of tissue paper, perhaps you'll be ready for your bath. Choose from a selection of scented oils, revel in the soft music and candlelight prepared to order, sip your champagne, nibble on your chocolate-covered strawberries, and relish in pampered luxury until dinner is served – whether you choose to dine in or dine out. Did I forget to point out the rose petals?
My husband and I scoffed, of course, at the garishness of such pretention – until we went hiking later that afternoon in Ohiopyle State Park. Returning with muddied boots and soiled shirts, I only half-jokingly lamented: "Now where's our butler when we need him?"
The butler's goal, according to Tommy DeWitt, Head Butler, is to "anticipate the client's needs even before he knows he has them." Preferences and peccadilloes of repeat customers are recorded and remembered, whether it means they like freshly cut lilacs in their room each day or absolutely must have a massage at three in the morning.
Euphemistically-sounding "sticky widgets" refer to those requests it may not be all that prudent to fulfill. I could not help but think that Louisiana Senator David Vitter might not be all that happy here…
But most people don't sit around being catered to; there's just too much to do. This is what I did in the two days I was there: Jeep driving, horseback riding, hiking, biking, archery, paintball, miniature golf, ping pong, climbing wall, zip line and an aborted attempt to tightrope walk on the ropes course. And if I included all the things I didn't do, this article would be twice as long.
You should probably know, though, that there's also a clay shooting academy, a baby animal nursery and in the winter, in addition to all the basic snow diversions, dog sledding. But, by now, that probably doesn't surprise you.
As Hope Adams from Marietta, Ohio, enthused: "What an incredible combination of incomparable luxury within a laid-back funky atmosphere! And the most accommodating staff I've ever experienced."
Oh, and that little dance I mentioned around the massage table? Apparently my masseuse, through a series of very specific steps, was attempting to facilitate "a life-affirming transference of energy." What a perfect metaphor for the overall .Nemacolin experience!
Lodging prices range from $209-$479 midweek for standard rooms per night, double occupancy; $399-$619 for suites, depending upon accommodations and time of year. But be sure to check with your travel agent before booking. Most activities, on the other hand, are a la carte. For more information, call 866/399-6957 or visit nemacolin.com.
Related Articles:
Mohonk Mountain House; Great Wolf Lodge: Land-and-Water Adventure for Kids of all Ages; Arizona Cowboy College; The Westin La Cantera; Family Magic in Orlando Outside Magic Kingdom
(Posted 3-1-2016)