New Orleans:
Where Anything Goes
While the Good Times Roll!
Story by Fyllis Hockman
Photographs by Victor Block

t's a city where anything goes, where everyone feels comfortable. A city of contradictions. It's a city that's part Left Bank, part island getaway. A town where tacky sits comfortably with tropical vegetation on the same barstool, Bacchus, blues and beignets share the same plate. A place of historical substance wrapped up in flights of fancy. Where sophisticated fashion walks down the street hand in hand with a take-out cup of beer.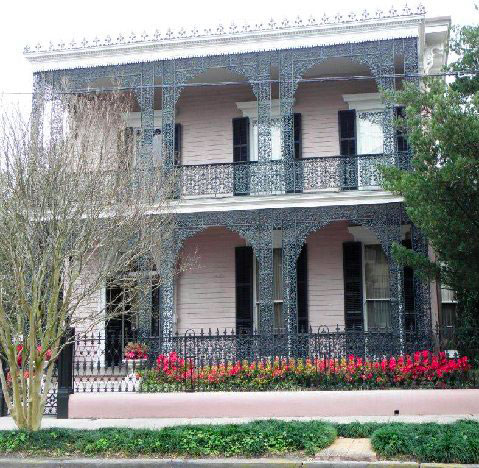 New Orleans is more a feeling, an atmosphere, an essence than a brick-and-mortar town, even if some of those buildings are still in decay limbo since Katrina. It's a city of comedy and tragedy, decadence and elegance, sacred and profane. New Orleans is not a politically correct city, there's no middle class and there's no middle ground; it's a place that celebrates rather than shuns its eccentrics, of which there are many. From Royal Street where there are art galleries and antique shops to Bourbon Street, home to strip joints and T-shirts. It's this heady mix of gumbo flavors that draws people to New Orleans.
Before I left for my trip, I asked a random sampling – three friends – what comes to mind when they think of the Big Easy: Party town, they said, Mardi Gras, of course. Cajun food, oyster shooters. Music, jazz. So I sought out three personalities who perpetuate this image of New Orleans to get their take on the town they lovingly call home.
I asked Sophie Lee, a jazz vocalist and part owner of the Three Muses Restaurant and jazz club, what folks should know about the New Orleans music scene. "When people think of New Orleans and jazz, they're just skimming the surface. Jazz goes beyond the traditional sounds most people associate with the name; there's also the brass band variety and blues and zydeco, Dixieland and bluegrass, gospel and improvisational. There's even bounce – a newer higher-energy form of hip-hop that not everyone knows about – and you can hear every variant somewhere in the city."
Most people coming to New Orleans are drawn to Bourbon Street but really that's more honky tonk than music immersion. According to Lee, Frenchmen Street is where the really good bands hang out. There are close to a dozen clubs within a two-block radius and you're as likely to be mingling with locals as you are tourists. After all, says Lee, "New Orleans is a music town even if no one is visiting."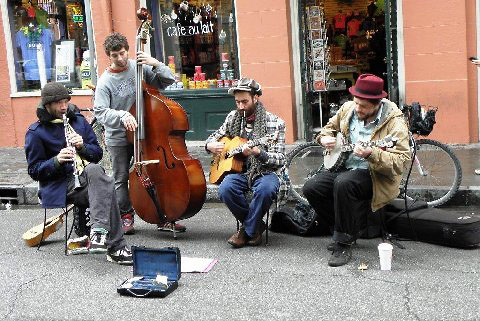 And, of course, it's also a food town. Michael Broadway, also known as Hollywood for reasons that became more and more obvious as the interview progressed, has been a Master Oyster Shucker and resident showman at Acme's Oyster Bar, a restaurant that itself opened over 102 years ago, for 34 years.
The oysters are the same wherever you go in the city; it's the shucker that makes the difference. As Hollywood explains it, "The difference between an oyster opener and a shucker is the whole presentation; shucking oysters as performance art." Claiming that he can talk about anything with anybody – that shucking and jivin' is how he rolls – he makes it a point to know what's going on in New Orleans and the world. "I know what's happening in town and out of town, where to go for the best music, the best desserts, the best anything in the city – and outside it."
And he's traveled far outside it as a representative of the Oyster Promotion Board, teaching a Safety Awareness Course he started 10 years ago to all the shuckers in the French Quarter as well as in other cities around the country. He even has his own DVD called "Hollywood's Shucking 101: The Making of a Master Shucker."
Lessons on life in New Orleans – and life in general – are part of what Hollywood serves up along with his oysters: "New Orleans is all about the food, the culture and the people. It's our job to make you want to come back. There's so much going on here and we want to make sure you enjoy it all. New Orleans may be the party capital of the world but I always suggest people get out of the French Quarter, ride the trolley, see the old houses, visit historical neighborhoods, sit by the river with a good book and a picnic lunch – there are a lot of ways to party in this town without all the craziness." Or with it.
Clearly, Hollywood loves what he does. By his own admission, "If I won the lottery today, I'd be here tomorrow."
But as much as New Orleans is known for its food and music, it's Mardi Gras that defines it – at least once a year. And what defines Mardi Gras are its masks. If Hollywood is one of the city's Master Shuckers, then Dalili can be called a Master Mask Maker – and he counts only three of them in the city worthy of that title. Most of the other masks, he claims, are either mass-produced or Chinese knock-offs.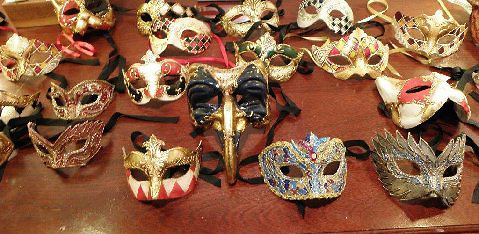 Stepping into his shop/studio, Mask Gallery, is like entering a masquerade marketplace. The vast variety of masks range from fanciful to substantive, a whole court full of jester masks to a veterinary shop of cats, cows and owls; some full of feathers or glitter, others representing nature, abstract designs or multiple two-faced versions of the comedy/tragedy theme. There are as many different kinds of masks as there are types of jazz.
And that's equally true of what they're made out of. Different artists have different specialties: some work with leather as a base, others a variety of fabrics, and still others use paper mache. Dalili relies on skins from alligators, pythons, sting rays and lizards for his decorations. His contemporaries use feathers, Swarovski crystals, bells, wires and macramé. Once again, a familiar refrain repeats itself: anything goes -- that's the beauty of New Orleans!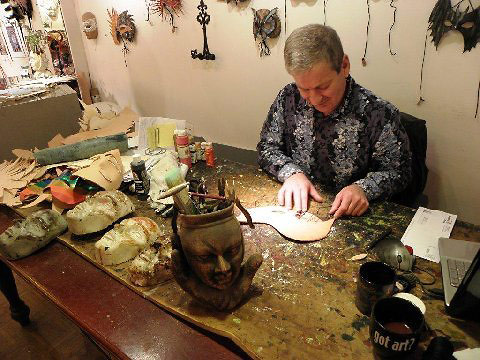 Queried as to his own favorite masks, Dalili replied, "The ones that are sold, or those that I haven't made yet. Some people bring in their own designs for me to construct and I tell them that it will look nothing like they imagine – but they are usually happy with the finished product nonetheless. If not, no problem. I make what I like and I know I can sell it, even if not to them."
And masks are very personal, according to Dalili. "They take on their own spirit once they're put on, and the wearer takes on the identity of the mask. Masks bring out the true personalities of the person donning them because people think they're invisible." Mardi Gras is full of invisible people.
Dalili's masks range from $75 to $500 depending upon size, intricacy of design and materials, and can take from 5 hours to 25 or more to create As many people buy masks as decoration for their homes as they do to hide behind. When Halloween comes around they may take them down from the wall to double as wearable art, and then put them back to visually entertain others the rest of the year.
Although wearing Halloween masks, eating oysters at a raw bar or going to a hometown music club are always fun, doing any or all of them in New Orleans takes on a whole new dimension of experience that just can't be duplicated elsewhere. New Orleans, no surprise, is a unique city and while you're there, don't forget – ANYTHING goes. For more information about visiting New Orleans, visit neworleanscvb.com; about Sophie Lee, visit sophieleemusic.com; about Michael Broadway, visit acmeoyster.com; about Dalili, neworleansmask.com.
Related Articles:
New Orleans, Louisiana; Cajun Gumbo; Lexington, Kentucky; Texas Wine Country; Oyster Festival; Amelia Island, Florida
(Posted 1-22-2013)