Finding Family Magic in Orlando Outside Magic Kingdom
Story by Fyllis Hockman
Photographs by Ariane Nicholson and Laura Hockman

watched as my daughter Ari headed to the spa for a well-deserved massage. My son and his wife were engrossed in a heady game of tennis. Nine-year-old grand-daughter Becca was happily floating down the hotel's Lazy River while her 7-year-old sister was designing a tie dye t-shirt in the kid's activity center. Meanwhile, I (AKA Grandma) cuddled up with almost-three-year-old Josh watching his four-year-old sister slide down and go up and slide down and go up multiple slides in the waterpark.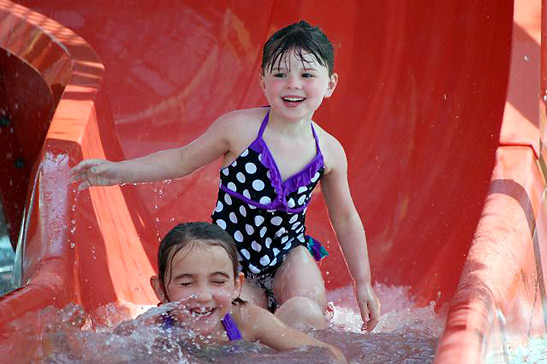 And thus started our intergenerational vacation for 10 in Orlando, Florida recently where the kids and adults were all kept affordably busy round the clock without ever meeting up with Mickey and the gang at their $100 per person, per day DisneyWorld locale.
The epicenter of all this activity was Reunion Resort, whose very name exemplifies its greatest attraction -- a great place for families to come together for quality time without breaking the bank.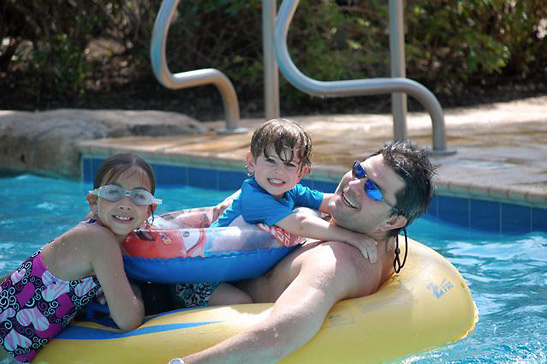 With our three families spread out over two three-bedroom villas there was plenty of room for nightly dinners and languid evenings of card and board games, bedtime stories and actual conversation. Okay -- so some of those nights the four younger grown-ups were obsessing over games on their SmartPhones but at least we were all together sharing the obsession -- sort of… But you better like your family: there's not a lot to do in the way of nightlife! Either that -- or bring a lot of books…
Compared to squishing two families of four into two hotel rooms, with another for the grandparents, without the ability to cook in at mealtimes, the savings is enormous. And the service memorable. One night, despite the well-stocked kitchen, we reported a missing a bottle opener which was delivered quickly by housekeeping. Okay -- that is to be expected. But when they called a half hour later to make sure we had received it, that's an impressive attention to detail. Attention to detail #327? Upon leaving a wake-up call for 8 a.m., I was asked if I'd like a 15-minute-later snooze-alarm call. I had never been asked that before.
No doubt the kids would have been perfectly happy to hang out at the waterpark all day (more on that later). "Isn't a vacation supposed to be relaxing," protested my daughter. But I told her this was not a vacation, it was a travel-writing expedition and I appointed her and my daughter-in-law as staff photographers and the kids as cub reporters as we headed out to a different -- and relatively affordable -- adventure every day.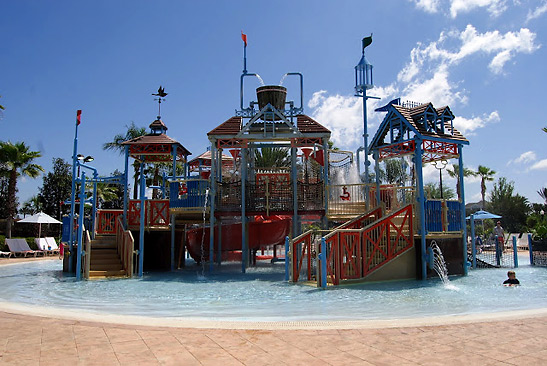 The entrance to WonderWorks -- a visual oddity of upside-down windows, trees on their heads, and a crumbling façade with cracked columns in seemingly mid-collapse, lets you know upfront you're in for a very bizarre experience. And we were not disappointed.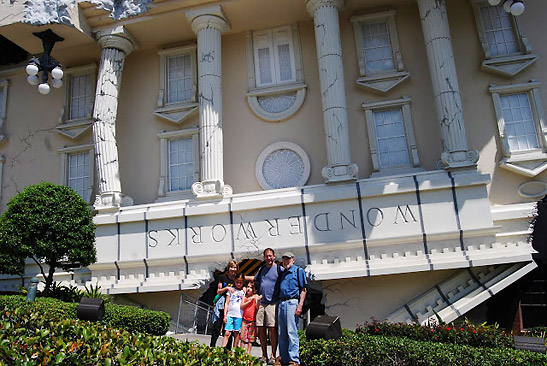 We quickly dispensed with the simulated hurricane, earthquake and gravity-defying demonstrations to get to the really fun stuff. Which for the little ones was the making of giant soap bubbles; the older kids, simulated space shuttles; the men, testing the speed of their fastball; the women, attempting a mind-control game where you win through the ability to relax. The women relaxed? With four children in tow? Well, maybe not so much.
The opportunity to lie on a bed of nails comes with the warning that WonderWorks is not responsible for clothing replacement if damage is done. And that's a mere fraction of the numerous rooms on various floors filled with interactive options I've not seen anywhere else. And neither had 7-year-old Ellie, who pronounced it "my favorite place ever."
Did I mention the terrifying 4-D roller-coaster movie? The one through which I mostly kept my eyes closed but which 4-year-old Talya wanted to see again -- and again! (Admission: Adults, $25; children 3-12, $20).
Old Town was a more conventional outing though its name, of course, is a misnomer. Still the several blocks of fun shops, restaurants and amusements sufficiently quasi-resemble an old town to make the designation appropriate. There are rides appropriate for the 3-4 year old crowd as well as more adrenaline rushes for older kids who thrive on roller coasters, zip lines and rope courses. And the shops are somewhat intriguing in their own rite: the General Store has almost two dozen different flavors of bath salts covering a wide range of flowers and fruits and plants. The Black Market Mineral Store has an equal number of free-standing raw minerals plus lots of jewelry, African art and wooden sculptures. The Kissimmee Popcorn Factory boasts 106 different flavors in its repertoire. How about root beer, jalapeno, nacho, coconut, amaretto and salsa verde popcorn -- and those were the more recognizable flavors.
But it was the outdoor ropes course which extended more than 40 feet high with multiple challenging configurations of interlocking planks, wires, steps, and bridges, one more difficult to traverse than the other that really commanded attention. I couldn't even watch Ellie as she progressed to the highest level, leaving many a grown man in her wake. From my perspective, she was walking a tight rope spanning 20 feet across, wind blowing, rope swaying, Ellie suspended in mid-air just below the cloud line. Again I had to close my eyes, but she appeared unfazed. I didn't ask her if she wanted to revise her WonderWorks proclamation. Becca meanwhile was flying through the air several times running on the zip line. (Admission free; $25 per person, unlimited rides).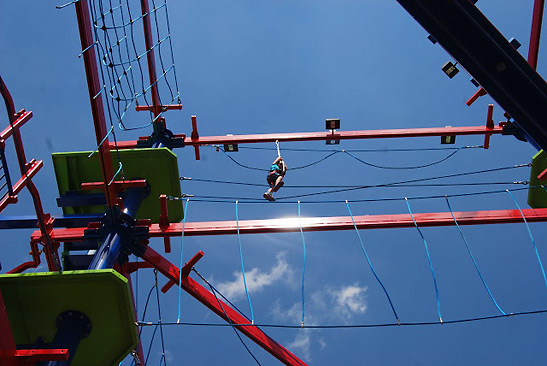 And then on to Legoland. For every child, no matter the age, who has ever played with Legos -- and does any exist who hasn't? -- this is a throwback to childhood that can't help but elicit a smile on kids and adults alike. Every sign and giant sculpture and character is made of Legos. I checked out the park benches and they were…well, just benches. I actually started touching the trees just to make sure they were real.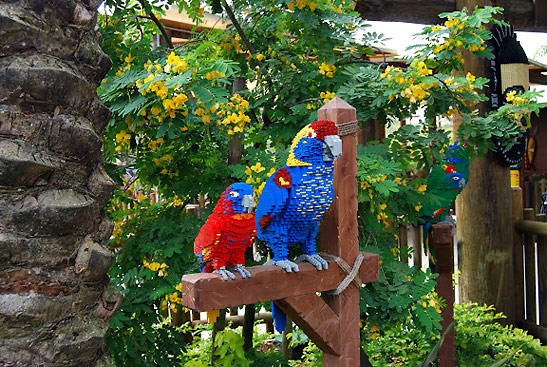 So many rides and theme areas to appeal to every age from 2 to 12. They do have a minimum height requirement of 36" so Josh's parents spent the night before trying to stretch him to make sure he qualified -- he did and that made all the difference. He has the courage of a kid three times his age and would have been crushed if he couldn't go on at least some of the rides with the big kids…
As the adults wait in line -- sometimes for 20 minutes or more -- there are play areas, filled with Legos, of course, to keep the kids entertained (read: from becoming whiny). Not a bad marketing tool, I thought!
At Miniland U.S.A., there's a whole Legoland nation duplicating all the hotels in Las Vegas with their own special attractions, the monuments of Washington, DC, the skyline of New York, the Daytona Speedway -- and more. With the Lego-buildings over 12 feet tall, it was like a mini-tour of the country. Rumor has it, it took over 100 master model builders over two years to build the cities comprised of over 30 million Lego bricks.
Upon arriving, make sure your kids each buy one little Lego creatures for $3. They will not only have a blast trading them with members of the staff throughout the park but they will have a wonderful -- and inexpensive -- memento to take home. Said Becca: "I started out with a fighter dude and ended up with a pretty pink rock star. Awesome!" (Admission -- online: Adults: $68; children 3-12: $60 -- the most expensive of our three outings but still considerably less than DisneyWorld).
Meanwhile, back at the Reunion Waterpark, with its multiple pools, and a section of ascending inter-connected rope tunnels leading to two winding slides to keep kids of all ages entertained. And if the big bucket on top fills to the point of overflowing, dumping water everywhere -- well then, all the better. There are also daily activities such as balloon toss, parachute games and arts and crafts, some free, some costing a minimal fee.
And of course, there are also adult-oriented activities. Reunion boasts it is the only place in world where there are three signature golf courses designed by Jack Nicklaus, Arnold Palmer and Tom Watson with an Annika Sorenstam Academy at which she teaches. Plus the afore-mentioned tennis courts. And after my daughter, daughter-in-law and I emerged from our spa massages, we were offered not the usual juice or tea but champagne. Attention to detail #328.
As our multi-day adventure neared its end, I turned to my cub reporters for comment. "I have friends who went to DisneyWorld but I can't imagine it could be more fun than Legoland, Old Town and Wonderworks," enthused Becca, touting our less costly entertainment options. Grandma breathed a big sigh of relief!
And as Talya proclaimed at the end of each day we were there: "That was the best day ever." Sort of makes for the best trip ever for the parents and grandparents, as well.
For more information about Reunion Resort, visit reunionresort.com. Three-bedroom villa rates start at $299, depending upon season and accommodations, but be sure to ask for special promotions which often are available.
Related Articles:
Amelia Island; Key West; Theme Park Survival Guide; Tips for Taking the Kids
(Posted 6-5-2012)