Cayucos:
A California Beach Town Lost in Time
Story & photographs by Greg Aragon

California's Central Coast is littered with lost beaches, craggy rock formations, forgotten coves and rolling hills. Hidden amongst these natural wonders is the small town of Cayucos, where time has slowed and a classic 1960s beach village vibe permeates the air like fog through an historic pier.
A friend and I discovered Cayucos last week when we booked a stay at the Shoreline Inn, a charming, family-owned motel that sits on the sand, mere steps from the beach. Here we checked into a ocean-front room, with incredible views of the town's historic pier to the north and the giant, iconic Morro Bay rock about four nautical miles to the south.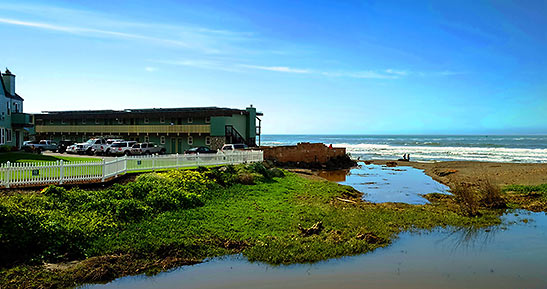 The Shoreline Inn in Cayucos sits on beach, steps from the sand
After unpacking we opened the glass door to our patio and found a sitting area overlooking a large green lawn and an uncrowded beach about 30 feet away. This was an invite we couldn't resist, so we quickly took off our shoes and hit the sand. The first thing we noticed – besides the obvious natural beauty surrounding us – was an abundance of playful dogs and their owners, along with treasure seekers scanning the beach for sea glass.
Because of unique geography, many beaches along California's Central Coast are rewarded with sea glass. These colorful gems come from fragments of glass bottles that make their way into the ocean, where they are tumbled through sand and waves for years until turned into smooth pieces of ocean-made jewelry and showcased on the beach by Mother Nature. Cayucos sea glass is so notable that the city hosts an annual festival each March honoring it with hand-made jewelry, music, food and more.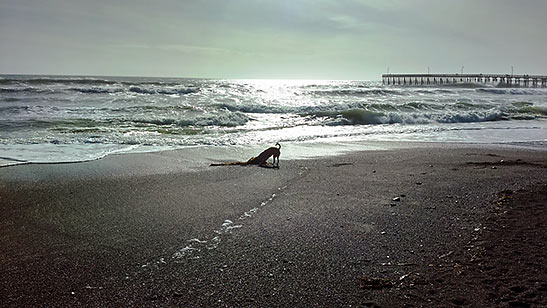 Cayucos Beach is a favorite spot for sea glass hunters and dog lovers
After hunting for sea glass, we walked along the sand toward the historic Cayucos Pier, which was originally built in 1872 and was restored last year. Along the way, we were lured by the aroma of fresh smoked fish to Ruddell's Smokehouse. Located in a tiny shack, Ruddell's has been serving locals and out-of-towners since 1980. For our lunch, we devoured a couple smoked albacore and shrimp tacos on flour tortillas, with a subtle gourmet sauce, tomatoes, and a mix of red leaf lettuce, apples, celery, carrots, and green onion. The food was so good, we bought a package of smoked salmon for the road.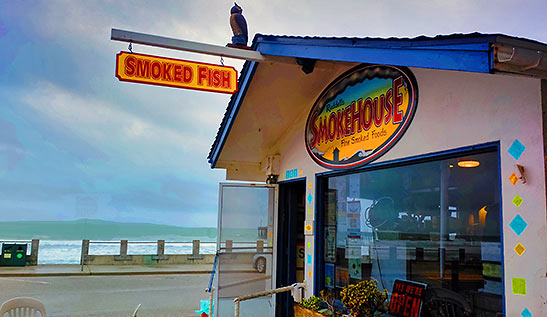 Ruddell's is a great spot for fresh smoked fish
After lunch we continued our walk and followed Ocean Ave, the town's main street, to the end of town, until the road winded between a black, rocky coastline and lush green hills dotted with goats, cattle and yellow and orange wildflowers. It was here we found Estero Bluffs State Park and hiked through a majestic preserve, dedicated to protecting the diverse local area of the Pacific Coast, with its wetlands, low bluffs and coastal terraces punctuated by a number of perennial and intermittent streams.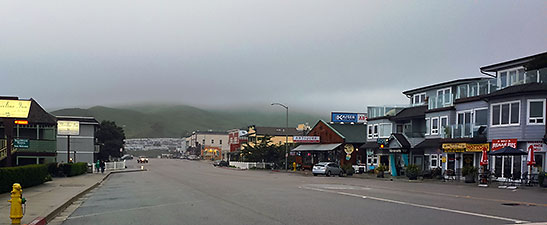 Cayucos is a classic, California beach town
For dinner we found Duckies Chowder House, located next to the pier and the town's signature dolphin statue. Our meal included a delicious bowl of clam chowder and a tasty plate of fried fish, shrimp, oysters, calamari and clam strips with French fries and a cold beer.
Back at Shoreline Inn, we sat on our patio and watched the sun set behind the pier, as playful pooches chased seagulls into the surf. In the morning, we enjoyed the inn's complimentary continental breakfast, with cereals, toast, eggs, fresh pastries, juice, coffee, and that gorgeous, ever-present view of the ocean and pier.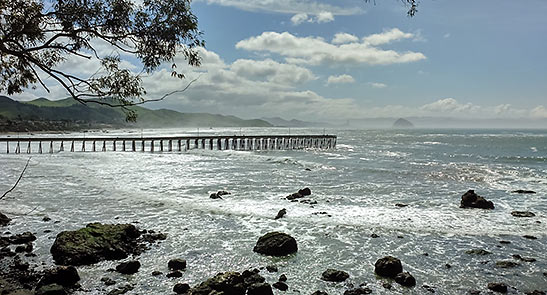 Cayucos Pier is a beautiful backdrop to town
After breakfast we strolled through town to the Cayucos Visitor's Center and History Museum, where we met Laila Kollmann, owner of the Shoreline Inn and one of the town's friendliest and most knowledgeable ambassadors. While at the museum, Kollmann walked us through some of the current exhibits and told us about the town's rich history.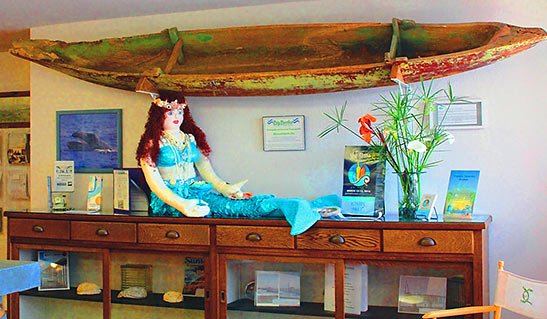 The town gets its name from the Chumash plank canoe, called "tomolor cayuco"
Originally inhabited by the Chumash Indians, the town gets its name from the Chumash plank canoe, called tomolor cayuco. Cayucos were small fishing boats similar to those used by the Aleuts during sea otter hunts along. The town of Cayucos was founded by Captain James Cass, who built the town's original pier in 1872, along with its first store and warehouse, which provided commerce throughout the coastal communities. A current exhibit at the museum is dedicated to Cass.
Cayucos is located six miles north of Morro Bay on Highway 1. For more information on the town, visit: www.highway1discoveryroute.com; for more information on the Shoreline Inn, visit: www.cayucosshorelineinn.com.
Related Articles:
Cambria and California's Central Coast in the Fall; Santa Barbara Scrumptious; Escape to Morro Bay; California's Central Coast: A Tale of Three Cities; Oyster Festival, Morro Bay; Classic California on the Central Coast