American Craftsmanship on Display At Fender Factory in Corona, CA
Story and photographs by Greg Aragon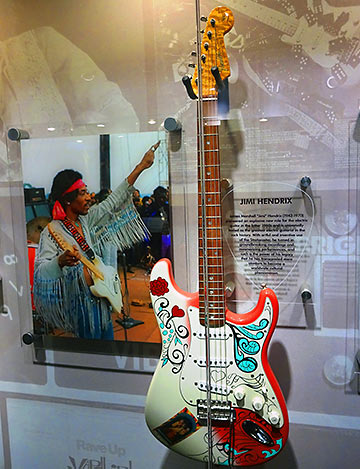 The Fender Visitor Center showcases rare guitars and offers a fascinating factory tour

or those who think that great things aren't still being made in the USA, I say check out the Fender Guitar Factory Tour and Visitor Center in Corona, California. A must-see for any guitarist, bassist or music-lover, this place gives guests a chance to go behind the scenes and see how legendary Fender guitars are made from a start to finish.
The complex also boasts a world-class collection of rare instruments on display, as well as hundreds of new ones for purchase in the 8,600-sq-ft Visitor Center.
My recent getaway to the Fender factory and museum began when a friend and I booked an 11:30 am tour and drove about 50 miles southeast from Los Angeles to Corona. At the Visitor Center, we checked-in, put on a headset and safety goggles and followed our guide outside to the Fender Factory across the parking lot.
The huge factory, which produces more than 300 Fender guitars and basses per-day, is arranged in sections, where various experts work on the instrument's metal, wood, painting and electronic components, before testing begins and the musical masterpieces are ready to shipped around the world to their new owners.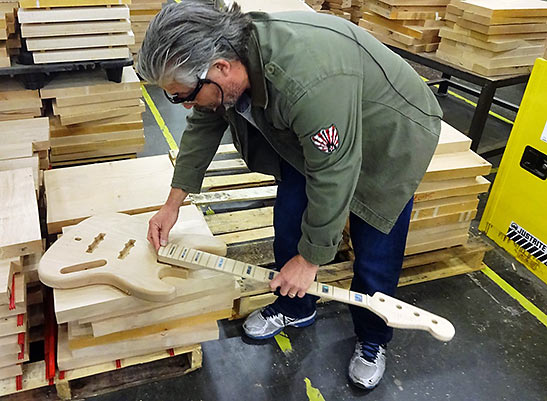 The factory tour shows visitors how Fender guitars are made from start to finish
Our tour began in the metal shop, where actual, real people use large lathes to shape and cut metal pieces and bars to go on the guitars. We then strolled over to the wood working section, where giant computerized machines precisely cut giant chunks of ash or alder wood into beautiful curved guitar bodies. Near here, machines also cut strong rosewood and maple into those gorgeous guitar necks that Fender is so famous for.
After the wood is cut, it moves to the sanding area, where expert craftsmen sand the bodies and necks to perfection. Our guide told us that the sanders must train more than a year before they master the delicate and precise process.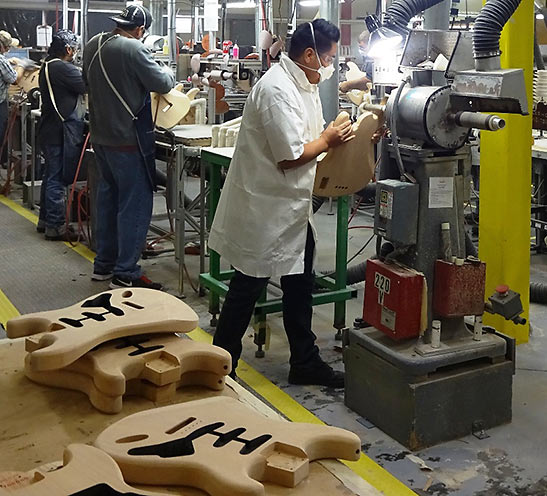 Expert craftsmen sand and shape chunks of maple and rosewood into classic guitars
Once the guitars are sanded, they are sent to the paint department, where they get treated to signature Fender paint jobs, such as Butterscotch blond, Sunburst, Candy Cola, Sea Foam Green, and many more. With the wood painted and polished, the bodies and necks are put together and the instruments are hung high above on a conveyor belt near the ceiling where they dry.
After drying, the guitars are ready to be thoroughly tested by Fender technicians. And once they pass inspection, the instruments ready to be sold to the public.
At the end of the tour, our guide showed us the "Dream Factory" – the world-famous Fender Custom Shop, where some of the best guitars in the world are built for some of the biggest names in music. Guitars in the custom shop are built by hand by the best of the best guitar builders in the industry and when complete, they fetch roughly between $4,500 and $12,000.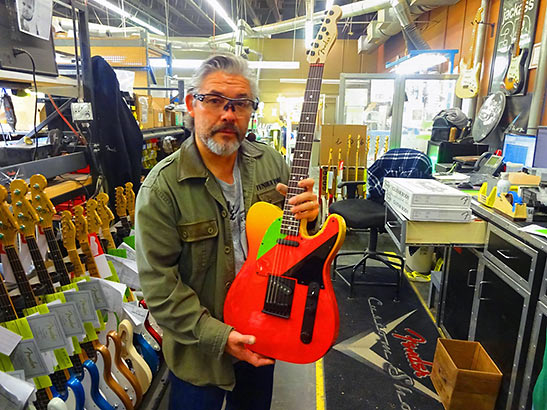 The Fender factory produces over 300 American-made guitars per day
During the tour, our guide let me touch a new, 1952 Reissue Telecaster right off the assembly line and it was love at first sight. With a beautiful butterscotch blond paint job, a fat baseball bat type neck, and a classic, curved body that screamed "rock and roll," the guitar sent musical lightning bolts through my fingers and into my soul. This is the type of guitar used by the likes of Merle Haggard, Keith Richards of The Rolling Stones, Mike Campbell from Tom Petty and The Hearbreakers, and countless other famous and not-so-famous rockers. I knew I had to have one.
After taking the tour and seeing what goes into making these musical works of art, I have a better appreciation for the value of these classic instruments and I can see why they are not cheap to purchase. This is American craftsmanship at its finest and there is a lot of love, history and hard work that go into every American made Fender that comes out of the Corona factory.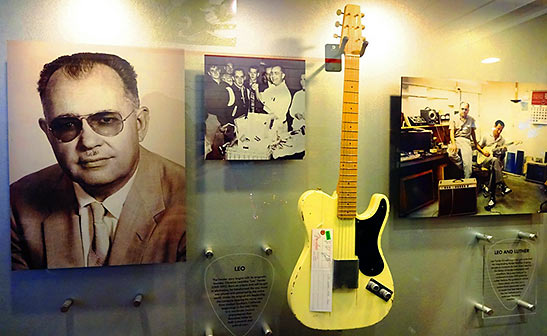 Leo Fender started his electric guitar company in the 1940s and changed
music forever
When the tour was over we went back to the 8,000 sq-ft Visitor Center and explored the showroom, which boasts hundreds of instruments, amplifiers, photos, historical artifacts, and interactive displays related to the Fender brand, which began in 1946 and literally changed music.
Some of the instruments on display at the Visitor Center include Fender Stratocaster guitars owned by Jimi Hendix, Eric Clapton and Stevie Ray Vaughan, as well as other instruments played by Merle Haggard, Buck Owens and Kurt Cobain. There is also a hand-crafted guitar covered in jewels that is worth an estimated $1 million!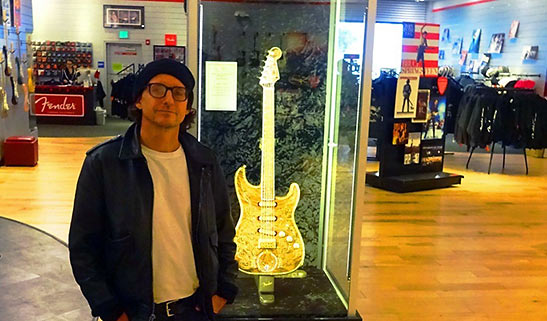 The Fender Visitor Center is full of rare guitars including, one worth an
estimated $1 million
The center also offers shopping for apparel, accessories, collectibles and other items in the retail shop, and walls full of instruments for purchase. There is even a big room where new instruments can be played. It was in this room that I got to actually play the aforementioned 1952 Reissue Telecaster. It felt like warm butter in my hands and played like magic. I knew I was holding my early Christmas present.
The Visitor Center is open Monday, Tuesday, Thursday and Friday and is free admission. Tours begin at 10am and 11:30 am and cost $10 for adults. For more information, call 951.898.4040 or visit: www2.fender.com/features/visitor-center/