Hooray for Hollywood and The
Hilton Garden Inn
Story and photographs by Greg Aragon

ometimes when you live close to an exciting place, you take it for granted and hardly ever visit it. Such is my relationship with Hollywood. Without good reason, I don't venture there much. But this changed recently when I discovered the Hollywood Hilton Garden Inn and enjoyed a wonderful getaway to the fabled town.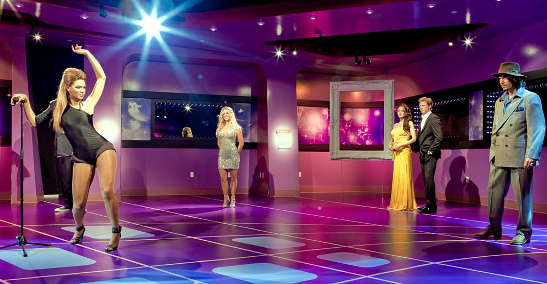 Celebrities love to hang out at Madame Tussauds in Hollywood
The adventure began when a friend and I checked into a modern, 6th floor suite at the Hilton. Overlooking the pool and a mini-HOLLYWOOD sign, the room came with two comfy queen beds, a work desk with free wireless Internet, 37-inch flat-panel high-definition TV, microwave, refrigerator, coffeemaker, and a cool clock radio with MP3 connection.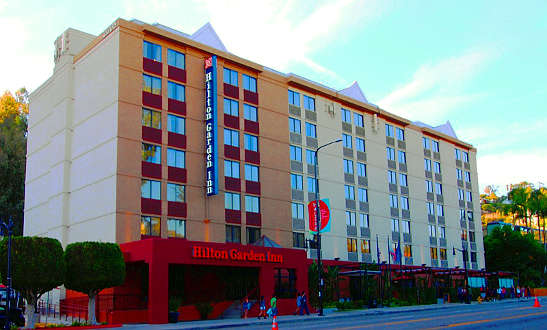 The Hilton Garden Inn makes a perfect home base for touring Hollywood
Once unpacked, we walked a couple blocks south of the hotel and strolled down Hollywood Blvd's main strip. Along the way we stepped over numerous "stars" on Hollywood's "Walk of Fame" and came to the Egyptian Theatre, the site of Hollywood's first movie premiere, 1922's "Robin Hood" starring Douglas Fairbanks.
While at the Egyptian, we bought a ticket for Red Line Tours, which offers a 75-minute "Hollywood Behind the Scenes" walking tour that takes guests on a journey to various landmards, from Hollywood's Golden age to the present. The tour uses a live state-of-the-art headset audio system that allows guests to clearly hear the guide up to 300 ft away, regardless of surrounding noise.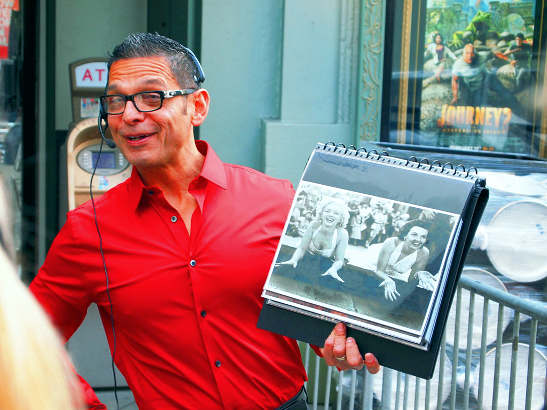 A "Behind the Scenes" Red Line Tour is a fun way to experience Hollywood's
Golden Age
Besides the Egyptian Theater, the tour took us to The Roosevelt Hotel, where the first Academy Awards were held – an event that lasted a meager 20 minutes, which is nothing compared to today's five-hour marathon! We then walked past the Kodak Theatre, the modern home of the Oscars, and stopped at TCL (formerly Grauman's) Chinese Theatre, where we studied the famous hand and feet prints of celebrities immortalized in concrete in front of the theatre. Highlights of these include the handprints of Clint Eastwood and Julie Andrews, John Wayne's feet, Trigger the horse's hoof, Jimmy Durant's nose, and more.
After the tour we stopped at Madame Tussauds, where we encountered more than 100 incredible wax duplicates of celebrities. Opened in 2009, the museum is as real as it gets, investing around $300,000 in each of its wax figures. Highlights of my visit were meetings with Johnny Depp, Beyoncé, Jennifer Aniston, Britney Spears, Elton John, and Justin Timberlake.
On the second floor of the museum I entered the "Spirit of Hollywood" area, where I met a dancing Fred Astaire and Ginger Rogers, a smiling Clark Gable, and Howard Hughes, whose eyes seemed to follow me into the "Westerns" exhibit.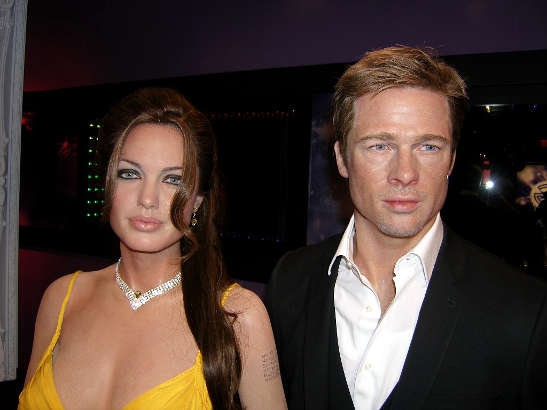 Even Brad and Angelina like Madame Tussauds
Standing guard at the front of this area is Paul Newman and Robert Redford in their "Butch Cassidy and the Sundance Kid" outfits. Next to them is Clint Eastwood squinting with a cigar in his mouth and John Wayne with a patch over one eye.
I then encountered a bearded Charlton Heston from "Then Ten Commandments" looking down upon Katharine Hepburn and Humphrey Bogart, who were recreating a scene from the African Queen. Near here I sat on a park bench next to Forrest Gump and then found Steve McQueen preparing for "The Great Escape," Dustin Hoffman pondering Mrs. Robinson as "The Graduate," and a tall James Stewart in a snowy scene from "It's A Wonderful Life."
Back at the Hilton, I worked out at the fitness center and relaxed in the Jacuzzi. For dinner my friend and I sat down at the hotel's signature Garden Grill Restaurant. Our meal began with a tasty "untraditional shrimp cocktail," with chilled gulf shrimp, avocado, tomatoes, cilantro and fresh lime, layered together with piquant cocktail sauce.
For the main course I had a super tender USDA choice New York steak, center cut and char-broiled, with roasted garlic and herbed butter and mashed potatoes. My friend had the divine pan seared crispy salmon, with sweet sesame sauce, layered atop a bed of sautéed bok choy.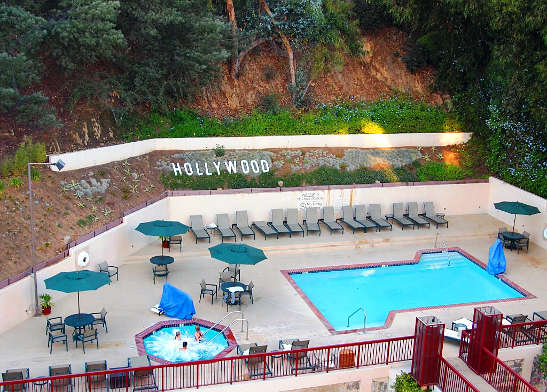 The Hollywood Hilton Garden Inn is a retreat in Hollywood's backyard
The Hilton Garden Inn is located at 2005 N. Highland Avenue, Los Angeles, California, 90068. For specials such as the "Romance Package" or the "Bed N' Breakfast Deal," and for more information and current rates, call 323-876-8600 or visit: www.hiltongardeninn.hilton.com/.
Related Articles:
Fairmont Miramar Hotel, Santa Monica; 4 Seasons Hotel, Westlake Village; Laguna Beach; The Grand del Mar; Ojai, California; Orange County Oceanfront, San Luis Obispo, Hotel del Coronado