Flying in Mint Class Style
With JetBlue
Story by Greg Aragon

here is nothing like a good nap after a long New York flight. Unless of course you can take that nap during your flight and then it's even better. And if you can get said nap while lying completely flat on a comfy seat/bed, without someone scrunched-up next to you, bumping you and hogging the armrest, then it's a truly mint experience.
This is where JetBlue's new Mint Class comes into play. This luxurious, exclusive and surprisingly inexpensive 1st class seating option is the way to go if you want a fully flat bed with amenities galore and a little pampering for good measure.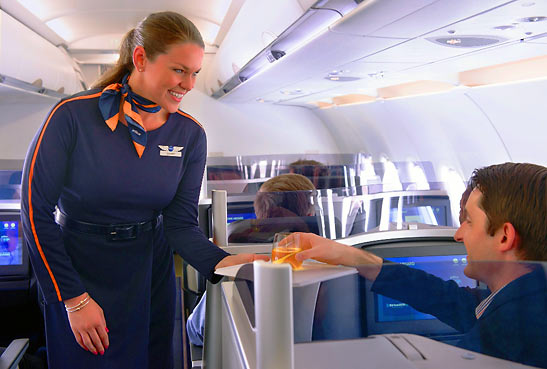 JetBlue's Mint Class is a luxurious and surprisingly inexpensive 1st class option with fully-flat bed and amenities galore (photo courtesy of JetBlue)
"None of our competitors offer customers seats as wide and beds as long as Mint, private suites, customized amenity kits and tapas-styled dining," says JetBlue CEO Dave Barger. "Mint is a whole new take on flying, available at a significantly lower fare than other airline's premium services. We are simply minting a new way to fly that is truly above and beyond the standard that customers have come to accept."
I experienced Mint Class last week on my flight home from New York City. The getaway began when I strolled into Terminal 5 at JFK Airport in New York, found a kiosk and scanned the flight bar code right from my phone and printed out my boarding pass. From here it was clear sailing, I mean flying.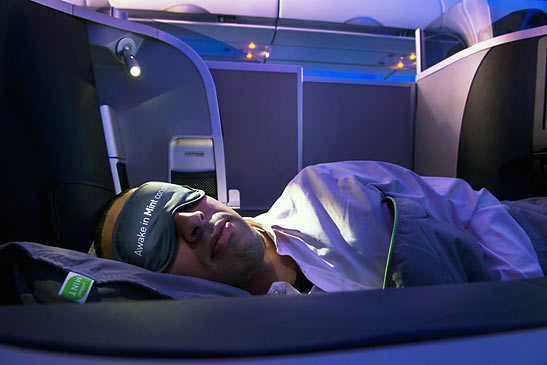 There's nothing like a good nap on a long New York flight (photo courtesy of JetBlue)
At the airport, Mint customers not only have access to a dedicated queue that offers expedited check-ins, but they also can get in an expedited screening and security line. This meant I had plenty of time to get my computer out of my backpack and my shoes and jacket off and on and still have time to stop for a coffee before my flight.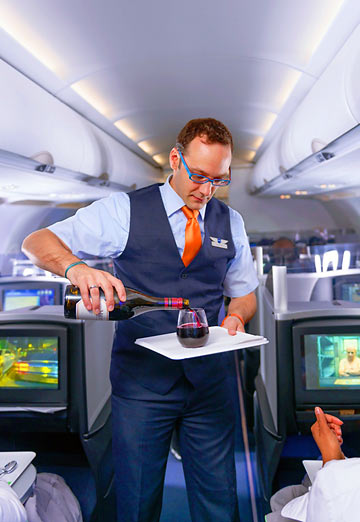 Mint Class offers plush suites, gourmet dining and an open bar (photo courtesy of JetBlue)
And when the boarding process began, things got even easier. As a Mint Class member I was able to board before other passengers, throw my bag in the overhead compartment and then sink into my own private, plush "seat-suite." Once aboard the shiny, new A321 aircraft I was handed a gourmet food and beverage menu to choose from and treated to a delicious, sparkling mint beverage and a truffled Portobello mushroom mousse appetizer with whisky jelly.
Once at cruising altitude, I tested the bed and the big blanket that came with it. With the push of a button, my seat reclined and slipped under the entertainment center and extended to a length of 6' 8", giving me plenty of room to nestle in. JetBlue says the seats are the widest and longest fully-flat beds in the U.S. domestic airline market.
When I awoke from the slumber, I adjusted the seat to relax mode, had a glass of wine and scanned through more than 100 channels of live DIRECTV on Mint's 15-inch flat screen TV. I then ordered from JetBlue's enticing Tapas-styled menu, which was derived from popular New York City restaurant Saxon+Parole.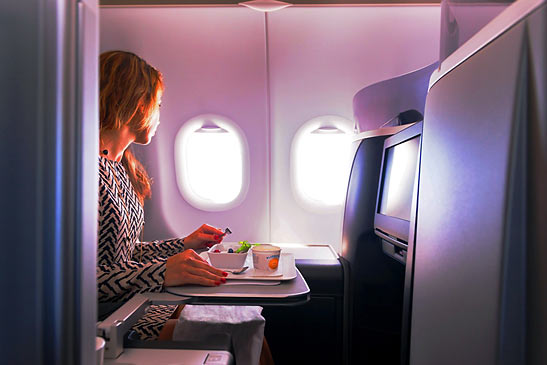 JetBlue's enticing Tapas-styled menu was derived from popular New York City restaurant Saxon+Parole (photo courtesy of JetBlue)
My meal began with a juicy black angus slider burger with havarti and candied bacon onion relish; chilled corn soup with avocado and cilantro; and a delicious plate of shrimp and mascarpone grits with roasted tomato, cheddar cheese and pickled chili. I washed this down with a glass of wine from Mendocino and capped off the meal with Blue Marble vanilla ice cream from Brooklyn, NY.
After dinner, I surfed the Internet on JetBlue's Fly-Fi broadband in the sky. Available on select JetBlue aircraft, basic web surfing in free and a high-bandwidth plan is available for $9/hour. Before landing I enjoyed another glass of wine and was given a men's amenity kit from Birchbox.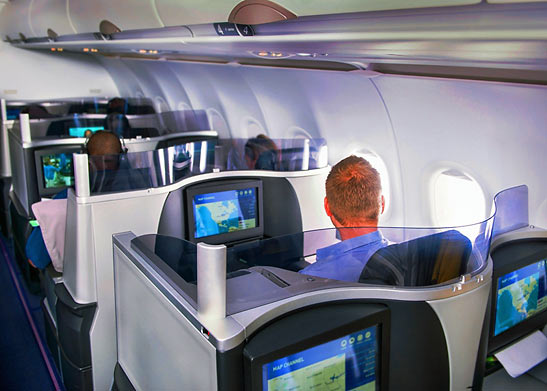 JetBlue now offers Wi-Fi in the sky on select flights with its Fly-Fi broadband
(photo courtesy of JetBlue)
Mint fares start at a relatively low, one-way price of $599 between LA or San Francisco and New York's JFK. For more info and to book a seat, visit: jetblue.com/Mint. JetBlue carries more than 30 million customers a year to 85 cities in the U.S., Caribbean and Latin America with an average of 825 daily flights. With JetBlue, the first checked bag is free. For more information, visit JetBlue.com.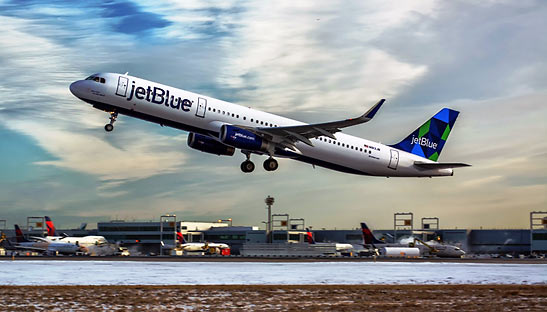 JetBlue carries more than 30 million customers a year to 85 cities in the U.S
(photo courtesy of JetBlue)