Discovering Art, Culture and Cuisine in Lancaster
Story & photos by Greg Aragon

ancaster has always been one of those cities that I pass through on the way to some other destination. But last week was different. I finally took the time to explore the place and wow, was I surprised! I discovered a downtown full of charm, culture, cuisine and community spirit.
My recent getaway began when a friend and I drove about 60 miles north of Los Angeles toward the Mojave Desert and checked into the Towneplace Suites Lancaster, a business class hotel, with all the comfort and amenities needed for a relaxing stay. Conveniently located off the freeway, the hotel boasts rooms with fully equipped kitchens, plush beds, free Internet, and a free buffet breakfast in the lobby.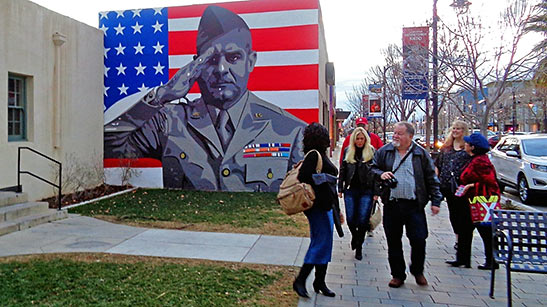 Downtown Lancaster is full of charm, culture, cuisine and community spirit
After unpacking, we drove to the Lancaster Museum of Art and History (MOAH), for a sneak peek at its latest exhibit Movers & Shakers, which runs through April 16. This display was highlighted by the unique shoe designs of Chris Francis, whose creations look like they could be worn by rock stars, cavemen, people from space, and actresses.
The exhibit also features the intricate wood carvings of Sedi Pak, who studies the light, texture and patterns of nature and translates it into her large scale wooden sculptures. Another fascinating artist on display is Charles Hollis, whose "Fifty Chairs, Fifty Years" exhibit features mesmerizing chairs and furniture made from acrylic and metal.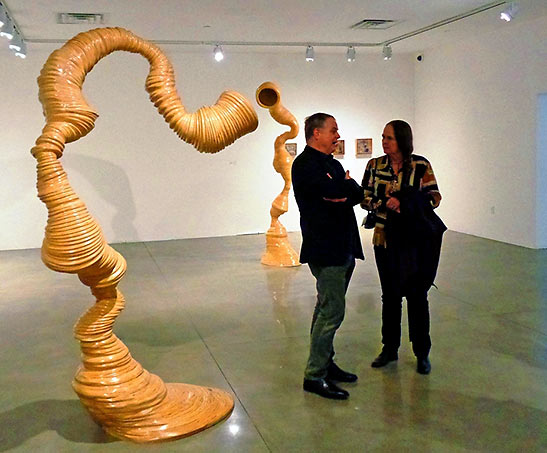 The Lancaster Museum of Art and History showcases the art, history and culture of the Antelope Valley
From here, we strolled down Lancaster Boulevard, down the Aerospace Walk of Honor, to MOAH Ceder, a smaller satellite museum to experience the K. Wyatt Coleman photography show: Love, Peace, & Equality – A tribute to Martin Luther King and others who contributed to the Civil Rights Movement. This exhibit is highlighted by beautiful and thought-provoking photographs of African Americans serving their community and family.
We then walked to Zelda's bar for a drink in a classic, old fashion-styled bar. From Zelda's we walked across the street to Pour D'vino for dinner.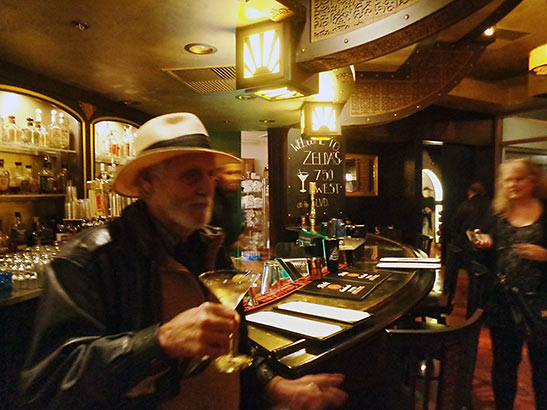 Zelda's is a fun, old fashion "speak easy" in Downtown
Offering intimate dining, Pour D'vino boasts more than 100 wines and beers to go along with an eclectic menu of steak, chicken, pork and seafood dishes. My meal was the delicious Nautica, with shrimp, clams, lobster and garden vegetables, tossed in linguine with a light mushroom garlic butter sauce. My friend had the gourmet grilled cheese, with aged cheddar, smoked gouda, Swiss cheese, tomato and crisped onions pressed with white wine Dijon glaze.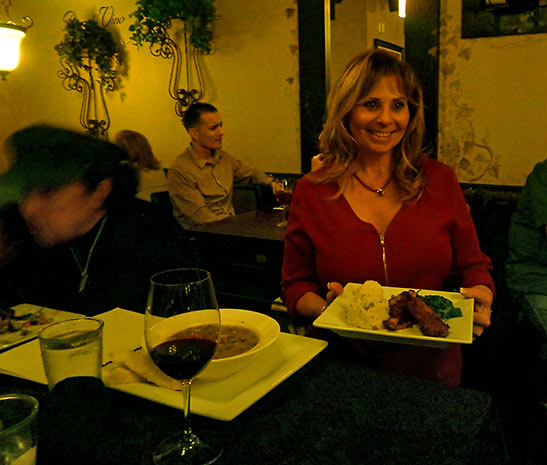 Pour D'vino owner Jody Cherbonneaux serves up a tasty menu of steak, chicken, pork and seafood dishes
While dining we enjoyed California red wine, live music and the company of Pour D'vino owner Jody Cherbonneaux, and local artist Edwin R. Vasquez, a self-taught Guatemalan artist, photojournalist, and videographer who paints and creates art from recycled materials salvaged from the Mojave Desert.
After dinner, Vasquez led an instructive art class. Over wine and Pour D'vino desserts, he spoke about growing up in Guatemala and moving to the Lancaster area – a California desert community, with open space, starlit nights, fresh air and the iconic raven bird. The raven has become such a symbol to Vasquez, that he helped us paint one on canvas with watercolors. This was much more fun than I expected.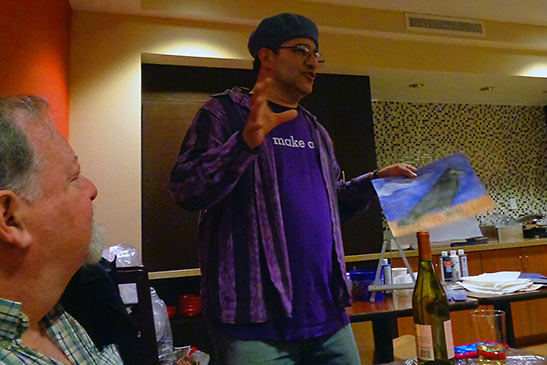 Lancaster artist Edwin R. Vasquez is a local treasure, as he creates and teaches art
The next morning we enjoyed a buffet breakfast at the Towneplace Suites Lancaster and then went for a walk in the Prime Desert Woodland Preserve. Nestled within an urban area, this scenic park, offers more than three miles of trails across 100 acres of native California desert landscape teaming with Joshua trees, tumble weeds, jack rabbits, bats, coyotes, scores of birds and other wildlife. Next to the preserve is the Elyze Clifford Interpretive Center, where kids and adults can learn about local desert wildlife and native plants.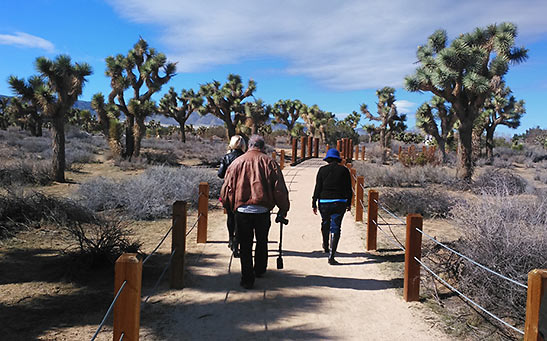 The Prime Desert Woodland Preserve offers trails through native California desert
After the nature walk, it was back to downtown for a tour of the giant, beautiful murals painted on the sides of buildings by local artists. We then had lunch at Bex Bar & Grill. Located on the newly renovated Lancaster Blvd, Bex offers a full menu of slow roasted tri tip, rotisserie chicken, baby back ribs, as well as seafood, burgers and desserts. I had an incredible blacked salmon on top of a fresh garden salad. The place also features a lounge with live music, an underground bowling alley, pool tables, and big screen TV's.
We concluded our visit at the Lancaster Performing Arts Center where we watched a funny British play called "Run for You Wife."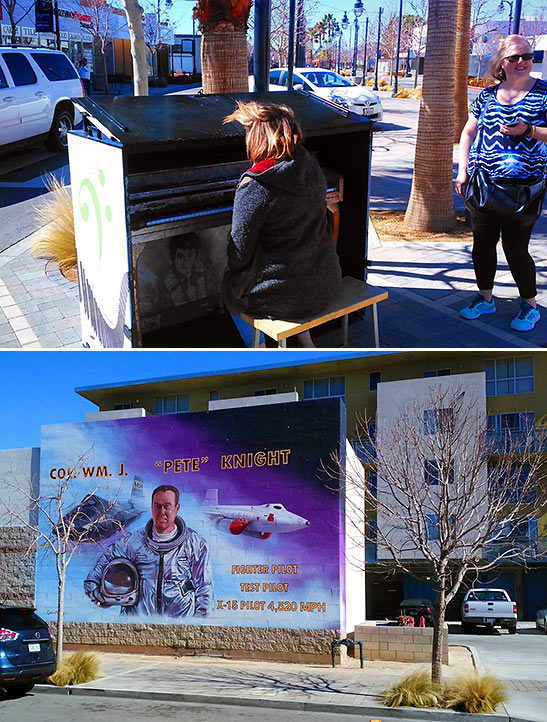 Friendly and walkable, Downtown Lancaster features public piano's and giant murals scattered about town
For more information on visiting Lancaster, go to: www.destinationlancasterca.org
Related Articles:
Agua Dulce and the Sierra Pelona Valley Viticultural Area; Oasis in the Palm Springs Desert; JW Marriott, Palm Desert; Fantasy Springs Resort Casino; Moroccan Martinis and Historic Pueblos in Desert Hot Springs