Exploring in Style with a New
LederMann Leather Gear Bag
Story and photos by Greg Aragon

travel a lot and I need luggage that can keep up with me. And when it comes to a bag that I can carry every day, I recently found a great one. It's the Leather Briefcase Gear Bag by LederMann.
From a dusty trail to a business meeting or dinner party, this classy, Western-styled piece is always welcome and appropriate. It is made from high quality, full grain leather that is so strong and rare that the company says it is found in only about "2% of other bags out there." The fibers of this leather are unprocessed and retain their natural strength, making it perfect for luggage that travels a lot and takes a beating.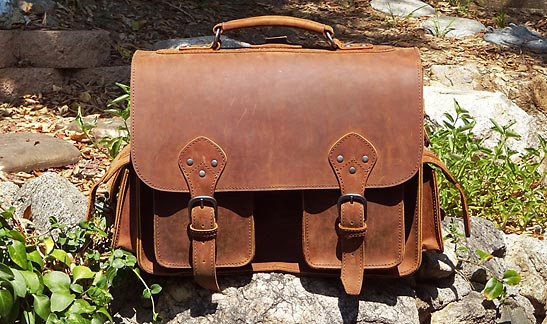 The Leather Briefcase Gear Bag by LederMann is classy and rugged
Because the leather is high quality, LederMann uses some of the best methods to assemble its products. For stitching the company uses heavy-duty, industrial-strength nylon threading, and at all stress points it employs machine-pressed, heavy duty rivets. Consequently, the bag is not cheap. It lists for about $455, but as any leather connoisseur knows: you get what you pay for and good leather lasts a very long time.
The gear bag, which features a silky suede lining, is also ample, with plenty of room for my computer, camera, clothes, canteen, chargers, chords and other accessories in the main compartment. It measures 16 inches wide, 12 inches tall and 6 inches deep. And because it is a made from supple leather, it can easily stretch to fit even more items.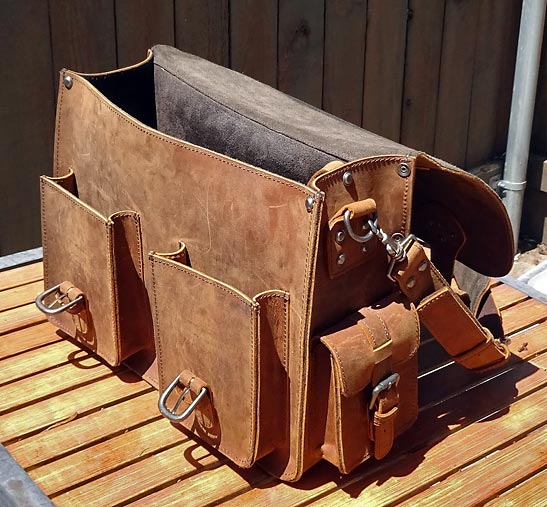 The Gear Bag is silky smooth leather with lots of pockets and room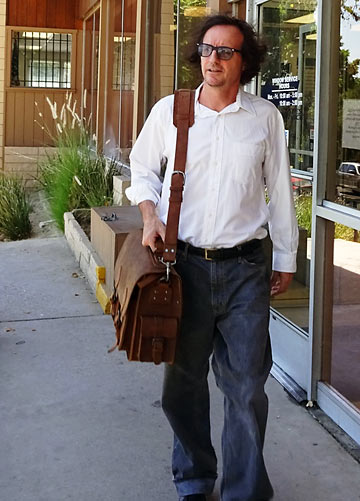 The briefcase bag looks good at the office or on the trail
The briefcase boasts two large, 7-in-tall front pockets that are about 2 inches wide; and two exterior covered side pockets that have leather strap and buckle closures that are 5 inches tall. There is also a leather key strap hanging inside, along with two, open, interior pockets for gadgets, wallet, keys, cards, etc., and a large magazine pocket on the back.
The bag is closed with two, long security straps that buckle to the front pockets. It is carried by an adjustable shoulder strap with two comfortable shoulder pads. A nice thing about the it, is that there are no zippers or snaps on it, which means less breaking parts!
The bag comes as a briefcase, but one of its coolest features is that it can easily be converted into a backpack by running the shoulder strap through the large O-ring on the top of the bag and then attaching it to the two D-rings at the bottom of each side. I loaded the backpack with gear and took it on a three-mile hike recently and it not only held-up wonderfully, but it was also comfortable and well balanced on my back.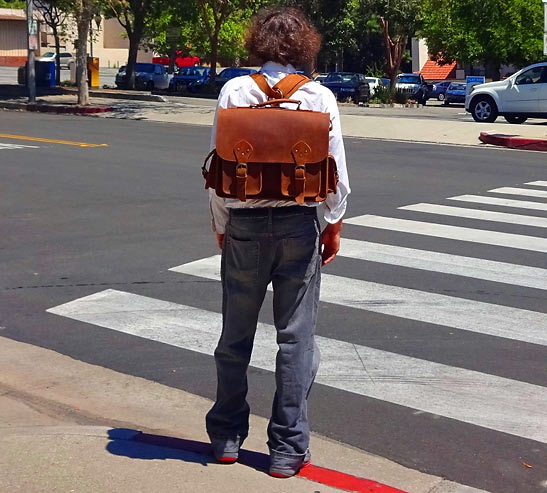 The gear bag can also be converted to a backpack
The bag also gets a lot of compliments. Whether I'm at the airport, walking through a new town, or on the trail, people are always asking me where I got it and how much I paid. Maybe this is what LederMann owner Des Ng had in mind when he began crafting his high-quality briefcases and backpacks in 2002.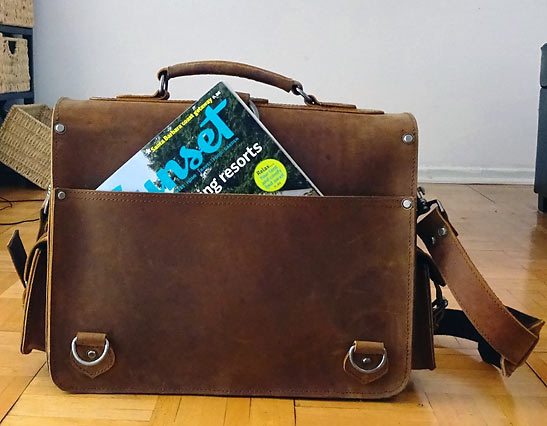 There is a handy back pocket for magazines and documents
"I had been searching for a sturdy, men's leather bag that I could use every day," says Ng. "It had to be comfortable to carry and large enough for my things. Yet I also wanted it to have some character and distinction."
Besides the Gear Bag, LederMann sells a full line of handsome, heavy-duty leather bags and briefcases. "Whether you're an Indiana Jones-type adventurer, a college professor, a successful businessman or something in between," LederMann says it has a bag for your lifestyle. The company, which guarantees its products "100% against any defects in materials and workmanship," offers briefcases and backpacks in vintage, rugged and classic styles and boasts more than 40 timeless designs with a wide variety of sizes, shapes, pockets and handles.
For more information on the Leather Briefcase Gear Bag and all other LederMann leather bags, visit: www.ledermannleather.com/