Living La Vida Lompoc
Story & photos by Greg Aragon

ompoc has always been a mystery to me – a town I've heard of but never visited, a name on road signs along Highway 1, but never a destination. Well this all changed recently when I visited the town for couple nights of delightful discovery.
The getaway began when I drove from Los Angeles, past the beautiful Santa Barbara coast to Highway 1, where the scenery changed to lush, rolling hills speckled with cows, horses and a few llamas. After a few miles I took Exit 132 toward Lompoc and discovered a charming town, bubbling with a burgeoning wine industry, an eclectic art scene, gourmet restaurants, and a fascinating history.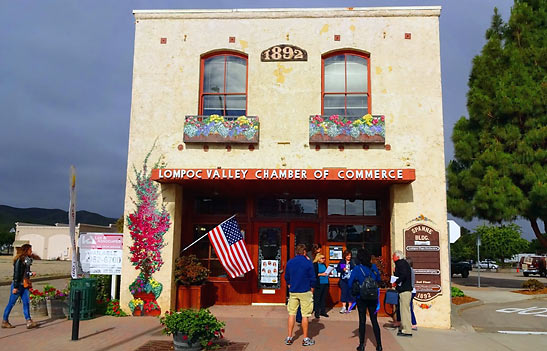 Lompoc is a surprising, hidden gem off California's Central Coast
My first major discovery in Lompoc was Return to Freedom Horse Sanctuary, where visitors can learn about the history and challenges facing wild horses in America. Guests can also take a tour of the ranch and get up close to some of the most unique and beautiful horses around.
On my visit to the sanctuary I met founder and president Neda DeMayo, who gave me a tour of the ranch and a brief lesson of the plight of these magnificent animals. Return to Freedom is dedicated to "preserving the freedom, diversity, and habitat of America's wild horses through sanctuary, education, and conservation, while enriching the human spirit through direct experience with the natural world."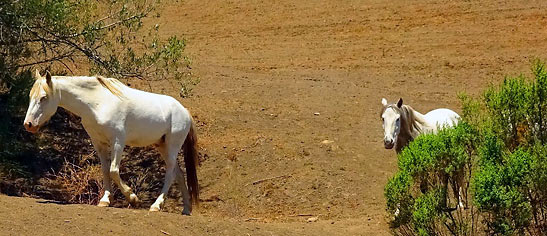 Return to Freedom is dedicated to preserving America's wild horses
The ranch provides a safe haven to nearly 400 wild horses including 29 burros. The animals were rescued by the sanctuary from government round-ups and potential slaughter. Located on 1,500 acres just off of California's Central Coast, the ranch provides an environment for the horses to maintain the natural behaviors and social structures they knew in the wild.
During my tour DeMayo told me how the diverse and unique bloodlines of the animals are respected when they arrive. She then introduced me to a herd of Choctaw horses, whose roots trace back to the days of Hernando DeSoto in the 1500s and later to the Choctaw Nation Native American tribe of the deep south and Mississippi area.
Other fascinating herds at the ranch include the Wilbur Cruce Spanish Colonial Mission Horses, which are direct descendants of Padre Kino's original herd who arrived in America from Spain in the late 1600s. They are the only known rancher-strain of pure Spanish horses that persists in the southwest. And the Sulphur Springs Herd, which is one of the few to claim direct Spanish Heritage. They have distinctive dorsal and leg striping, and resemble the horses painted on cave walls dating back to 26,000 B.C.E.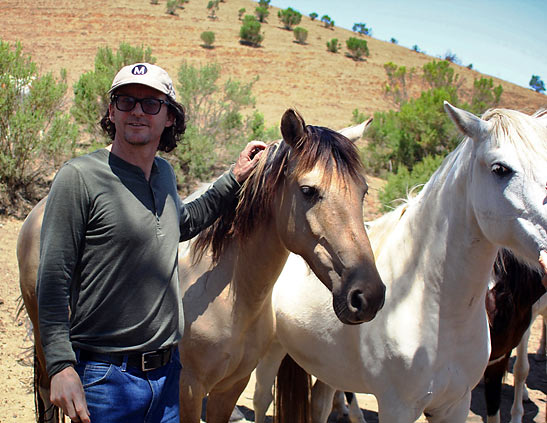 The sanctuary's Choctaw horses trace back to the 1500s
DeMayo asks anybody who cares about wild horses to visit Return to Freedom website and read about the issues and help stop government round-ups of wild horses and burros.
After visiting the horse ranch, I headed back to my hotel, the Holiday Inn Express, where I had a clean and comfortable suite, with a king bed, mini-fridge, microwave, large flat screen TV, an office area and free hi-speed Internet. Besides a perfect location for exploring Lompoc, the hotel also boasts a heated pool, business center, a fitness room and a tasty, complimentary hot buffet breakfast each morning.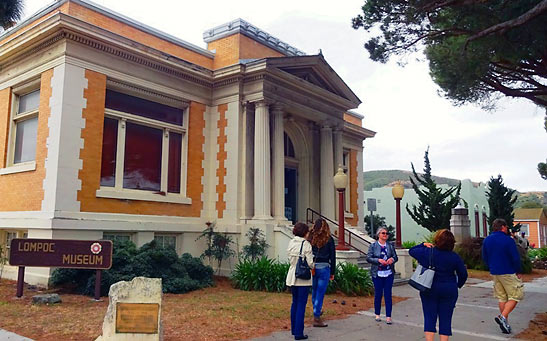 The Lompoc Museum gives a fascinating look at the history of local Native Americans
My next stop was Lompoc Museum, for a fascinating look at the history of local Native Americans; and then a visit to the "Wine Ghetto" – a collection 20 or so tasting rooms offering wines from the nearby Sta. Rita Hills region. For people in the know, the "Ghetto" has become a mecca for world-class, artisan wine production. Thanks to a rare east-west hill orientation and calcium-rich soil composition, Lompoc is a perfect place to produce wine and is in fact, currently making some of California's best Pinot Noir, Chardonnay and other cool climate wines.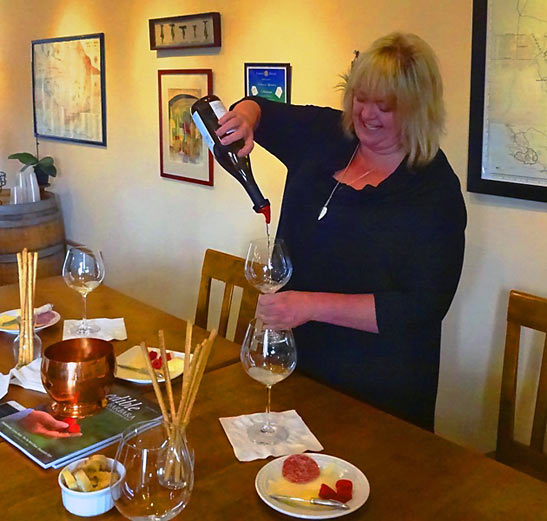 The "Wine Ghetto" is an eclectic collection tasting rooms offering local wine
For sample of local vineyards I experienced La Montagne Winery, where I met owner Kimberly Smith and sampled some of her award-winning Pinot Noir, Pinot Blanc, and Tempranillo. While tasting, I chatted with Smith and learned about her remarkable and inspirational story of overcoming diabetes and cancer to become one of the area's best new winemakers.
From the French inspired wine of La Montagne, I headed across town to La Botte Italian Restaurant for some authentic and delicious Italian food. Opened in 1981 by Nick and Caterina Agate, the restaurant specializes in home-made pasta sauce and specialty dishes from Central and Southern Italy.


La Botte specializes in dishes from Central and Southern Italy
My family-styled meal featured local wine and tender Calamari Fritti with tomato sauce, and a plate of sautéed mushrooms. Next I tried the delectable Chicken Piccata, with chicken breast, sauteed in lemon white wine sauce and topped with capers, followed by a memorable dish of Chicken Marsala, with chicken breast sauteed in Marsala wine and mushrooms.
In the morning I strolled through Old Town Lompoc with a local artist/guide to examine the city's renown murals. Painted on nearly 40 structures across town, the Murals of Lompoc tell a story of Lompoc's heritage, flower industry, historic sites, ethnic diversity, scenic beauty and more.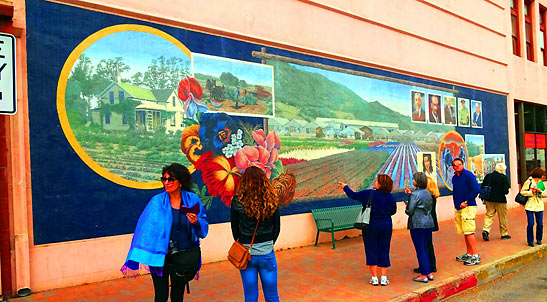 Lompoc's colorful murals grace nearly 40 structures across town
One of the biggest and most interesting of the paintings is "Diatomaceous Mining," located on the old Chamber of Commerce building. This giant abstract mural depicts the city's rich history of mining the white powdery substance called diatomaceous earth, which is used for everything from filtration purposes to mild abrasives found in toothpastes and cat litter. Another cool mural is "The Boatmen," painted by artist John Pugh. This colorful piece looks 3D, as it shows a WWII battleship with a Native American boat cutting through its hull. The latter work of art is painted on the wall of Sissy's Uptown Cafe, where I enjoyed a memorable bowl of clam chowder, a roast beef sandwich and a slice of homemade coconut cream pie.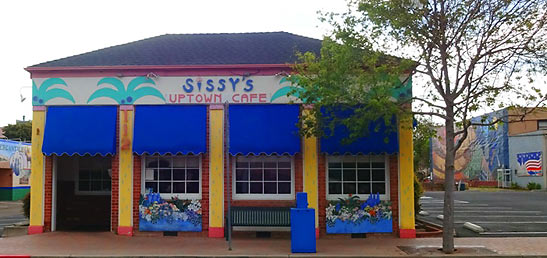 Sissy's Uptown Cafe serves delicious cuisine, fine wines and warm hospitality
After lunch I checked into the Embassy Suites Lompoc, where I checked into another great suite. This one, overlooking the pool, boasted a bedroom and living room; a kitchen-type sink, mini-fridge and microwave; two flat screen TVs, and a spacious bathroom. The hotel also offers a nightly happy-hour with complimentary drinks, a fitness room, and a complimentary hot buffet breakfast with made-to-order omelet bar each morning.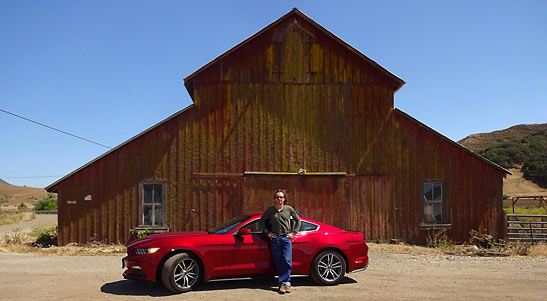 Lompoc is a town full of history and discovery
For more information on visiting Lompoc, visit: www.explorelompoc.com.
Related Articles:
Santa Barbara Scrumptious; Ventura – "The Real California" On the Central Coast; Great Fun and Food in Avila Beach; Winter Escape to Redondo Beach; Classic California On the Central Coast