Traveling in Rugged Style with a New Saddleback Leather Backpack
Story and photographs by Greg Aragon

othing says travel like a good backpack. In fact, along with my passport, wallet and comfortable walking shoes, my pack is one of the most essential pieces of gear I take on the road. So when I heard about a company called Saddleback leather that makes top-quality travel bags here in the USA, I not only had to investigate; I knew I had to get one.
Located in Fort Worth, Texas, Saddleback is run by Dave Munsen, a master leather-maker, who started his company while living in Mexico in 2004. While there, he got a hankering for fine leather, and began designing and creating bags that can take a beating and still look classy and rugged. Today, after 10 years, Saddleback is known around the world for producing some of the best, high-quality leather bags around.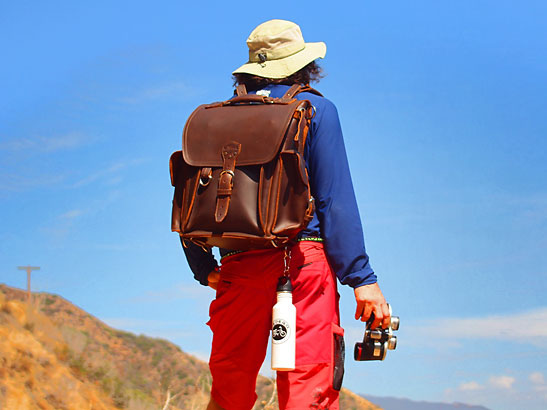 Saddleback Leather's rugged and stylish Squared Backpack comes with a 100-yr warranty
From fine leather suitcases, purses and duffel bags to leather waterbags, wallets, belts, phone and tablet cases and of course backpacks, Saddleback makes carrying things an art form.
One of the company's newest bags is the Squared Backpack, which I fell in love with on first sight. Inspired by Dave's Original Backpack, this leather masterpiece is tough and manly like my Jeep Wrangler, yet stylish. It is a combination of Indiana Jones meets old west stage coach, with equal portions of class and scholarly appeal. It is the kind of backpack you could wear on a hike, to class, in an business meeting, or while strolling the lobby of a five-star hotel. In other words, it is the perfect bag for Greg's Getaway.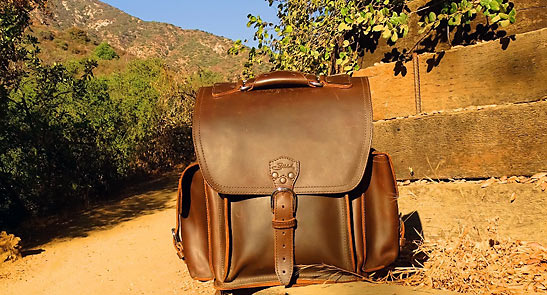 The squared backpack looks good in any situation
Made of high-quality full grain leather with pig skin lining on the front flap, the pack features a large center pouch for loading clothes and larger gear, with four interior pockets that I use for business cards, CDs, pens, etc.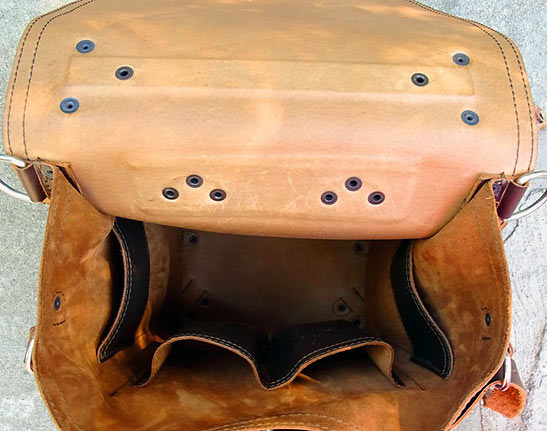 The pack offers lots of interior space
There is a large flat front pocket that fits a 15-in computer or magazines, and two large exterior pockets that I use for my camera, power bars, electronic chargers, keys and the like. And behind these pockets are two open pockets for quickly stuffing in items such as a water bottle, keys, note pads, Swiss army knife, change, or anything else you want to keep handy.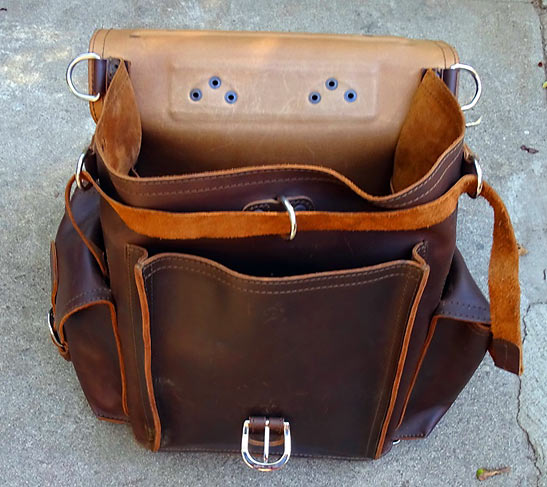 The large exterior front pocket fits a laptop or magazines
The pack also has comfortable, padded shoulder straps, a padded and rounded lower back edge, a floating interior divider (it's kind of like a shoehorn for your computer), and lots of extra D-rings for tying tripods, blankets or a tent to the outside. The backpack comes in carbon, chestnut, tobacco or dark coffee brown colors. I chose the latter, which is beautiful and rich and I think goes great with any outfit.
Because the bag is 100 % pure leather, it is heavy and expensive. It weighs 8.5 lbs and measures 12 inches wide by 17 inches tall by 7 inches deep, and costs $582. But when it comes to leather products, you get what you pay for. All of Saddleback Leather's bags come with an incredible 100-year warranty! This is why they are stitched with polyester threading – the same thread used for airbags, ship sails and hiking boots. It is also why they use heavy duty buckles and rivets instead of breakable parts such as zippers, snaps or buttons. And it is why they employ pigskin lining, which has the highest tensile strength rating of all leathers (second only to kangaroo).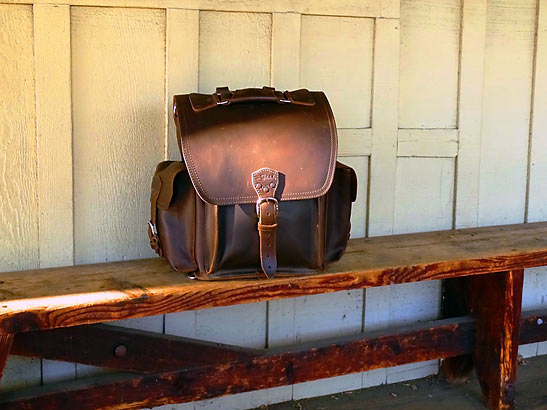 The Squared Backpack is so endearing that your family "will fight over it
when you are dead."
Dave always says that his bags are so durable and attractive that your family will fight over them when you are dead. "If, for any reason, your piece doesn't live up to what we said it would, then contact us or have one of your descendants get a hold of one of my descendants and we'll take care of you," reads the Saddleback website.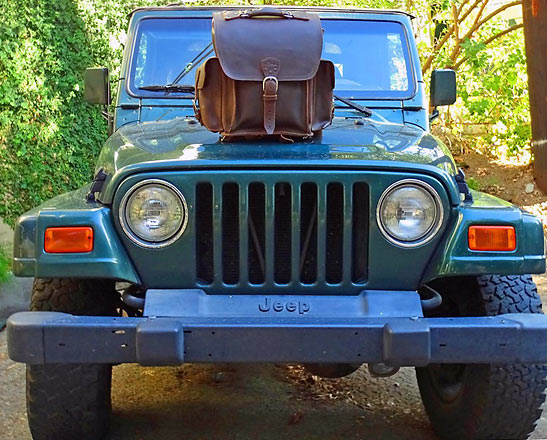 The Squared Backpack is a classy Jeep among bags
For more information visit the Saddleback Leather Company website