Fall Fun at Hilton San Diego
Resort and Spa
Story and photos by Greg Aragon

here are many great sights and sounds that come to mind when thinking about my recent escape to the Hilton San Diego Resort and Spa. There are ocean breezes flowing through palm trees; a large, crystal blue pool, sparkling in the sun; sprawling Tahitian-inspired grounds surrounded by a sandy beach; and ducks – yes ducks.
For some reason I keep thinking of these web-footed quackers. Maybe it's the soothing sounds their feathers made against the water when they swam past our room. The sound was similar to a trickling fountain and went very well with a glass of wine and the sunset on San Diego's Mission Bay.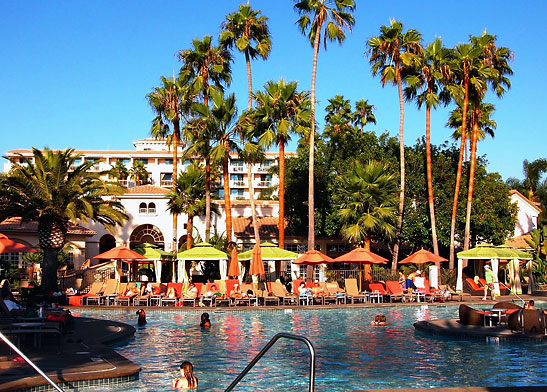 Hilton San Diego Resort and Spa is a recreational paradise on 18 ocean-front acres
My fall getaway to the 357-room resort Hilton began when a friend and I checked into a comfortable room overlooking Mission Bay and a sandy beach, as well as an ocean-front bike and walk path, and the resort's sports dock, where Kayaks, stand-up paddle boards, small boats, bikes and surreys are rented.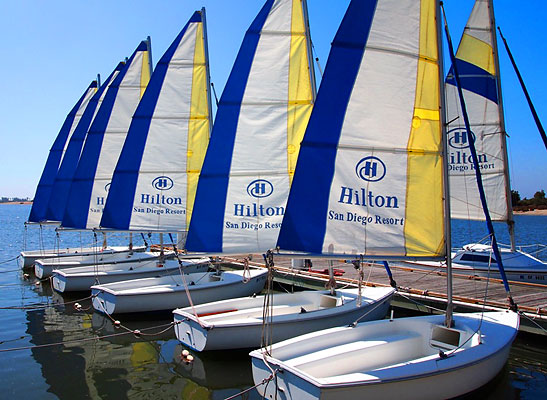 The Hilton boasts a sports dock, with boats, kayaks, paddle boards and bikes
The Southern Californian-styled room featured bright and festive hues and came with a large flat screen TV, comfy king bed, lounge chair, office area with Internet, and a big balcony. From the balcony we could scan the beautiful bay, watching ducks and watercraft drift past, and the sun set into the water.
When not in the room, we explored the rest of the four-diamond property. Celebrating 50 years on Mission Bay the resort is a recreational paradise on 18 acres. Just next to the 5 Freeway, just six miles from the San Diego International Airport and 15 minutes from the Gaslamp District and La Jolla, the resort and spa is also conveniently located one mile from Sea World.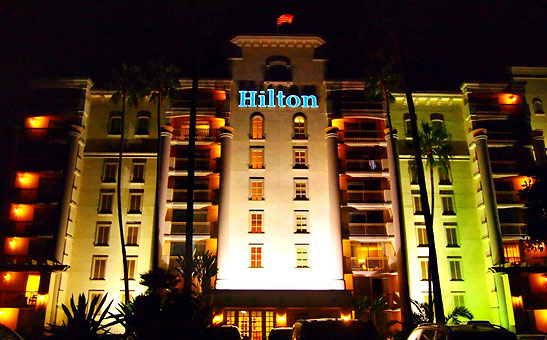 The Hilton is located close to all major San Diego attractions
One of our favorite hotel spots was the pool area, where we swam in the warm water and relaxed in a big cabana with soft recliners and lunch from Fresco's Grille and Bar, the outdoor pool café, which offers a full menu of grilled favorites, snacks and refreshing cocktails.
Besides lounging at the pool, I liked walking on the small wooden pier, working out at the fitness center or hitting tennis balls on one of the resorts many championship courts. Next to the tennis and gym is the hotel's renowned full service Spa Brezza.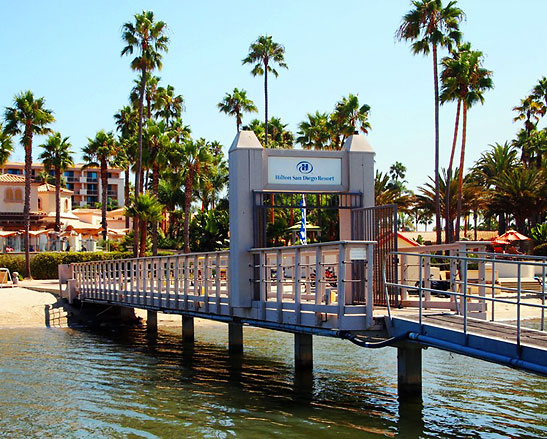 The resort's small wooden pier lets guests walk out to the water
Signature indulgences at the spa include the popular Island Fresh Scrub, with raw sugar exfoliation, coconut oil and a fresh tropical scent and rinsed with an invigorating Vichy shower. The spa also offers manicures and pedicures, including its popular Mojito Manicure/ Pedicure where guests may sink their hands or feet into a sugar rimmed bath with floating lime slices and mint leaves.
For dinner at the hotel we experienced Acqua. Led by award-winning Executive Chef Hermann Schaefer, Acqua serves fine steak and seafood, unique cocktails, and more than 3,000 bottles of wine from around the world. The design boasts a wrap-around patio, with fire pits, and romantically overlooks the bay.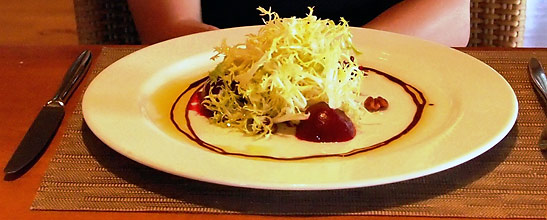 Acqua serves fine American fare, with unique seasonal creations
Our dinner began with griddle crab cakes on fire roasted tomato pepper vinaigrette; a beet and goat cheese salad with roasted nuts, frisee and white balsamic vinaigrette; and seared diver scallops on pancetta, chanterelle mushrooms and truffle essence.
For the main course we devoured filet of North Atlantic salmon on roasted fennel, thyme tomatoes, haricot vert and coriander-saffron broth; and a big, juicy filet mignon with madagascan green pepper sauce, potato trio and baby vegetables. We complemented a tropical rum cocktail and a Bloody Mary.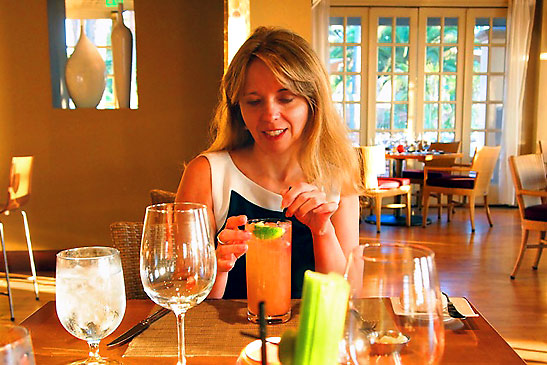 Acqua is also known for exciting cocktails and wines from around the globe
After dinner we took walk along the shore past crackling fire pits and through a park located next to the resort.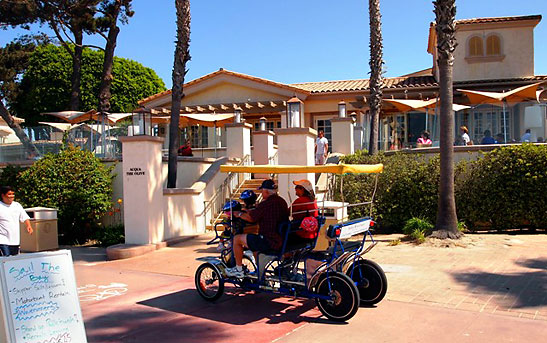 With a host of activities, the Hilton San Diego is fun for the whole family
The San Diego Hilton Resort and Spa also features a gift store, coffee shop, a 9,600 sq-ft Garden Pavilion that can accommodate groups up to 1,100, and a 9,600 sq-ft Ballroom, divisible into six separate meeting rooms. The resort is located off the 5 Freeway, at 1775 East Mission Bay Drive San Diego, 92109. For more information, current specials and reservations, call (877) 313 -6645 or visit: www.sandiegohilton.com.
Related Articles:
Passport to San Diego; Hotel del Coronado; Transit Through San Diego; 4 Seasons Hotel, Westlake Village; Laguna Beach; The Grand del Mar; Ojai, California; Orange County Oceanfront, San Luis Obispo