800 Days in Panamá – Part II
Day 657: New House, New Water, New Experience
Story & Photos by Eric Rosenfield

need to start this post off with a photo. Little bit of background: I have officially moved into my new house. And so now I'm living about a 35-40 minutes hike up from the road down below/my old house, which means that... things are super chill. Up where my new house is, no one really bothers me, I have very few (and very quiet) neighbors, and there's some beautiful views and tons of great nature, including lots of birds! Toucans, hawks, finches, hummingbirds, birds bright yellow and bright red! Everything. Which means that at 6 in the morning, I am UP. But this leads me to the photo – I woke up yesterday at 5:49am because of the birds, looked outside, and saw this: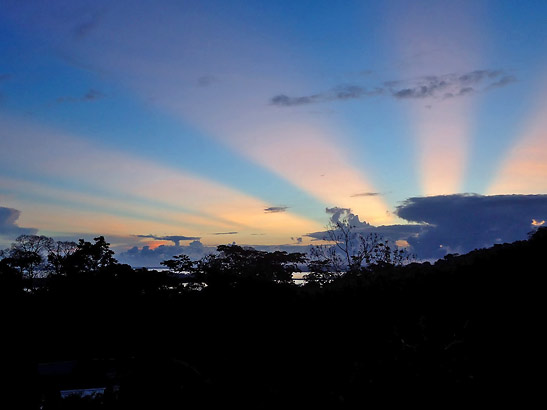 The sunrise in Bocas del Toro over the Caribbean Sea. Epic.
So so so, hello! Sorry for the long delay of an update, but things have been busy! Thanks to family and friends, and the non-profit organization Waterlines, I got my most recent project fully funded - $9,313.10 to construct three (slash it's kind of four) new aqueducts in three (slash four) different areas within my Quebrada Pastor community.
It's truly an amazing thing – most of these people have never bathed under a stream of water (unless they searched for a waterfall, somewhere in the jungle). To the people of the United States, it is completely normal. From a young age, we start taking showers (though some of us are a bit fearful at first... mom and dad, was I afraid to take showers at first? I can't remember.). But imagine, for a second, being a mother in the campo with five kids, all under 10: they are constantly playing in the house, under the house in the dirt, chasing chickens, trying to kill birds with sling shots, picking up rocks, playing bootleg baseball with balls made out of plastic bags... how do you keep them clean? Well, before, you would send them down to the quebrada, which is sometimes a three-minute walk away, sometimes a ten-minute walk away, sometimes a fifteen-minute walk away. Sometimes there are snakes, bullet ants, lots of mud, kids fall, kids play, kids get dirty on the way back from bathing. And sometimes, after heavy rainfall, the water in which you and your kids bathe is brown with sediment, so rinsing your hair out after rubbing dollar soap through it doesn't really make it much cleaner: dirt just stays in there.
Well, I was that little child (not really, though at times I felt small and helpless) living without running water. And though my mother didn't send me to the quebrada to bathe (at least not directly - but a Jewish mothers' voice is always in your head), I used to have to hike down a very steep, often muddy path to get clean. And then on the hike back up, one sweats, sometimes slips, sometimes your one sandal hits the calf of the other leg to get things dirty once again. It was tough. And I can't even imagine having to maintain and control a family under those circumstances, or at least a well-groomed and hygienically healthy family. This is the reality for many people living in the campo, where infrastructure is underdeveloped slash non-existant. But not anymore. Not for the 17 families included in my current project.
And my current project actually includes myself, for my new house is connected to one of the three new aqueduct systems (well, two are completely built and the third one should be done within this month). And I can't even begin to tell you guys how much of a relief it is to have secure, clean, reliable running water in my new home.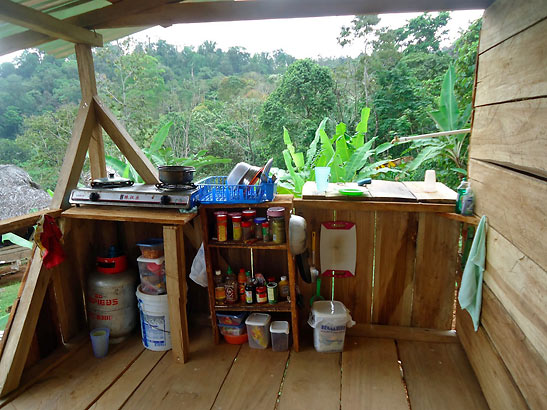 The kitchen area in my new house. Note the faucet hanging over the dish-washing area on the right.
An example to compare: before, as I lived along the road for the first year and a half of my Peace Corps service, I hated when the water was out (for whatever reason) and I had to wash my dishes. Readers: I URGE YOU TO TRY THIS AT HOME. Take a measuring cup, or a large-ish container, fill it with water, and use that to wash your dirty dishes. Ugh, washing plates was the worst! Too much surface area! It's a huge challenge, especially to use under a quart of water, because you never want to waste the precious drinking/cooking water you have stored in the house. So let's compare that feeling to now where I freely (but not too freely – let's not be wasteful now) let the water pour over my dirty dishes, and I can use both hands to scrub and rinse. So good!
And now let's talk about how utterly defeating it was to have a hard workday, let's say carrying sand and gravel an hour up the mountainside, multiple times. Hiking back down to my old house, I would be covered in dirt, have muddy water in my boots, sand in my hair, scratches on my back from rocks digging into my skin, and then getting back home along the road and opening up the faucet and… ddsifjFHSDOIGHFhdsfDFKDSFHdghoi.
Are you joking? What am I supposed to do now? Well, my old options: Take three gallons out of the usually-stored ten gallons of rain water that I kept in my house and use that to bathe, knowing full well that it might not rain for another few days (therefore I couldn't refill my five-gallon buckets with new rainwater) nor may the water in the shady-aqueduct return. Or I could, once again, put on my rubber boots and make the trek to the quebrada, hiking down for eight minutes, then hiking back up, getting sweaty, dirty, tired...
It wasn't fun. And, embarrassingly, I often went to bed dirtier than I would like to admit. But now... damn! Having a secure water source to shower any time of the day? I'm no longer afraid to just clean things up around the house, because I know that I could get clean in my new shower.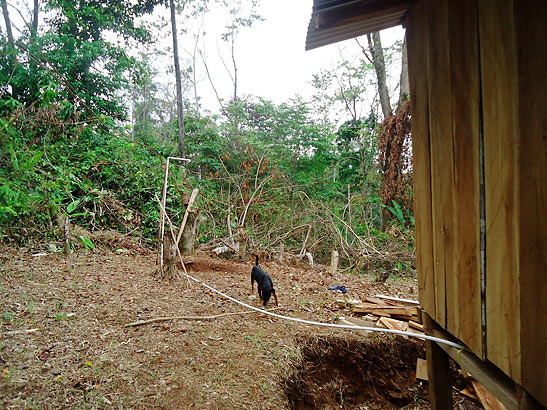 My shower area, behind/to the side of my house
Okay, I will not complain anymore/I will not compare how things were before to how things are now in terms of my living situation. Wait wait wait – not true, one more thing. In my old house, I went to the bathroom in a covered latrine (though filled with mosquitos) in a flush-toilet that ran into a septic side, buried in the ground to the side of the house. Now... well let's just say I don't do that. To make it as appealing as possible, I use a bucket latrine. Sooooooo I poop in a bucket. Before you judge, I must state that many Peace Corps Volunteers do this – at least many from the Environmental Health sector, where members of the community often don't have latrines and they use the quebradas or just poop in the woods. But with that said, this new bathroom situation sucks. I sit on a bucket, go to the bathroom, throw a bunch of wood chips on top of my poop, and shut tight the bucket lid. However, unfortunately, my bucket lid is not closing tightly enough, because flies are getting in, and maggots are taking over. I need to buy a better bucket (a new one, perhaps) especially before I have any more visitors come over...
So let me share some more pictures, because I think I'm done with typing (I can't look at computers for too long nowadays without my eyes starting to stinggggg).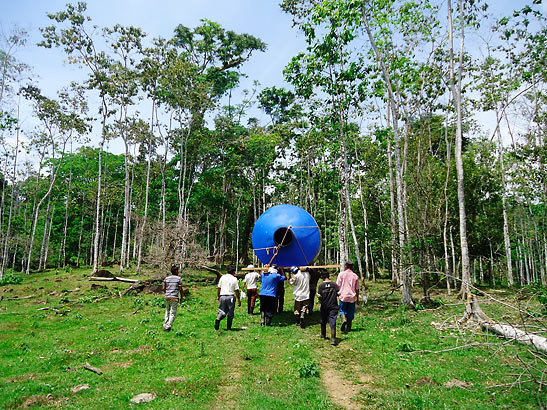 Hauling the 1,250 plastic gallon tank up the mountain. There were two of them...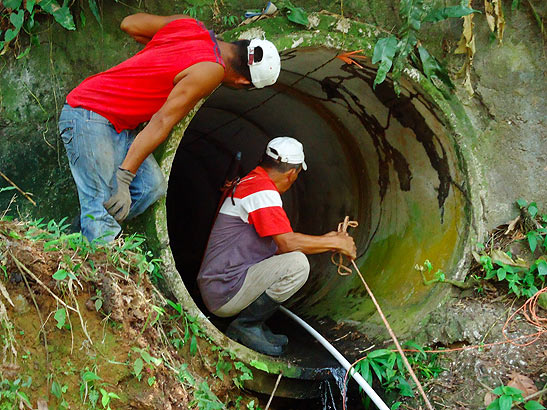 Running the aqueduct line through the tunnel to cross underneath the road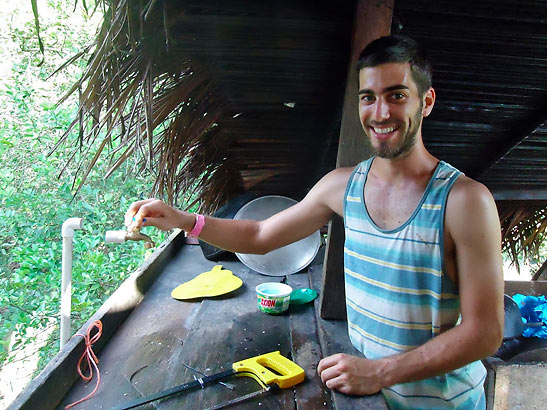 Part of my job was to install faucets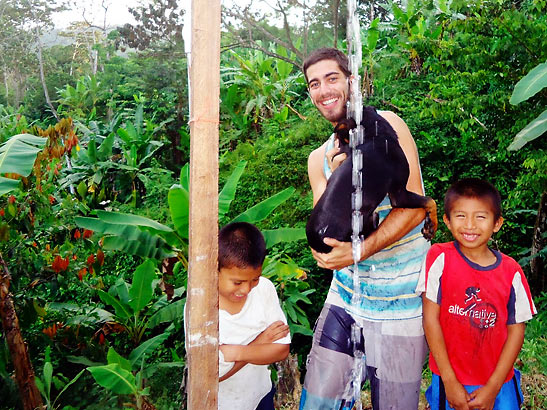 There's water! Sanji was scared!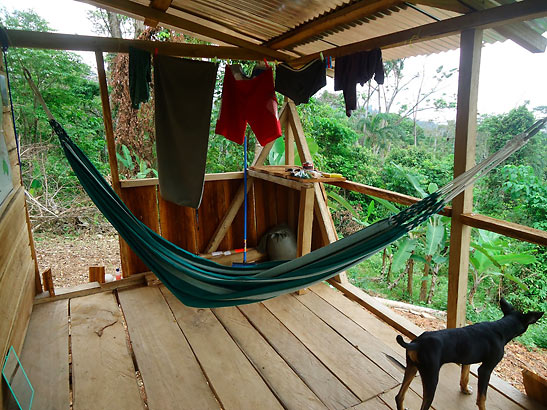 New house - my chill area, with my hammock and clothes line. Sanji looking out, guarding the house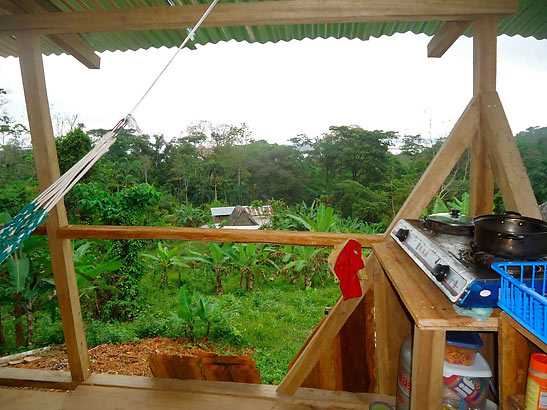 View from my house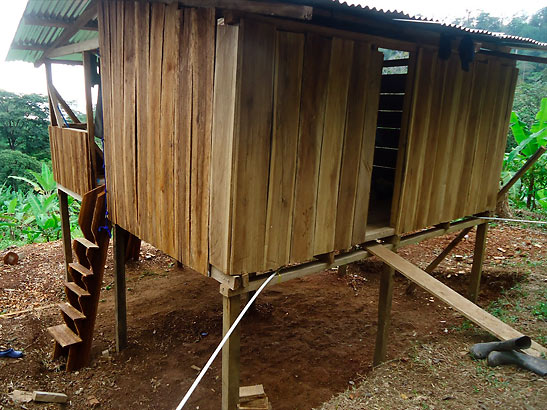 View from the back of my house. Yes, the thing to the left is a "staircase" to get
into my front porch/kitchen area. It is more like a ladder...
but 90% of the time I use the wooden plank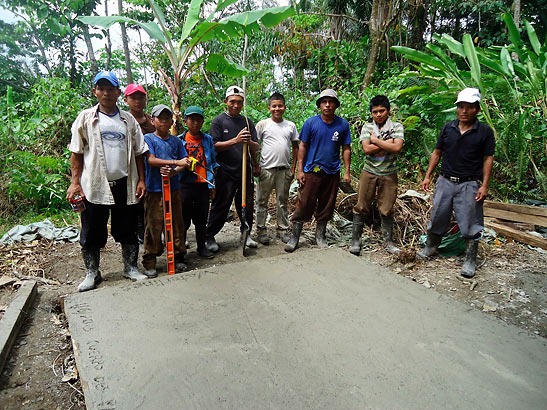 We poured the water tank foundation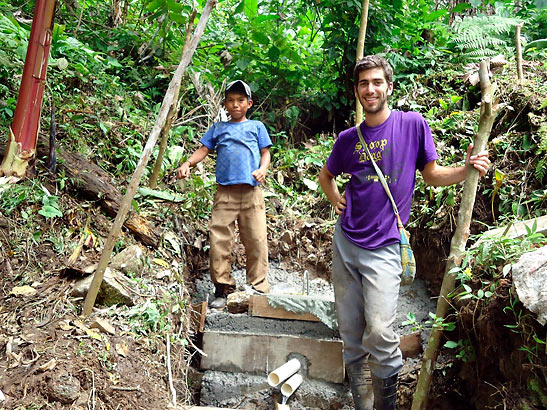 Spring box photoooooo with my friend Dario (please take note of my $2 Snoop Dogg shirt, k thanks)
Alright, that's all for now. Thanks for the read – and thanks to all of you for the support!
Related Articles:
800 Days in Panama, Part I; Costa Rica; Magical Aruba; Mayan Ruins, Riviera Maya, Mexico; Inside Cozumel, Mexico; Playa del Carmen; La Paz, Baja California Sur