All It's Cracked Up To Be
Story by Ken Walker
Photos by Sylvia Walker (unless otherwise noted)



or years my wife and I had dreamed of sinking our teeth into some really plump, juicy, fresh, flavorful and unfrozen King Crab. This month, the dream became reality.
We heard something out of the ordinary was going on crab-wise in Pismo Beach, so we drove up to check it out. It was a WOW experience.

The Cracked Crab at 751 Price St., Pismo Beach, CA
Behind a weathered storefront at 751 Price Street, the Cracked Crab is the love-child of a culinary perfectionist who is satisfied with nothing less than the best. An open secret since 1999, the restaurant is a gourmet mecca for sea food lovers.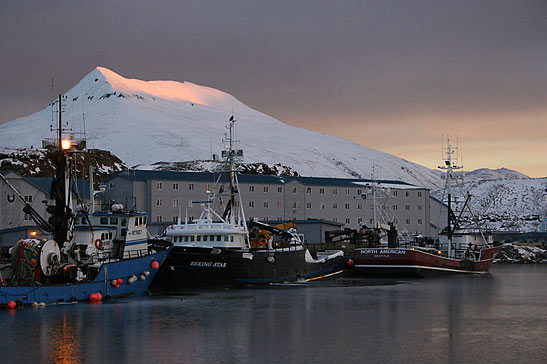 The Dutch Harbor crab fleet. Courtesy photo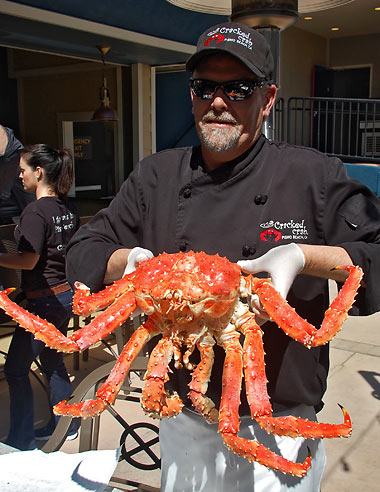 Chef Mike McGourty with a 25-year-old specimen
For years, Owner Mike Lee and his wife Kathy have been visiting Dutch Harbor in the Aleutian Islands, Alaska, making friends at the crab plant that processes giant Red King Crabs. And this year, the Dutch Harbor plant has chosen the Cracked Crab as the only U.S. outlet for its product.
These are no ordinary crabs, they are monsters! Up to three feet across and weighing in at six to eight pounds, they satisfy four to six diners each. Only the males are taken, to maintain renewability.
What sets these crustaceans apart, and ensures tastiness? Special treatment: individual coding with date and time hauled from the sea, an immediate coating of ice rather than freezing, a brine rinse rather than the lengthy soaking that gives a too-salty taste, and an overnight shipment by air.
Mike sells about 1,200 pounds of Red King Crab tails alone every year, in addition to crab whole or by the pound, crab bisque, crab salad, and a range of other seafood.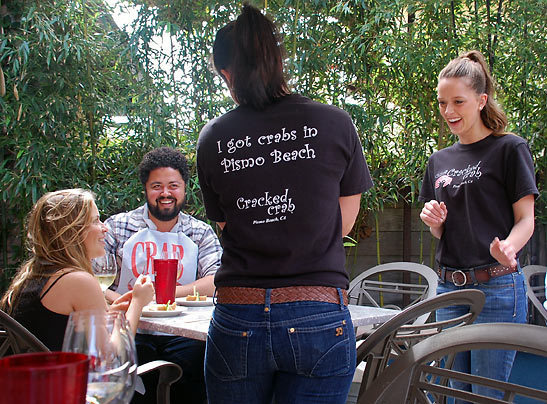 A little humor behind the waitresses' backs
To mark his unique 2014 relationship with Dutch harbor, Mike is offering a package called "Get Crabby at Pismo Beach" from now until June, or whenever the Red King supply runs out. Included are the multi-course specialty meal, an overnight at the Cliffs Resort, and a wine tasting at the Tolosa Winery. Details are available at 800-826-7827.
The bottom line? My taste buds, eyes, and buttered fingers assured me it doesn't get any better than this.
Related Articles:
Wine, Waves and Whimsy in Pismo Beach; Bering Sea Crab Fisherman's Tour: The Aleutian Islands; Classic California on the Central Coast; 3 Things We Didn't Know About Pismo Beach