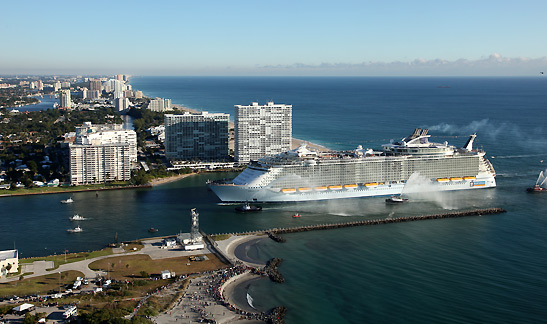 The Oasis of the Seas. Photo courtesy of Royal Caribbean International
The Big Boat
Mystery on the Oasis of the Seas
Story by Ringo Boitano
Photographs by Deb Roskamp

he world is a big place. And it's easy to get lost. Particularly when you want to. All I had to go on was that she had a spark for the ocean, rock climbing, zip line trekking, Central Park and all-you-can-eat donut bars. It took me all but five minutes to figure she had to be on the RCCL's new Oasis of the Seas -- billed as the largest cruise ship on the sea. Reading the papers, I could see this floating pleasure palace was a real piece of work -- 225,282 gross tons, carrying over 6,000 passengers, 2,175 plants and 56 trees, a carousel, ice rink, 21 swimming pools. You get the picture. Big.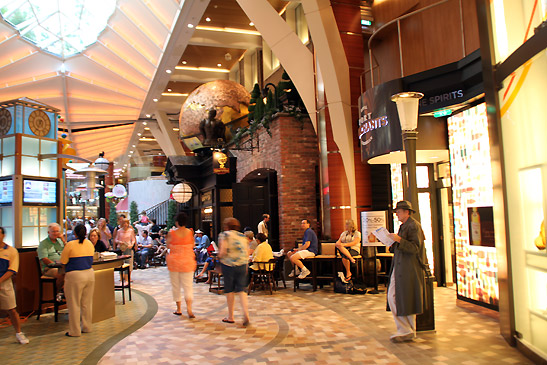 My instructions about finding the skirt were a little more vague: no name, no picture, no age, no nothing. Just bring her home. Alive. Oh, yeah. And she also hated golf. Went ballistic at the sight of 18-holes. Something about a sweet swing she once had with Tiger Woods that ended up in the rough. Seemed she hated frogs, too. This one I didn't get either. Maybe it was some toad broach Tiger once gave her, or maybe she'd seen too many Prince Charming movies where the girl would kiss the frog and the prince turned out to be Arnold Schwartzenegger or something. My fee, though, was not so vague: a fat envelope stuffed with 100 C-notes. For that kind of money, I could find a speck of white peppercorn in a bowl of spaghetti with red sauce. Excuse me, I meant Pasta ala Marinara. I told myself I'd have to start being a little more contemporary with my speech for this trip.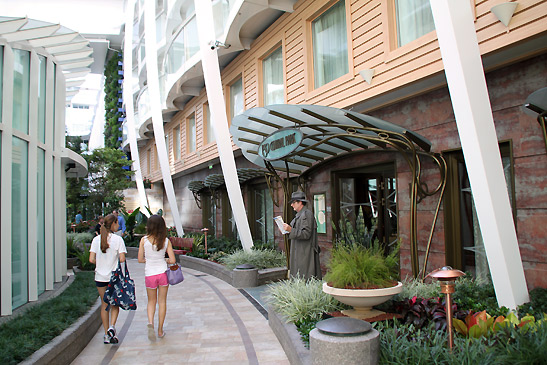 Myself being Ringo Boitano, TravelingBoy writer and part-time gumshoe. To be honest, if I had a few more of those fat envelopes in regular rotation, I'd be a little more full time than part time.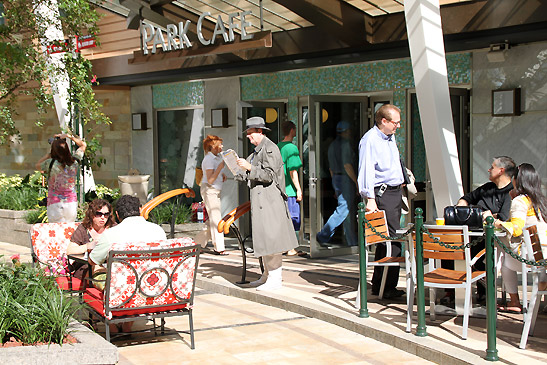 Arriving at the Oasis' homeport in Fort Lauderdale, I almost lost my head, gazing up at the 16 deck, 1,187 feet long vessel. Three times the size of the Titanic. Too big to even squeeze through the Panama Canal. Speaking of squeeze -- as in squeezing my style -- tagging along with me was an assistant. Something that the agency insisted upon. I guess they needed someone to keep an eye on me if I happened to get lost in the casino. Her name was Debra. Sorry, De-bor-ah. To say she wasn't green was like saying it didn't rain in Seattle. I figured, as long as she stayed out of my way and didn't ask too many dumb questions, we'd get along fine. Besides, I needed someone to carry my baggage and hold a place for me in the buffet line.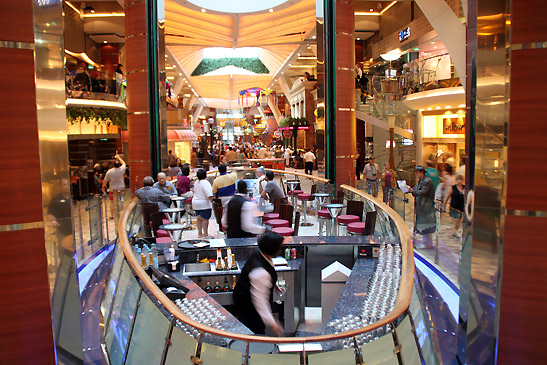 Entering the vessel with the D-girl in tow, I was impressed that the Royal Promenade was the gangway, rather than one of them lower decks, making it easy to find your way around. The sucker was long. Over 339 ft-long. Not that I really studied my brochure or anything. Lined with snazzy shops, cafes and bars, I coulda stayed down there and pounded down a couple of highballs, but knew that finding my room was the next thing in order. It was a snap: the glass elevator was fast and there was some kind of touch information screen with a room finder on the wall.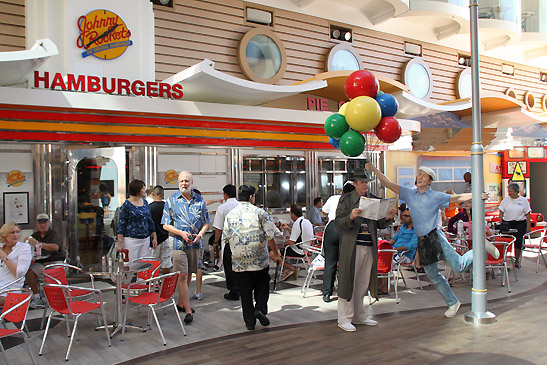 Get this. When I finally made it to my room (sorry, cabin), I was surprised to find that It was one of them dark little closets without a verandah, you know, not looking out at the sea or anything. As I pulled open the cabin's curtain, I expected to see some artsy painting of a beach or something on the wall, but instead there was a verandah overlooking Central Park. That's right. Central Park! That's what they called it. Lush, tropical grounds with pathways, flower gardens and canopy trees spanned the length of a football field. Folks could sit at benches, play checkers, read Sports Illustrated, surrounded by snazzy shops and eateries. Then the light bulb went off in my head. Something the swells would call the brainstorm behind the Oasis. A whole new deal in cruising. They wanted you to stay on the boat and enjoy this modern Vegas-land of crazy attractions, rather than go out and see the sights. This could be a kick in the pants. For a second I even though of running the length of Central Park, but then remembered my three-pack habit. Besides, best for me to just blend in and be unobtrusive. You know, reading the Enquirer or counting the 12,175 plants and 56 trees - though it seemed more like 54 to me. Central Park would be a walk in the park, with no one there to even mug you.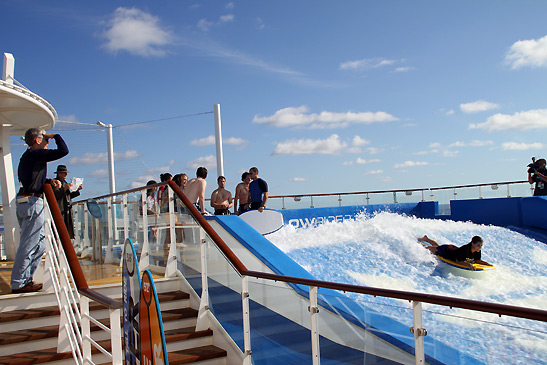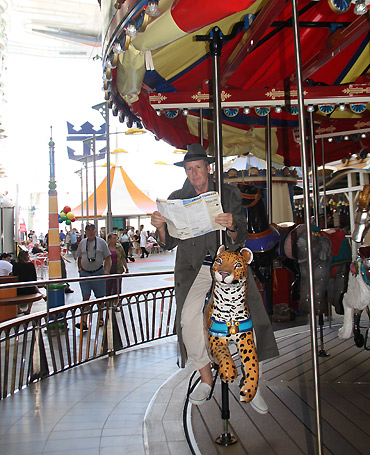 I also remember I had work to do. There was that fat envelope, stuffed with 100 C-notes, and a girl to find. I asked the D-girl to go fetch me one of these fancy coffee drinks. Black, with no sugar. Then I'd start looking. I had a system and it always worked. If you don't believe me, just ask the ghost of John Gotti, or OJ, who's been busy playing patty cake with the inmates in the Big House in Florida.
The Oasis of the Seas is divided into seven themed neighborhoods and zones, giving folks plenty of stuff to do.
There was even a BOARDWALK, apparently inspired by Coney Island, giving the place some sort of carnival atmosphere. Even I got a kick out of it. It reminded me of the time when they took all us kids at the reformatory to a state fair for the day.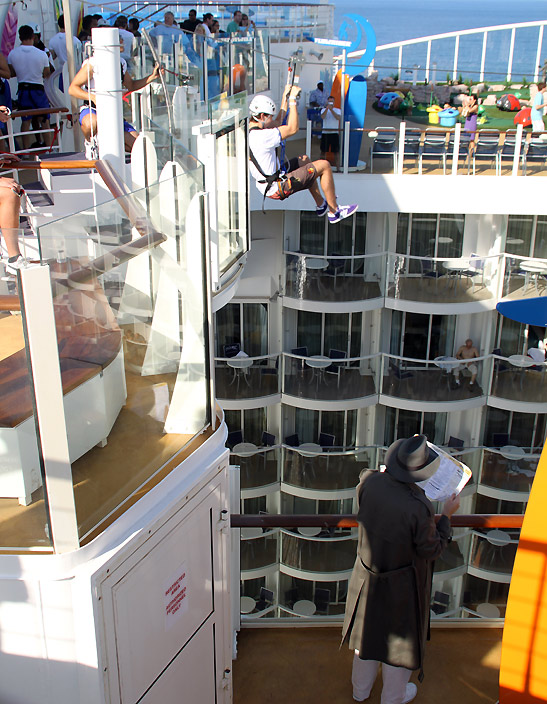 The zip-line was a thing of wonder. The sucker spread all the way across the Boardwalk. If it weren't for the scars on my hands due to Charlie the Chump's numbskull plan back in '82 to use barbed wire to slip out of our cell at Sing Sing I'd be tempted to gave it a shot.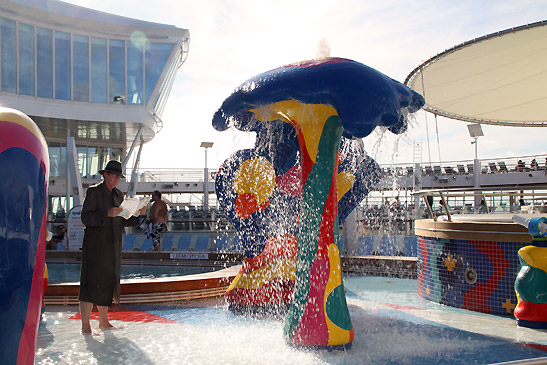 At the stern of the boat was a 735-seat Aqua Theater, where you swim by day and at night it turned into some sort of theater. But with a family crowd I figured there'd be no strip poles or burlesque. What did I care, I was on assignment. So I opted to go to the kiddie pool and cool my tired old dogs.
Now the rock-climbing wall I didn't get. What type of sucker would pay all that dough just so that they could climb some wall. I still have a trick knee due to trying to climb the big one when I was at San Quentin.
But then I saw it -- the golf course. Yeah, the golf course. How could I have been so stupid. I was having such a good time on the boat, I completely forgot about it. I figured I would nonchalantly wander over and check it out. But where was De-bor-ah -- the D-girl in tow? Last time I saw her she was hanging out at the all-you-can-eat donut bar. Something didn't smell right. And it wasn't the smoke from the Oasis chimney.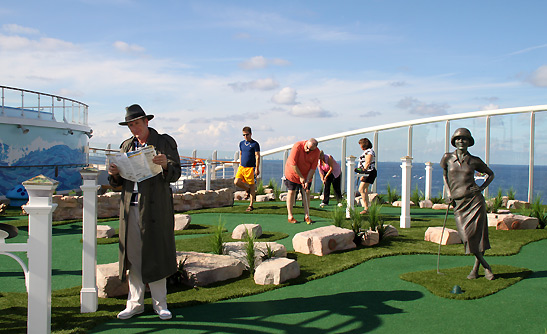 Stay tuned for Part Two.