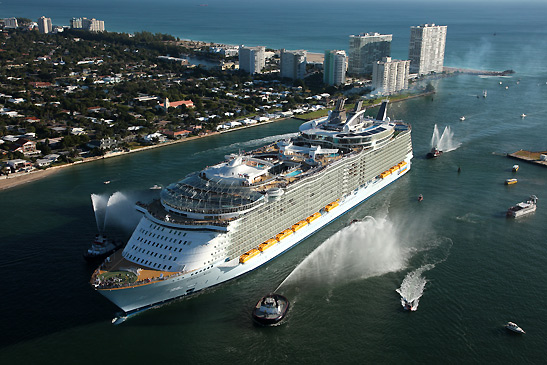 The Oasis of the Seas arrives in Ft. Lauderdale.
Photo courtesy of Royal Caribbean International
A Room with a View on The
Oasis of the Seas
By Ringo Boitano
Travel Editor


hat weighs 225,282 gross tons, carries over 6,000 passengers, has 12,175 plants and 56 trees, a carousel, an ice rink, 21 swimming pools, zip-line and all-you-can-eat donut bar? If you're up on your latest travel news, you know I'm talking about Royal Caribbean International's new Oasis of the Seas - the largest cruise ship on the seas today. And big it is: three times larger than the Titanic; too big to even squeeze through the Panama Canal. I was intrigued to see this floating pleasure palace up close and personal. Was it just a larger version of a cruise ship where I'd never find my room or truly a revolutionary architectural wonder, offering a whole new concept in cruising? So when I received an invitation for a preview sailing out of Fort Lauderdale, I jumped at the chance.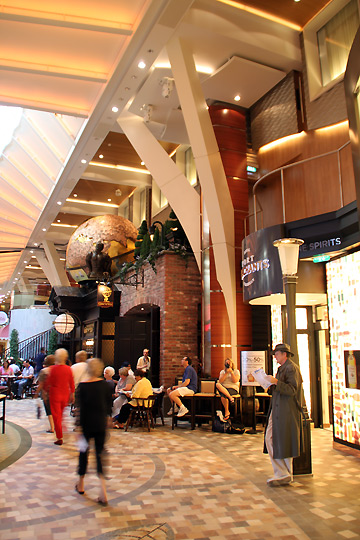 The 339 ft-long Royal Promenade.
Credit: Deb Roskamp
Arriving at the Oasis' homeport, I gazed up in wonder at the 16 deck, 1,187 feet long vessel. As I ventured inside I was pleased to find that the Royal Promenade served as the entry point for all guests, rather than the traditional lower decks, making it easy to get oriented. Glass-arched skylights sent a flow of light along the 339 ft-long promenade, lined with shops, sidewalk cafes and bars. I was so dazzled I didn't want to leave, but knew that the quest to find my cabin was the next thing in order. It was a snap: the glass elevator was fast and efficient, and there was a touch information screen with a room finder on the wall.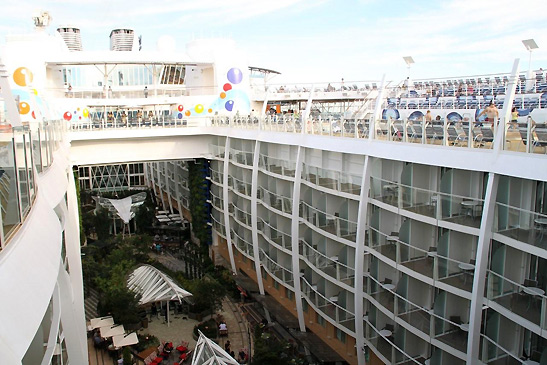 Central Park spans the length of a football field. Credit: Deb Roskamp
I was surprised to find that I was in an inside room, not a cabin with balcony, looking out at the sea. As I pulled open the cabin's curtain, I expected to see a painting on the wall, but instead there was a balcony overlooking Central Park. Yes, Central Park! Lush, tropical grounds with pathways, flower gardens and canopy trees spanned the length of a football field. Passengers sat at quiet nooks, reading books and relaxing, surrounded by elegant shops and dining venues, with the sky above. Then I got it – the brainstorm behind the Oasis – it really was a whole new concept in cruising. The ship was literally a destination unto itself - where your attention is focused inward, rather than out.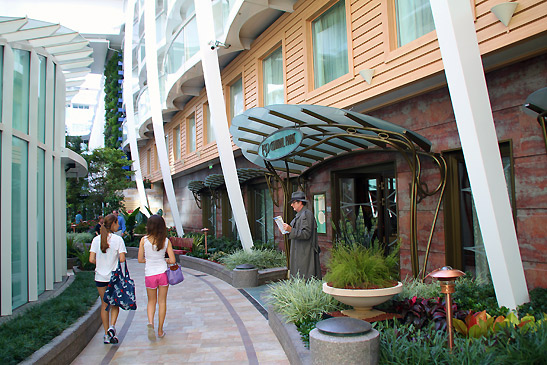 Central Park is dotted with 12,175 plants and 56 trees. Credit: Deb Roskamp
The Oasis of the Seas is divided into seven themed neighborhoods and zones, giving passengers not only an endless array of entertainment options, but also making it an intimate experience of their choice. I couldn't wait to explore the vessel.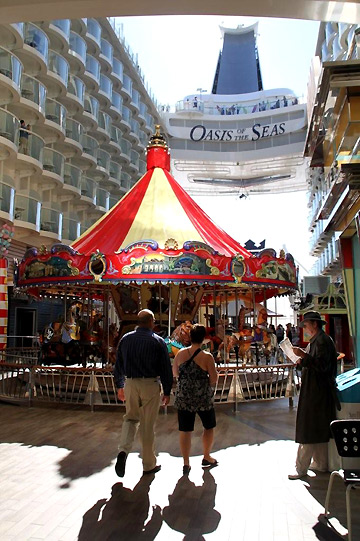 The nostalgic carousel in the Boardwalk neighborhood.
Credit: Deb Roskamp
BOARDWALK. Inspired by Coney Island, the open-air Boardwalk neighborhood has a carnival-like atmosphere, ideal for all age groups. Attractions include a nostalgic carousel, casual eateries like Johnny Rockets, shops and games. At the stern of the ship is the 735-seat AquaTheater, which serves as a pool by day and an ocean-front showplace at night.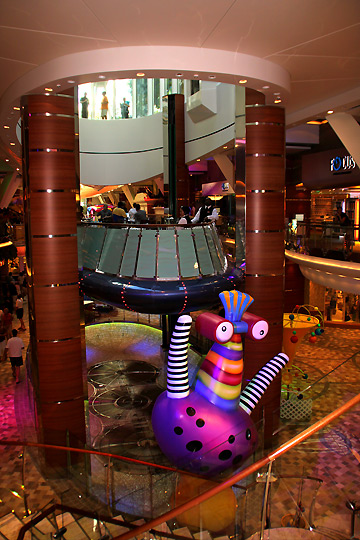 The Rising Tide Bar and merriment on the Royal Promenade. Credit: Deb Roskamp
ROYAL PROMENADE.
The centerpiece of the before mentioned Royal Promenade is the Rising Tide Bar. The first moving bar at sea, it spans three decks, allowing passengers to enjoy beverages as they slowly move between Central Park and the Royal Promenade.
POOL AND SPORTS ZONE. Stretching the length of the ship, this zone features two rock climbing walls, two FlowRider surf simulators, a number of pools, miniature golf, plus Sports Court for basketball and volleyball. The lines were too long to try the new zip trek line, but it was still exhilarating watching guests travel across the open-air atrium, suspended nine decks high above the Boardwalk
VITALITY AT SEA SPA AND FITNESS CENTER. A RCCL fixture, the beautiful, spacious Center encompasses amenities that support healthy lifestyles and body wellness.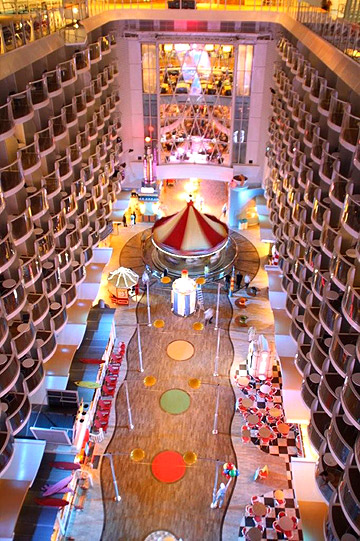 The Boardwalk at night. Credit: Deb Roskamp
ENTERTAINMENT PLACE. Another new RCCL innovation, the after-dark Entertainment Place is modeled after a contemporary nightclub district, complete with jazz, stand-up comedy, salsa dancing, karaoke and more.
YOUTH ZONE. A haven for children and teens.
SOLARIUM. My favorite of all the zones, the adults-only, open-air Solarium, features a two-deck high, glass-paneled enclave, with six whirlpools, tranquil swimming pool and bistro. Plush lounge chairs are arranged on "islands," surrounded by water, where guests enjoy the sensation of floating on air. No wonder I was so relaxed.
A two-day cruise was clearly not enough time to experience everything on the Oasis, but I was there long enough to know that I will return again.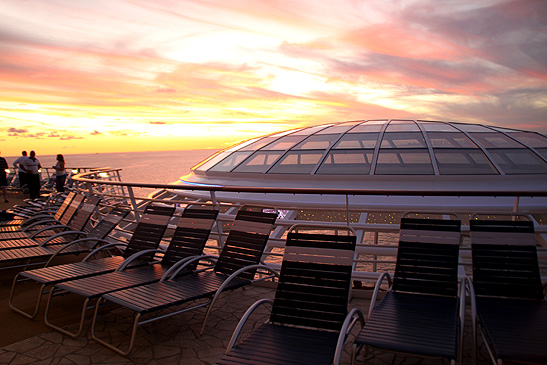 South Florida at night. Credit: Deb Roskamp
When in South Florida for a cruise, Fort Lauderdale rates a 24 hour stay. Dubbed the "Venice of America," due to its expansive canal system, the city is a major yachting center, boasting 42,000 residential yachts and over 100 marinas. A pleasant alternative to the glitterati of Miami's South Beach, the city is low-key and unpretentious, but still offers world class beaches, an historic downtown, riverwalk and promenade, plus hordes of resort hotels, restaurants and clubs. Make sure you purchase an all-day $13 water taxi pass, which offers an insightful overview of the city. My pick for accommodations is the recently renovated four-diamond Harbor Beach Marriott Resort & Spa. Tucked away on 16 oceanfront acres, just 10 minutes from the airport, it too, like the Oasis, is a destination unto itself. A classic Fort Lauderdale retreat, the resort offers tropical seclusion, complete with 650 rooms and suites, an upscale specialty restaurant offering American seafood creations, two casual eateries, 10,000-square-foot oceanfront ballroom, and 20,000 square feet of outdoor terraces overlooking South Florida's largest private beach. Listed in "100 Best Spas of the World," the Spa at Harbor Beach is itself a seaside oasis with 17 private treatment rooms, a private spa pool, sauna, whirlpool, eucalyptus steam rooms and fitness center. Fort Lauderdale's dining, shopping and entertainment are conveniently located right out your doorstep.