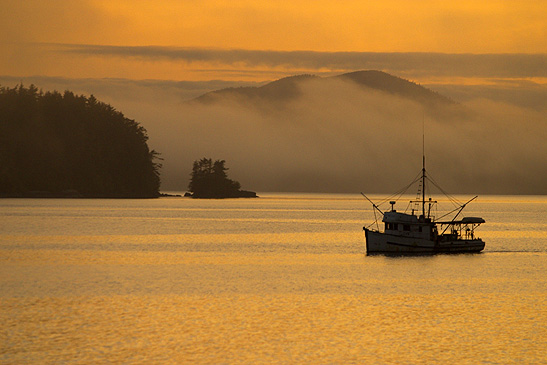 Photo courtesy of Sitka Convention & Visitor's Bureau
My Google Brain at Work
In Sitka, Alaska:
An App That We Can't Do Without... or Can We?
by Roger Fallihee



oogle has had many remarkable achievements in their brief history, but there is one potential application, that if properly developed, could permanently leave both Microsoft and Apple in the dust.
Gmail, Google Docs, Google Calendar, and Google Voice are all outstanding products, but the missing piece to the Google puzzle, the one that I have graciously conceptualized for them, will be aptly named, "Google Brain."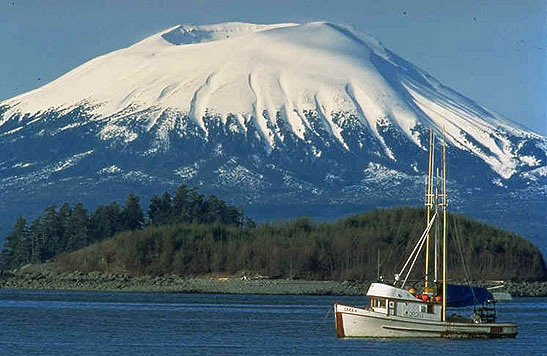 Sitka's Mount Edgecumbe. Photo courtesy of Sitka Convention & Visitor's Bureau.
Okay, a little back-story is in order.
Sitting on a deck in Sitka, Alaska's harbor, the morning sun was just breaking over the majestic 3,200-foot Mount Edgecumbe (Sitka's Mount Fuji). Commercial fishing boats were already in the water, and those extreme outdoor types could just be made-out through the mist in their kayaks for their daily adventure. I was on a press trip in Sitka, Alaska. With its rich native culture and Russian history, captured in a stunning wilderness setting, there was no other place on the planet where I'd rater be. My morning was to begin with my own kayak trip with Sitka Sound Ocean Adventure Kayaking. Later I would visit Sitka National Historical Park, Alaska's oldest federally designated park. The 113-acre coastal park is nestled in a temperate rain forest with beaches, hiking trails and scores of totem poles. The visitor center houses the Southeast Alaska Indian Cultural Center, featuring ethnographic exhibits and an area to watch Native artists at work. Other stops would include The Alaska Raptor Center, a pioneering non-profit wildlife project, dedicated to saving Alaska's raptors (birds of prey), the Folkloric New Archangel Dance Show and the iconic St. Michael's Church. There was even talk of my doing a little dancing at the Sheet'ka Kwaan Naa Kahídi, Sitka's Community House, which offers traditional Tlingit dancing and songs. Life was good.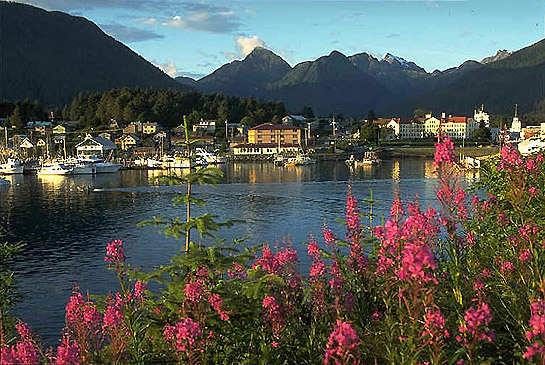 Sitka's alluring waterfront. Photo courtesy of Sitka Convention & Visitor's Bureau.
Suddenly, the monkey-wrench tightening in my gut reminded me that I had forgotten important to do before my trip. I needed to call my insurance company this very morning. But I had a small problem -- I couldn't find my insurance card, I couldn't remember the name of the agency, and the lovely Mrs. Fallihee, the solution to all of my problems real or imagined, was in New York at a conference. All I could remember was that the agent's name was Nancy (or maybe Diane).
I raced back to the Westmark Hotel to access my laptop. I tried to find them on Google but I didn't have enough unique key words to locate the company. I had already re-scheduled my kayak trip, so I decided to take a stroll at the Sitka National Historical Park to clear my head.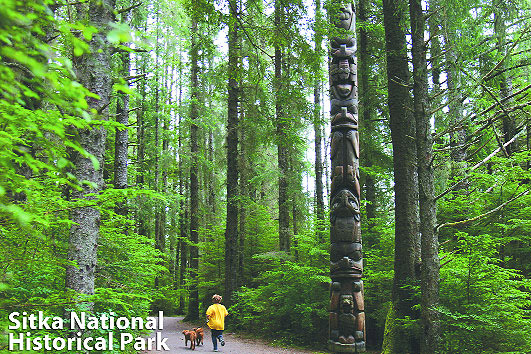 A stroll, but no jogging (that's not me in the photo) at Sitka National Historical Park was just what I needed to clear my head. Photo by Ed Boitano.
Then my mind started racing. I would recognize the insurance agency's name once I saw it, but I just couldn't think of it. Our brains are filled with information that, for whatever reason (like, for instance, drinking 3,000 bottles of red wine in ten years) we can't always easily retrieve.
I hurried back to the Westmark, this time jogging. As I logged in, it occurred to me, all Google has to do is figure out a way to configure their proprietary technology so that they can search the Internet and at the same time scan our brains and brainwaves.
If Google Brain were in operation I could have performed a simple search like this:
Search: Where does Nancy work?
Google Brain performs a quick scan of my gray matter and brainwaves and the answers appear on my computer screen in less than a second.
Results:
Do you mean Nancy Burwell, who dumped you in the 4th grade because she fell in love with Ringo Starr?


Do you mean Nancy Walls, who's the mother of your daughter's best friend Lauren?


Do you mean the guy that you played golf with in '98 who you thought swung his 3-iron like a "Nancy-pants?"


Do you mean Nancy, (whose actual name is Dianne, dummy) from Banner Insurance in Tacoma?
Hell yeah, now we're talking. Banner Insurance. Problem solved.
Google Brain is awesome!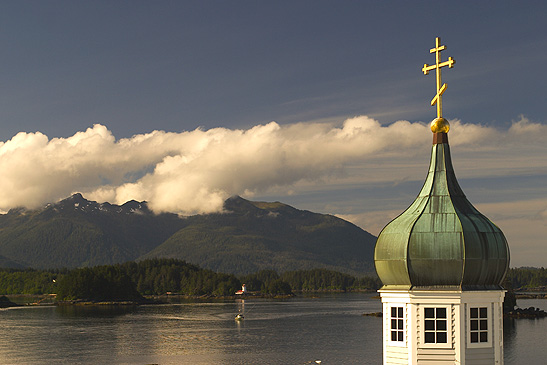 St. Michael's Cathedral, also known as Cathedral of St. Michael the Archangel, is a cathedral of the Russian Orthodox Church in Sitka, Alaska. It has been a National Historic Landmark since 1962, notable as an exhibit of Russian influence in North America. Photo courtesy of Sitka Convention & Visitor's Bureau.
Last Christmas -- again in Sitka (there's something about that town) -- my brother Jay and I were reminiscing about our long-departed mother's "Chocolate Sprinkle" cookies. We loved those cookies but nobody in the family has the recipe. I have at least fifty first and second cousins so I figure that one of them must have it.
I asked Google Brain to scan the cranium of every member of my extended family.
Expanded Search: WDoes anyone have the recipe for my mom's "Chocolate Sprinkle" cookies?
Results:
Your cousin Carol has the recipe, but since you didn't send her or any of her kids wedding gifts, she said, "tough luck Roger... and, by the way, the cookies are yummy."


Another cousin, Margaret, also has the recipe but Carol just texted her and told her not to give it to you. Carol calls the shots on that side of the family, which you would know if you had kept in touch with them.


You know Roger, those cookies do have a little brandy in them. Just saying.


You and your brother are hopelessly stuck in a romanticized, "Leave It To Beaver" view of the past, and neither one of you even liked those cookies, so it's time to move on.


What's the matter, you don't like your mom's krumkake and lefse recipes? All she ever did was slave away for you kids and this is the thanks that she gets?
Google Brain might need a little tweaking... but I still like it.
Maybe I am stuck in the past. Maybe I'm guilty of my own revisionist history. Maybe some or most of my memories are distorted. I know how to find out though. My old girlfriends wouldn't have lied to me would they?
Expanded Search: Do any of my ex-girlfriends still think that I'm the best lover on the planet?
Results:
Your search - Do any of my ex-girlfriends still think that I'm the best lover on the planet? - did not match any documents, conscious or subconscious thoughts and/or feelings. Sorry Roger.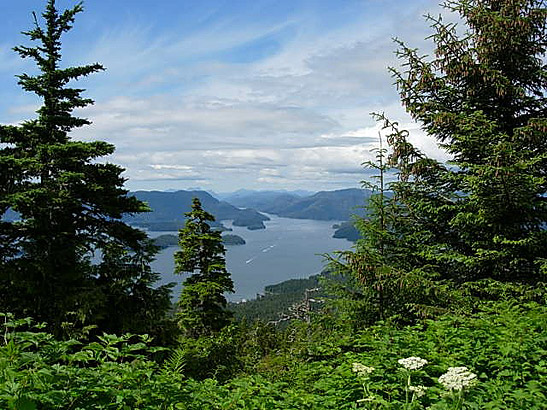 Photo courtesy of Sitka Convention & Visitor's Bureau
Google Brain sucks! Well, I'll always have Sitka.