Manoir Hovey:
A Charming Canadian Escape
Story by Ruth J. Katz
Photographs courtesy of Manoir Hovey

f you've traveled along the River Road in Louisiana, visiting restored plantations and learning about the Civil War from a Southerner's point of view, then you've listened to the period-costumed guide-interpreters more often than not refer to the Civil War as "that recent unpleasantness." Here it is, 150 later, and Southerners still seem to be harboring a grudge. Well, if that is fact, then you can just imagine how those who resided south of the Mason-Dixon Line – way back when – felt after the war.
It is likely that in 1900, Henry Atkinson, owner of Georgia Power in Atlanta, still felt a little of that antipathy toward the North when he was looking for a cooler, seasonal destination for his family; he decided to bypass Yankee Land and made a beeline for Canada, to the environs of North Hatley, in the Eastern Townships of Quebec. (Although it is perhaps apocryphal, it's said that Southerners of that period, who journeyed northward toward Canada – thankfully bypassing New England – would lower the shades of their private railway cars as they wended their way through the North.)
North Hatley itself was first settled by British loyalists who had abandoned New England after that other "unpleasantness," the Revolutionary War. It was Colonel Ebenezer Hovey, one of these early settlers, who was granted a large tract of land by the Crown in 1785.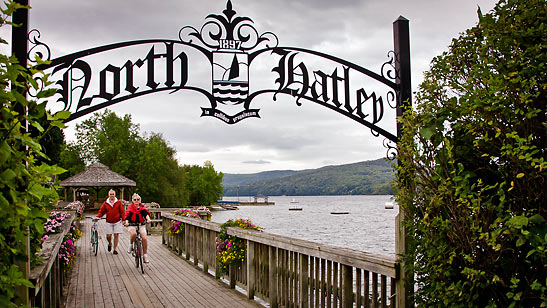 A prime site in the settlement would become "The Birches," Atkinson's home, which was modeled after George Washington's stately Mount Vernon. By the 1940s, the Atkinson family stopped vacationing in North Hatley and the property was sold. Montrealer Robert Brown purchased the estate in 1950 and converted it into a gracious inn and in 1979, Kathryn and Stephen Stafford assumed ownership.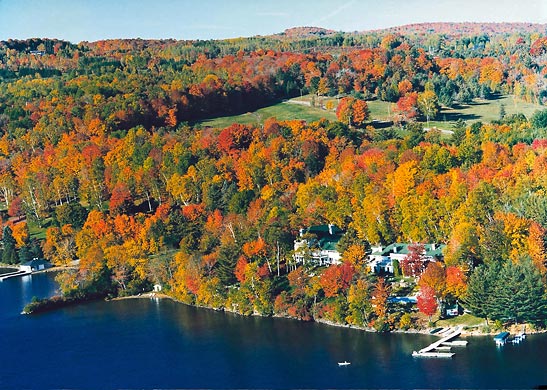 They have transformed it ever-so-handsomely into a truly fine, restful Relais & Châteaux retreat, Manoir Hovey. Situated on Lake Massawippi (meaning an abundance of clear water), it is an ideal site for a serene sanctuary. (And it's worth noting that it is a mere twenty minutes over the border from Vermont and six hours' driving time from New York City.)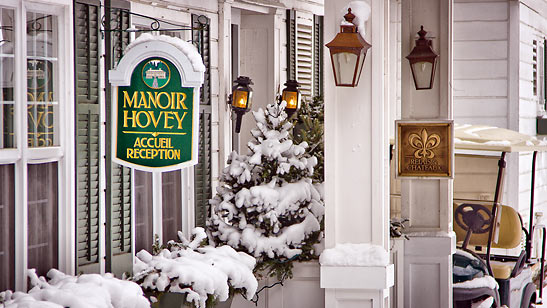 As with many properties that are owner-operated (the Staffords are on premises along with their son, Jason, the general manager), Manoir Hovey is a reflection of its dedicated, very hands-on owners. Each room has been lovingly furnished and no two are alike. There are some slightly more modern-influenced chambers, some that evoke Provence, others that make an Early American statement, and some a little contemporary, but not edgy.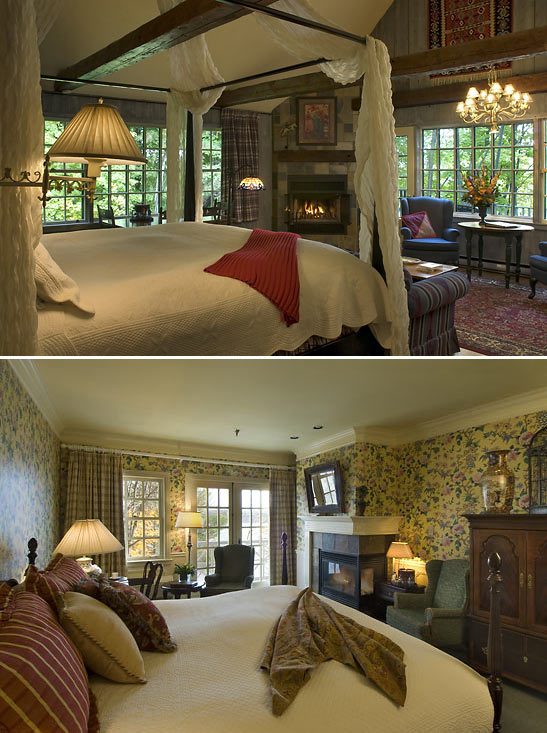 There is so much charm here, you'll want to come back many times to experience the many rooms – and there are 30 of them, along with seven suites, so you'll have plenty of reasons to sign that guest book several times. A favorite for honeymooners is the Cartier Suite, a discrete jewel, in a private little cottage, at the water's edge, with a short dock stretching out onto the lake.
Rooms along the lake side on the second floor of the main house, all have a capacious balcony and many rooms have a fireplace or a whirlpool tub, and just about every room sports a view. You will invariably want to spend your time on the tranquil grounds, idling away hours, fixated on the scenic lake. With nearly 2,000 feet of lakefront, exquisite English gardens that provide a swath of rainbow tones, seductive cuisine, and water sports (kayaks, paddleboards, canoes, and lake cruises), you may not want to leave the premises' 35 acres. If you do want to venture forth, but not go too far, the staff can provide you with a 12-speed bike and picnic fixings. There is a tennis court on the property and a golf course is less than 30 minutes away.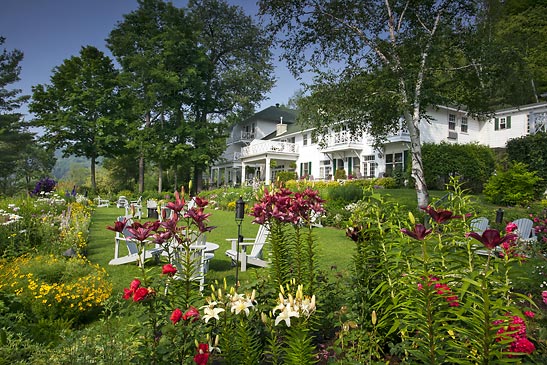 Should you decide you want a more serious outing, Montreal is about an hour-and-a-half away, but short of that, there are a few sights within a stone's throw. One you'll certainly want to visit is the Parks of the Coaticook River Valley. Among destinations within the park is the longest suspended footbridge in the world-over 550 feet end-to-end and nearly 175 feet high up. There is horseback-riding as well as pony rides, and mountain-biking in the park; in the winter, there is snow-tubing, ice-climbing, and snowshoeing. There are three main loops with trails and the views, particularly in autumn, are stunning.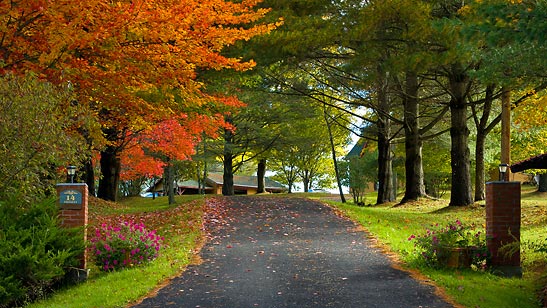 Also near Manoir Hovey is the Abbey of Saint-Benoit-du-Lac, founded in 1912 by French monks. Located on Lake Memphremagog, the Abbey is assuredly worth a visit, but first check the schedule for the times when the monks will be in the sanctuary, intoning ethereal Gregorian chants. The monks also produce cheese, cider, cider vinegar, apple treats, and chocolate, so visit the shop before you leave.
If you are interested in more cheese, then it's worth a trip to La Station de Compton, fine cheese-makers for four generations. Here you can sample some truly delicious local favorites, including Raclette de Compton, Comtomme Signature, Chemin Hatley, and Alfred le Fermier.
And what would cheese be without wine? There are a dozen (!) wineries to visit within the area, and the newest among them is Domaine Bergeville, opened in 2014. It is just five minutes from Manoir Hovey and is the only winery in Quebec producing sparkling wines only. Not parenthetically, if sampling wine and cheese and listening to Gregorian chants appeal to you as the perfect activities for an ideal day's jaunt , then you are in luck, as Manoir Hovey has created a value-oriented package that includes all three, along with an enticing room rate, and some meals; additionally, there are other interesting, activity-oriented, hotel-cum-attraction packages.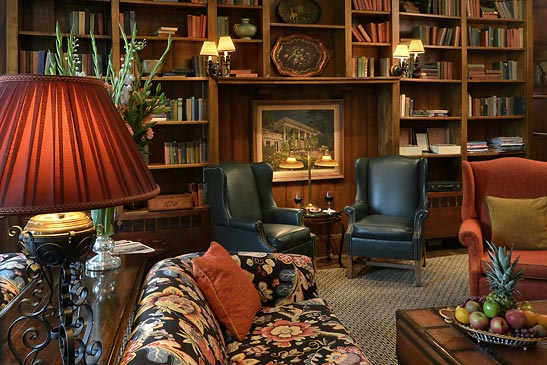 Feeling more adventurous? Try the Velo Volant, a dare-devil's bicycle jaunt through the canopy of tree tops. It is a recumbent bike on a zip line that transports you through the foliage as you pedal 100 feet above the ground. This is one of only three in the world and it presents a once-in-a-lifetime opportunity to fly through the greenery!
If, after your meanderings you want a little pampering, Manoir Hovey's magician of a concierge can set up a date for you at one of several local spas. If you're too content to venture anywhere, then the concierge can arrange for a massage therapist to come to you for a treatment in the hotel's massage chamber. You'll want to finish up your daytime activities in time for dinner, as the food here is absolutely sensational.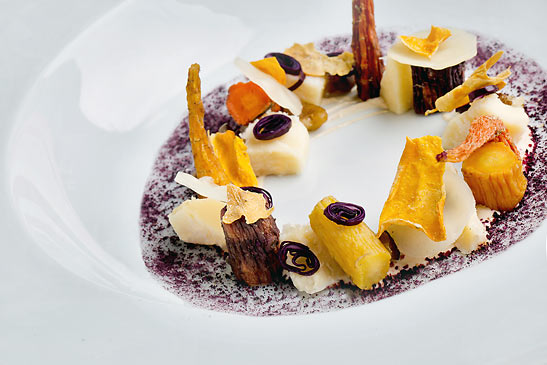 Be sure to visit the vegetable and herb gardens on the property, where you'll likely see half of what will ultimately become your dinner. Chef de Cuisine Francis Wolf has been wielding his whisk here for over a dozen years and is in charge of the on-premises restaurant, Le Hatley. He has spent time in some of Gotham's top kitchens, including those of Alain Ducasse, Daniel Boulud, and Charlie Palmer; additionally, he's worked for San Francisco's Gary Danko.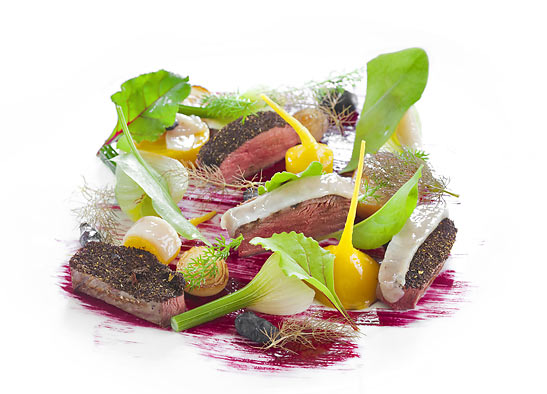 I found the salads (consumed al fresco on the lovely veranda), so beguiling with all their fresh ingredients, edible flowers, and local poultry, I ate two a day; expect wonderful delicious fresh greens, radishes, green beans, celery, almonds, and a few surprises. More hearty fare includes duck sausage with braised purple kale, parsnips, mooseberry, mustard, and wild chervil; or, a bolete-mushroom and chicken ballotine, with corn, white turnips, wild mushrooms, all in a creamy white-wine sauce. The desserts are all tempting, but I was completely blown away by the milk chocolate and praline entremets, with hazelnut crumble, strawberry jelly, a hint of vinegar, honeycomb, and toasted ice cream. Ummm-ummm good!
If none of this appeals to you, in the wintertime you can actually have gourmet pizza out on the frozen lake! When the ice is thick and solid, there is a pizza oven out on the ice and if you're out there taking a complimentary ice-fishing lesson, a tasty slice or three of pizza and a warm toddy will feel just right. Additionally, there are ice-wine tastings and sleigh rides in the winter.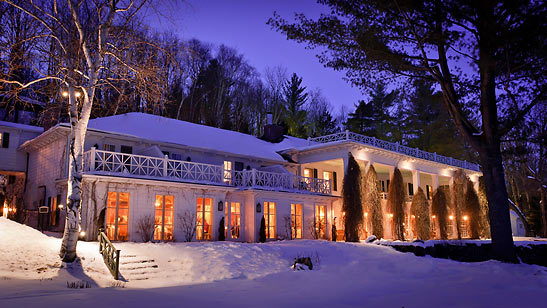 Could you possibly ask for more from such an enchanting destination? Award-winning Manoir Hovey is, indeed, a revelation, discreetly tucked away in a bucolic setting. I have never been disappointed in any Relais & Châteaux property, and Manoir Hovey not only surprises and delights, but moreover, surpasses the high Relais & Châteaux standards.
©Ruth J. Katz 2015 All Rights Reserved
Related Articles:
Therapeutic Glimpses of Canada; Nova Scotia in Four Days; Victoria on a Whim; 3 Things We Didn't Know About Ottawa; Mohonk: Old-World Flavor Wrapped in Casual Elegance