Washington DC:
The Dupont Circle Hotel's Package
For You...and Your Party
Story by Ruth J. Katz

lection Fever is permeating everything we do, say, think, read. And with mere weeks to go until E-Day, political fervor (dare we say apprehension, aggravation, acrimony, antipathy, and antagonism??) has ramped up into frenzied high gear, particularly in the greater Washington, DC area. For anyone seriously into election electricity, DC is one of the most exciting places to be, where you can almost feel frissons of the high-voltage anticipation (and anxiety) that blanket the city. What an election race this has become!
Regardless of whether your stripe is red or blue, the welcoming Dupont Circle Hotel not surprisingly (and conveniently) located at Dupont Circle, has a well-priced get-away package that will tickle your inner donkey or elephant...and perhaps take your mind off the election for a brief weekend of museum-going and dining.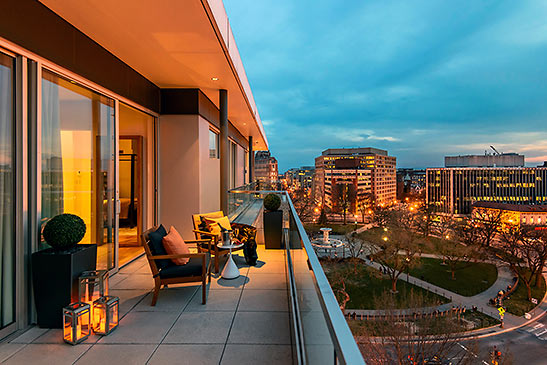 A hotel terrace with view of DC. (Courtesy of Dupont Circle Hotel)
Designed with a bit of wit and whimsy, the Democratic and Republican packages are crafted to put a smile on your face, not a dent in your wallet. At $629 (plus tax) per night (for a minimum two-night stay), the "experiential" packages offer education and excitement. These two fun deals are available through the inauguration, and thereafter, the hotel will likely start another politically-oriented package.
Here is what the package offers:
THE DEMOCRATIC PARTY EXPERIENCE
Lunch for two at Bar Dupont, where cheeseburgers, Bill Clinton's fave cheat meal, are available


$150 gift card to Brooks Brothers; be sure to spend that cash on bright shirts and bowties, to recreate Harry S Truman's signature look


Two tickets to the International Spy Museum, where currently there is a James Bond exhibition (more about that later); and not parenthetically, John F. Kennedy was a big fan of 007


Private VIP tour of the Verizon Center, where Barak Obama played basketball growing up. See the Wizards' locker room, backstage, and the best views in the house


A copy of President Obama's favorite movie, Casablanca, to take home


A special selection of books including the likes of Team of Rivals by Doris Kearns Goodwin


Democrat US President puzzles to tackle in the room


Democratic party chocolates by DC-based chocolatiers Harper Macaw (the packaging alone is so adorably clever, you'll not want to open the chocolate bar.)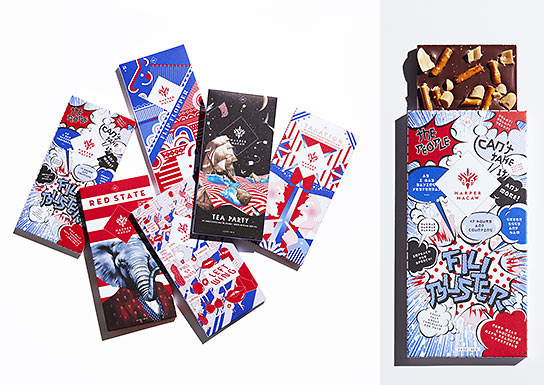 Courtesy of Harper Macaw
THE REPUBLICAN PARTY EXPERIENCE

Two hand-rolled cigars from W. Curtis Draper Time Tobacconist; cigars were purported to be Ulysses S. Grant's guilty pleasure


$150 gift card to Brooks Brothers, where Abraham Lincoln had all of his suits made, and it's a sure bet he had to, given his lanky silhouette


Vouchers for oysters and beer at Bar Dupont, honoring Honest Abe's favorite food


A round of golf on the local course, in honor of Dwight D. Eisenhower's preferred pastime


Republican US President puzzles to tackle in the room


Republican party chocolates by DC-based chocolatiers Harper Macaw


A "curated" selection of related books, that might include the likes of Militant Spirit by James Traub and Theodore Roosevelt in the Field by Michael R. Canfield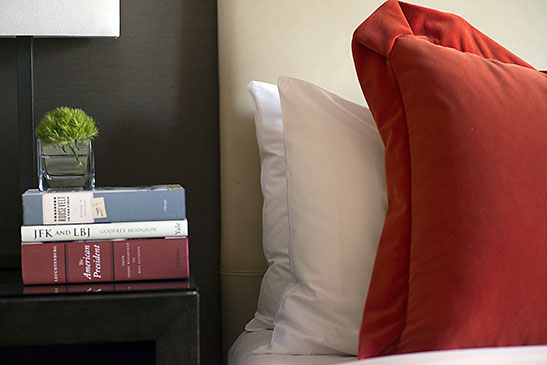 Courtesy of the Dupont Circle Hotel
A Teddy bear (aptly named for Theodore Roosevelt), the perfect cuddly souvenir


A copy of the Knute Rockne – All American movie, along with a bag of jelly beans, which were "Ronnie's" munchie of choice; remember, he is said to have always had a bowl of them on his desk in the Oval Office
Since its opening in 2009, the hotel (with 327 rooms, including 15 handsomely decorated suites on the ninth floor) quickly became a go-to destination for Washington heavy-weights, who rub shoulders in the stylish, buzzing Bar Dupont, while the hip crowd gravitates to French brasserie-style Café Dupont (and the charming sidewalk eatery, as well), where the fare is peppered with toothsome offerings.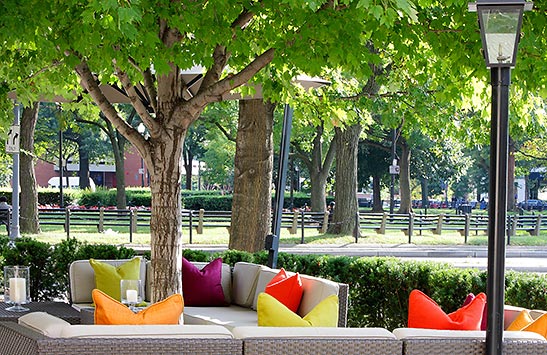 Courtesy of Dupont Circle Hotel
Start with Dupont mussels in marina sauce, with garlic, shallots, parsley, chorizo, and cream; or watermelon salad, with heirloom tomatoes, feta cheese, arugula, lime zest, and cilantro; main courses might include the hotel's famous duck with braised endive, confit golden beets, bok choy, and a berry reduction; or the salmon with celery root puree, beluga lentils, rainbow Swiss chard, in a balsamic reduction. Desserts include a wide variety of seductive confections with pleasing flavors, among which are the fresh ricotta beignets, cherry clafoutis, Granny Smith apple pie, warm molten chocolate cake, and freshly baked cookies and ice-cold milk.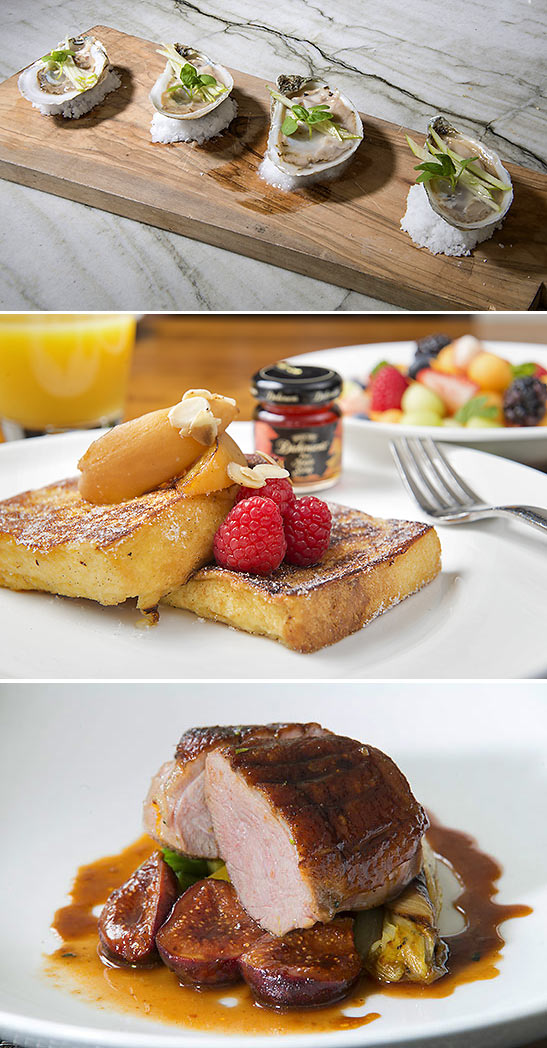 Photos courtesy of the Dupont Circle Hotel
The Dupont Circle Hotel is a member of the Doyle Collection, an Irish-family-owned hotel group, with eight properties in DC, Dublin, London, Bristol, and Cork. The elegant hotels are dedicated to providing a tangible "Slice of the City" package (which is precisely what the partisan party packages offer in DC), in a way other hotels do not accommodate. The design-led properties provide modern havens for contemporary travelers (iPod docking stations in each room are assuredly a nod to an amenity that is de rigueur today, and which didn't exist in a hotel ten years ago), as well as modish bars and restaurants for local consumers. (In the lovely Westbury Hotel in Dublin, the brand new Wilde Bar extends a nod to Oscar Wilde. It features a glassed-in, heated, orangerie-like dining room, where you can wrap yourself up in a cuddly mohair throw or wrap, if you feel a tad chilled.)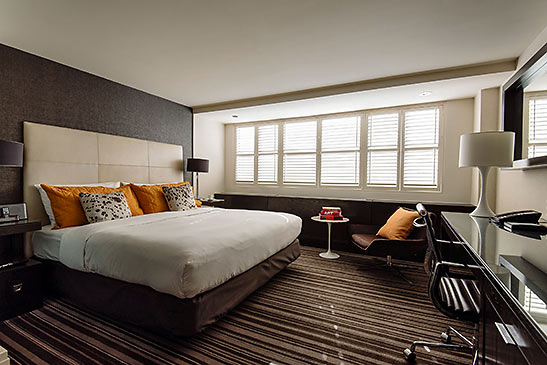 Courtesy of Dupont Circle Hotel
Within a five-to-ten-minute walk from the Dupont Circle Hotel are all city center business districts – K Street, Connecticut Avenue, Embassy Row, and Georgetown, as well as The Phillips Collection, the White House, the Washington Monument, the National Zoo, the National Mall and Memorial Parks, the Lincoln Memorial, the Vietnam Veterans Memorial, the World War II Memorial, and the Verizon Center.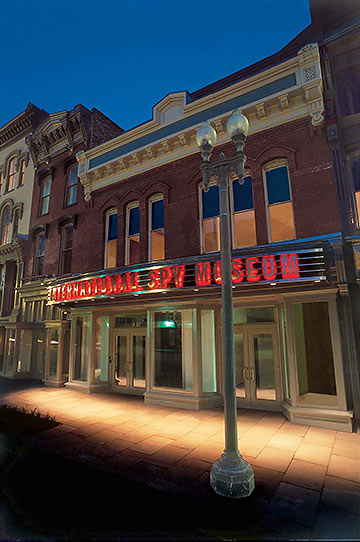 Courtesy of the International Spy Museum
With such a wealth of experiences at my fingertips, I chose first to visit the International Spy Museum a part of the Democratic Package, and was amazed by just how much fun and educational 4-1-1 could be packed into 64,000 square feet. Through immersive interactive exhibits, state-of-the-art audio-visual effects, and hands-on components, the museum traces the evolution of espionage through the people who practiced the profession and it provides a context for visitors to interpret the role of intelligence in current events. Not parenthetically, Washington, DC, is home to more spies than any other city in the world, so this museum's presence is quite fitting here.
Upon entry to the museum, you assume the identity of a spy and you are entrusted with a mission. Lord help you, if you forget the details of your cover story, as there are "exam" stations along the exhibit route. I was Antonio Silva, a 58-year-old male from Brazil, with a "cover" profession of carpenter. I tried to memorize all the details of my bogus life as a mole, but I flunked a test later! (I can only guess what my "enemies" would have done with me, as I bumbled along, trying to remember the details of my cover story – interrogation, prison, execution?) If only I were skilled in sabotage, subterfuge, subversion.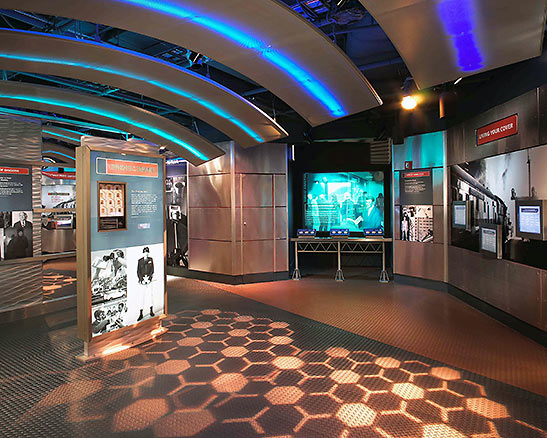 Courtesy of the International Spy Museum
Along the exhibit pathway are well-crafted displays that showcase "spy paraphernalia" that you might have thought were dreamed up solely for intrigue movies: Coats with buttons in which hidden cameras are secreted; umbrellas with concealed devices that transform the harmless brolly into a killing machine; a fountain pen with a tiny camera; a cigarette-lighter camera; a brief case with a recording device in it. Other spy tools are highlighted – invisible ink letters, clothing that reflects body heat, so that heat-seeking devices cannot "find" you – as well as oddball weaponry. There are photo exhibits that test your perspicacity and ability to quickly scan a scene and determine what is wrong with it, what is out of place, where a dead-drop might be, where the cameras of a hidden surveillance system are, or where code signs have been left by a fellow spy.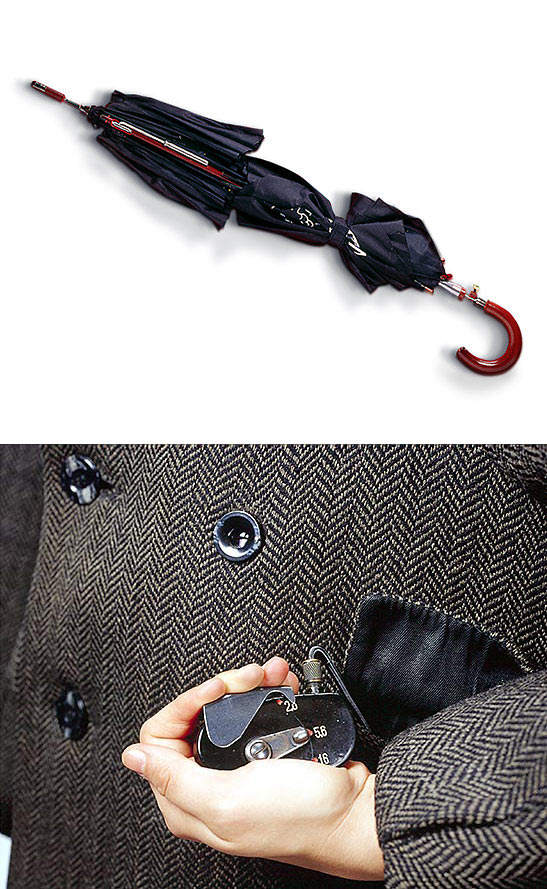 Photos courtesy of the International Spy Museum
The history of espionage is well documented, and there is a section on famous female spies (Mata Hari comes to mind), royal spies (Carinal Richelieu, of course), and other notable infiltrators in history, and in a video presentation real-life intelligence officers divulge a personal "Bond Moment." There are other films, also, in the Cloak and Dagger Theater, where presently The Thirty-Nine Steps and The Lady Vanishes are being shown. Cipher systems are explained, the Nazi Enigma code is also presented, as is the work of the Navajo codetalkers, so valuable in WW II. On view is a James Bond exhibit, Exquisitely Evil: 50 Years of Bond Villains, with over 100 artifacts, both historical and fanciful, the latter from various 007 flicks, dating from 1962's Dr. No to 2012's Skyfall, all of which illustrate how evildoers have evolved, reflecting their times. Just how the fictional Bond has influenced the public's perception of real espionage is fascinating to dissect.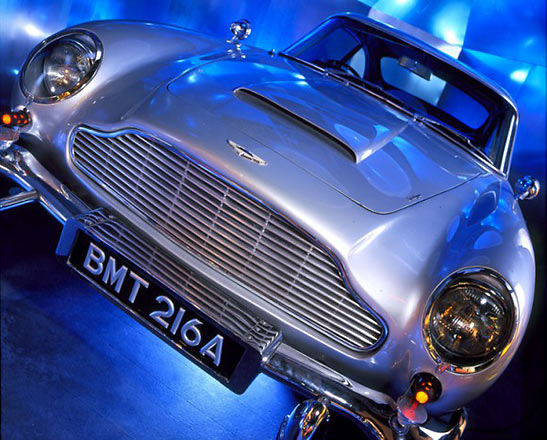 The James Bond car. Courtesy of the International Spy Museum
A trip to the Newseum provides wonderful counterpoint to the spy museum. Opened in 2008 (and since the opening, six million visitors have walked through its doors), the museum promotes and explains the freedoms of the First Amendment – religion, speech, press, assembly, and petition. Seven levels of interactive exhibits include 15 galleries and 15 theaters. Among the most memorable exhibits are the 9/11 Gallery, featuring the broadcast antennae from the top of the World Trade Center. The Berlin Wall Gallery showcases eight concrete sections which comprise one of the largest parts of the original wall on view outside of Germany. The Pulitzer Prize Photographs Gallery highlights photographs from every Pulitzer Prize-winning entry dating back to 1942. One of the most fascinating facets of the museum is an out-of-doors exhibit along the front façade of the building, where daily the front page of each of fifty newspapers (one for each state in America) is displayed in a vitrine. It is an engrossing study of America's press corps across the nation, presenting the most popular paper/paper of record in each state. Inside the museum, the theme of this exhibit is expanded, with international newspapers from both far-flung destinations as well as from popular ones like England. (Insider tip: Your ticket to the museum is good for two days, so you can leave and come back the next day, go out to eat, whatever.)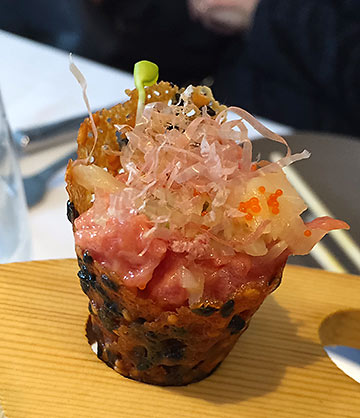 Photograph by Ruth J. Katz
And if you are planning on eating there: It is worth noting that you can just nip around the corner (same building, separate entrance) to The Source by Wolfgang Puck, a remarkable Asian restaurant that was voted number three in Washingtonian magazine's Top 100 Restaurants and which garnered three deserved stars from The Washington Post. Under the whisk of chef Scott Drewno, the menu proffers mouth-watering fare, including chunky lobster spring rolls; jumbo Maryland crab cake salad with crispy rice; and an interactive tasting menu that pays homage to the traditional Chinese hot pot found throughout the Sichuan region, featuring a progression of wagyu beef, pork belly, local rockfish, wild mushrooms, and noodles and dumplings. Each hot pot comes with "hot pot enhancers," such as house-made chili paste, soy sauce, sesame paste, and Sichuan peppercorns. Eat slowly and leave plenty of room after each course, because you will want to eat everything on the menu. If you are in a rush, within the museum is another Puck eatery, cafeteria-style, but still featuring tasty and tempting fare.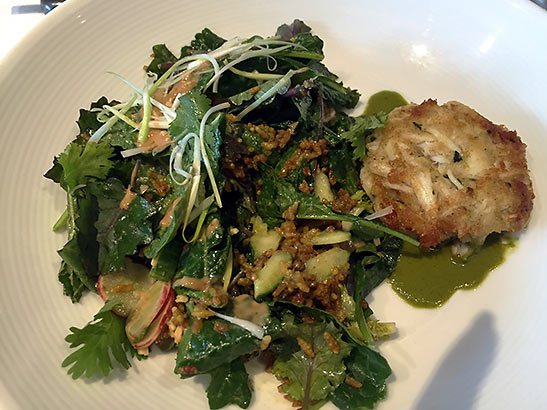 Photograph by Ruth J. Katz
I happened to be in DC the weekend the newly renovated East Wing of the National Gallery of Art reopened after it underwent a massive $65 million-dollar renovation or reimagining that opened up an additional 12,250 square feet of gallery space. It was simply breathtaking and it allows the museum to display 500 works of art from the permanent collection, up from 350. The isosceles triangle figures prominently throughout the design, which is both classic and cutting-edge. The renovation includes a stellar Roof Terrace, two skylit Tower galleries, and the construction of new floors in the former Tower attic space. On the Rooftop Terrace, sculptor Katharina Fritsch's 2013 15.5-foot-tall, neon-blue "Hahn/Cock" majestically holds sway (and perhaps is spying the Capitol out of the corner of his eye), after having had an outing in Trafalgar Square in London. Do not miss the Calder Gallery, with some two dozen playful, whimsical, and striking mobiles and sculptural works.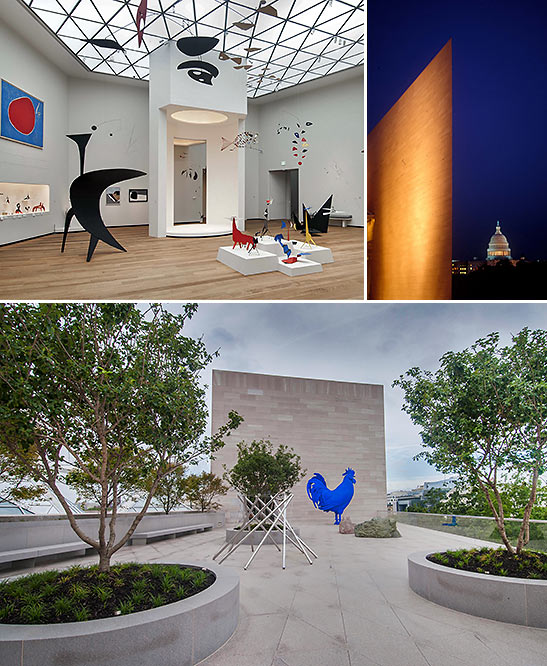 Photographs courtesy of the National Gallery of Art
One other destination – back to food and out of the museum arena – is All-Purpose Pizzeria, a wonderful Italian-American destination for artisanal pizzas, antipasti, and hardy wines, set in a buzzy, rustic-modern space. (Parenthetically, it is located in Shaw, where no less than two dozen new restaurants have opened in the past year.) From the owners of The Red Hen and Boundary Stone, both popular destination restaurants in DC, the eatery boasts delicious, savory pizza combos to delight, even astonish, including Duke # 7 (tomato, 'nduja, mozzarella, scamorza, sweet red peppers, giardiniera, oregano), to the Garden State (zucchini caponata, goat cheese, heirloom peppers, smoked mozzarella, thyme). Among the many tantalizing appetizers are Sicilian tuna mousse, straciatella bruschetta, and fried cauliflower and broccoli. Dessert (ricotta cheesecake, anyone?) will not disappoint, either.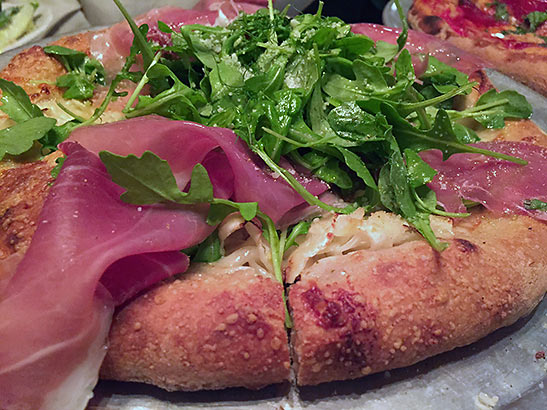 Photograph by Ruth J. Katz
In fact, just about everything in DC, for my very short stay, was tantalizing, and I look forward to a return trip, as I did not get to the just-opened National Museum of African American History and Culture.....next trip! Stay tuned.
©2016 Ruth J. Katz / All rights reserved.
Related Articles:
Roadside Attraction Postcards From Washington, DC; The Newseum: Where the News is News; The Cherry Blossoms of Washington D.C.