A Deep Blue Frost
by T.E. Mattox

rank Frost learned early what it takes to stand out in a crowd. In a family of thirteen children, you might even say he was born to it. All eyes were on Little Frank the day his father brought home their first piano. Drawn toward the instrument like a moth to flame, Frost began pounding out the 'boogie-woogie' the very instant he touched the keys.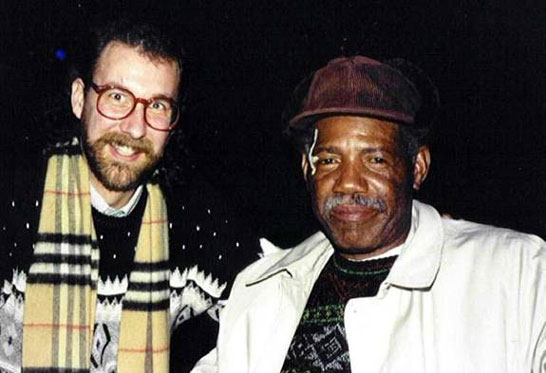 The author and Frank Frost
As young Frank matured so did his musical skills. He spent years accompanying the local church choirs and would eventually discovery other instruments, as well as venues, beyond the church pew.
"Howlin' Wolf was playing at Brinkley, Arkansas. A small town, a small club; Frank Brooks' Club in Brinkley. I couldn't get in the club, I wasn't old enough. So he (Wolf) said, 'Well, you get on your bicycle, go to the drugstore and buy a harmonica.' Eighteen cents is all you paid for a harmonica then, eighteen cents. So, I get on the bicycle and go get it.
I come back and go in and he takes me on his knee, 'This is my baby, this is my son.' I couldn't get in the club no other way. He was playing with Roscoe Gordon and 'Moanin' at Midnight' was the only record he had out."
Frank Frost was all of thirteen years old. When he remembers the Wolf now, it's with one word. "Power. He had a lot of power, whole lot's of power!"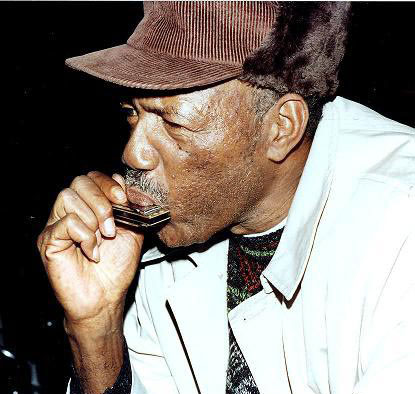 Frank Frost Photo: T.E. Mattox
When it comes to influences none had a more significant impact on Frost's musical direction than Alex 'Rice' Miller. Miller, known the world over as Sonny Boy Williamson II, taught Frank the finer points of blowing the blues harp. From the late 50's through the early 60's, Frost worked the club and bar circuit with Williamson and was a featured performer with Joe Willie Wilkins on Sonny Boys' King Biscuit Time radio show. Frost was learning from the master.
"He was great. I played guitar behind him for three years. A kind person and I knew his wife well. Mattie Williams. Mattie was Junior Parker's mother. Mattie Parker. He (Sonny Boy) married Junior Parker's mother."
Throughout his career Frank Frost played, toured and recorded with the very best. His stage and recording credentials read like blues mythology. He appeared with Muddy Waters, B.B. King, Albert King and Little Milton. In Memphis, Frank spent time in the studio with Sam Phillips at Sun Records and regularly worked in Nashville with country rockers, Carl Perkins and Conway Twitty. It was while working the club circuit with pal Sam Carr that Frost first came to know Carr's father, legendary bluesman Robert Nighthawk. Frank remembers Nighthawk as an innovator and a willing teacher.
"Robert Nighthawk had a style of music, he played bass and lead guitar. Elmore James did the same. He (Elmore) was one of the best people with slide, I ever heard. He learnt that from Robert Nighthawk. Robert Nighthawk learnt Elmore how to play slide."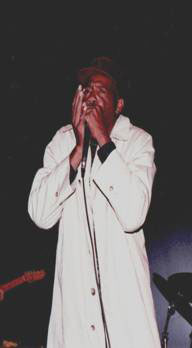 Frank Frost
Photo: T.E. Mattox
Another bluesman that guided Frank's blues and profoundly influenced his harp style was Marion Walter Jacobs, and Frank remembered him fondly.
"Little Walter was born to blow a harp. He was great. The man could play more harp that anybody I heard. He could do lots of things with the chromatic harmonica. I never had picked up a chromatic until I met him. So I says' 'What's this (great big harp?) What's this, Walter?' He says, 'It's a harp, fool.' (laughs) He said, 'Go ahead, blow it.' I said, 'I ain't ever blowed anything like this.' I blowed a small harp, you know?
So every Thursday and Friday night, he played two nights a week in Chicago, I'd go to the clubs all the time. So now I know how to play chromatic. He showed me lots of things about it."
(One little known historical note; had Frank Frost been more accomplished on the guitar at the time, he would have played a much greater role during the Little Walter 'Juke' sessions.)
"I could never get it right. I wasn't a good enough guitar player. He (Little Walter) really wanted me to play on that song, but I just couldn't. I was just beginning to learn how to play guitar."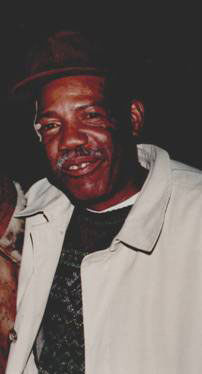 Frank Frost
Photo: T.E. Mattox
During his life, Frost held a variety of jobs outside music. He worked as a schoolhouse janitor for thirteen years in Lula, Mississippi simply because "you couldn't make a living out of the blues in the States. You got to have a job or you ain't gonna' make it."
It's doubtful that Frank's work ethic would ever be questioned especially after one particular grueling, thirty-one day 'tundra' tour with Sonny Terry and Brown McGhee.
"All festivals, all up through Canada. One thing...I did twelve harmonica shows in one day. Liked to killed me. Fast as I could get off one stage and on to the next one, to get on time. But I won't do that anymore. We should have never did that, you know? That's too much, too much blowing harmonica. Think about that. Twelve harmonica shows in one day. That's lots of shows to blow harmonica. Too hard. Too hard."
With more than forty years on the road behind him, Frank took a few moments to ponder what continued to motivate him.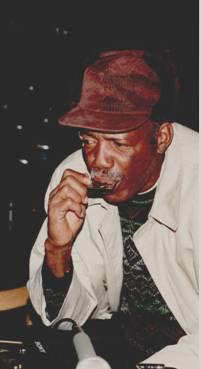 Frank Frost
Photo: T.E. Mattox

"The first thing is...MONEY!" (laughs)
"No, no I love the blues. I love the blues! I was born for the blues and been playing the blues a long time. And you meet so many young people. People that's young, that play the blues as hard as I do. So that makes me feel great."
There's something very familiar about the music Frank Frost plays. It has a comfortable feel, like you've been listening to it for a very long time. Considering the legendary figures that became his mentors, the obstacles he overcame and the endless miles he'd traveled to get there, it's not surprising when Frank smiles as he describes his style of blues.
"They're a modern blues, a deep blues. I know the blues because I lived it. Blues will forever be. You do what you got to do...a dirty job but somebody's got to do it. (laughs) Blues will forever be."