It should have been so obvious, but who better to profile in this continuing series, than those who live most of their lives 'on the road.' No, I'm not talking about long-haul truckers or UPS deliverymen, nor am I referring to cabbies or regional sales reps. I speak of those who continue to travel the byways, back roads and endless ribbons of black top to play the music they love. I'm referring, of course, to the journeymen and women of the Blues, and their lifelong quest for that elusive 'Key to the Highway.'


Much like early pioneers, blues players have blazed trails from coast to coast and continent to continent to ply their trade. From the earliest field workers that followed ripening crops and the turn of the century 'snake oil' and minstrel shows, to the guitarist on the corner with an upturned hat filled with coins, the origins of the blues and life's crossroads have become one in the same. So lace up your 'Walking Shoes' and let's 'Hit the road... Jack.'
Living the Blues

If there are qualifications for the term blues journeyman, Charlie Musselwhite wrote them. This now, living legend was born a blues traveler. The old Natchez Trace ran right through his families Kosciusko, Mississippi home. His introduction to the blues came when just a child, as he lay on the shady side of a creek bed. "I remember listening to people singing in the fields as they worked," Charlie told me. "It was the prettiest music I ever heard and it sounded just like I felt. And they were singing the blues."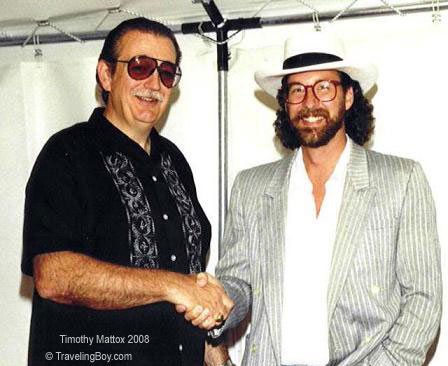 Charlie Musselwhite and T.E. Mattox in Milan, Italy.
Photo Credit: Yachiyo Mattox
In the 1950's, Charlie's musical direction would become engrained on the front porches of some of Memphis' local legends; names like Gus Cannon, Furry Lewis, 'Memphis' Minnie Douglas and W.C. Handy. But it was at the knee of Will Shade that Charlie credits for his introduction to the blues. "I would hang around their houses all the time, listen to the radio, the ballgame or something. All the musicians from that era knew Will (from his time with the Memphis Jug Band) and respected him. There would be spontaneous jam sessions and I would be playing right along, you know?"

Over the years, Charlie discovered that the streets of Memphis were literally paved with talent. Johnny Burnette lived just a few houses away and early rock-a-billy star, Slim Rhoades would have picnics in his yard for the entire neighborhood. But the world was quickly changing and thanks to Sam Phillips and his Sun Record label, music was too. Memphis was about to become ground zero for something totally different.
"The Killer was always around. Jerry Lee Lewis. I used to see him tearing up and down the streets. He had this orange and red convertible Lincoln. And Charlie's smile grew as he recalled, "I used to see Elvis. He would rent the Memphian Theatre after hours and show all the latest movies. And a whole bunch of Road Runner cartoons, because he loved the Road Runner. Sometimes he would rent the whole Memphis fairgrounds, from midnight to eight in the morning. All the rides would be free. People would just roam around and have a good time. He would speak; say hi, although I never talked to him about music or anything. But he recognized me as one of the group that hung around. Probably wondered how I got in there." (Laughs)
Little did Charlie realize, his own ride was about to pick up speed. After hearing from friends that there were factories in Chicago that paid $3.00 an hour, Charlie was hooked, "Wow, man!" he shouted, "$3 an hour! I'd be a rich man if I could get a job like that. So, I went up there."
It wasn't easy but Musselwhite finally found work as, what else, a driver…for an extermination company. As he daily traveled the back streets and boulevards of Chicago, "I'd pass a bar that had a sign on the front of it saying, 'Little Walter, Wednesday night.' I'd see all these places, write down the addresses and be right down there at night. Here were these people I'd been listening to and there they were. Man, it was such a thrill to walk in and see Howlin' Wolf for the first time. The power that he emanated was just awesome, and the band was just.... I was just slack jawed. I couldn't even drink my drink. I was just glued into what was happening."

As usual, and just like all those years in Memphis, being the only white face in the crowd would prompt questions. "People would want to know, 'Hey what are you doing in here?' I'd just say, "I came to listen, I really love this music. When they found out I played, they'd want me to sit in. After I'd sit in and they really liked it, people started hiring me to play with them."

This became life-altering for young Charlie Musselwhite. "Here I had a great future in exterminating," he laughs, "and just threw it all away to play harp."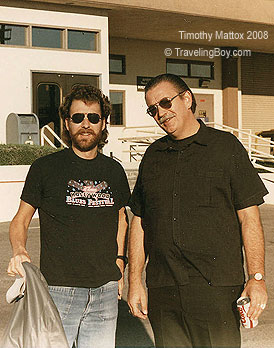 Charlie Musselwhite and the author
back in L.A. Photo Credit: Jerry Falanga
Frequently finding himself across the stage from established players like Shakey Walter Horton, Muddy Waters, Charles Edwards and Big John Wrencher, Charlie was gaining a wealth of experience and living a blues man's dream.

"Five of us would stand there, shoulder to shoulder and just pass the harp back and forth, trying to out blow one another. It would be a real harp battle, all good-natured though."

Charlie's admiration and appreciation of fellow players remains to this day. "Shakey (Big Walter) Horton was just a monster. A lot of people don't realize what a good harp player he was." Some believe he influenced Little Walter tremendously, "only Little Walter was more business minded and got himself together. Where Shakey would just as soon be out in the alley playing with his friends, drinking wine. He didn't give a damn about record companies. He'd done all that. He just played harmonica."

Charlie could usually be found at Rose and Kelly's Blue Lounge and was a regular at Turner's Blue Lounge on Indiana Avenue. But when the subject of rough clubs or tough bars was mentioned, the name that came up most often was a place called the 'I Spy Lounge.'

"Otis (Rush) said that was the roughest club he ever worked in. If Otis said it was the roughest, I tended to believe him. People always were in there, you'd see the bulge where their pistols were, people carrying butcher knives and stuff." But it didn't phase Charlie. "I was just having such a great time, I didn't give a damn. I was wild and drinking. Every once in a while I'd get in some trouble with somebody, but I was big enough to take care of myself. I never would back up from anybody. So right away they'd figure I was either crazy (laughs) or not worth messing with."

I'm thinking probably a little of both.

In 1966, once again the road beckoned. After recording his first album, Musselwhite started receiving calls and music inquiries from the West Coast. At the time, he was married, had one child and a steady daytime job in a Chicago area factory. The offer was one Charlie just couldn't refuse.

"I got off the plane in California. It was sunny, people were nice, they were smiling at you, friendly and courteous. I didn't believe such a place existed. I called my wife and said, 'you better come on out here because I'm not coming back. (laughs) The first place I played was the Fillmore and 'Wow, it was like working in an airplane hanger.' I'd never seen so many people at one time, and they were all so nice, throwing flowers at you. It was a whole new scene and I stayed." Laughing, Charlie adds, "And I've been working ever since."

His family's migration from the frigid shoreline of the Windy City to San Francisco's 'Summer of Love' was not unlike moving to a foreign land.

"It was really a culture shock," Charlie said, "The free love and people wearing flowers in their hair." It would take him a while to adjust. And adjusting to Haight-Ashbury in the late 60's was no easy task.

"I used to go down (to Haight Street) and just watch these weird looking people walking around in these weird clothes, and these weird hairdos." Being relatively normal looking, Charlie added, "People would come up to me and say, 'You're Charlie Musselwhite?' I'd say yeah and with a look of amazement they'd just shake their heads and say, 'I didn't know you were…. straight.'"

No matter what his bent, timing couldn't have been better for Charlie. And San Francisco was definitely the right place. The Blues were being discovered by a new generation of young people and rediscovered by long time aficionados. Artists, musicians and players from all over the country, and the rest of the world, poured into the Bay Area. Blues venues popped up like proverbial mushrooms, from clubs and bars to open air 'happenings.' The Summer of Love was fast becoming the ultimate creative musical environment.

"Janis Joplin was around. We hit it off great, because she liked to drink like I did. We had some real good times together. Meeting different musicians that I'd never met before and playing different kinds of music." Smiling, Charlie adds, "It was just great times, you know?"

Musselwhite's peers also have a great deal of respect for his talents. Among them, the man considered by many to be the 'Father of British Blues,' John Mayall:

"I've always thought he (Musselwhite) was a great harmonica player, very under rated. He had that heavy style that I couldn't get, like Paul Butterfield had, that heavy electronic sound. Charlie Musselwhite was one of the first white harp players that I heard when I came over to America."

My way IS the Highway!!

Charlie's road has taken him from the Blues Mecca of post-war Beale Street in Memphis through Chicago's Southside, eventually dropping him into the middle of San Francisco's Summer of Love. He still lives in California and continues to travel the world playing bars, clubs, and festivals but still finds time to record some of the best blues music available today. He has shared the stage with some of music's greatest players including Muddy Waters, Shakey Walter Horton, John Lee Hooker, Janis Joplin and even the Rolling Stones. His mastery of the harmonica is and continues to be the driving force behind his blues, but he's the first to admit, "Blues is more than just a type of music. It's a real feeling, an attitude about life." When you see him play, you just know Charlie Musselwhite was born with an attitude.