Iberian Adventure:
Hamming It Up With a Few Babes From Corteconcepción
(Dispatch #11)
Story and photos by Tom Weber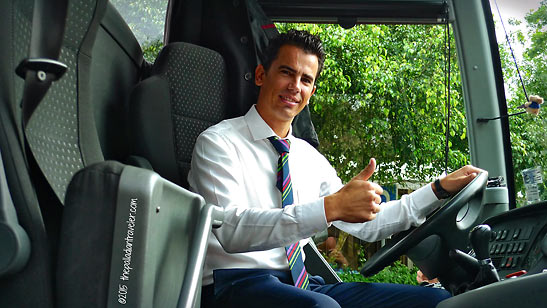 t's another bag drag for the intrepid "band of merry media," 29 travel journalists and photographers invited by Insight Vacations (Insight) to sample a portion of its premium-escorted Iberian Adventure through Portugal and Spain, as we board the sleek Mercedes luxury coach and bid adeus to Évora, the atmospheric UNESCO World Heritage city, while Helder, Insight's GQ-worthy pilot, sets the GPS for Seville, the capital of Andalusia, via a pig farm in the Huelva that produces the prized jamón ibérico (Iberian ham).
Vámonos!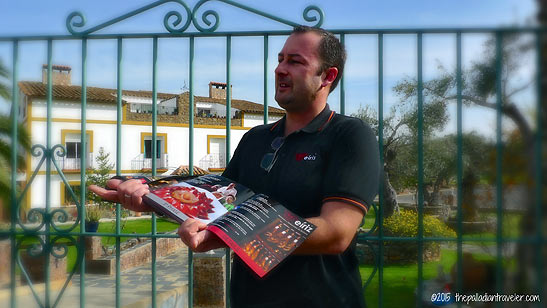 Like the opening line from the time-tested nursery rhyme, This Little Piggy, the Insight galleon drops anchor outside the sprawling Eíriz estate in Corteconcepción, where we're about to witness prized black Iberian pigs roaming free until they're turned into succulent hams and sausages and sent to the market

Domingo, one of the present owners from the current generation of the nearly 200-year-old Eíriz legacy, greets us at the entryway and quickly brings us up to speed on the family business before taking us on a walking tour of their dehesa (grasslands) inside the Nature Park of Aracena.
While little brother Domingo narrates the scene, big brother Manolo bangs on the limbs of sturdy oak trees, calls out and a small drift of pigs rushes in and feasts on the bellota (acorns) scattered about on the ground.
A steady diet of sweet and sour acorns is what makes the black Iberian pig so treasured at the table. During their abbreviated lifetimes, each one will continuously dine off the fallen fruit from a hectare of land filled with Holm, Gall and Cork oak trees.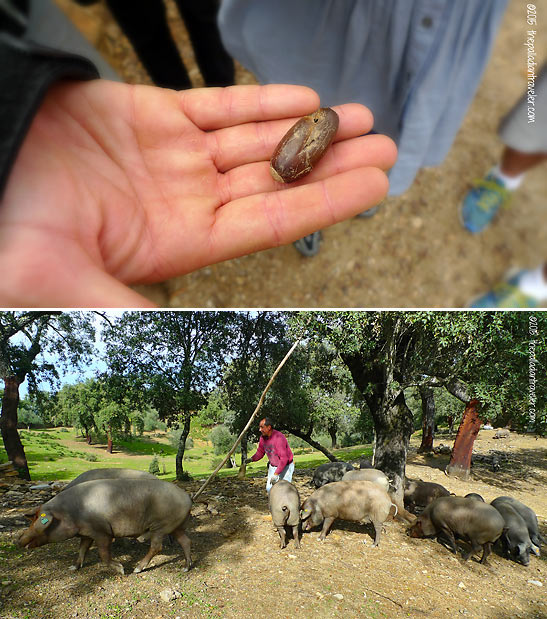 According to Domingo, "Approximately 400 kilos of acorns per pig contributes to one kilo of weight gain." He adds that their pata negra (black hoof) pigs are only brought to market after they're two years old and reach the Denomination of Origin (DO) requisite weight of 340 lb. (160 kg).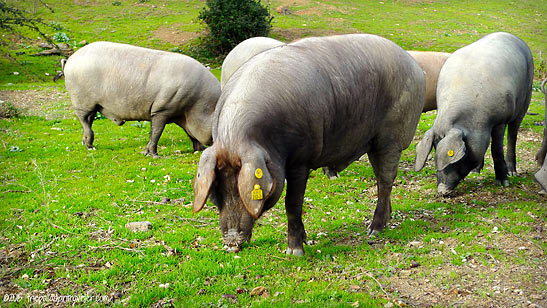 It's the combination of age, weight and free-range lifestyle that earn these acorn-eating "babes" the coveted title of jamón ibérico de bellota (acorn-fed Iberian ham).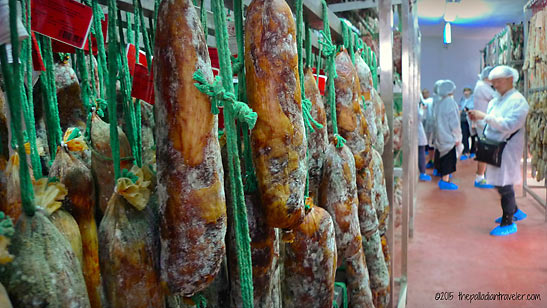 Donning mandatory plastic smocks, shower caps and blue booties, as if we're getting ready to "walk the grid" in an episode of CSI (Crime Scene Investigation), we enter Eíriz's production facilities to see firsthand most of the steps involved in bringing the prized black Iberian pork products to market.
From salting, washing, drying, curing and aging, we view it all. Thankfully, at least to our knowledge, no pigs were harmed during our "investigation."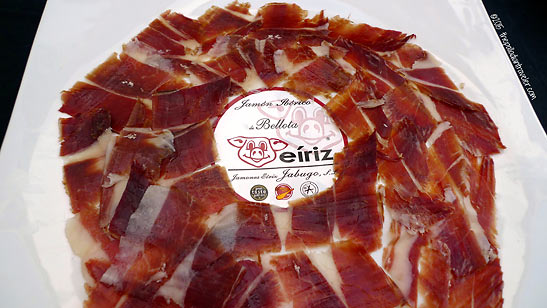 Back outside dressed in our civvies, we gather in the flower-draped patio of Hacienda Eíriz for a healthy sampling of our host's award-winning Jamón de Oro (Golden Ham) products.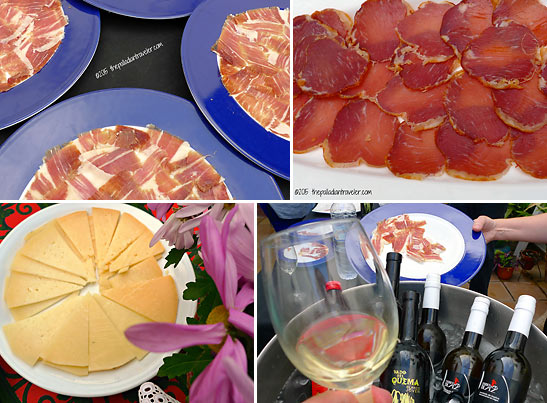 There are plates filled with a variety of acorn-fed hams and sausages along with an assortment of regional cheeses. And on ice, delicious Andalusian wines, jerez (sherries) and Spanish beer.
"It's time to go," announces Toni, aka El Guapo, Insight's tour director, but no one moves a muscle. Like the babes of Corteconcepción, if you want this "band of merry media" to board the motor coach you'd better start throwing acorns.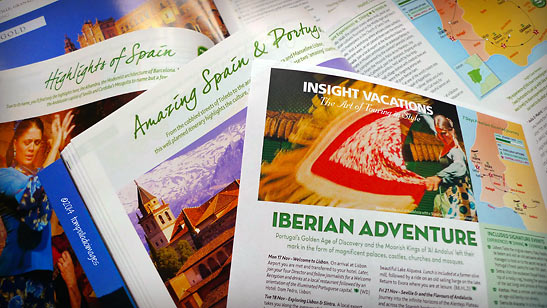 For complete information on Insight's 112 premium and luxury-escorted journeys around Europe, just click HERE, or call toll free 1-888-680-1241, or contact your travel agent.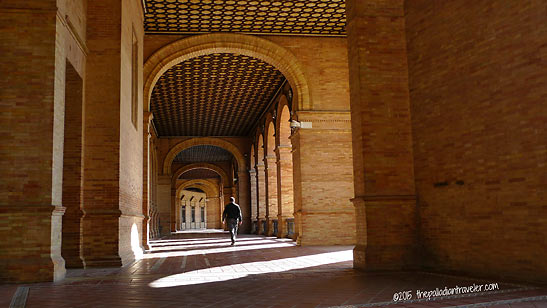 See you in about an hour when we pull into Seville, the capital of Andalusia, savor some churros and hot chocolate at an outdoor cafe, and then take a leisurely stroll along the cobble of Barrio Santa Cruz.
¡Hasta luego!
Related Articles:
The Medieval Village of Monsaraz; Enchanting Évora, Portugal's Laid-Back Museum City; Sampling World-Class Wines at the Alentejo; Cascais and Sintra: To the Edge of the Earth; Framing Lisbon's Mosteiro dos Jerónimos; The Age of Discovery Began in Belém