Um Bonde Chamado Desejo
Story and photos by Tom Weber

hat's Um Bonde Chamado Desejo, you ask? Why, it's Portuguese for A Streetcar Named Desire, the title of Tennessee Williams' 1947 Pulitzer Prize-winning play and the 1951 Academy Award-winning film adaptation of the same starring sliver-screen legends Marlon Brando and Vivien Leigh.
The bonde (classic streetcar/trolley), nor the lines on which they run, unfortunately, are named Desire, happen to be a very popular mode of transport for locals and tourists alike that call Lisboa (Lisbon) home - for a day, a week or a lifetime.
The picturesque capital of Portugal, Europe's West Coast, Lisbon has experienced a renaissance of sorts in recent years, with a contemporary culture that is alive and well making its mark in today's Europe despite the troublesome economy. Perched on the edge of the Atlantic Ocean, Lisbon is one of the rare Western European cities that face the ocean and uses water as an element that defines the city. Lisbon enchants travelers with its white bleached limestone buildings, intimate alleyways, easy going charm and Mediterranean climate; all good reasons why the terraced city along the Tagus River - a city of contrasts - is such a popular year-round destination.

Like Amman, Jordan; Istanbul, Turkey; Rome, Italy; San Francisco, CA; and, Seattle, WA, Lisbon is built on seven hills. Getting around this fabulous city is relatively easy on foot, but you do need a great pair of shoes and excellent lung capacity to carry you along the way, especially for the steep treks up to São Jorge Castle and the Bairro Alta quarter. Better yet, you can hop on/off the metro, take one of the modern electrico (tram), or go back in time either inside a vintage 1930s bonde or an elevador (trolley/streetcar-like funicular).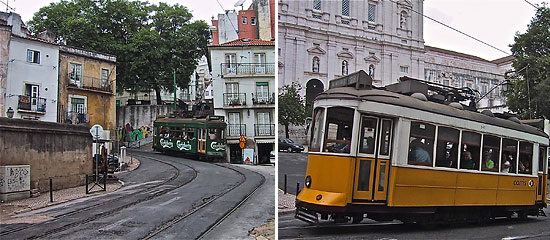 Lisbon's classic bonde/elevador system is emblematic of Lisbon and the city's pride and joy, and quite rightly. They are beloved by visitors and locals alike. Admittedly, they are not the fastest means of conveyance, but once on board you really feel like you're taking a ride back in time; and, in a way, you are. Gazing at history passing you by, the track winds its way through the gritty Cidade Velha (Old Town) quarters of Alfama and Mouraria, with their tight, intricate arrangement of small houses that make up a labyrinth of pathways and narrow streets that lead all the way up to São Jorge Castle and its camera-ready views of the city from all sides. Aboard these quaint modes of transport you can see first hand that little has changed over the decades in old Lisbon since the trolleys began running up and down the cobblestone streets.

Most of the classic trolleys were overhauled in the late 1980's, when they received electric doors and bells. Before that, the bells were operated by air, and it was a fun sight to see the drivers pump frantically to inflate their bells. What remains is the ability for the cars to change their orientation at the end of a ride - the driver takes his stool, steering device and rearview mirror to the opposite end, turns all the seats around, pulls the trolley down with a rope, walks around the carriage, puts the trolley back on the live wire, and, em breve!, what used to be the back end is now the front end, and vice-versa.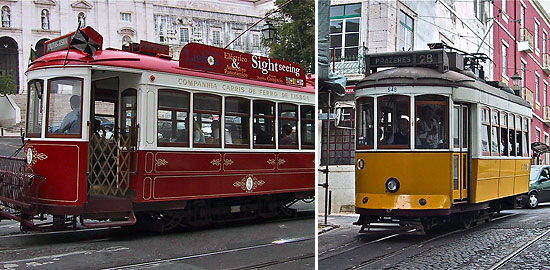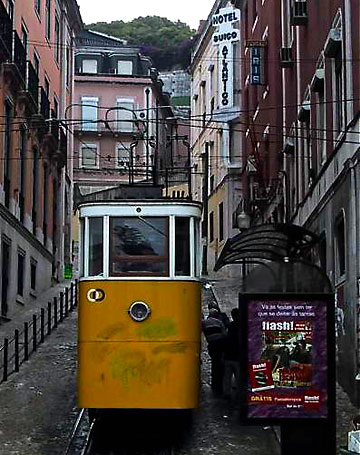 The most popular and most ridden of the streetcar-like funiculars is the Elevador da Gloria, a Portuguese national monument placed into service back in 1885, which moves slowly from its base at Praça dos Restauradores (Square of the Restaurateurs) up Miradouro de São Pedro de Alcântara (one of the city's seven hills) to the Bairro Alto (Upper Quarter), a ride of only 300 meters (984 ft.), but on an average 18% gradient.
For complete information on Lisbon's vast mass transit system - from vintage streetcars and elevators, to the fast running metro, to electric trams and buses, and its museum - visit the company that keeps all modes of transport running, Carris at: http://www.carris.pt/en/ home/.
Should your travels include a stop in Lisbon, remember your stay there will not be complete until you take a ride on one of the city's vintage streetcars. It's the "desirable" way to get around old Lisbon.
Isn't that right, Stella?
Hey Stella?
STELLA!
Related Articles:
Picturesque Portugal; Swiss Steam Train; Rail Europe; Orient Express; Bernina Express Train