Iberian Adventure:
Savoring Seville As We Wave Adiós
(Dispatch #14)
Story and photos by Tom Weber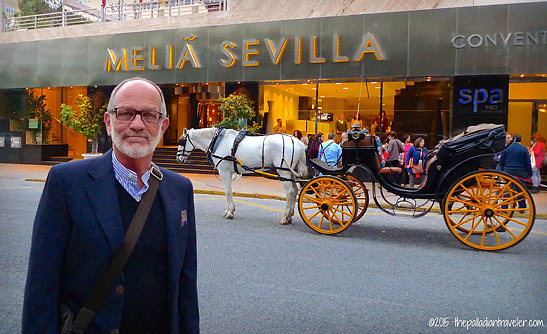 he intrepid "band of merry media" and I, 29 travel writers and photographers invited by Insight Vacations (Insight) to experience a portion of its Iberian Adventure through Portugal and Spain, have cleaned up pretty well – a shower, sport coat and a spritz of cologne for me – as we gather outside the Meliá Sevilla Hotel for our final, jam-packed evening.
A twilight carriage ride, a passionate flamenco show and a tasty tapas dinner inside Seville's oldest tavern await.
Vamonos!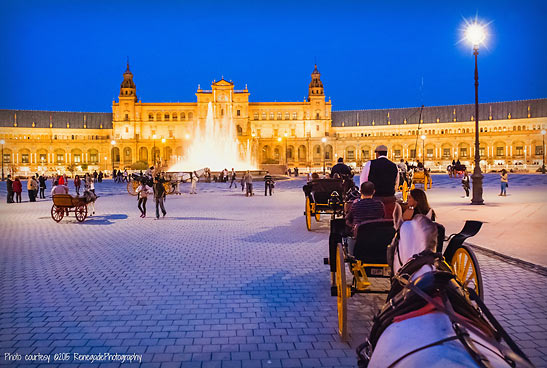 Aboard a classic horse-drawn carriage, pulled by a caballo blanco named Flamenco and driven by Pedro, we rattle across the cobble.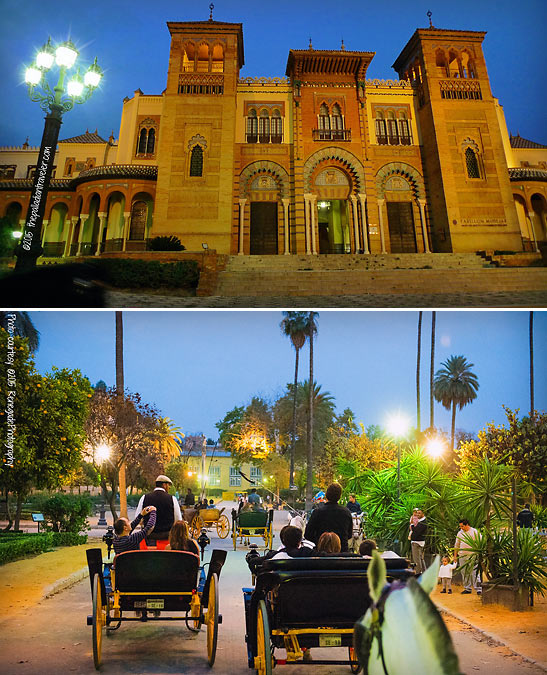 Down tree-lined streets that wind around spacious Parque de Maria Luisa, past postcard-perfect Plaza España and the impressive Cathedral of Seville, and across atmospheric Barrio Santa Cruz we go until the clippety-clop finally stops and we dismount right outside El Patio Sevillano, a 300-seat theatre that's home to some of the fieriest flamenco in all of Andalusia.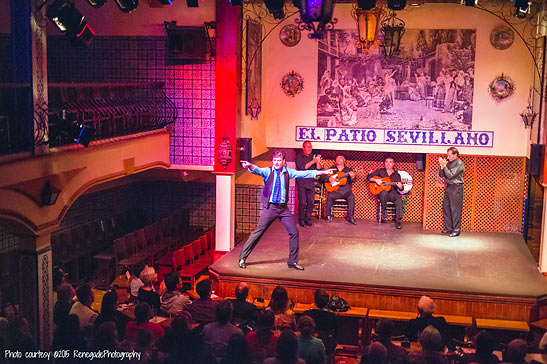 Short of slipping on a pair of classic, well-worn, Gallardo black leather boots and obligatory tight-fitting pants, I do the next best thing: grab a front row seat and order a glass of sangria.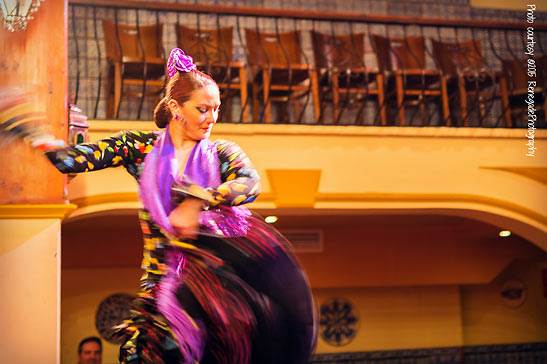 For the uninitiated, flamenco is a form of Spanish folk music and dance with roots dating back to 18th century Andalusian gitanos (gypsies). It's the combination of cante (singing), toque (guitar playing), baile (dance) and palmas (handclaps).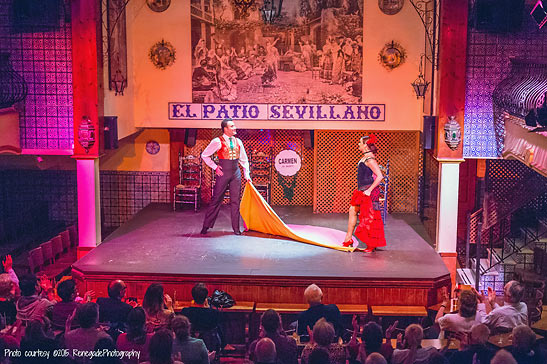 I'm so close to the action – I've got beads of dancer's sweat dotting my jacket to prove it – that I feel as if I'm a member of this colorful troupe as the rhythmic stamping of heels on hardwood vibrates underneath my chair.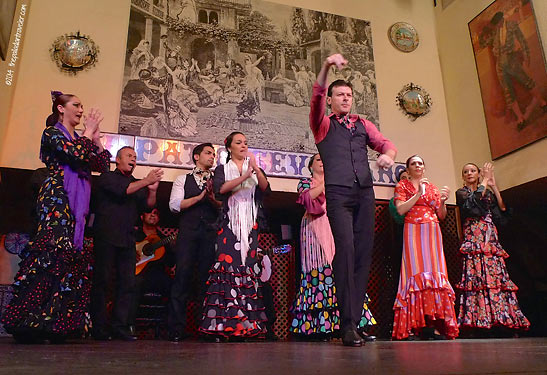 I can't control myself and jump to my feet repeatedly with shouts of OLE!
Hey, it's what you do in Seville.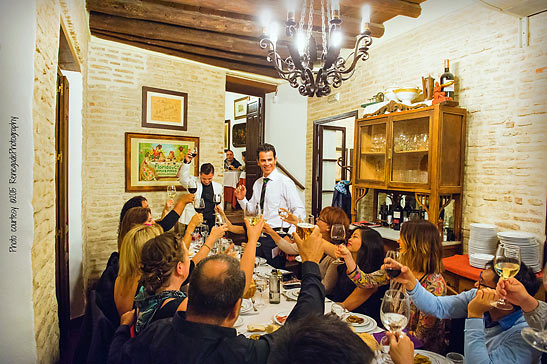 We started this journey back in Lisbon and now find ourselves around long tables in a private room up on the second floor of El Rinconcillo, Seville's oldest tavern – since 1670 for cryin' out loud – where we're putting the finishing touches on this Iberian Adventure the best way possible: feasting on an assortment of mouthwatering tapas washed down by some excellent rioja, and all on Insight's euro.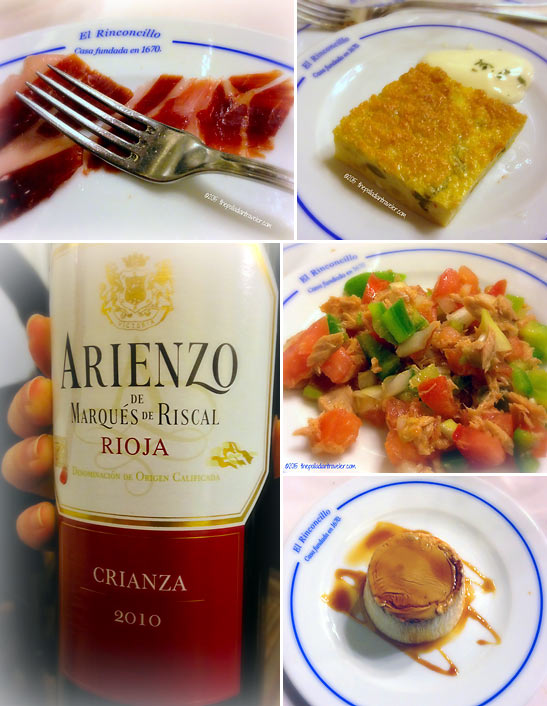 No less than eight appetizers are plated before us along with a delightful flan dessert. Salud!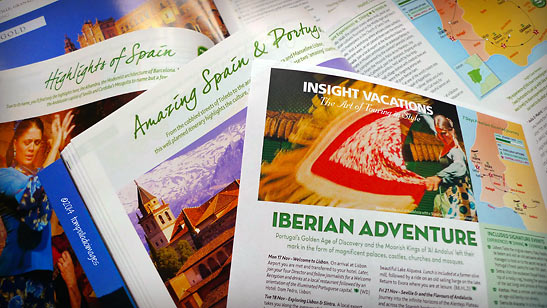 For complete information on Insight's 112 premium and luxury-escorted journeys around Europe, including 10 highlighting Portugal and Spain, just click HERE, or call toll free 1-888-680-1241, or contact your travel agent.
This brings to a close the Iberian Adventure and, with it, the end of the road for this latest edition of the intrepid "band of merry media."
Over the past week, we've been treated to some of the very best signature sights, sounds and savors that the Iberian Peninsula has to offer, thanks, in large part, to the gifted and knowledgeable Insight staff, all well-versed in the art of touring in style.
With over 35 years of experience in the travel industry, Insight seamlessly took care of everything, from first arrival to final departure, with nary a hiccup in between. You really are in excellent hands with Insight no matter the destination.
Adiós Iberia. You've been magnífico!
Related Articles:
Can't We All Just Get Along in Córdoba?; I'm Not a Barber, But I Am in Seville; Evora's Priced Iberian Ham; The Medieval Village of Monsaraz; Enchanting Évora, Portugal's Laid-Back Museum City; Sampling World-Class Wines at the Alentejo