Nature's Playground:
The South Island of New Zealand
Story and photos by Wendy Koro

e've all watched little kids at the park. Racing from the swings to the slide to the monkey bars, shouting, laughing, squealing with delight. They've been there, what...a hundred times before? But it doesn't matter, they're in play mode and they are seriously all in to have fun.
I'm no kid anymore…but I still love that feeling…the invigorating rush that comes from playing hard outside. Whether I'm walking, biking, hiking, climbing, falling, paddling or just savoring my surroundings in between, there's nothing more energizing than exercise and fresh air.
To me, the South Island of New Zealand is Nature's Playground for Adults…my absolute favorite place to play outdoors. Famous for its breathtaking scenery (Lord of the Rings) and offering a crazy hodgepodge of diverse environments…the South Island is uniquely, amazingly compact, easy to traverse and chock full of all kinds of outdoor athletic fun with a capital F. I get a happy warm glow just thinking about it.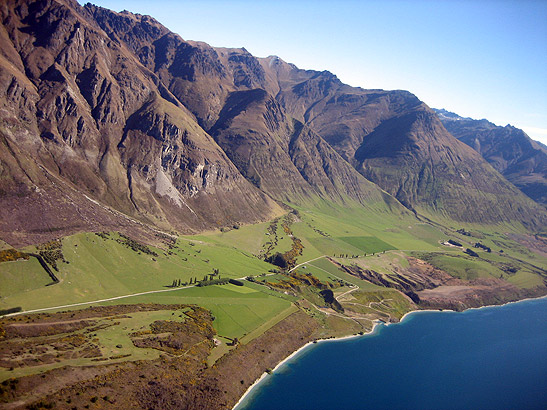 The South Island boasts breathtaking and diverse environments.
Best of all, my favorite time for Kiwi adventures—right now—is also one of the most reasonable times to travel. Late October to mid-November is late Spring in New Zealand—the weather is temperate, rain is spotty, crowds are light—and flights can still be found from Los Angeles for around $1,000 round trip.
New Zealanders on the South Island are a friendly, hospitable lot, with enormous respect for the earth. Sustainable and organic farming methods are the norm. Everywhere you look, you see happy cows, happy sheep, roaming freely over impossibly green pastures. Cold water lakes abound, the ocean surrounds, and vineyards are prevalent. So it stands to reason and comes as no surprise that the food and drink here is quite good. Accommodations are generally modest, straight forward and easy to make on-line.
Suggested 10-Day Itinerary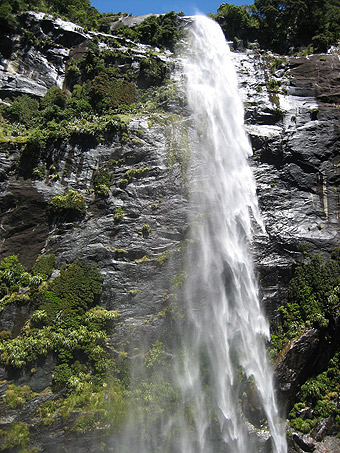 When it rains in New Zealand, waterfalls pop up everywhere.
Although you will undoubtedly fly in and out of Christchurch internationally in order to obtain a good fare, I recommend booking a same day, one-way connecting flight (one hour, $120-$160 US) Christchurch to Queenstown in order to start your trip with a bang. Following your 5-6 day stay in Queenstown, with a side trip to Milford Sound, drive a rental car to depart and head up to Franz Josef (or Fox) Glacier. Take a full day to make the beautiful 5-6 hour ride. Spend a night or two in Franz Josef scoping out the icy hot opportunities, then prepare to experience the full effect of the crazy, extreme variety of climates and landscapes of the South Island as you cross over from Hokitika/Greymouth to Christchurch. Whether you choose to keep the rental car and make the easy, gorgeous half-day drive yourself…or take the historic but considerably more expensive Trans Alpine train across, the ride from coast to coast is unforgettable. I did it by car in the pouring rain and never saw so many waterfalls in my life. You'll travel from lush beech rainforests into the stunning-capped Southern Alps, then along spectacular gorges and valleys by the Waimakariri River and finally through the rolling fields and farmlands of Canterbury Plains, ending your trip with a few relaxing days in Christchurch. There are many more destinations on the South Island well-worth visiting if you have additional time, but this is a great first trip.
Queenstown
The undeniable hub of the South Island playground is Queenstown, anonymously dubbed the "Adventure Capital of the World." Located about three-quarters of the way down the island in the Southern Alps, Queenstown started out as a goldmining camp in the 1860s and still feels rugged and real, despite periodic swells of visitors which quadruple its ranks. Surrounded by the majestic Remarkables mountain range and situated on the banks of beautiful Lake Wakatipu, Queenstown is actually a small village, picturesque and very compact. You can walk the length of the town proper in 20 minutes and easily obtain shuttle service to surrounding recreational businesses. "Downtown" is all of a four blocks square, a lively mix of shops, bars, sophisticated dining and simple outdoor cafes. It feels like a college town; there's a youthful energy and excitement underscoring the laid back informality of the Alpine setting. There's even a small casino.
Of the 160-odd licensed bars and restaurants, I've sampled quite a few. One of my favorite places is Fishbone Bar & Grill, a lively joint with fun, "fishy" artifacts all over the wall. They have a nice selection of fresh locally caught seafood, yummy Marlborough Green-lip mussels, and a damn good daily chowder, all skillfully executed. There are a few "not so fishy" options, but mostly the food and energy at Fishbone is just swimmingly good. Another spot worth a visit is The Cow, a most curious little stone restaurant originally built in 1860 as a milking shed. Nothing about the place fits the Italian menu (the food included)... but the cozy ambiance, teeny bar and ancient fireplace make this a unique step back in time. Get thee to The Cow for homemade soup, bread and a glass of ale or fine wine. The locals love Fergburger, which offers crazily named uniquely New Zealand fast food. For icy sophistication and a pricey drink, bring your own party to the themed Minus 5 Ice Bar on the wharf for a unique 30 minutes, where you guessed it, everything.the walls, furniture, even your glass.is made from ice.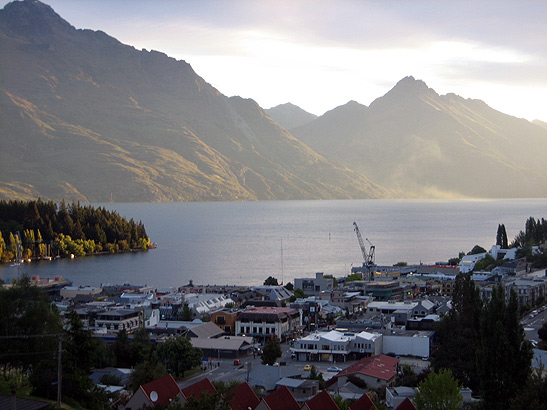 Lake Wakatipu & Queenstown from Heritage Heights Apartments
I like to stay at the very top of the hill at Heritage Heights Apartments, which has a magnificent unobstructed view of the lake and town below (and doesn't appear on the published Queenstown list of hotels). It's a short (5 minute) quad workout to walk the seriously steep hill up from town, but it'll help balance out the great meals, keep your calves stretched and offer a few moments of comedy for sure. Don't try it in winter or while intoxicated. We literally had to pile out of our loaded cab so our luggage could make it up the driveway for check-in on a dry, clear day…but the views are incredible, so it's well worth the exercise, and you won't find a better deal per person if you are traveling enfamily or with a group. Three bedroom units at Heritage Heights are spacious with full kitchen and washer/dryer combo and the personable owners go out of their way to please.
Lake Wakatipu is New Zealand's longest lake, 52 miles end to end, and the third largest at 180 square miles. 1,240 feet at its deepest point, Wakatipu's lake floor is actually below sea level and the water rises and falls with its own tide up to four and a half inches every 5 minutes. The first known inhabitants of the region, the Maori, passed down a legend explaining the rhythmic movement of the water. A local ogre named Matau abducted a tribal chief's daughter and when found, was burnt to death in his sleep. The intense heat of the tremendous fire melted the snow on the mountains around him, which ran into the huge S-shaped hole created by the unlucky giant's incineration. However, Matau's resilient heart never stopped beating, hence the eternal rise and fall of the water with every pulse.
Right in downtown Queenstown, you can arrange for a dizzying array of activities to satisfy every age and any level of physical adventure. I'll try not to leave anything (or anyone) out. While you don't have to book everything in advance this time of year unless you're a larger party, this info will help you plan and budget: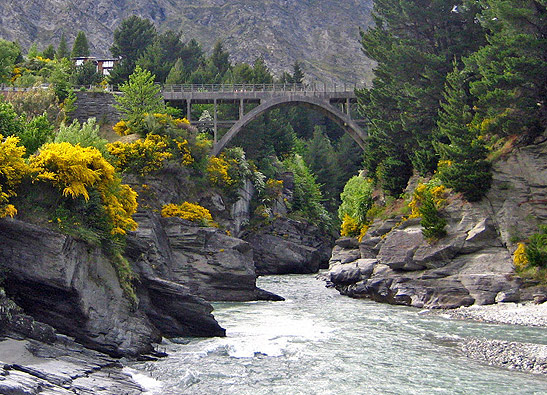 Shotover River Gorge & Edith Cavell Bridge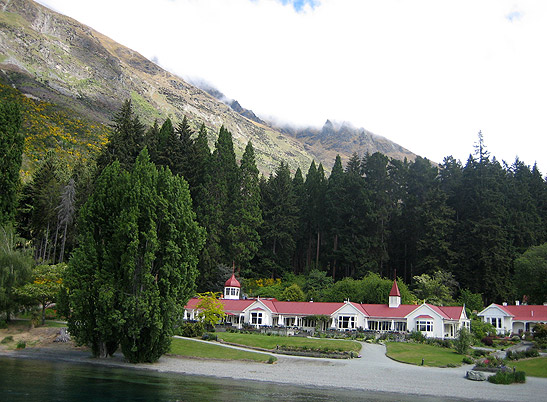 Walter Peak High Country Dining
Who U calling stupid?

Tandem Skydiving: Terminal velocity is not my thing... but if you're looking to step out at 15,000 feet into thin air, you probably couldn't pick a more spectacular vista to enjoy on your way down.



Jet Boat Rides: Amusement park style thrills but for a much longer duration (35-40 minutes) and in shallow (less than 10cm.) water on the Shotover River. One company couples an hour long wild 4x4 ride on the edge of old mining roads just to access the upper river in rugged Skipper Canyon, which makes it a stand-out from the rest. But if you want a quick simple bus ride to and from, try Shotover Jet.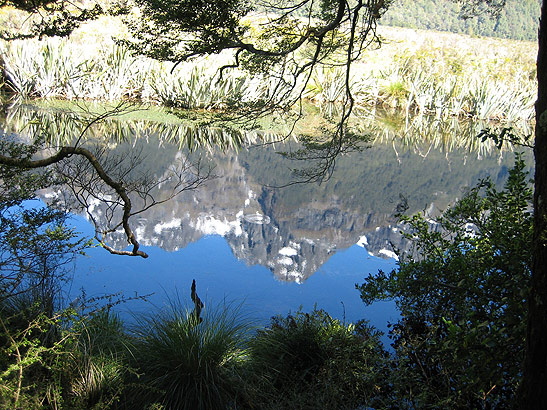 Mirror Lakes, enroute to Milford Sound
But the aerial view between Queenstown and Milford offers such an awe-inspiring perspective that I say absolutely, you must fly one-way, preferably back. Unfortunately this means taking a comfortable but impersonal coach ride down with a few herd-like pit stops enroute, as there's no practical way to rent/drive a car only one way. I found the incomparable views from the air even more satisfying than from the water in the sound…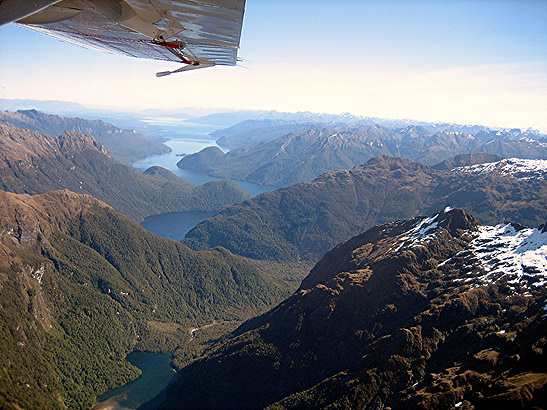 Aerial views with Milford Sightseeing are magnificent throughout the ride back to Queenstown.
Franz Josef Glacier Valley
The main attraction here obviously is the Franz Josef Glacier Valley, the most spectacular glacier environment open to the public anywhere. See it your way (one or two nights max) and move on. Depending on the weather and your comfort level at negotiating the trails, there are ways to get in close on your own two feet. For guided tours visit Franz Josef Glacier Guides and for helicopter packages, there's Glacier Helicopters. I stayed in Franz Josef at the Punga Grove Motel which is satisfactory; the location is smack dab in the town "center" and around the corner from The Landing, a busy, warm, happening Speight's pub with some of the best food in town.
To get to the Glacier from Franz Josef township, drive south over the Waiho River bridge. Turn left after the bridge onto the Franz Josef Glacier Access Road (unpaved). Most of the walking tracks are accessed from the car-park at the end of this 4km road. Be sure to dress sensibly, wear sturdy footwear and prepare for sudden weather changes. A cold down-draft off the glacier is normal in the valley, and rainstorms can catch you by surprise. River levels and water channels change rapidly. Ice collapse and rock falls can occur at any time. Barriers and warning signs limiting access are there for your safety; respect them. There are good flush toilets provided at the car-park entrance but there are none further up... and no rubbish bins... so plan ahead!
Tracks and Walks
There are a number of short and longer walks within the glacier valley. As mentioned earlier, commercial guides are available who are happy to share further invaluable information. Beginners beware if you go it alone, as the basic trail descriptions are hardly a complete or accurate portrayal of the level of difficulty hikers may encounter at some point on a route. For instance, one section of Robert's Track is an intimidating sheer drop on both sides but "requiring good fitness" hardly speaks to this challenge.
Christchurch
The Garden City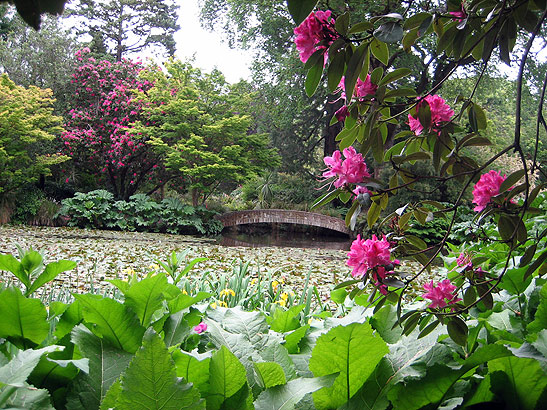 Christchurch Botanical Gardens
Christchurch is known as the most English city outside of England. It has beautiful Botanical Gardens and charming European architecture. Weeping Willows frame the duck-filled canals of the Avon River which meander through the very center of the city. Although it is the largest city on the South Island, it feels small and compact, yet has a sophisticated vibrant character. Getting around Christchurch is effortless; all the key attractions are within easy walking distance of the city center. I stayed at the Copthorne Central, an older mid-range hotel with rather tired but spacious rooms and an excellent location in the heart of the city overlooking Victoria Square. There's also a convenient watering hole (pub) just a few doors down.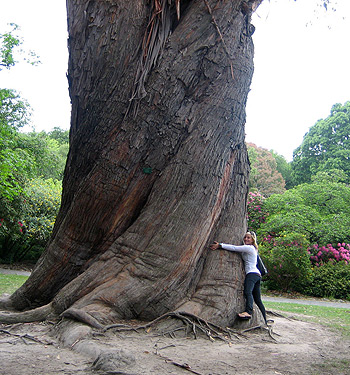 Gotta love this gigantic "Elephant's Foot."
Take your time at the impressive Botanical Gardens; they're larger and more comprehensive than you might expect… having been around since 1863! Don't miss the collection of trees and in particular the colossus that looks exactly like an elephant's foot. Afterwards swing by the Curator's House on Rolleston Avenue, a restaurant housed in what used to be his abode in 1920. Serving New Zealand specialties but with a Spanish thrust, the Curator grows its own garden and teaches the use of its produce to create cuisine. Lately it's getting mixed reviews, so check out the architecture first, menu second and let me know how it was if you eat there.
Another must-do activity adjacent to the Botanical Gardens is Punting on the Avon. Start your lazy ride at the historic Antigua Boat Sheds for the most authentic experience, then relax and enjoy.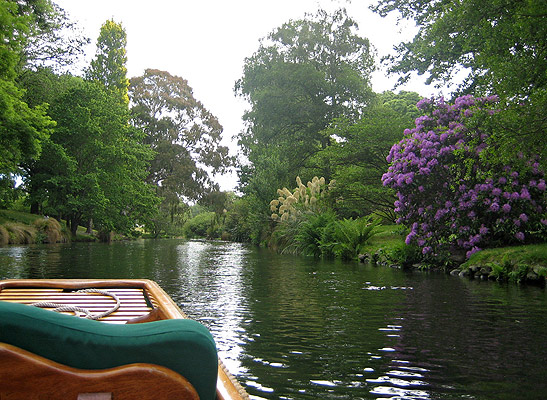 Go punting on the gentle Avon
Yet another way to get a moving perspective of the city is via the beautifully restored Heritage Tram on its 2.5 km central city route. The tram stops outside the Arts Centre and gives a good view of New Regent Street architecture; its two-story buildings with balconies remind me of New Orleans.
The New Zealand Cup and Show Week is upcoming, in case November 6 – 13, 2010 works for you. This festival is a high energy, eclectic mix of galloping and trotting, racing, agricultural competitions, fashion, food & entertainment.
Christchurch Centre of Contemporary Art on Gloucester, Christchurch Art Gallery (Te Puna o Waiwhetu) at the corner of Worcester & Montreal and The Arts Centre on Worcester Blvd. showcase the city's superb range of art. There are also about 60 private art galleries.
The restaurant and cafe scene in Christchurch is one of great variety and there are small clusters of eateries in several different areas. Here are a few locations:
The Strip, Oxford Terrace: The Strip is the area alongside the Avon between Hereford Street and Cashel Mall. Tables line the specially enlarged sidewalk so that the road in front is only one lane. The restaurants form a continuous line and you can wander past, look at their menus and decide on the one that interests you. Most offer the option to dine outdoors. Later in the evening many of these restaurants become nightclubs with live music.
Manchester Street running parallel to Colombo St. is home to less conservative nightlife. Bars open late and there is an excellent range of inexpensive restaurants.
Worcester Blvd. in the Arts Precinct is an area known for Canterbury cuisine and classic New Zealand specialties.
Gloucester Street links with Cathedral Square where there are a number of mixed ethnicity, modestly priced takeout restaurants.
New Regent Street between Armagh St. and Gloucester St. is an attractive area of 1930's style Spanish Mission decor with many small cafes and restaurants.
You may want to try:
Palazzo del Marinaio Seafood Restaurant. It's in a strange location, upstairs above the Shades Arcade (108 Hereford St) but the Palazzo is one of the only Italian restaurants in Christchurch and offers a pleasantly surprising dining experience. In addition to typical Italian specialties, New Zealand crayfish and seafood is featured. The ambiance is comfortable with a hint of elegance and the background music is opera and jazz. A study in contradictions, but enjoyable just the same.
As you prepare to leave Christchurch, plan on visiting the International Antarctic Center, adjacent to the International Airport. Twice voted the best visitor attraction in New Zealand (!), the Antarctic Center includes an unforgettable interactive experience for all age-groups. Arrive a couple hours early and check it out!
Note: Christchurch was hit by a magnitude 7.1 earthquake in early September and did suffer extensive damage to some of its older buildings and in areas of sandy soil. However, most of the city is fully functioning and "98%" of businesses are back to normal. Christchurch welcomes your visit!