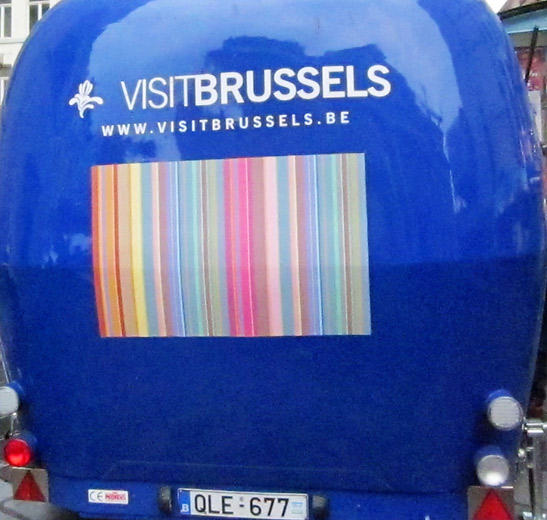 Belgium: A Gastronomical Delight
Eat, Drink, And Be Merry
Text and Photos by Beverly Cohn
Part 1: Food, Glorious Food

hatever you've heard about the gastronomical experience you'll have in Belgium surely cannot begin to prepare you for the tasty days that lie before you in this tiny, pure white diamond of a country.
With over 25 restaurants in Brussels and Wallonia having been awarded one or two Michelin stars, the highest per capita in Europe, your reporter was hard pressed to choose one, but choose I must and for Part 1, of a two-part series, have focused on Li Cwerneu, whose "Cuisine Intuitive" earned owner/chef Arabelle Meirlaen a Michelin star, the only woman chef in Belgium to be so honored. In addition to the Michelin star, this gifted chef has earned multiple awards, including Best Lady Chef of 2008.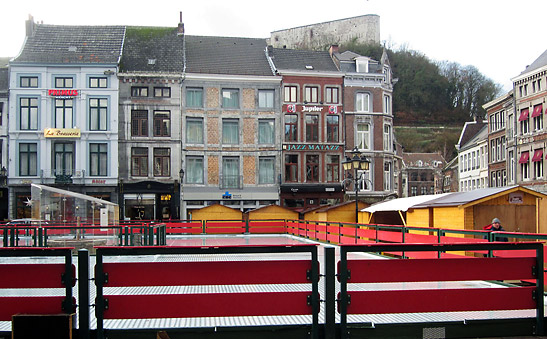 One of Belgium's oldest towns, Huy lies along the river Meuse in the Walloon Region, Province of Liege.
Trained at Belgium's Libramont hotel school, Arabelle and her partner in life, Pierre Thirifays, own and operate Li Cwerneu, an immaculate, boutique restaurant housed in a charming building near the town square in the historic town of Huy.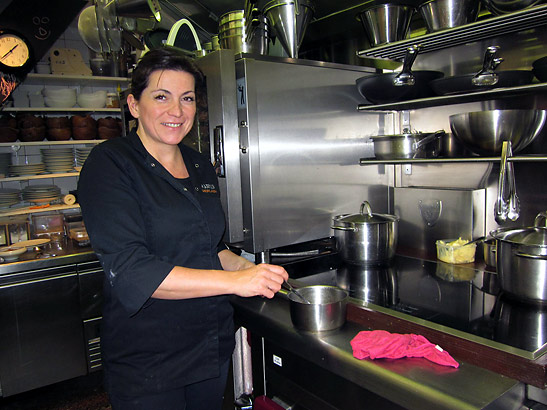 Trained at the hotel school in the city of Libramont, owner/chef Arabelle Meirlaen has been cooking for over 18 years.
Arabelle's mother was a good cook and some of her basic recipes have morphed into this honored chef's creative, inventive cuisine, with a decidedly feminine, whimsical touch, and includes the use of plants and seasonal organic products.
Our small group of select journalists from across the U.S. and Canada, were about to have our senses enchanted with Cuisine Initiative Menu Prestige, an eight-course tasting feast that took a delightfully leisurely, oh-so-relaxing three hours. Following are some highlights of that most memorable food experience: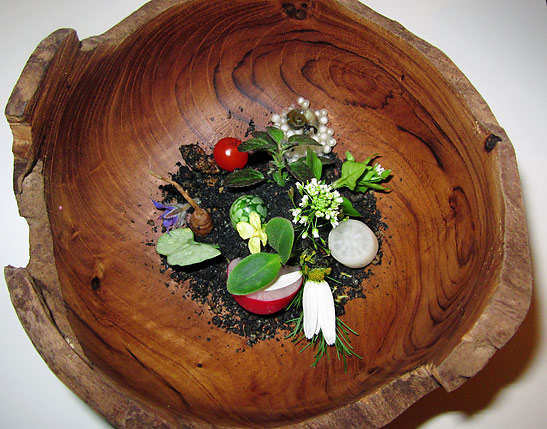 Arabelle's unique "Garden Salad" replete with delicious creepy, crawlies.
Listed as one of the Top 10 New Foods of 2011, Pot de légumes du Moment, or seasonal vegetables, was a picture-perfect presentation, unlike anything you've ever seen before. Dazzling to the eye, the dish replicates a garden patch, with a variety of vegetables including radishes, tomatoes, avocados, edible flowers, and snails.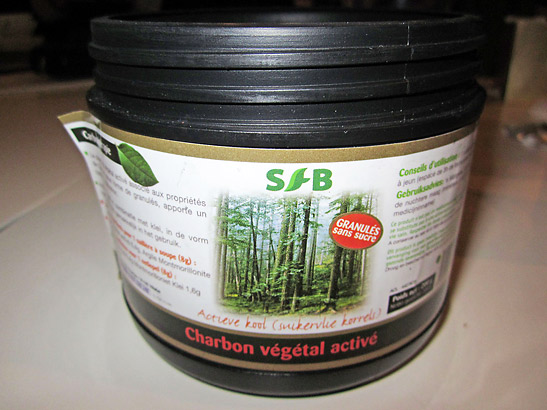 The major ingredient for the garden "dirt."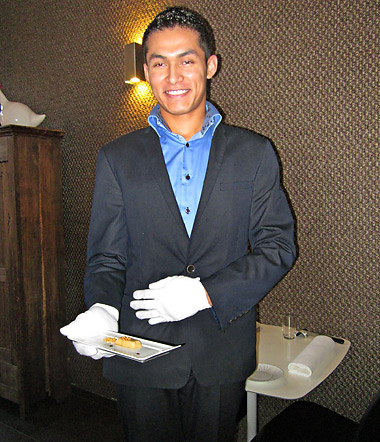 The almost lost art of formal dining service lives!
The mélange of garden components were meticulously arranged on a bed of "soil," which the chef created from crumbled sugar, flavored butter, and nuts combined with black charbon (carbon) generally used for digestive purposes.
Wearing white gloves, this gentleman, trained in the traditional art of serving, prepares to present Lingot d'Or de Foie Gras, a deliciously creamy goose liver accompanied by chopped almonds. The service was impeccable, with the ladies given their food first, and no dishes cleared until everyone finished eating and their cutlery neatly placed on their dish. As for the Foie Gras, let's just say it was a taste fit for the gods.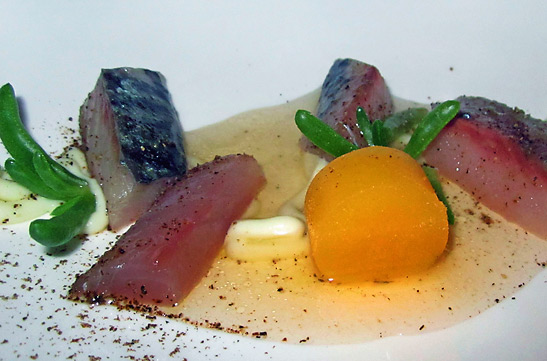 The term "holy mackerel" might apply to this far from your basic fish dish.
Maquereau en Vinaigrette et Wasabi – a delicate mackerel resting on a stream of wasabi dressing with a garni of seasonal greens. The taste? Simply divine.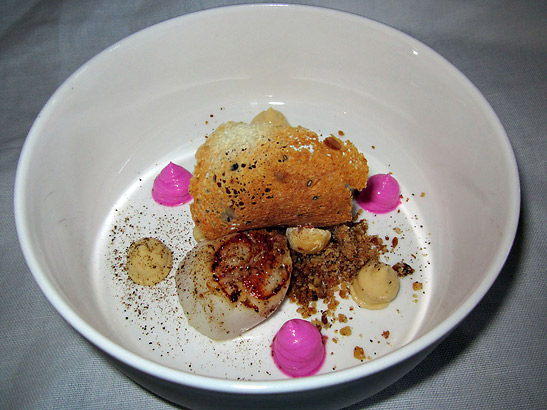 No skimping on these succulent creatures of the sea.
Served in a deep dish, St. Jacques aux Noisettes et Noix, Betterave Rouge or scallops with goat cheese, hazelnuts, walnuts, red beets, and mayonnaise was almost too beautiful to eat, but eat we did and savored every forkful of this amazing creation.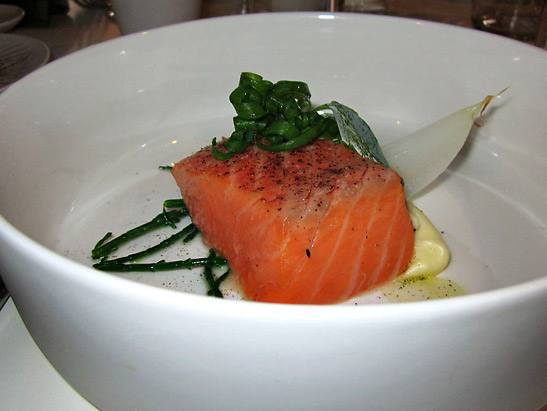 It's worth an upstream swim for this divine taste experience.
Saumon Label Rouge avec Verveine, Oignons et Herbes, is a very tender wild salmon from Scotland, prepared with a fusion of sweet onions, asparagus, parsley, and herbs. A fish lover's delight.

Say goodbye to your veggie steamer.
A blend of bacon, fava beans, and cheese topped off in a vegetable sauce made of curried mustard seeds and crowned with a pumpkin garni, this most spectacular veggie arrangement was beyond delectable and a far cry from steamed broccoli and summer squash. It will be hard to restrain your sighs of enjoyment as each forkful makes its way into your mouth.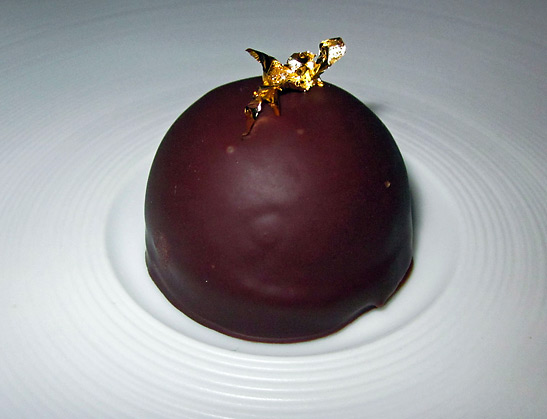 Close your eyes and transport yourself to "taste heaven."
No meal in Belgium, which boasts over 2,000 chocolate shops, would be complete without a chocolate dessert and we were not disappointed as our palates were rewarded with not one but two amazing desserts - the first one melt-in-your mouth chocolate with a burst of a surprise caramel filling.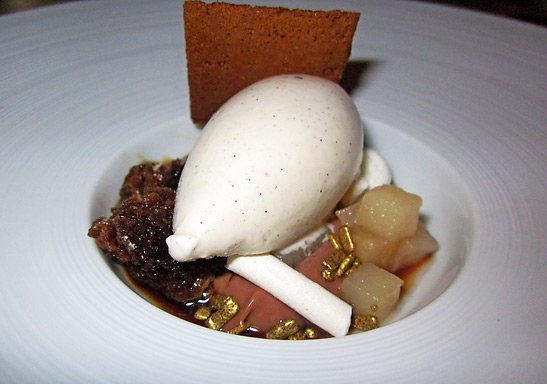 This dessert will keep you smiling for days.
There's always room for one more act of decadence and it came in the form of a pear marinated in cognac, encrusted with a white meringue coating and encircled by chocolate nuggets and vanilla ice cream. Your already fully aroused taste buds will welcome this crowning touch to an once-in-a-lifetime dining experience.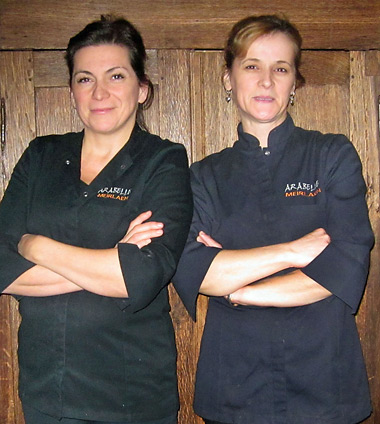 Arabelle and her Sous Chef Linda Neti take a "Kodak" moment for a most happy group of journalists.
With her Sous Chef Linda Neti at her side, when asked how she combines her extraordinary career with her family responsibilities, because of her limited English, Arabelle answered through Pierre: "You need character and strength because you have to consider your family." Regarding how she received her Michelin star, Arabelle said, "You have to take the initiative to contact Michelin and send them photos of your dishes. It takes a long time to finally get someone to come to your restaurant, but it was certainly worth the wait."
So, for those of you planning your spring or summer European vacations, you absolutely must put Belgium on your visit list as this year has been designated "2012 Year of Gastronomy, making it all the more deliciously inviting. And, while you're there, don't forget to dine at Arabelle Meirlaen's Li Cwerneu, ranked #1 of 49 restaurants in Huy. But honestly speaking, the "worst" meal you'll have in Belgium is going to be one of the best meals you've ever had in your life.
Part 2 of the Belgium series, will cover its world famous beer, chocolate, Pekets, Belgian pommes frites, and, of course, those famous waffles. So, stay tuned…
Li Cwerneu
Grand'Place 2
4500 Arrondissement
Huy, Belgium
Tel: +32 085 25 55 55
For Travel Information:
Belgium Tourist Office
220 East 42nd Street, Ste. 3402
New York, NY 10017
212-758-8130
Fax: 212-355-7675
www.visitbelgium.com