Benjamin Bratt – From Law & Order Detective to Drug Dealer
Beverly Cohn
Editor-at-Large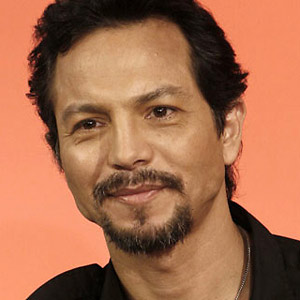 Benjamin Bratt. Courtesy photo.

enjamin Bratt is a familiar face both on television and on the big screen. His breakout role was that of detective Rey Curtis playing opposite the legendary Jerry Orbach in the long-running television series "Law & Order." Since then he has appeared in "Miss Congeniality," "Demolition Man," "Traffic," "Cloudy with a Chance of Meatballs," (voice) and Dr. Jake Riley on "Private Practice."
His latest film "Snitch," stars action hero Dwayne Johnson as a father desperate to help his son out of a terrible circumstance. Bratt's character is that of drug lord Juan Carlos "El Topo" Pintera. The rest of the cast includes Barry Pepper, Susan Sarandon, Jon Bernthal, and Rafi Gavron. Written by Justin Haythe and Ric Roman Waugh, who also directed, the story is based on actual events.
Bratt recently sat down with a select group of journalists to discuss the film and the following has been edited for content and continuity for print purposes.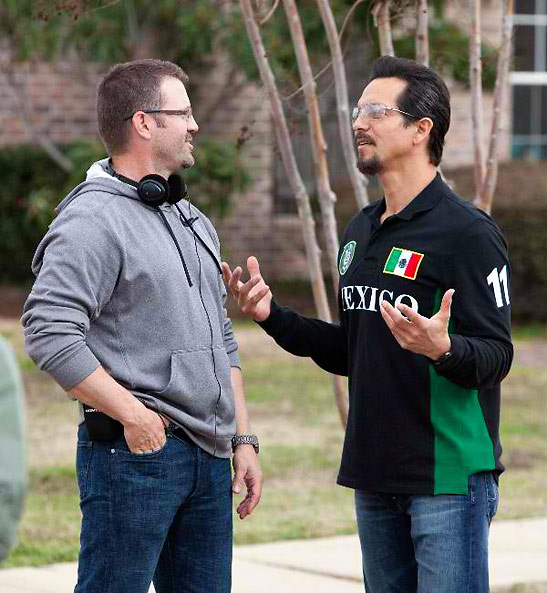 L-R: Director Ric Roman Waugh and Benjamin Bratt discussing a scene from "Snitch." Photo Courtesy of Summit Entertainment
Unlike most action films of this genre, "Snitch" is character-driven. How was that accomplished?
Bratt: First of all thanks and I agree with you 100% and all that credit has to go to the director Ric Waugh. He wanted to give it that air of authenticity. He wanted to draw each character as someone who would be quite believable. Ric happens to be an old friend of mine is research happy. He wants his films to be nothing if not authentic. Obviously, we are operating in a fictionalized world but I think what gives the film gravitas, and what actually elevates it beyond a typical genre action picture, is that it feels real. He creates emotional stakes that allow an audience to not only be turned on by trucks crashing and bullets flying, but by the anguish that some of the characters go through. One thing I really dug was how he thematically strung together the exploration of the dynamic between the father (Dwayne Johnson) and son (Rafi Gavron.) Ric is a father himself and he knows how important fatherhood is to me personally, so in a lot of our discussions it was about trying to put humanity into every portrayal.
How much actual character direction did you get from the director?
Bratt: Surprisingly little. The funny thing is after what amounts to hours of conversations on the phone and swapping emails and sending pictures of specific sunglasses and photos of real cartel people back and forth, on the day of shooting there was very little direction given. In fact, he was working so fast I felt a little thrown off my game. All actors thrive on rehearsal because rehearsals give you comfort because you know what's going to happen. Ric was of the mind, particularly in the one key scene with Dwayne, that we don't rehearse at all. He showed me where my mark was. He showed Dwayne where his mark was and didn't allow us to speak to one another. I said let's rehearse it and Ric said we're not going to rehearse it; we're going to shoot. That made me as a performer nervous and then I realized that I can't have any of those feelings because I have to be that guy – that ice cool guy. So I had to go to my separate corner, kind of like a fighter, and take a few breaths and then come in.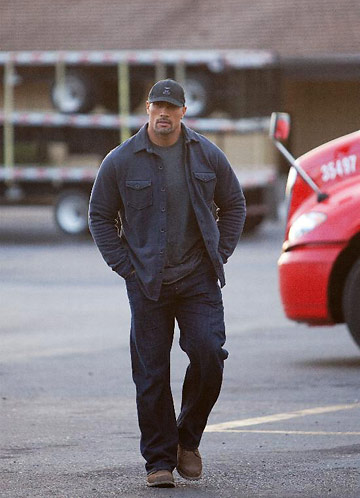 Action hero Dwayne Johnson. Courtesy photo
Dwayne is a formidable guy. He's a bona fide movie star, but he's also a mountain of a man. But, I needed to be in control in that situation. I believe that magic rarely comes from shooting unrehearsed scenes, but in this case I was wrong. I think Ric actually got what he needed to great effect in that particular scene.
Was there anything about Dwayne that surprised you?
Bratt: It's really kind of shocking to see someone as strong as Dwayne, both physically and emotionally, to look so vulnerable. I think that's kind of the twist in this film. People don't expect that at first. Does he ultimately save the day? Yes he does and we expect that in an action film that he's starring in, but what throws people off, and what draws people in initially, is that for the first time we see him as someone who is not weak, but someone who is uncertain. Someone who can't fight his way out of a situation or kick butt chiefly because he's not familiar with the criminal underworld.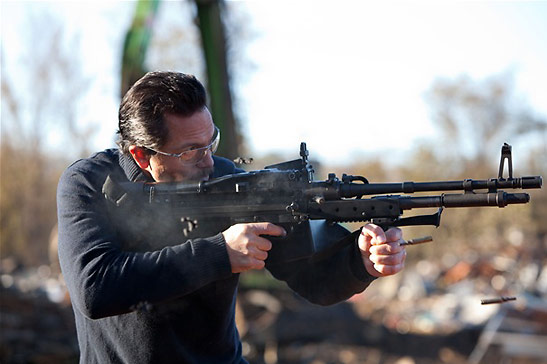 Benjamin Bratt plays a drug lord in the action film "Snitch."
Photo Courtesy of Summit Entertainment
You play the head of a drug cartel. What makes your drug dealer character different from others we've seen portrayed onscreen?
Bratt: The character I play could easily have been conceived as a one-dimensional individual, but he's not. He's a human being who has a job to do. He runs an enterprise, albeit be a criminal one, that has billions of dollars at stake. He's not the guy who has a five o'clock shadow and wears gold chains and silk shirts. He's actually a very sophisticated person who has a paramilitary background and training in Special Forces. He reads the New York Times and is invested in the stock market. He's label conscious right down to his Ralph Lauren coat, Burberry shirt, and designer sunglasses.
What kind of research did you do to help you develop your character?
Bratt: There's a ton of research available on the net. The thing I was most interested in capturing was the comfort level that comes with the self-recognition that you're the very top of the food chain. I don't know what that's like in real life, but one thing that Ric and I really wanted to capture was the almost emotional calm and mood that comes from being that confident, so confident because you recognize there's no one who can tip you over. So, even when a six-foot five, 240-pound monster of a man comes in the room, to you it's just like taking a breath. You're just conducting business. You're going to do this for me and you're going to get it done. I know where your family lives and I'm done with you now. Goodbye. It's just like breathing. It's just another part of a day of business. I don't know what it's like to have that air of confidence, in my own realm, but this is someone who clearly has a global reach.
Did you have conversations about drug wars?
Bratt: Ric and I talked about how much has been written about cartels and what's going on and we tend, as Americans, to think it's an epidemic that's occurring over there – south of the border. The fact of the matter is, and frighteningly, it's right here in our own backyard, but the film doesn't try to solve that issue at all. It merely uses the reality to up the emotional stakes, making this world and this character very scary. Also, I love that he takes, what we can define as typical fare in terms of its genre, an action movie with a bona fide action movie star, but he tweaks it enough where he actually elevates the material to a point that makes it compelling beyond people who simply love action.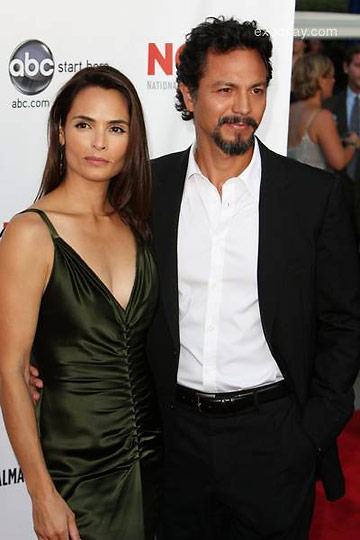 Benjamin Bratt with his wife Talisa Soto. Courtesy photo
I'll go see anything, but my wife sat down and watched the film and as a person who won't go to see everything, she loved this film because as a parent she could relate to the core dilemma, the heart of the film, which is to what lengths would you go to save your child.
What was your first meeting like with Dwayne?
Bratt: I said hello to him at an event a few years ago and we only said hello on the set the day before our scene. It was a moving train (the shoot) and he's in every frame and we were shooting in the junkyard and it was cold. I'm astounded, having now seen the finished product, of how well it came out given how fast it was moving. I worked on low-budget, 28-day shoot films in the past and it's a kind of hell because you're not ever certain that the end result is going to be very good. It's a real testament to Ric's understanding of what it takes to make a good movie for him to have been able to work that fast and get the performances he pulled from everyone and create a really good, compelling film.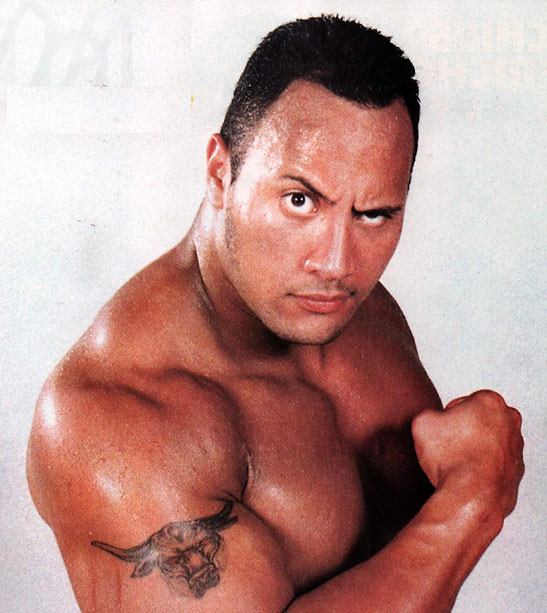 Benjamin Bratt on Dwayne Johnson: "...He would crush me to dust...I'm not afraid to admit that." Courtesy photo
Did you and Dwayne have any alone time together?
Bratt: You know there really wasn't. I think it wasn't a conscious decision on my part, and I can't guess as to whether or not it was on his, but you know he's an alpha male and I'm an alpha male and I think we understood that it would enhance both of our work to not get into a ring with one another. First of all, he would crush me into dust. (laughter) I'm not afraid to admit that. He's one of the best fighters in the world, but I think in hindsight that's what was needed. We weren't meant to be buddy buddy, not in this situation, but perhaps in another film.
Bratt on Jerry Orbach: "He was one of the last old-


school gentlemen." Courtesy photo

Most audiences became familiar with you from your work on "Law & Order" in which you co-starred with the great, late Jerry Orbach. Could you talk bit about that experience and what you learned from Mr. Orbach?

Bratt: I learned as lot about acting and life from Jerry Orbach. He quickly became one of my dearest friends, in spite of the age difference. He was one of the last old-school gentlemen. He was a former song-and-dance man on Broadway, quick with a joke, great with a story. I use to tease him that we would eat lunch together more often than he would with his own wife because every day that we worked together, depending on the location, we would go out and grab a bite and it always had to be fried calamari to start and then whatever else came along.
Bratt: I learned as lot about acting and life from Jerry Orbach. He quickly became one of my dearest friends, in spite of the age difference. He was one of the last old-school gentlemen. He was a former song-and-dance man on Broadway, quick with a joke, great with a story. I use to tease him that we would eat lunch together more often than he would with his own wife because every day that we worked together, depending on the location, we would go out and grab a bite and it always had to be fried calamari to start and then whatever else came along.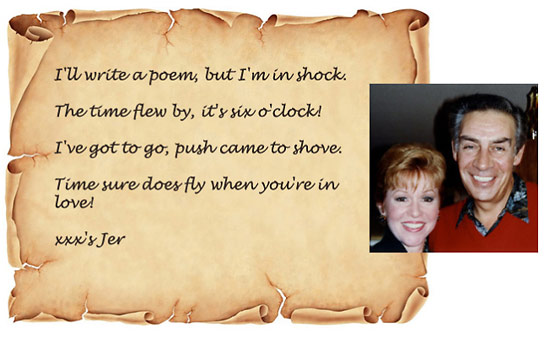 One of the poems Jerry Orbach wrote for his wife Elaine Cancilla Orbach.
Courtesy photo
Bratt: Jerry did something very dear for me when I finally decided to leave the show at the end of my fourth year. At the rap party he got up and sang a goodbye song to me to the tune of Michael Jackson's "Ben," that had all these personal anecdotes our inside jokes and I have it to this day. He's missed. He was a dear, dear man who was truly deeply in love with his wife Elaine who I think from heartbreak died a year later. Every morning he would get up at 5:00 a.m for work and would always leave a rhyming poem on a piece of paper next to the coffee. He was an original and all the best jokes I have are from him, but some of them are too blue to share with you today. (laughter)
This is the second time you've played a drug dealer. The first time was in "Traffic". Will you hesitate to play a drug dealer again?
Bratt: That's a really good question. Both in terms of introduction and presence in this film, it's very similar to what I did in "Traffic." The character is talked about a lot, so much so that you think he's in the movie more than he actually is on the page. I think I'm in all of two scenes for a total of four minutes or something like that, according to my agent. I don't count to be honest. "Traffic" was similar in that they're always talking about my character Juan Obregón so when you finally meet him, there's this payoff and he better live up to that payoff. So, I like the challenge to actually rise to the level of filling the shoes of expectations that are created about someone who is the kingpin, top of the food chain, and to the extent that you folks feel that I delivered, is really gratifying. Also, I felt there were enough years between "Traffic" and this part to be able to take it on. The two characters are not dissimilar - they are very similar people. To do it again, it would have to be a bigger part. (laughter) More pages. (laughter)
How did the shooting schedule work out since you were also had a role in ABC'S "Private Practice?"
Bratt: I was shooting that series and worked out the schedule so I could go to Shreveport for four days to get this done. It was a welcome relief to be able to take on this role because on "Private Practice," which was a nighttime soap opera, the character I was playing was a bit of an idealized man. He was a fertility doctor who was great with women, the ideal boyfriend, soon to be a fiancée. The series, which ended in December, was on for six years, but I was only part of it for a year and a half. So, it was a nice change of pace.
Do you see yourself more as a TV guy or a film guy?
Bratt: I'm an actor. A working actor and I'll go wherever there's a good job to be found, including the stage and including voice over work. I just did the sequel to "Cloudy With A Chance of Meatballs," or Revenge of the Leftovers. (laughter) I just re-appeared in "Modern Family" and have no bias when it comes to what form the work is in, as long as it's well written. This film is a good example of that and has nothing to do with the size of the part. As long as it's something where I can do my thing, I'm happy.