Casey Affleck on Career, His Famous Brother, and Friendship

By Beverly Cohn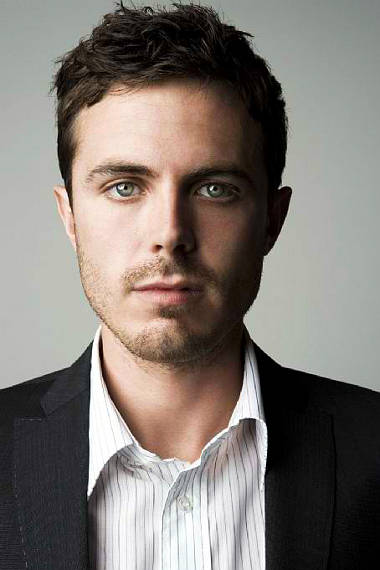 Casey Affleck stars in David Lowery's "Ain't Them Bodies Saints." Courtesy Photo

asey Affleck is the kid brother of Ben and like his brother has been racking up a string of films including "The Assassination of Jesse James" for which he garnered an Academy Award nomination. He worked with his brother in "Gone, Baby Gone," which Ben directed, and had roles in "Tower Heist," "Chasing Amy," and "To Die For," directed by Gus Van Sant. He also had a role in the Academy Award-winning "Good Will Hunting," co-written by Ben and Matt Damon, and took at shot at directing a film called "I'm Still Here," which starred Joaquin Phoenix, whose sister Summer Casey he eventually married and together produced two sons.
Casey recently sat down with a group of select journalists to discuss his latest film, David Lowery's "Ain't Them Bodies Saints." The story, which could be described as a benign, almost poetic "Bonnie & Clyde," co-stars Rooney Mara, Ben Foster, and Keith Carradine.
The following has been edited for content and continuity.
What attracted you to the material?
Affleck: The first attraction I had was that the script is so well written and I liked the way that David (the director) used language that really felt kind of unique and poetic in a way. Just reading it I could tell he really cared about language and I like that. I'm also drawn to characters whose internal fantasy about themselves is at odds with the reality of their situation and who they are. That was true for this character for sure. But mostly, I liked the way David talked about film and about this film and the story. I wish I had a formula on how I chose films that I wanted to be part of. I just don't. It's still a very instinctual process.
What was your first meeting like with David?
Affleck: When I sat down with him I got a feeling that he loved movies, loved the story, and wasn't doing it because he just wanted to be a film director. He really listened and immediately it was a good match for me and all the way through the process I was glad that I had done the movie.
Do you think you were a cowboy in a past life?
Affleck: (Laughs) Maybe. I do love the western. But David is so smart that he kind of subverted the western genre and also subverted lovers on the run. Anytime there was some familiar trope or some genre, he either went around it or he would find a way of making it different in some way.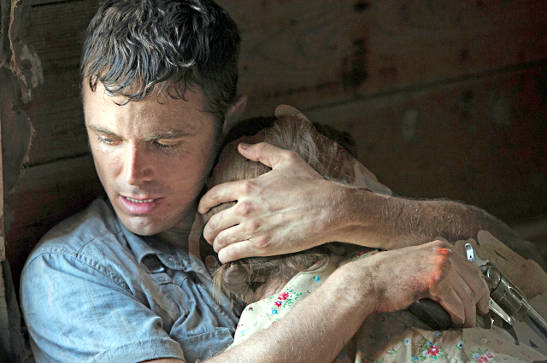 Casey Affleck as Bob Muldoon and Rooney Mara as Ruth Guthrie in in David Lowery's poetic western, "Ain't Them Bodies Saints." Photo Courtesy of IFC Films.
What do you like most about your character?
Affleck: I think that Bob, other than having this romantic vision of himself and the world and the way it should be, comes to loggerheads with what the world really is, which is an interesting conflict to play. I like that he has a good heart and had good intentions. I've played lot of people who are assassins or murderers and that always feels disgusting, so it was great to play somebody who really had everyone's best interest in mind and was a much better person than anyone thought. I think it's interesting that during almost the whole movie nobody finds out that he didn't kill anybody and that she (Rooney Mara's character) had shot a policeman.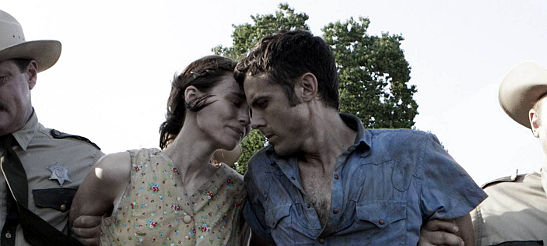 Ruth and Bob under arrest for their crime spree. Photo Courtesy of IFC Films
We don't actually see Ruth and Bob committing crimes on screen. What kinds of crimes do you think they committed and how are they different from Bonnie & Clyde?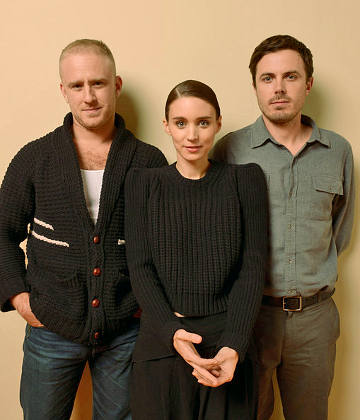 L-R: Ben Foster, Rooney Mara, and Casey Affleck in "Ain't Them Bodies Saints." Photo Courtesy of IFC Films
Affleck: Well, we're younger for one thing. (Laughter) This is sort of a sequel to "Badlands," (directed by Terrence Malick) because in "Bonnie & Clyde" you see them commit the crimes, but in this film the crimes are left to the imagination. The crimes were probably robbing banks and stealing stuff. He was smart to not show that stuff because there are five different movies that come to mind about a young couple who are on a crime spree. I think he wanted to show the reality of that situation when the glamour and the romance of the sort of "Bonnie & Clyde" lovers wears off and you're left with the reality of trying to live out a life.
What do you think her attraction is to the character of police officer Patrick Wheeler played by Ben Foster?
Affleck: She's got a kid. She's got a kitten. You need to marry someone who's got a job. It's all that stuff and that collides with that youthful idealism of being lovers on the run. She has to deal with does she really want to be with somebody who is on the run, is a fugitive, and has no way of supporting them, or she going to be attracted to this kind of boring, but stable guy who she never, ever thought she would be with.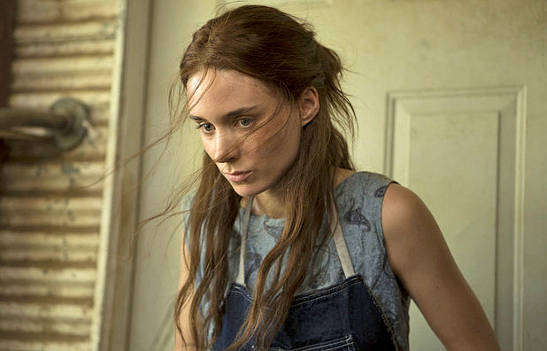 Casey on Rooney: "...She's incredibly charming and has a very dry sense of humor and she doesn't pretend a lot." Photo Courtesy of IFC Films
We understand you and Rooney Mara did not know each other before the shoot. What do you like about her?
Affleck: That's true. We didn't know each other, but that's often the case when you start a movie. Rooney is a very mysterious person and plays it close to vest and doesn't give a lot, but the camera sees a lot. She has that enviable, magical quality of being something that just comes alive on screen. So I loved not knowing what she was thinking and what she was going to do and say even though I knew on paper what she was going to do and say. Personally, she's incredibly charming and has a very dry sense of humor and she doesn't pretend a lot. If you tell a joke, and Rooney doesn't like it, she's not going to smile. (Laughter) I enjoy that about her. She's brutally honest and very forthright and I like people that are a little bit too serious so I have a lot of affection for her.
What were your impressions the first time you saw the film onscreen?
Affleck: The very first scene I saw was the scene between the two of them (Foster & Rooney) in her house and I was astonished at how believable and subtle and nuanced they were and I thought there's no way I can fit into that movie and I don't want to see any more of it. I was imagining this beautiful naturalistic emotional movie and then like that cartoon rooster walking into it.
What was the point where Bob realizes there were consequences to his behavior?
Affleck: That very violent scene so takes him by surprise and you see in that moment how different he really is from what people think of him. People are after him and want to kill him or put him in jail and he's nothing like that at all. Maybe I'm reading too much into it, but I felt that moment was a bit of metaphor of the surprise of a young man who kind of meets the grown-up world and that there are consequences for your actions. You've stolen money from people and you're not living in "True Romance" (magazine) and there are people who you have pissed off and this is how some people in the world get revenge.
Bob is a very romantic character. Have you ever written love letters?
Affleck: (Laughs) Yes. I've written some love letters in my life. Is that enough? (Laughter) I think Bob is a very romantic character and I really liked playing that part of him. It's always an endearing quality and my only concern was making sure that he wasn't so familiar in his romanticism in the context of the movie that it becomes a cliché. I think all the characters are a little romantic – The Bonnie & Clydes, The Badlands, and beyond. That character is someone we have seen in films because it is such a great character, but because we've seen it so much, you have to make sure that you find something that's real and different about him. That said, there's no way you can do something like everybody else because you're you, and you're unique, so do it the way it resonates for you and don't worry about it. But, I can't take that advice for myself. I'm an actor and I'm always looking for ways to make it stand out in the landscape of other movies, which I think is a mistake, but I do it myself.
Casey on his brother Ben's recent success: "We are
very close and I'm very happy for him." Courtesy photo

Going off topic for a moment, your brother Ben did really well during award season and you must be really proud of him. Can you talk a little bit about your relationship?

Affleck: We are very close and I'm very happy for him. You know, we both started out as children doing this. My father was in the theatre and my mother took us to the theatre all the time, and we had a lot of people around us who were in the arts. We also had this very influential teacher in high school and had similar paths, so it's not a coincidence that we both wound up doing this. But then you get out in the real world and there are all these crazy ups and downs of your own individual career paths. I did this movie when I was seventeen, called "This Is To Die For" and he hadn't been in anything. Then he sort of took off doing "Armageddon."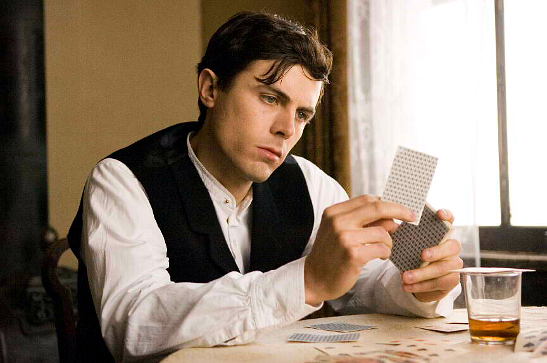 Casey Affleck as Robert Ford in "The Assassination of Jesse James." Courtesy photo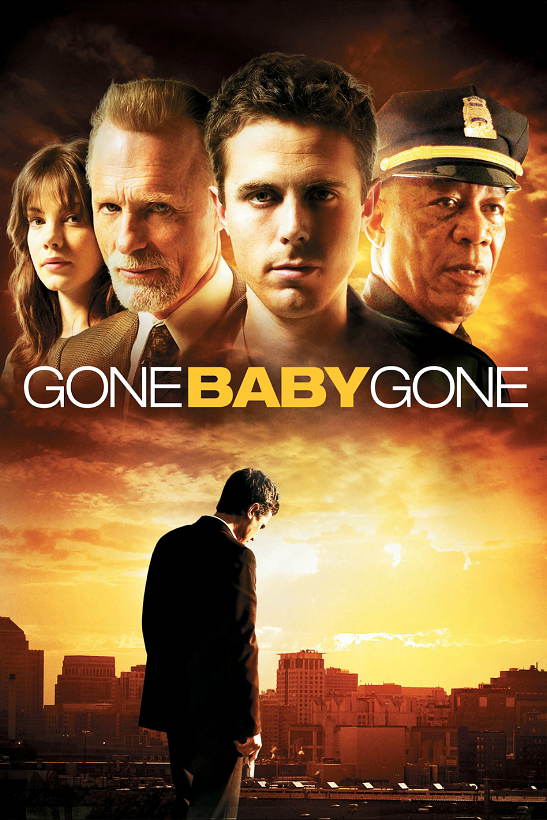 Casey was directed by his brother Ben in this haunting film. Photo courtesy
Ben and then he had a low and I was getting more movies than I wanted to be doing like "The Assassination of Jesse James." Then we sort of crossed paths again and I worked with him in "Gone Baby Gone" which he directed. Ben had his ups and downs and it didn't mean that he's finished just because he's un-hirable for a couple of years and it's nice to remind him of that when he's on top winning lots of awards. (Laughter) I feel really lucky to not only to have him as a brother because he's such a smart, interesting, fun guy, but also to have a friend to go through navigating the waters of Hollywood, which can be kind of lonely and alienating sometimes.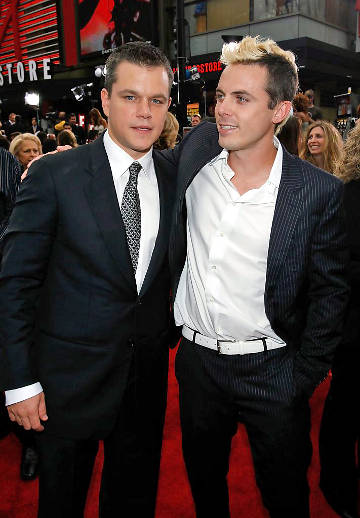 Casey on Matt Damon: "I'm lucky because I grew up with Matt Damon." Courtesy photo
Who are some of your close friends?
Affleck: I'm lucky because I grew up with Matt Damon and then I became best friends with Joaquin (Phoenix) who is now my brother-in-law. These actors have been successful and famous, many of them much more than myself, and so I get to see almost the entire spectrum of movies, fame, and success and that has been enlightening and taught me a lot. When you see someone who is super famous and everyone loves him until they crash and burn and then everyone hates him. My close friends have had totally different careers and have taken very different paths. I've been close to all of them and learned from them.
What's next?
Affleck: I did a movie called "Out of the Furnace" with Christian Bale, which Scott Cooper directed. It's coming out in the fall. So that's it.
Do you want to direct again?
Affleck: I do want to do something again because I feel like that movie was an amazing experience for me. I loved directing and working with Joaquin. I learned so much being in a different position working with an actor but also it sort of left a bad taste in my mouth so I would like to cleanse my palette and do something different and I'm looking. On the other hand, I want to keep working as an actor. If I can find something to direct, then I'll do it; but otherwise I want to keep working as an actor.