Derek Luke
Talks About His Career and the Women
Who Inspired Him
By Beverly Cohn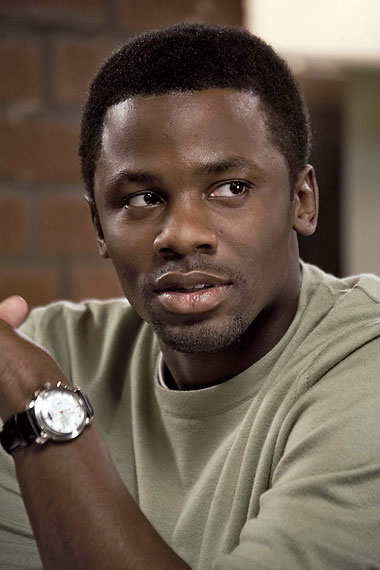 Derek Luke currently co-starring with Paula Patton in "Baggage Claim." Courtesy photo.

erek Luke's life reads like a lovely and sometimes not so lovely fairy tale. Born and raised in Jersey City, New Jersey, his early years were less than idyllic. Abandoned by his father when he was in the third grade, his mother, a pianist, struggled to support her two sons. He survived growing up in a gang-infested neighborhood and eventually, the aspiring young actor made his way out to Hollywood where he worked odd jobs while pursuing an acting career.
His breakout role was the lead in "Antoine Fisher" with Denzel Washington, who also directed. His stunning performance garnered him an Independent Spirit Award for Best Actor, a Black Reel Award for Best Actor as well as a BET Award for Favorite Actor. Since then, he has appeared in an assortment of films including: "Glory Road," "Catch a Fire," " Lions for Lambs," "Miracle at St. Anna," "Notorious," "Madea Goes to Jail," "Captain America: The First Avenger," "Seeking a Friend for the End of the World," and "Sparkle."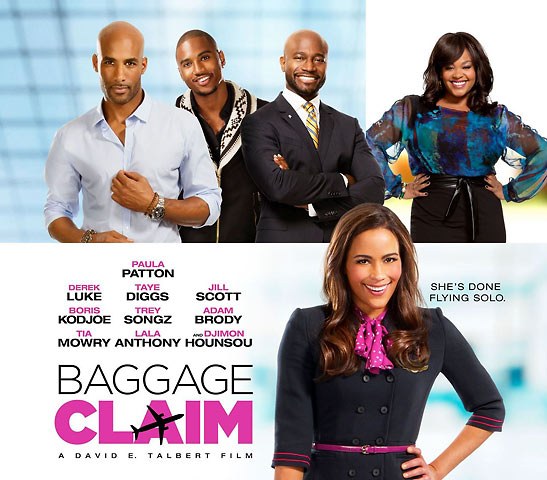 Photo: Courtesy Fox Searchlight Pictures
Derek is currently co-starring in "Baggage Claim," a sweet fable about a woman's determination to find her soul mate. The film, written and directed by David E. Talbert, co- stars Paula Patton, Taye Diggs, Boris Kodjoe, Tremaine Neverson, Jill Scott, Adam Brody, Jenifer Lewis, Djimon Hounsou, Lauren London, Christina Milian, LaLa Anthony, and Ned Beatty.
Derek recently sat down with your reporter for an exclusive interview and the following has been edited for content and continuity. It should be noted that before the interview began, Derek, along with his wife Sophie, his publicist and a few of his close friends, surprised me by singing Happy Birthday, which I was told a little birdie revealed to them.
You had a lot of adversity growing up – no father and economic challenges – so how did you overcome such a rocky start?
Derek: Wow. That's a good question. You're trying to go deep, aren't you?
If it's uncomfortable, let's skip ahead to the next question.
Derek: Let's go. I'll see where my heart is. The honest answer is that I believe I'm standing literally on the shoulders of a lot of women. My great grandmother was a mid-wife, but not by being taught in school because they wouldn't allow her to be taught in school and so her science was healing people by any means necessary. I always felt like my mom and her mom, were all in the healing business and that kind of denotes to some of the movies I've been a part of like "Antoine Fisher," so growing up I always heard miracle stories. I think everybody needs a so-called mid-wife and my great grandmother really left a moral and spiritual foundation. I think there are a lot of people that have been raised in a difficult environment but her key was don't let the environment raise you. I think we all have challenges but I had great, strong women and have been a momma's boy for a long time until I got married. So, I really pay tribute to all the women who went to work under crazy conditions and fed us by any means necessary. They're really like the heroes and I'm just telling the stories of how I kind of came out victorious.
Let's talk a bit about your solid work in "Baggage Claim. What attracted you to the script and to the character of William?
Derek: I just thought that William was every guy, but he was the rejected guy. I thought that gentlemen who are nice are not popular, but they should be, and if any man or woman is looking for clues, let William be a journey on how you get to your promised land. I thought he was fun. I've been friends with many women so I knew how it felt not to be the one. In the film, the girls talk about the guy with car and he has this and he has that. I'm like what about me? I'm right next door.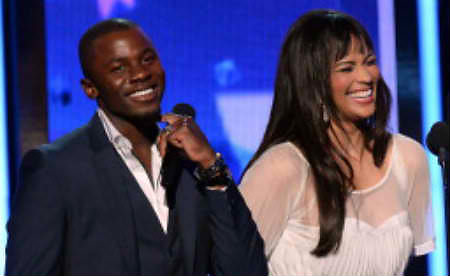 Derek Luke with Paula Patton. Photo: Courtesy Fox Searchlight Pictures
Had you worked with Paula Patton before and how was she to work with?
Derek: We only met in passing. I had a great time working with Paula. I didn't know she was so bubbly because the movie I saw her in was "Déjà vu" with Denzel (Washington) so I thought she was a very subdued type of character. When I walked into the audition, I said is this character work she's doing or is this the real person? So I wasn't sure until I got on the set with her. What I love about Paula as a talent is that she never came on set as just an actress or woman of color. She came the way Denzel impacted our lives. He would say be excellent. Be the best you can be. So in every scene she was looking for something greater.
Did she give a lot as an actress?
Derek: You know what. She really did. Some people have related to the business as masculine, but I think the approach to acting is passion, not masculine, and she was very committed and I will defend her. I like her, and I think her and David (director David E. Talbert) and myself wanted the best team. We wanted to win the Olympics so to speak.
How relevant do you think "Baggage Claim" is in today's dating world?
Derek: That's a good one. I like that. Socially I think the movie is on time because marriages and relationships have been at an all-time fatality. I think movies should move you towards goals and success and shouldn't bring you further away. So this movie, "Baggage Claim," would have been a movie I would have wanted to see when I was kid, like when I saw "Boomerang" with Eddie Murphy. I was young and I didn't go to the movies to see a romantic comedy. I went to the movies to be entertained but was educated at the same time.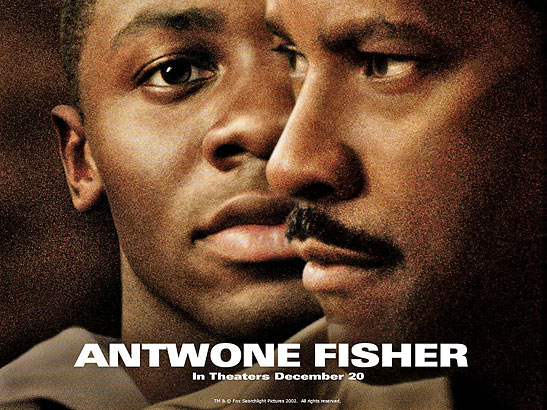 L-R: Derek Luke with Denzel Washington in "Antoine Fisher" which earned Luke multiple accolades for his performance. Courtesy photo.
I'd like to go back to Antoine Fisher in which you gave an extraordinary performance. How was it working with Denzel and did you take something away with you from that experience?
Derek: Oh boy. Have I taken anything away? You know, I have. A lot of times I don't recall what I learned from Denzel because he didn't give a lot of direction. When a director would come to me, either for a job purposes or inquiring about Denzel because that was my first movie, you would have to ask him whether he had to direct me a lot. He would have to give me a score. I'm not going to give myself a score but what I learned from him is being honest. You have to be truthful and what I like about the legendary people I've met – David Mamet, Robert Redford, and even Tom Cruise – is that they have been the most approachable people, while some people who haven't had half the light they've had, have been the most difficult. So I think a leading man is not just the role you're playing, but is the character you play in life.
In your early days as an actor, you were auditioning four or five times a week and got a lot of rejections. Why didn't you give up?
Derek: What kept me going forward was that again, there was a lot of sacrifice that happened on my behalf. When I got to LA, I didn't have a Master Card or a Visa, but somehow, in my heart, I believed that I had enough foundation to make it. I had enough faith to go from facts to action to the miraculous. In Hollywood, I never think it's about the resume. I always think it's about the revelation. If you don't have a revelation of who you are, then who you're trying to become could swallow you up and again, I have to go back to my mom and my great grandmother who sowed a great awareness about becoming the best you, you can be. Also, every time I would leave an audition, I would always turn on or listen to a mentor, not in the same business, but someone who would talk about how they would win through adversity. That was a brighter side because if I'd fed off of fear, I would have never gotten here.
As you continue along your career path, are you carefully picking roles that won't type cast you?
Derek: That's a good observation. I think Tom Hanks said I'm typecast as Mr. Nice Guy and he said I don't have a problem with that. He was saying if nice is a demand, then let me go ahead and be in demand. I don't look at it as being typecast, but more like being in your own lane. I think sometimes when people are not in their own lane they hit unnecessary frustration and turbulence. So, I do look at other roles, and my heart is the only strategy for selecting movies. If my heart and spirit don't relate to it, and if I can't see it, then I can't be it, so I've turned down a few projects. You know what I'm saying? So that's how I select roles that either come to me or I go after them.
Is there one director or actor with whom you would like to work?
Derek: I think about Francis Ford Coppola, Al Pacino, Steven Spielberg, and Sam Mendes. I have a different reason for working for them. I call it a master's class because if you talk to Denzel or Robert Redford when you were very young, you didn't know or appreciate it when you were in a master's class, so now I want to work with directors who can enhance what's in me and bring out more qualities.
What were you acting goals when you came to L.A.?
Derek: When I came to LA I wasn't into all that drama. I wanted to do TV. I wanted to do "The Cosby Show." I wanted to do sitcoms. I wasn't that aware or interested in drama. It didn't do anything for me, but it was where I was supposed to be.
Did you take acting classes?
Derek Luke with his wife Sophie. Courtesy photo.
Derek: You know, I did, or I should say I began but I never really liked the classroom setting. You were in there with guys ten years younger than you and they were grooming them as well as you because they thought they could make money off of those guys. So, I didn't study for a long time. I took two classes and took away things, but then I got married pretty early.
When you develop a character, do you do a back-story?
Derek: I do. But, sometimes roles happen so quickly where you can be on a set within 24 hours and at that point you just have to act because you have to get right into it.
Tell me about "Second Sight?"
Derek: Yes, it's a television pilot in which I play Detective Paul Giroux. A pilot is sort of a new world for me. I thought it was fun. Good collaborators. Executive Producers from "Homeland" and "CSI Miami." It was visually stimulating but I don't know if it all came together.
What kind of roles would you like someone to write for you?
Derek: Teacher. Attorney. So many roles that Sidney (Poitier) and Denzel (Washington) played. I'd like anything that is brown, has integrity, is noble, and has complexity.
Most actors seem to have some fear. Do you have a fear?
Derek: I don't believe it's necessarily fear. There's a quote that says fear and faith don't occupy the same space and faith has served me well, where fear hasn't. Fear has backed me up and faith has moved me forward so I tend to lean more to faith in the environment, words, and people, so my continued progress is based on faith and light, not fear.
Thank you for a wonderful interview and for your kind birthday wishes. I look forward to hearing your Oscar acceptance speech in the foreseeable future.
Derek: It's been a pleasure.