Ewan McGregor
On Directing "American Pastoral"
And Personal Musings
Beverly Cohn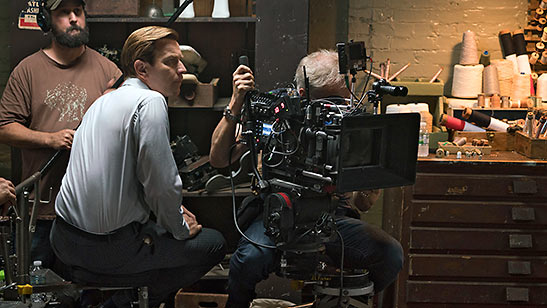 Ewan McGregor makes his directing debut in "American Pastoral" in which he also plays one of the principal roles. Photo: Courtesy of Lakeshore Entertainment

t is no accident that the perennial youthful and stunningly handsome Ewan McGregor is an international acting treasure who has racked up a list of impressive credits. His breakout role was in "Trainspotting" in which he played a heroin addict. Since then McGregor starred in such films as the prequel trilogy of "Star Wars" playing Jedi Obi-Wan Kenobi; the love-struck poet in "Moulin Rouge;" the son in both "Big Fish," and "Beginners;" as well principal roles in "Black Hawk Down;" "Cassandra's Dream;" "Emma;" "Ghost Writer;" "Angels & Demons;" "Last Days in the Desert;" "The Impossible;" "August: Osage County;" and "Salmon Fishing in Yemen." He earned the Number 9 spot on Channel 4's Greatest Movie Stars of All Time. He also received accolades for his stage performances in "Guys and Dolls," and "Othello." Born in Scotland, McGregor currently lives in Los Angeles, is married to Eve Mavrakis, and has four children.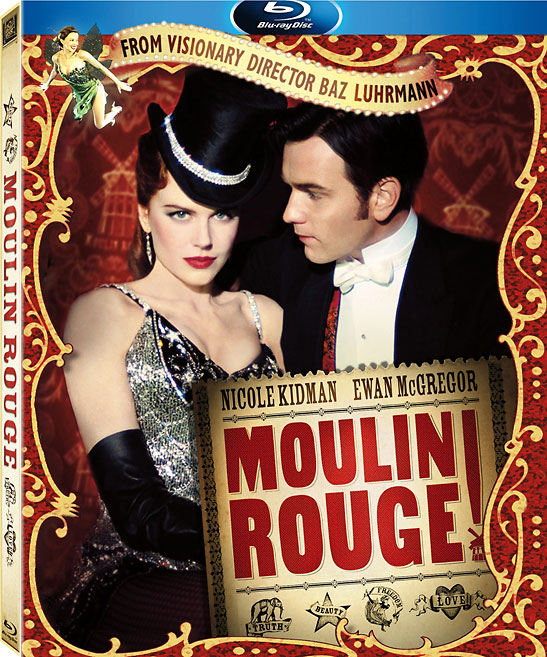 His vocal performance in "Moulin Rouge" revealed his beautiful singing ability. Courtesy Photo.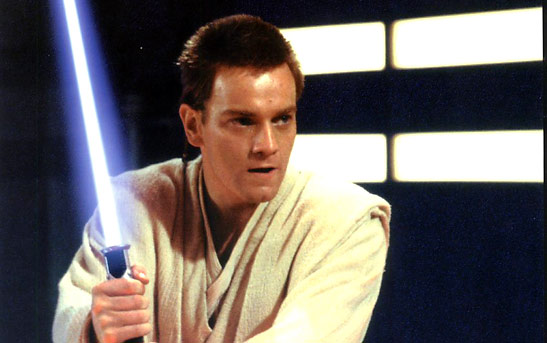 At age six, Ewan McGregor was mesmerized by Alec Guinness as Ben Obi-Wan Kenobi in "Star Wars" never dreaming that someday he'd have a light saber of his own. Courtesy Photo.
McGregor makes his directorial debut with "American Pastoral," a film based on Philip Roth's Pulitzer Prize-winning novel. The story follows an American family as it deals with the shattering of their comfortable middle-class life when their daughter Merry (Dakota Fanning) becomes an anti-war activist and commits an act of terror with dire consequences. The dad, Swede, (Ewan McGregor) struggles to understand and reconnect with his daughter while his wife Dawn, (Jennifer Connelly) drifts off into an altered reality. The film co-stars David Strathairn, Peter Riegert, Rupert Evans, Uzo Aduba, and Rita Cohen.
McGregor recently sat down with a select group of journalists, and the following has been edited for content and continuity for print purposes.
Have you been asked why you picked "American Pastoral" as your maiden directorial adventure?
McGregor: (Laughs heartily) We started our press tour in Toronto about a month ago and then we spent three weeks in Europe. It was amazing. Of course it's a privilege for me to be out in front for a movie I've directed. I still pinch myself. I sat in a million rooms and was asked that precise question: "So, why did you choose Philip Roth's Pulitzer Prize-winning novel as your directorial debut?" I can hear it in my sleep and wake up with that in my head. My answer is "why not?" (Laughter)
Obviously, you couldn't do the whole novel so how were the choices made?
McGregor: I thought what John Romano did with the adaptation beautifully pulled out the central story through a lens which explored American history as told through this family. It consists of a mother and father who were products of the post-war generation in the 1950s, and the American dream, which they embodied. Then there's the daughter who embodies the 1960s, which was an extraordinary time in American history. This was a time when the parents' generation collided with their children's generation in a spectacular way over what was happening both in Vietnam and here at home. I think that was brilliantly observed by Romano. On top of that, having spent so much time with the book from late 2014, when I was doing "The Real Thing" on Broadway, I tried to soak up as much of what I felt the writer was exploring. We started shooting in September and I directed Romano's script in the way I felt about the book.
Did the fact that you have four daughters influence your decision to do a father/ daughter film, which is a nightmare?
McGregor: Yes, it's a nightmare. When we see something like a piece of art, we are sometimes forced to think about our own lives. It blows my mind that Roth doesn't have any kids, so it's even more amazing that he wrote so accurately about parenting and about this father/daughter relationship. I have four girls and absolutely know what that relationship is about, so when I read the script for the first time, it broke my heart because as a dad, I know how I feel about my girls.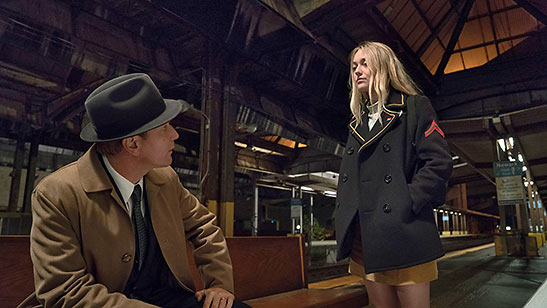 Ewan McGregor as Swede with Dakota Fanning as his daughter Merry in "American Pastoral." Photo: Courtesy of Lakeshore Entertainment
How were you able to relate to the character's feelings of loss?
McGregor: Although this is not a very extreme loss, I can relate it to my eldest daughter Clara, who is 20, and has gone off to college. She's not in the house any more when I wake up in the morning and have breakfast. It's strange and it is a loss even though it's perfectly mundane and ordinary. Yet, unlike the Dakota Fanning character, Clara is still very much part of our lives.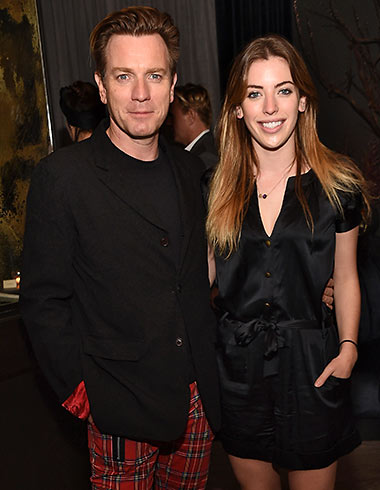 Ewan McGregor with his daughter Clara who left the nest and is off to college. Courtesy photo.
What is your observation about the changing dynamics between parents and children when they leave home?
McGregor: They leave home and that's painful enough. But you also have to let them go in a deeper sense. You're not there when they come home after school to discuss their day. You have to let them grow up. You have to take your hands off a bit. What's beautiful is that I have such a great relationship with Clara, but it's different now. I go to visit her in New York City and hang out with her. I find myself about to parent her and I think ok I can't do that any more. Like, where's your jacket or why are you wearing those shoes? (Laughter) So I was thinking about that when I first read the script, which is why I was so attached to it.
How do you make the transition from director, which is objective, to actor, which is subjective?
McGregor: I think it very much has to do with the preparation. I was always going to be in the film. I didn't think not to be in it when I became the director. (Laughs) No one could play this part like me. (Laughter) When I auditioned I was very tough on of myself. (Laughter) The casting couch was very interesting. (Laughter) Somewhat of a solo affair. (Laughter) The prep is very important and I was extremely thorough. I worked with the heads of the different departments. Dan Clancy was the production designer and I was with him for twelve weeks before we started shooting, which is very early for the director to arrive. But I didn't know any better and didn't want to be anywhere else. I looked at locations and we discussed how the film should look and feel. We were developing our creative ideas together.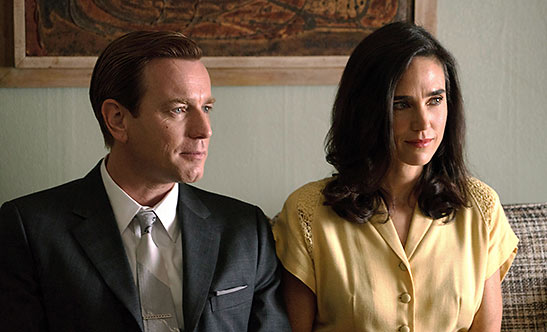 Ewan McGregor (Swede) and Jennifer Connelly (Dawn) play husband and wife trying to understand how their daughter turned into a terrorist.
Photo: Courtesy of Lakeshore Entertainment
How did you come up with the very beautiful look of the film?
McGregor: We used Edward Hopper's paintings as our color palette and used a lot of his dark greens, yellows, and reds and then we allowed the colors to bleed out as the films goes on. Having found all the locations, I spent a great deal of time with Martin Ruhe, our cinematographer, dreaming up how the scenes might play. I would sit next to him with a white board and for two weeks we drew every location that we had found and I would sketch out how I imagined the scene playing. Then we would discuss how we wanted to shoot it - if it was going to be a still frame and no movement, or if the camera was going to move, what was the reason.
How did pre-production preparation help you with your character of Swede?
McGregor: Since all of the prep work was done before we started shooting, when we finally hit the set, it was very easy for me. I had spent nine months thinking about the Swede. Because he's a central character in the movie, he's in the middle of all my imaginings about the film. The result was that I felt I had never been better prepared to play a part in my life.
How did you work with the actors?
McGregor: I did something Danny Boyle does with the actors, which is to clear the set and as an actor, I know that absolutely works. Then it was just me and the actors. We would shut the door and then there would be a moment where we felt we were getting away with something because there was no director on the set. (Laughter) I would say ok this is what I imagined, me here, you there, and let's see if that works, and we would try it. If it didn't feel right, we would explore until it did feel right.
You worked with Danny Boyle on "Trainspotting," "Shallow Grave," and "A Life Less Ordinary" and recently worked with him again on "T2: Trainspotting." Was it a different experience for you as an actor now that you've become a director?
McGregor: I finished my last day on "American Pastoral" at Warner Bros. I literally got in the car and felt lighter. I had been carrying the weight of these responsibilities for sixteen months and knew it was too late to do change anything. It's done. So I was happy. That Monday I flew to Scotland to start work on "T2: Trainspotting." Having been the director for sixteen months, I wondered what it would feel like to only be acting, and it was great. (Laughter) I sat in my trailer. (Laughter) I read the newspaper. (Laughter) I chatted with the other actors. (Laughter)
What's happening with "Fargo?"
McGregor: For Season 3, I'm playing two brothers who are not twins, so I'm creating two characters. (Emmit and Ray Stussy.) Twice in the past I played dual roles – there I go playing with myself again – (Laughter). In the "The Island" directed by Michael Bay, I was a clone and also played the character from which I was cloned, and in "Last Days in the Desert," I played Jesus and the devil.
Was it hard to go back to television?
McGregor: I had grappled with that decision years ago when I made the HBO pilot for "The Corrections," in New York. That was when I read "American Pastoral" for the first time. At that point I still hadn't reconciled in my soul that it was ok to do TV. I'm a film actor and wondered if it would be a failure to be going on the telly. Then I decided that I really loved the material and never understood why it never made it, as it was f #@#ng good stuff.
Do you find stage-trained actors easier to direct? You can go out on a limb.
McGregor: (Laughs) I don't think it's quite as simple as that. But, I certainly think that a stage actor might have knowledge about the responsibility to make a play work that could be very helpful in front of the camera. If you don't have that experience, it doesn't mean that you are not as good an actor in front of the camera, it just might mean you're not as… (Laughs) No. I won't put my neck out. (Laughs)
It's been fun chatting with you. Best of luck on the film.
McGregor: Yes. It's been fun. Thanks a million.