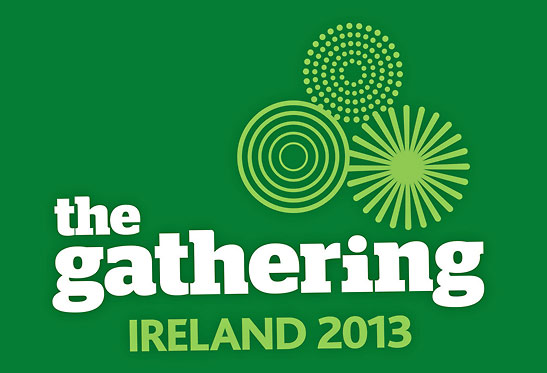 Courtesy photo
The Gathering
Here Ye, Here Ye, Ireland's Year Of
"The Gathering" Is Now Taking Place
Beverly Cohn
Editor-at-Large Abroad


ifty journalists from around the world including Belgium, Germany, India, Sweden, Denmark, South Africa, and the United States, arrived on a chilly Dublin day to celebrate the New Year's Eve kick-off of "The Gathering," an international outreach to hundreds of thousands of Irish people worldwide. The invitation is extended not only to people of Irish decent, but also to people who love the Irish. All are welcome in villages, towns, and cities scattered throughout the Emerald Isle for the 2013 yearlong celebration, with over 2,500 unique events taking place that includes the gathering of clans, festivals, and concerts.

Dignitaries from all over the world assemble at Dublin Castle to welcome Ireland's six-month presidency of the European Union. Photo: Beverly Cohn

School children hold a total of 40 blue balloons commemorating the 40th Anniversary of the European Union which they released into the air following a few speeches.
Photo: Beverly Cohn


The Defense Forces Band playing the Irish and EU anthems. Photo: Beverly Cohn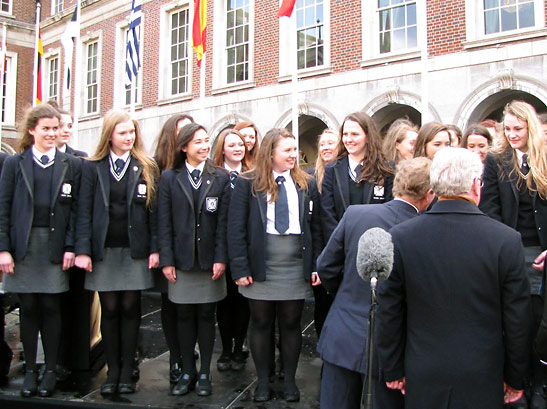 The Methodist College Choir from Belfast sang the beautiful "An Irish Blessing."
Photo: Beverly Cohn
This was a double occasion as international dignitaries gathered in the courtyard of Dublin Castle to celebrate the 40th Anniversary of the European Union and the beginning of Ireland's six-month presidency of the EU. Following a number of speeches and the flag-raising ceremony, school children released 40 blue balloons signifying the EU's anniversary. The Defense Forces Band played the Irish and EU anthems and the Methodist College Choir from Belfast sang "An Irish Blessing."

Carrying lit torches, over 1,500 men, women, and children joined in the parade which wended its way through the historic streets of Dublin. Photo: Beverly Cohn

The joy of the evening is reflected on all the happy faces. Photo: Beverly Cohn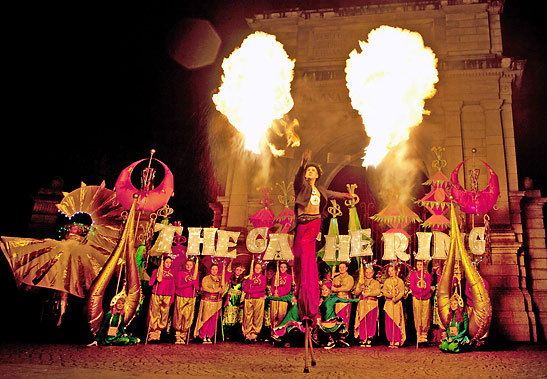 250 Performers contributed their talent to making this historic event memorable.
Photo: Beverly Cohn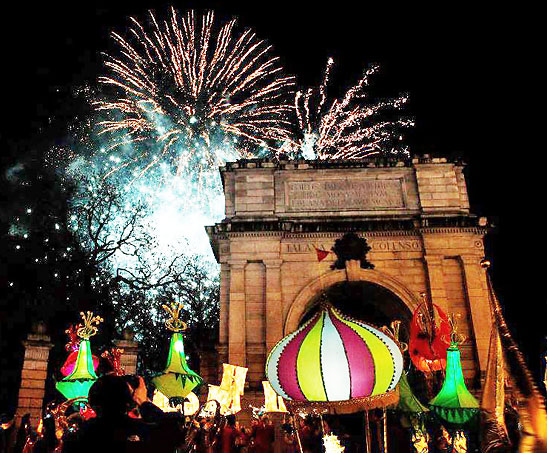 The fireworks were dazzling and a befitting end to the Torch Lit Parade. Courtesy photo
Holding hand-made torches, approximately 1,500 men, women and children and 250 performers such as fire eaters, stilt walkers, and dancers gathered in Dublin's College Green and delighted in participating in the Torch Lit Parade which wended it way past Trinity College, The Central Bank, and nearby Temple Bar and Grafton and O'Connell Streets ending at St. Stephen's Green for a brilliant fireworks display for which we thanked Mother Nature who suspended her blustery winds just in time.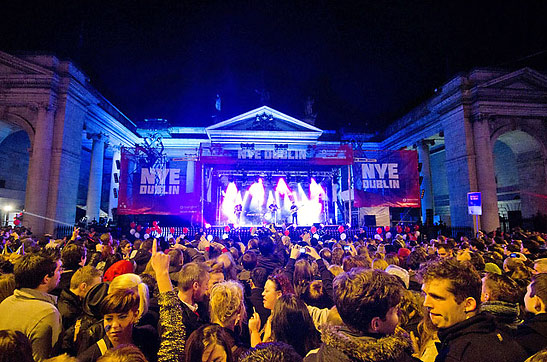 Following the parade, revelers gathered at St. Stephens Green for a rousing rock concert. Courtesy photo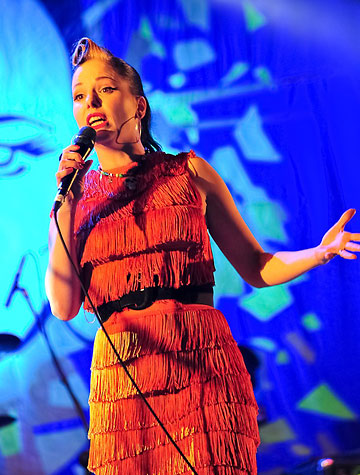 Irish musician and singer-songwriter Imelda May headlined the concert. Courtesy photo.
Following the parade, an estimated 12,000 people peacefully assembled at St. Stephens Green. for a rousing concert with performances by Imelda May, Bell X1, and Ham Sandwich. With a spirited celebration such as this one, it is no wonder Dublin has been chosen the Number One city in which to bring in the New Year. Think about that when you make your New Year's plans for 2013.
With all of 2013 designated as "The Gathering," festivals abound and will vary in size and includes the St. Patrick's Festival kicking off on March 14, 2013 culminating with "The People's Parade on St. Patrick Day" on March 17 in which up to 8,000 marchers from around the world will make their way through the history-packed streets of Dublin where they will not only pass historic landmarks, but those wonderful traditional music-filled pubs, some of which are noted as gathering places for some of Ireland's most famous literati including: George Bernard Shaw, Oliver Goldsmith, James Joyce, C.S. Lewis, Bram Stocker, Jonathan Swift, Oscar Wilde, and of course, William Butler Yeats. If you would like to march in the parade with your special group, check it out here: www.stpatricksfestival.ie.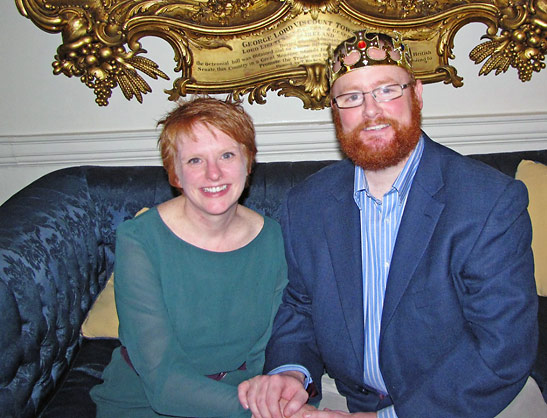 Claire and Alan Hayes will definitely be participating in the "Redhead Gathering."
Photo: Beverly Cohn
There are countless gathering opportunities, too numerous to list, but several that sound like a hoot include the Irish Redhead Convention on August 24 where up to 1,000 redheads, will converge in Crosshaven, County Cork for a weekend of craic (fun) during which there will be prizes for the champion carrot toss competition, best red beard, best longest hair, best family of redheads, and the most freckles. There will also be a chefs' cook-off and in case you're not a redhead, but would like to participate, you could win the "Best Wannabe Redhead" prize. Other "Gatherings" include gardening, twins, pilots, and just about sub group you can think of. (More information: www.discoverireland.com)

Left: 343rd mayor of Dublin, Lord Mayor Naoise Ó Muirí welcomes journalists for a lovely luncheon at the Mansion House. Right: On August 17, with the participation of French and British re-enactors, Steve Dunford & Elizabeth Keane's "Gathering" is "The Year of the French, In Humbert's Footsteps," and will be an historical re-enactment of the French landing at Kilcummin, Co. Mayo in August 1798.
Photos: Beverly Cohn
If you're one of those people who growing up had trouble using scissors or any gadget designed for right-handed people, then The Left Hand Festival taking place August 9-13 is one "Gathering" that portends much wackiness. It will take place in Mullingar, in County Westmeath that by some lucky coincidence means "town of the left hand mill." There are estimated six hundred million left-handed people in the world all of whom probably experienced bumping forks with the right-handed person sitting next to them, or felt frustration in trying to use a spiral notebook or in mastering tying shoe laces. You might say the left hand didn't always know what that right hand sitting nearby was doing, but it always seemed to be in the way. So, this is a great opportunity to both commiserate and celebrate the wonderful world of lefties on International Left Handers Day on August 13. By the way, some of the world's greatest artists were left handed among them being Dufy, Goyen, Kincade, Klee, Leonardo da Vinci, Michelangelo, (ambidextrous) Neiman, Raphael, and one of the greatest masters, Rembrandt. So if you are left handed, you belong to a very distinguished fraternity of some of the greatest artists in history.
| | |
| --- | --- |
| The tombstone of William Butler Yeats in Drumcliff churchyard in County Sligo. Photo: Beverly Cohn | No trip to Ireland would be complete without experiencing its rich literary heritage and towards that end there are several fabulous literary gatherings beginning with the Yeats Day Gathering on June 13 in Sligo. Artists from around the world are expected to attend to celebrate Irish writers. Yeats had a deep connection to County Slago from his childhood. Its coastline of many faces – sandy beaches, forests, rivers, and lakes such as Lough (lake) Gill, home of the Isle of Inisfree, served as a great source of inspiration throughout his adult life and the subject of one of his most famous poems. It will be held at Hamilton Gallery, 4 Castle Street, Sligo, County Sligo. +353.071.914.3686. |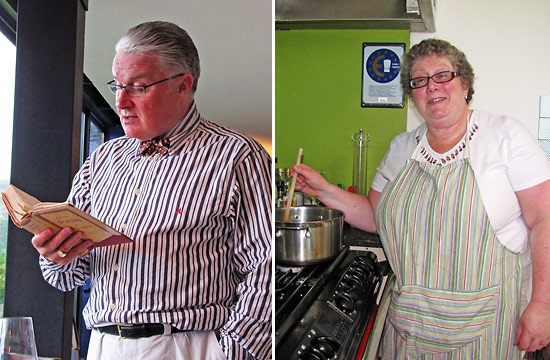 Left: W. B. Yeats historian Damian Brennan reads passages from the iconic author's works in between courses of delicious food prepared by his wife Paula. Right: Paula preparing one of her gourmet dishes for an evening of Yeats and yummies at their beautiful Broc House. Photos: Beverly Cohn
While in Slago, you must treat yourself to an evening with Damien Brennan and his gourmet chef wife Paula. They open Broc House, their lovely home overlooking the landscape that inspired Yeats, for an evening of Paula's exquisitely prepared food interspersed between courses by Damien discussing the great poet's life and reading excerpts from some of his works. This is truly a deliciously memorable evening. (www.yeatssligoireland.com)
Thomas Moore's famous poem, "The Last Rose of Summer" will be celebrated at The Last Rose of Summer Bicentenary Concert on June 22, 2013. Commemorating the 200th Anniversary of this poem, the gathering will not only celebrate the poem's publication, but also Mr. Moore's life.
'Tis the last rose of summer,
Left blooming alone
All her lovely companions
Are faded and gone
No flow'r of her kindred
No rose-bud is nigh
To reflect back her blushes
Or give sigh for sigh!
Jenkinstown Park, Jenkinstown, Co. Kilkenny Tickets: +353 87 251 5465
On September 7 and 8, Galway will host to another literary great in the Oscar Wilde Gathering that will pay tribute to the life and works of this great writer as well as exploring the strong connections between his writing and the west of Ireland. His body of work is legion and includes the ever popular "The Importance of Being Ernest," and "The Picture of Dorian Gray." The phrase, "You should see the painting in my cellar," crept into pop lexicon and is often used when someone is complimented for aging well. (www.thegatheringireland.com)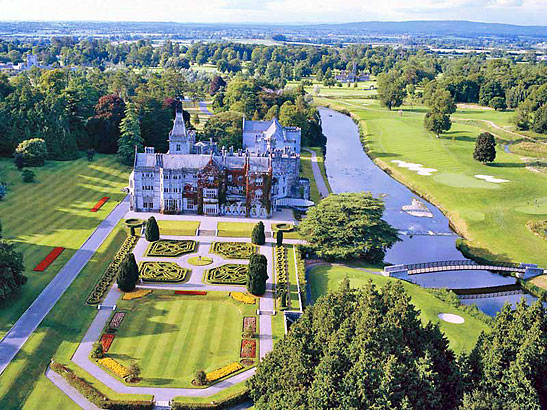 Adare Manor's seductive golf course beckons to golfers all over the world.
Courtesy photo
In addition to the few mentioned, there are gatherings galore including a call to golfers who might want to tee off at the Five Star Hotel and Golf Resort Adare Manor, named "Ireland's No. 1 Parkland Course" by Golf Digest Ireland for the seventh consecutive year. A course favored by golfers from around the world, the 18-hole course is intermingled between lush mature trees and a 14-acre lake anchoring the front nine holds, and The River Maigue that wanders throughout the artistically manicured greens. This exquisite property that has truly mastered the art of hospitality, is in the center of Adare Village in County Limerick and is surrounded by medieval ruins and a history that goes back centuries.
Main Street Adare, Co. Limerick, Ireland
+353 61 605 200
www.adaremanor.com/index.html
Once you experience enchanting Ireland, you will understand why for the second year in a row it has been voted "the destination with the highest client satisfaction." This honor was bestowed at an awards ceremony in Beverly Hills sponsored by TravelAge West magazine, with Ireland winning out over Great Britain, France, Italy, and Greece. Also, good news for travelers is the temporary lower VAT rate of 9% which is effective until the end of 2013 and applies under the umbrella of the tourism industry, encompassing hotels, restaurants, and special attractions.
So with travel season rapidly closing in, this is the time to put Ireland at the top of your bucket list. If you need help in planning a trip, contact your travel agent or www.discoverireland.com who will be most happy to orchestrate the most appropriate vacation adventure for you.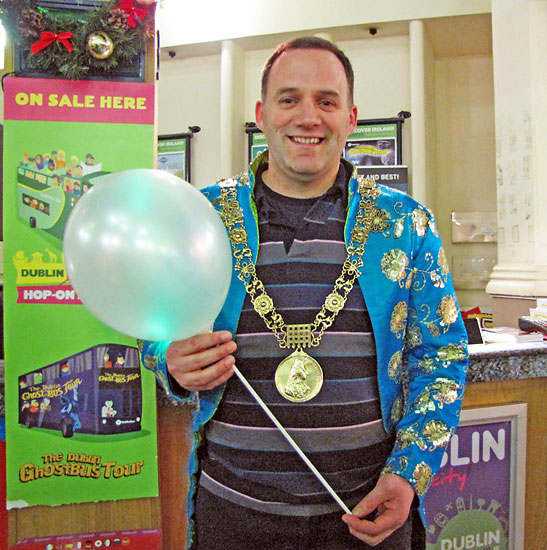 Lord Mayor Naoise Ó Muirí has invited mayors from all over Ireland, as well as the United States, to join him in a "Gathering of Mayors." Photo: Beverly Cohn
Tourism Ireland,
345 Park Ave # 1701
New York, NY 10154
(212) 418-0800
www.tourismirelandinfo.com
www.thegatheringfestivals.com/operators
Related Articles:
Ireland: Magical, Mystical, Delightful, Enchanting; Ireland – Land of Smiling Irish Eyes; A Return to the Emerald Isle; My Irish Dream Vacation; County Cork, Ireland: Remembering the Famine; The Aran Islands; The Faces of Ireland