Northern Ireland
The Land of Castles, Legends & Myths
Beverly Cohn
Part 1


ow lucky can one travel writer be? I'll tell you how lucky. I was the only American journalist invited on a recent press trip to Northern Ireland. The select group of writers flew in from all over the world including, India, South Africa, Sweden, Holland, and Germany. This opportunity was especially exciting since I had already been to the Republic of Ireland on three previous press trips, covering most of the southeast and southwest. Exploring Belfast, and the surrounding towns, was a new experience that I was very much looking forward to.
As a result of the people, places, and historic sites we visited, there is vast amount of material to be shared, so much so, that my coverage will be divided into three parts, and will include fascinating visits with royals living both in Northern Ireland and in the Republic of Ireland.
DAY 1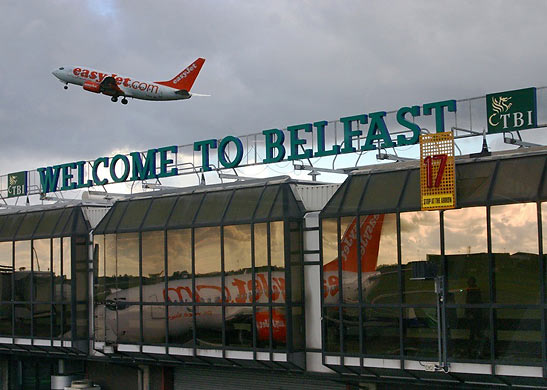 Belfast is the capital of Northern Ireland and part of the United Kingdom. Its currency is British Pound Sterling, unlike the southern Republic of Ireland whose currency is the Euro. Courtesy photo.
My lovely Irish experience actually began at the Belfast Airport. I didn't have the proper amount of British Pound Sterling for a luggage cart. This kind Irish woman, who kindly guided me in the right direction to fetch my luggage, reached into her purse and put a coin in the slot, releasing a baggage cart. Her friendly gesture is typical of the wonderful warmth of the Irish people.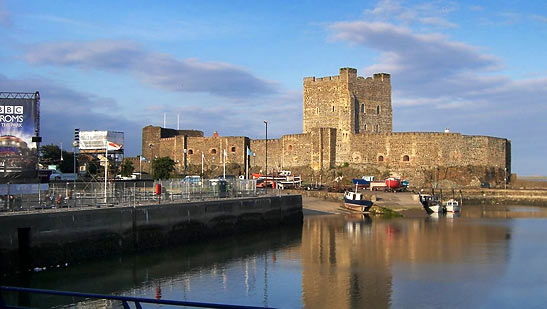 Carrickfergus Castle is an ancient fortress that served as an air raid shelter during World War II. Courtesy photo.
The theme of this particular press trip was "Houses, Castles & Ruins," so the first visit on our packed itinerary was to the 800-year old Carrickfergus Castle. It is a Norman fortress located north of Belfast, in the town of Carrickfergus in County Antrim. Its position, overlooking Belfast Lough,* made it easy to defend itself from invading armies from Scotland, England, Ireland, and France. The castle played an important military role during World War I. Although the stronghold was finally decommissioned in 1928, it served as an air raid shelter during World War II, and remains one of the best-preserved medieval structures in Ireland.
During medieval times, many banquets were held in the castle's Viking Hall. The etiquette customs were somewhat different from the etiquette customs of today. For example, you were expected to bring your own cutlery, which would be an eating knife and a spoon. However, most of the food was eaten using hands. It was considered polite to cut each other's food, which was served in long trenchers, which was scooped out by hand, with bread used to absorb any liquids. If your host offered you a knife, it was a mark of great respect. At one point, everyone shared a goblet, so it was considered good manners to wipe your mouth before drinking from the communal goblet. I have not been able to verify this, but our guide told us that if you needed to wipe food off your mouth, you simply leaned over to the person sitting next to you and used his sleeve. Banquet guests were seated in order of their rank, with the lowest at the far end of the table.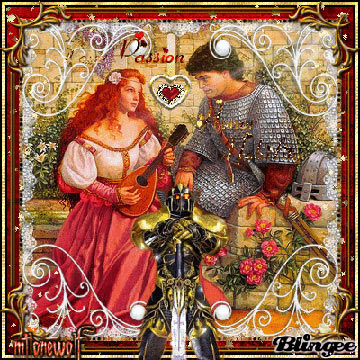 Remember, according to medieval tradition, Queen Guinevere and Sir Lancelot probably bathed once a
year, whether they needed it or not. Courtesy photo.
For those of us who sighed at the relationship between Queen Guinevere and Sir Lancelot, I hate to dispel that romantic image, but please bear in mind that both the church and the king frowned upon bathing. It was believed that a bath was dangerous and immoral, leading to sin and debauchery. One royal, Lady Anne, defied that tradition and actually bathed four times a year – each at the start of a new season. Life expectancy? Age 40.
Bathroom habits were not much more civilized than the dining habits. A hole was cut into the concrete for the king to sit upon. The excrement simply slid down the side of the castle eventually creating, well, a lot of brown streaks. It is thought that Queen Victoria actually introduced the idea of chamber pots, known as piss pots, which certainly beat sitting on a cement hole. Well, enough said on that subject.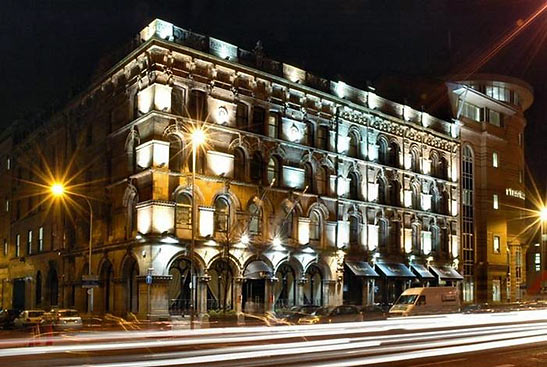 The Malmaison Hotel, a four-star boutique luxury hotel centrally located in Belfast. Courtesy photo.
Our lodgings for the next few nights would be at the Malmaison Hotel, a four-star boutique luxury hotel centrally located in Belfast on Victoria Street. Formerly a Victorian warehouse, the hotel is a short walk to the Victoria Square Shopping Mall, as well as restaurants and coffee shops. The staff was cordial, the rooms were small, but clean, and the bathroom had a few essential toiletries. My only criticism is the low lighting. It was so dark that I needed to use my cell phone flashlight to find things in the closet. Putting on makeup was nearly impossible as there was not enough light anywhere in the room or the bathroom to actually see what you were doing. It would be helpful if management could "shine a light" on that problem.
DAY 2
After a good night's sleep in a comfortable bed, we were off and running to explore the Causeway Coastal Route, one of the world's top five road trips. Passing charming little coastal villages, including the stunning Nine Glens of Antrim, the Causeway is a 120-mile scenic route beginning in Belfast Lough and ending at Lough Foyle. As we drove along to our next destination, which was to be a visit to Glenarm Castle and its Walled Garden, our eyes feasted upon on a profusion of beautiful daffodils and yellow and orange wildflowers that dotted the roadside.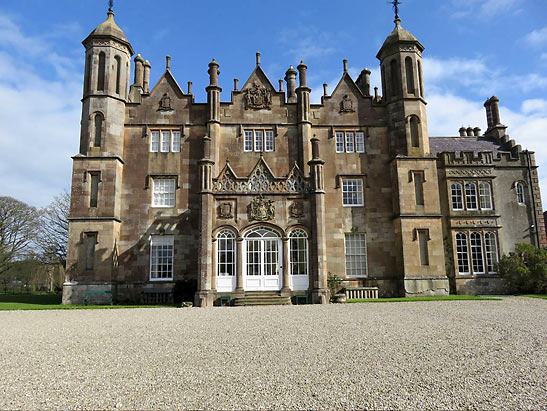 Glenarm Castle is the home of Viscount and Viscountess Dunluce and their children (the McDonnells.) Courtesy photo.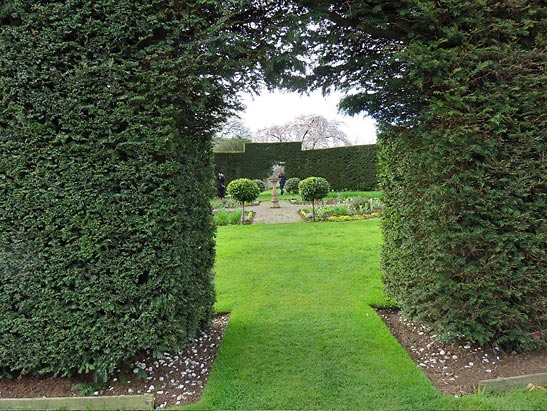 A dramatic entrance to the beautifully landscaped Glenarm Castle gardens.
Photo: Beverly Cohn.
One of the oldest castles in Ireland, and only 40 minutes from Belfast, and a mere 18 miles from Scotland, the Jacobean-style mansion is quite imposing. It was home to the Earls of Antrim for over 400 years. Glenarm Castle is the home of Viscount and Viscountess Dunluce (the McDonnells) and their children. Prior to living in Glenarm, their ancestors lived at Dunluce Castle, which was set afire so that a robbery could take place. The current castle is filled with Irish furniture and the walls are covered with portraits of family members going back to the 17th century. Its major business is the Glenarm Organic Salmon Ltd., the only Atlantic salmon farm in the Irish Sea, and a major source of the world's finest organic salmon. Cattle and ewes are also raised organically. They are fed clover and grass resulting in organic Beef Shorthorn, said to be superior to the famous Kobe beef. The farm's beef and lamb have won several prestigious awards and is served in outstanding restaurants throughout Ireland, including the Merchant Hotel's, The Great Room, which I'll tell you about a bit later.
A most delightful head gardener, Andrew Morrow, with a glint in his eye, and the subtle Irish humor, shared his wonderful story, very similar to the story of Sabrina Fair. Like Sabrina, his dad worked as a chauffeur for 50 years, so he, too, grew up on the estate. When the head gardener passed away, Lady Antrim asked him to take over his duties. He was quite surprised and said: "I can't even take care of myself." But he was trained and is now in total charge of the sprawling gardens. He took us on a guided tour of the magnificent grounds, explaining that the walled garden supplied the castle with fresh fruits and vegetables throughout the year. It's kind of a non sequitur but somewhere along our walk, he mentioned that the first shoes worn in Ireland were on the feet of Spanish soldiers. His love and passion for gardening was quite apparent. At the end of our horticultural experience, Andrew said, "Gardening is in the DNA of the Irish."

Like "Sabrina Fair," head gardener, Andrew Morrow,
is the son of a chauffeur and grew up on the estate.
Photo: Beverly Cohn.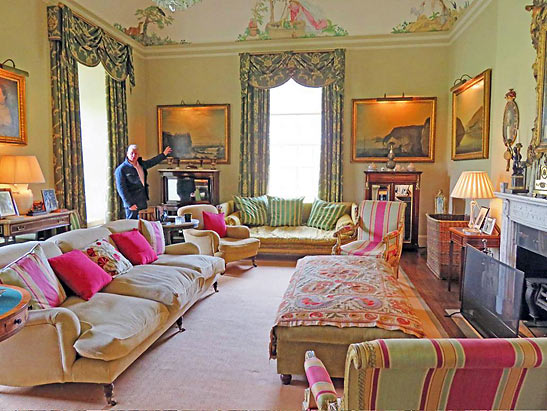 Andrew Morrow guided us through the exquisitely furnished rooms, pointing out a particular painting that has been in the family for generations. Photo: Beverly Cohn.
Following the garden adventure, Andrew then took us on an exclusive tour of the house, which is only open occasionally to the public. He told an interesting story about a "weigh chair." It seems that guests were weighed before they entered the dining room, their poundage measured in stones. The very same guests were weighed on their way out to make sure they didn't steal any of the silverware. I suppose there was no accounting for the amount of food consumed at dinner, which may have inched up the weight a stone or two.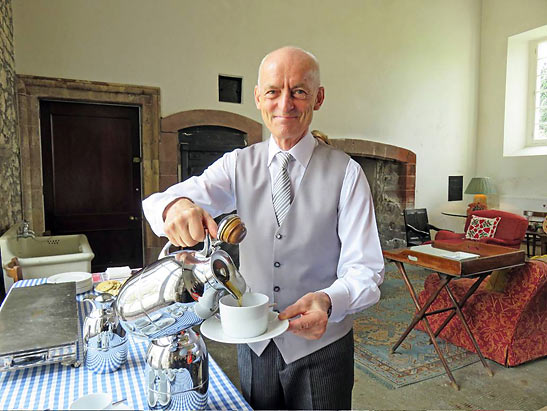 Straight out of "Downton Abbey," George the butler regaled us with stories about the family that he faithfully serves. Photo: Beverly Cohn.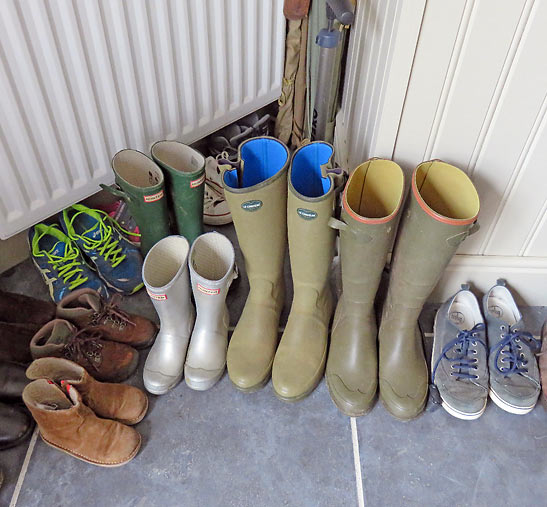 Footwear of the Viscount and Viscountess Dunluce and their children who stay in the castle three months a year. Photo: Beverly Cohn.
Next, we were treated to tea, which was served by a cheerful, very efficient George the butler, who shared stories about the family. It seems that the family stays only three months a year, as it revolves around the school year for their two children – Alex nine and Helena seven. The children love gardening and every morning get fresh eggs from the chickens. Not an egg carton in sight.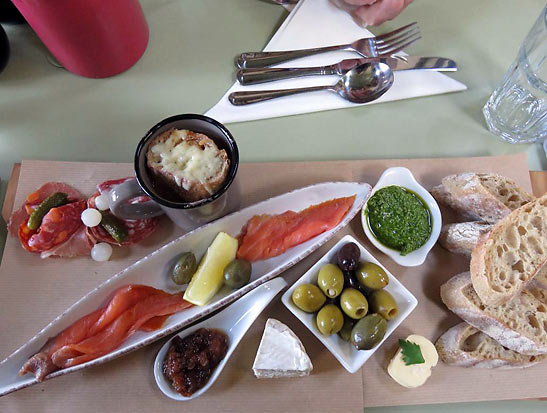 A delicious Gourmet Grocer Platter was served at the beautiful French Rooms restaurant located in Bushmills, once a thriving linen-producing center.
Photo: Beverly Cohn.
Fortified with tea and treats, we were off to have lunch in the beautiful French Rooms located in the iconic Bushmills, once a thriving linen-producing center. It should be noted that by the end of the 19th century, Belfast was the linen capital of the world. Its dominance ended during the "troubles" that started in the 60s and has never recovered.
And now back to our lunch. We were treated to a Gourmet Grocer Platter with food from local Irish artisans and specialty French produce. The exquisitely presented platter consisted of a cup of Joycelyn soup, tomato-based French onion soup topped with a cheesy crouton; oak smoked Donegal salmon with lemon and caper berries; Cooleeney hand-made Irish cream cheese; cured meat selection from Aveyron, France; Love Olive, an exotic mix from Glenavy; Kookycook pesto from Portrush; and sourdough baguette slices with unsalted Ballyrashane butter. Let's just say a delicious time was had by all, and then we were off again, this time to experience the Giant's Causeway.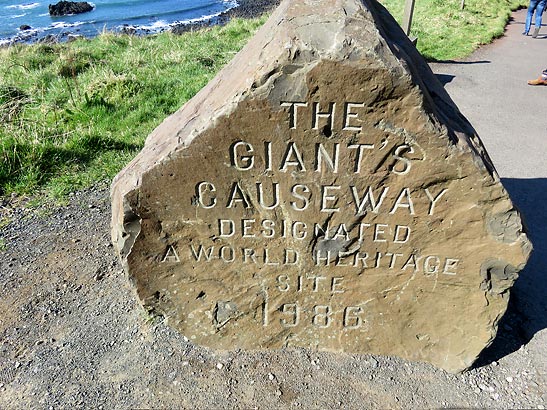 It is estimated that this extraordinary natural wonder was formed 60 million years ago. Photo: Beverly Cohn.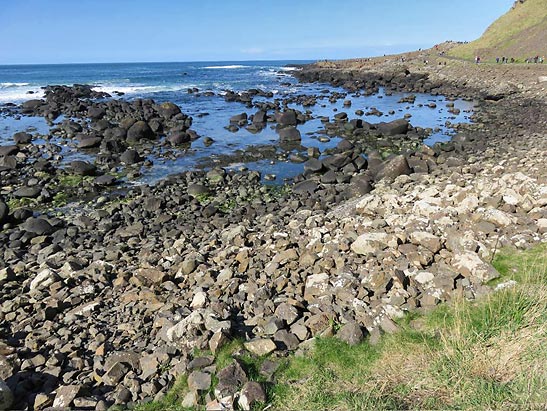 Thousands and thousands of rocks cover the ground as far as the eye can see, some of them settling in the water. Photo: Beverly Cohn.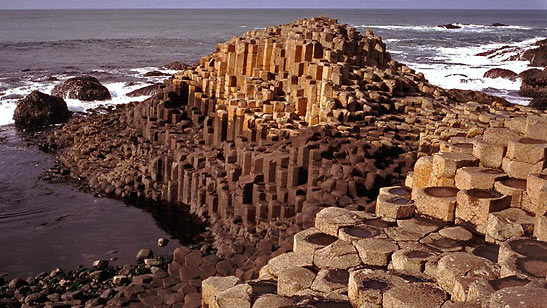 As a result of volcanic eruptions about 60 million years ago, 40,000 interlocking columns were formed. Courtesy photo.
The Giant's Causeway, Northern Ireland's iconic World Heritage Site, is a fascinating geological phenomenon. It is estimated to have formed about 60 million years ago as a result of volcanic eruptions, followed by lava cooling to form a hard rock called basalt. 40,000 interlocking columns were created, some of which appear to have certain shapes such as a giant boot, a harp, or a camel. Locals believe there is magic in these rocks and that if you stand on them, you will definitely feel something. Try it and see if you feel a tingle in your feet.
The Giant's Causeway is also steeped in legend linked to Irish giant Finn MacCool, who it is said wanted to do battle with Benandonner, a rival giant in Scotland. The story tells of Finn building huge stepping stones across the sea so that the Scottish giant could cross to Ireland and do battle with him. However, when Finn saw the enormous size of the giant, he ran home to his wife and asked her to disguise him as her baby. When Benandonner saw this huge "baby," he feared that the father would be too big to defeat and went on his merry way back to Scotland. So, using deception, Finn MacCool emerged victorious, and the legend lives on to this day.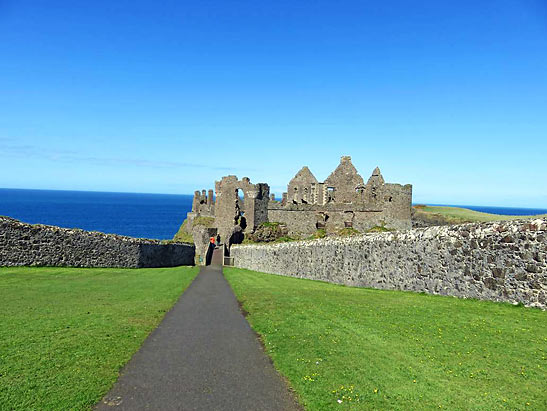 We wandered through the ruins; our imaginations painting pictures of what must have been the former splendor of Dunluce Castle. Photo: Beverly Cohn.
After this awesome experience, we were off to take a quick look at the remains of Dunluce Castle, some of which are thought to date back to the 1200s AD. Perched on a steep cliff overlooking the sea, this medieval castle is on the Antrim coast, quite close to the Giant's Causeway and like almost all of the castles, saw its share of battles. It is believed that the castle got the attention of the Vikings who invaded Ireland, as well as other settlements across Europe and Asia from the 8th to 11th centuries. We wandered through the ruins; our imaginations painting pictures of what might have been the castle's former splendor.
Thus ended another fabulous day of visiting Northern Ireland's ancient sites. The "dessert" was a scrumptious dinner at Deanes Meat Locker Brassierie, where we enjoyed delicious, exquisitely prepared food and excellent wine. Incidentally, contrary to popular belief, corned beef and cabbage is not the national Irish dish and is only eaten occasionally, with very few Irish people eating it on St. Patrick's Day. So, the polite thing to do is to order something off the menu and have corned beef and cabbage on St. Patrick's Day in America.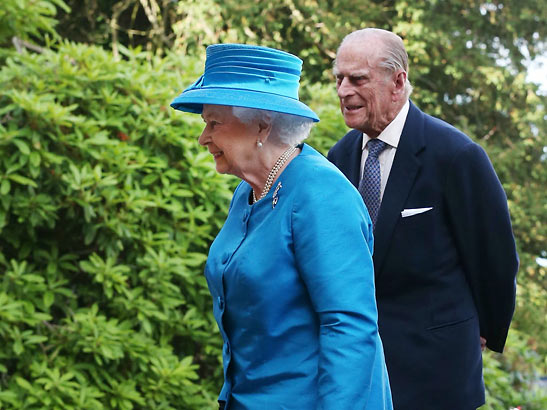 A peek at some of the royals you'll read about in Part 2 of my Ireland adventure. Courtesy photo.
Stay tuned for Part 2, which will take you to two more unique castles, one of which is the official residence of Queen Elizabeth II in Northern Ireland, and a historic gathering place for heads of states from all over the world.
*National Trust: The National Trust is a UK conservation charity that protects historic places, such as castles, houses, gardens, mills, farmland, islands, nature preserves, etc. They hold leases on about 5,000 properties with they rent out at a reduced price with the understanding that the tenant makes the property available to the public on a regular basis.
*Irish for lake.
Carrickfergus Castle
Marine Highway
Carrickfergus
County Antrim
BT38 7BG
Malmaison Hotel
34-38 Victoria Street
Belfast BT1 3H
United Kingdom
Glenarm Castle
Co Antrim
Northern Ireland, BT44 0AL
The French Rooms,
45 Main Street
Bushmills
County Antrim, Northern Ireland, BT57 8QA
+44 28 2073 0033
The Giant's Causeway
60 Causeway Road
Bushmills
Co. Antrim, BT57 8SU
Tel: 028 2073 1855
email: giantscausewaytic@nationaltrust.org.uk
Deanes Meat Locker Brassiere
28-40 Howard Street,
Belfast BT1 6PF,
Northern Ireland
email: info@michaeldeane.co.uk
Related Articles:
Magical, Mystical, Delightful, Enchanting Part 1/Part 2; Return to the Emerald Isle; Faces of Ireland; Aran Islands; Land of Smiling Irish Eyes; County Cork, Ireland: Remembering the Famine