Johnny Depp Featured in Charlie Paul's
"For No Good Reason" –
A Documentary on British Cartoonist Ralph Steadman
By Beverly Cohn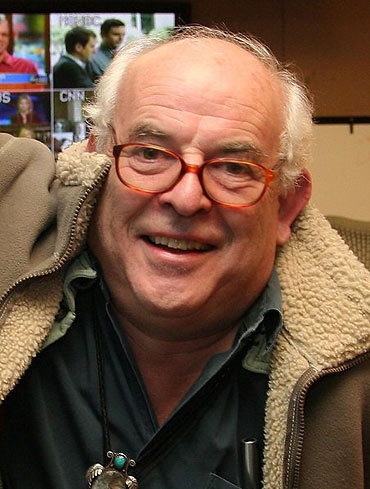 British cartoonist Ralph Steadman is the subject of
Charlie Paul's documentary "For No Good Reason." Courtesy Photo

hroughout the centuries, certainly beginning with Greek playwright Aristophanes' "Lysistrata," the 411 BC comedy about a woman's mission to end the Peloponnesian War by withholding sexual favors from her husband until he stopped going to war – artists, poets, political cartoonists, and writers such as Chekov, Ibsen, John Steinbeck, or Arthur Miller, have used their art form to shine a light on the inequities, hypocrisies, and family struggles inherent in the socio/economic/political structures present at any given period of time in history.
Famed British cartoonist Ralph Steadman is indeed one of those voices and in his 40-year career, he has created thousands of political and social caricatures illuminating injustices inherent in all facets of life, whether overt or covert. Through his staggering amount of illustrations, he hoped to somehow make the world a better place. A good portion of Steadman's work chronicled the consequences of the demise of the 1960s counterculture revolution, which was reflected in music, literature, art, and philosophy.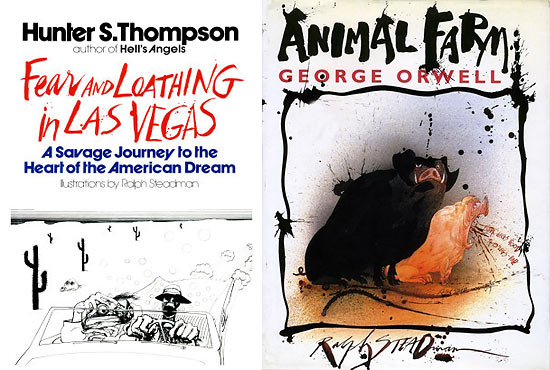 Left: Ralph Steadman became life-long friends with famed author Hunter S. Thompson. Right: One of the many books illustrated by Ralph Steadman.
Courtesy photos.
Steadman first became quite visible as a result of his work and friendship with Hunter S. Thompson who wrote "Fear and Loathing in Las Vegas" for which Steadman did the illustrations. Their 40-year friendship included collaboration on "The Curse of Lono," coverage of the Watergate scandal, and numerous articles for Rolling Stone magazine. In addition to writing his own books, Steadman worked with other writers and illustrated editions of "Alice in Wonderland," "Treasure Island," "Animal Farm," and the Ray Bradbury's seminal "Fahrenheit 451."
Just about everyone has a hero and Charlie Paul's hero is Ralph Steadman and because of that, he decided to document this amazing artist's life and times through his film, which took fifteen years from start to completion. Paul's career includes directing commercials and music videos, receiving over thirty advertising awards. He gained experience in motion control, using this film technique in working with many artists. Filming their art from inception to its final creation, some of that footage appeared in a BAFTA-nominated series called, "Inside Art."
Paul recently sat down with your reporter for an exclusive interview on his 15-year odyssey in creating "For No Good Reason," and the following has been edited for content and continuity.
A satirical approach to an old classic. Courtesy photo.
What initially attracted you to Steadman's work?
Paul: I was at college studying fine art. Ralph was kind of known sporadically in the UK because of his book "Alice in Wonderland" and a few other publications and disappeared for a year while working on another book. He's a private man so there was very little known about him but I was fascinated with his work. Then I read "Fear and Loathing in Las Vegas" and that made me think, wow, this is crazy - seeing art and literature get so entwined with each other. I thought I have meet this guy.
How did you approach him about making a documentary on his life and work?
Paul: The process of filming art, brush stroke by brush stroke fascinated me. With the artists' palette set off camera, I would take a picture when they recharged their brush. I would do this over and over again and would end up with a short animation of the painting building up. I had heard that Ralph also filmed his work so I gathered my film together of artists I had shot and sent it to Ralph with a letter asking if I could come down and talk to him about filming his work. Ralph wrote me a letter back saying: "Dear Boy, What you do is nothing like what I do; it's much more polished, but please come down and say hello anyway." So, I went down to his home in Old Loose Court in Kent and spent the day with him. We bonded very well and as I left, Ralph handed me books filled with hundreds of videocassettes and said, "Take a look."
What was on those videocassettes?
Paul: I took them back to my studio and started looking through them and began uncovering this amazing world that Ralph had filmed of his life. There were conversations with Hunter, journeys to different countries, visits to wine places, and drawings for other people. I instantly knew that I had the beginnings of a fascinating story that had been documented already over the last few years.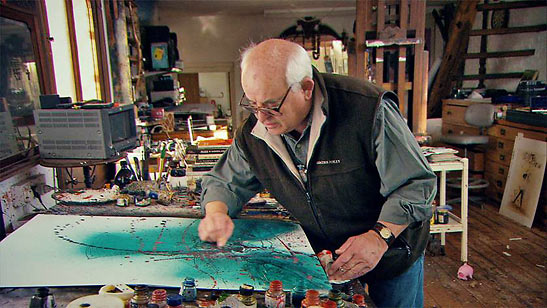 Ralph Steadman at work in his studio. Courtesy photo.
What happened after that?
Paul: I went back to Ralph and started asking questions about the films and at the same time, I set up a camera above his drawing desk with a button so whenever he walked into the studio, he would press the button and the camera would record his brush strokes frame by frame, which gave me real insight into what Ralph was doing in my absence. I would go back and forth each week and pick up the chip and that was the beginning of an on-going relationship. It was a marvelous thing to be able to document the time I was spending with the great man – my artistic hero.
How did the documentary begin to take shape?
Paul: My wife, Lucy Paul, who is the producer, brought in an editor, Joby Gee who worked on the editing for three years.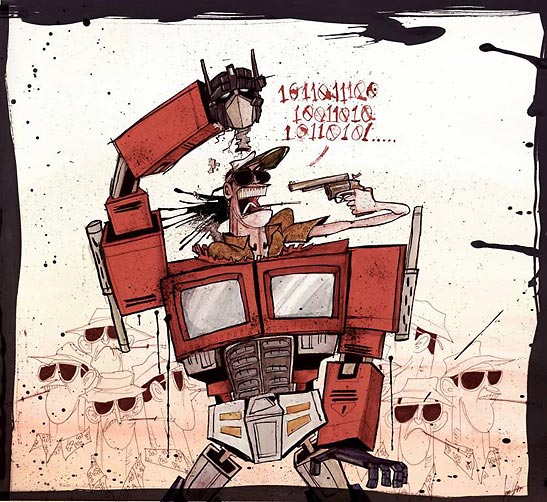 Ralph Steadman's work reflects the life and times around him. Courtesy photo.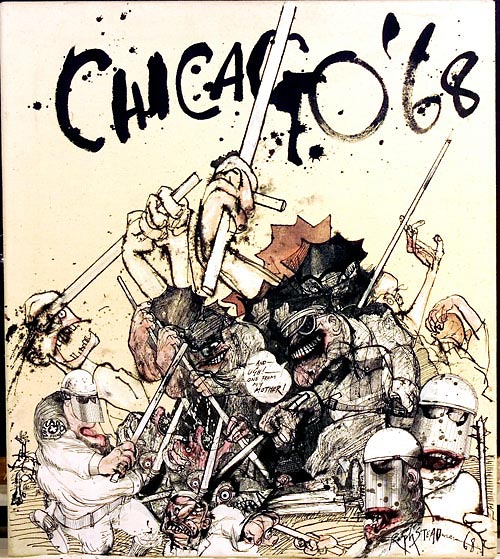 Steadman was particularly fascinated with the rise and fall of the
counterculture of the 60s. Courtesy photo.
Why was Steadman fascinated with the collapse of the counterculture of the 1960s?
Paul: Ralph is an incredibly engaged artist. He is fully aware of his place in the world and what is going on around him. His interest in the shifting tides of our culture has always been a preoccupation and his take on politics has always been from the underdog's viewpoint. His idea of a counter-culture has been that there is always another way. Ralph is a fantastically informed artist who is constantly questioning why things are the way they are.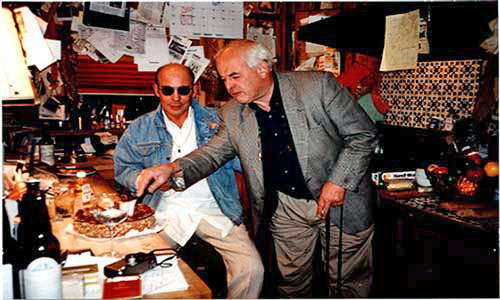 Famed novelist Hunter S. Thompson and cartoonist Ralph Steadman were collaborators and had a life-long friendship. Courtesy photo.
Did you shoot the footage between Ralph and Hunter who both like to drink, perhaps to excess?
Paul: To be perfectly honest, Ralph provided some of the best footage in the film, including he and Hunter in a room drinking into the night and just talking. These tapes were the most incredibly intimate conversations, which at one point has them accusing each other of stealing each other's fame. I was fortunate enough to have access to a really personal archive of Ralph and Hunter's relationship. No one has ever seen this footage before and no one will ever see it again because all the tapes have been returned.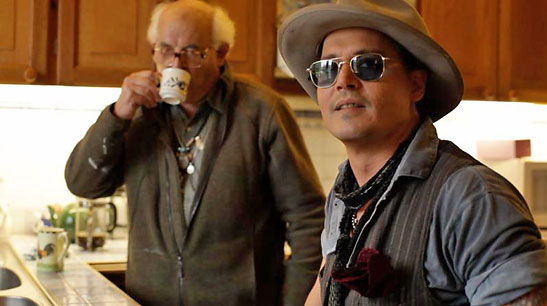 L-R: Ralph Steadman and Johnny Depp shared a mutual closeness with Hunter S. Thompson. Courtesy photo.
What do you think Johnny Depp added to the film besides "star power"?
Paul: Well, the star power is enormous. (Laughs) Johnny and Ralph's relationship goes back way. Johnny's love of Hunter and Ralph's love of Hunter made them come together on various occasions. I had found photographs of Johnny in Ralph's studio so I knew there was something going on between the two. I needed someone to be a visitor – to be the person that the audience sees - so it was a natural choice to involve Johnny. They already had a relationship and Johnny agreed that he wanted to work on the film, so it was a matter of finding time in his incredibly busy schedule.
With Johnny in Los Angeles, how did you keep him in the loop?
Paul: As the film went on, I would make these lumps of the film that would surround certain chapters of certain books and we'd send them back to L.A. for Johnny to see so he could watch the film in progress over many years. Eventually, the word came that Johnny was ready to get involved and it was like two old friends getting together. I put the two of them in the studio and prompted Johnny and Ralph by giving them books I wanted to be in the film and from then on, they really ran their own show.
How did you set up the scenes where you wanted something specific to happen?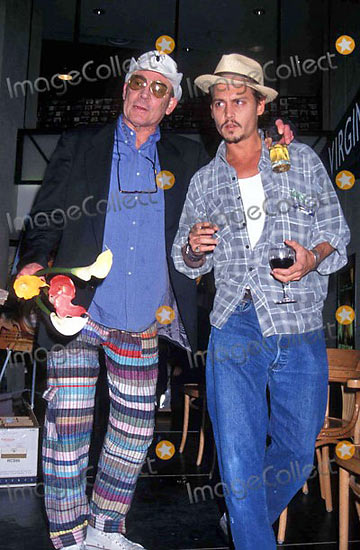 L-R: Hunter S. Thompson with his good friend Johnny Depp. Courtesy photo.
Paul: I set them up very delicately. I wouldn't say what I wanted to have happen in a scene, but I would give Johnny a book and say "Johnny, talk about this." Johnny would say, "Hey Ralph, what's this?" Ralph would go off on something else and Johnny would say, "Hey Ralph, really, what's this about?" I prompted it, but to be perfectly honest, Ralph's trust of Johnny allowed him, for the first time, to take direction. This gave me the opportunity to use Johnny as a frame for the art. Like any frame, it's not there to change the picture and it's not there to be the same as the picture; it's something that's quite different and inert. So, Johnny was the perfect character to bring into this crazy, very messy outlook of Ralph's.
Was there one scene that was particularly difficult to shoot?
Paul: I would say most of those scenes were always on the edge of going somewhere else. I think the scene where I had to really disappear into the background was when Ralph and Johnny talked about Hunter because they both shared a very deep loss and you could see between the two of them, that they really understood each other's loss. At that point, I knew I was not part of that story. I would say at that time I knew the film was running itself, but I also knew it was a very delicate and dangerous place to be as far as both of those characters feeling that I was intruding on their personal life. There was definitely a lump in my throat when Johnny was talking about his loss and again, Ralph understood that loss as well.
Did Ralph have any problems with the first cut and did he want you to change anything?
Paul: I finally sat down with Ralph and watched the whole movie. He saw bits and pieces along the way, but he never saw it as an eclectic piece of work. He really enjoyed the film and decided that there was nothing that was inappropriate. If I was going to make a film about a man's life, I wanted that man to fully embrace it and be happy and I wanted Ralph to be solid and happy with that film.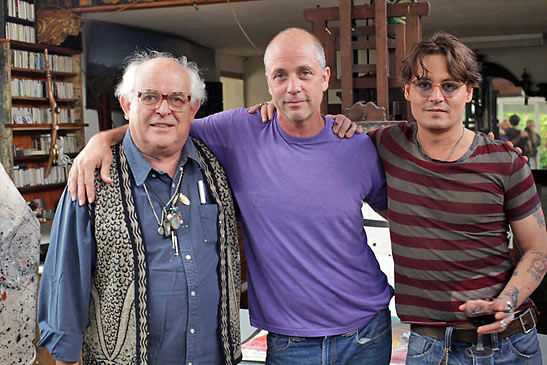 L-R: Ralph Steadman, filmmaker Charlie Paul, and Johnny Depp. Courtesy photo.
What is your greatest joy about the completion of this project?
For me, my joy as a director is the fact that Ralph didn't change anything and was happy with the outcome, which meant he would live with this film for the rest of his life. Ralph is the real man you see in the film. There's no hidden agenda. There's no crazy, angry man that I had to cut out of the film. He is recognizable throughout the documentary and that's the truth. I'm very proud to have made a film that didn't have to escape that truth.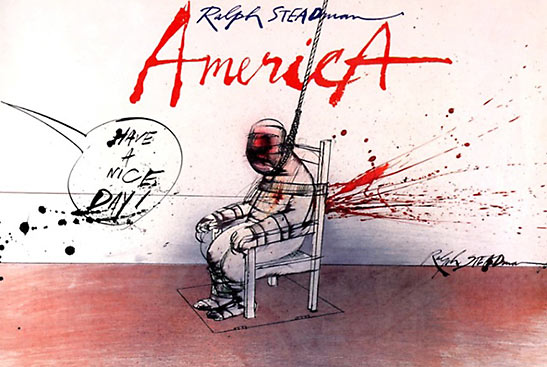 Through his staggering amount of illustrations, Ralph Steadman hoped to shine a light on man's inhumanity to man and to somehow make the world a better place. Courtesy photo.