Temecula Valley Southern
California Wine Country:
A Relaxing Nearby Get-Away
Beverly Cohn

lovely invitation arrived from the folks at Visit Temecula Valley inviting a select group of travel writers to cover their annual Balloon and Wine Festival, along with visits to some of their restaurants and award-winning wineries. In two delightfully packed days, we experienced a cross section of what this tiny gem of a bucolic vacation destination has to offer.
Just a relatively short distance from Los Angeles, Orange County, and San Diego in southwestern Riverside County, this relaxing wine-growing region, with a population of less than 105,000, is quite picturesque with its rolling hills and vineyards framed by a background of high mountains. Temecula is wine-lovers paradise, as it boasts 40 wineries, with the region being recognized for its award-winning premium varietal and proprietary blended wines, and for its talented winemakers. If wine tasting is not your thing, there are diverse activities from hiking and horseback riding, to shopping, luxurious spas, or gambling at the famous Pechanga Resort & Casino, one of the largest in the U.S.
DAY 1: Our Temecula adventure kicked off with a spectacular dinner at the Corke/Fire Kitchen, a charming restaurant surrounded by 350 acres of pastoral grounds belonging to the Temecula Creek Inn. Artistically prepared by Executive Chef Igor Krichman, who sources his ingredients from local farmers and merchants, the delectable food was a symphony of tastes that would make anyone's palette rejoice.

Left: Our welcoming dinner began with Amuse Bouche, the chef's creation – a tasty morsel ready to pop into your mouth. Right: A glorious medley of snap peas, tomatoes, and fresh herbs. Photos: Beverly Cohn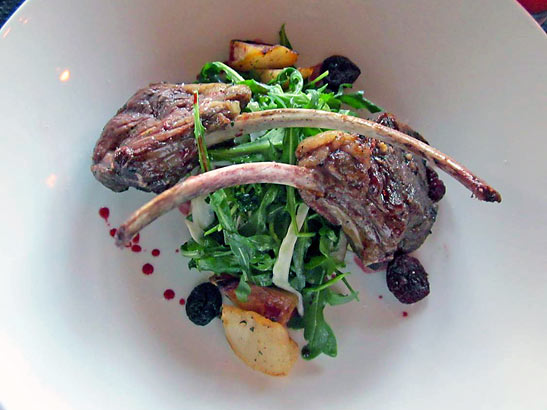 So tender were these delicious lamb chops that a knife was not necessary.
Photo: Beverly Cohn
The feast began with Amuse Bouce, Chef's Creation served on a spoon, followed by Watermelon Gazpacho, made with local honey, feta, black sea salt, and Arbequina Olive Oil; a Summer Salad with buttermilk goat cheese dressing, and for the entrée, perfectly Grilled Lamb Chops with roasted turnips, arugula and fennel salad, and bing cherry gastrique, a sweet and sour sauce.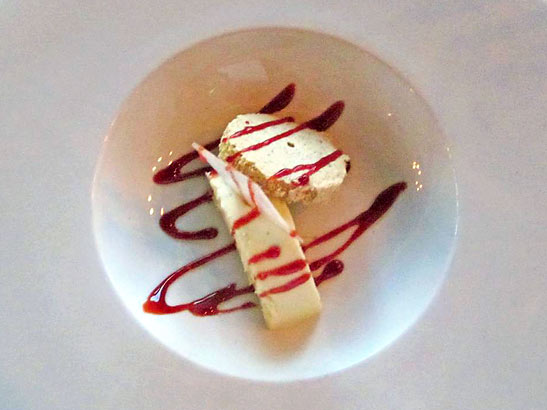 The complex Almond Cake, topped with candied citrus syrup, was sinfully delicious.
Photo: Beverly Cohn
The meal was crowned with a delicious almond cake prepared with Margarita Semifreddo and candied citrus syrup. (A semi-frozen dessert with the texture of frozen mousse achieved by combining two equal parts of ice cream and whipped cream.)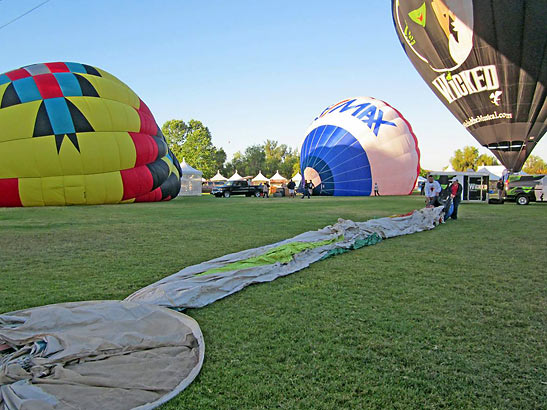 Early morning crews prepare the balloons for take off. Photo: Beverly Cohn
DAY 2: Up at the crack of dawn for a balloon ride, the first event of Summerfest, which officially kicks off the Temecula Valley Balloon & Wine Festival. It was interesting to watch the flight preparation as crews of anywhere to three to ten brought life to the inert balloons sprawled out on the ground.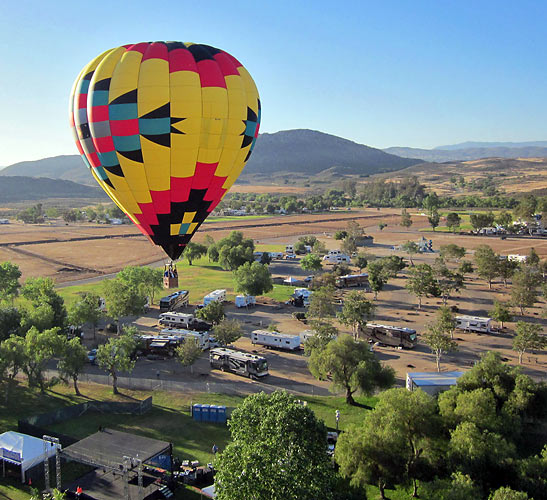 "Up Up and Away My Beautiful Balloon" would be an apt description.
Photo: Beverly Cohn
If you've never experienced a balloon ride, you are in for a magical treat as you slowly ascend and glide over vineyards thousands of feet in the quiet, still air.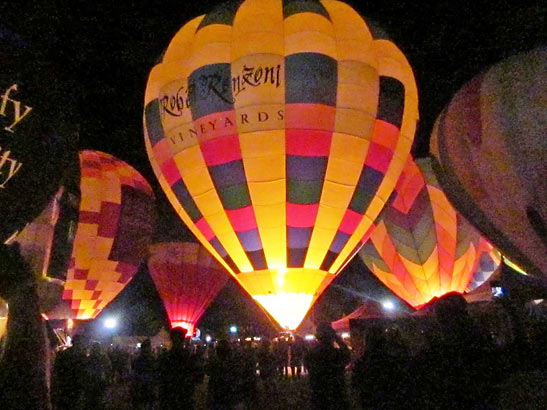 The Summerfest festivities continued into the evening as balloons lit up, creating illumination against the night sky. Photo: Beverly Cohn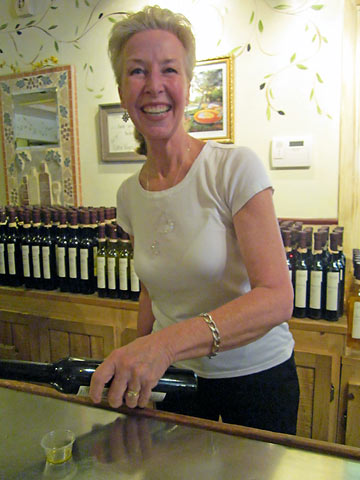 Catherine Pepe, one of the owners of the Temecula Olive Oil Company, pours a sample of one of her many savory varieties of olive oil. Photo: Beverly Cohn
That evening, with live music playing in the background, each of the multi-colored balloons was illuminated in unison, creating the spectacular Hot Air Balloon Glow. Balloon rides are available throughout the year, depending on the weather, of course, and are offered by A Grape Escape, California Dreamin', D & D Ballooning, and Magical Adventures Balloon Rides, to name just a few.
We returned to the Ramada Inn for breakfast after which we were off for a guided tour through charming Old Town, which began with a visit to the Temecula Olive Oil Company. Makers of 100% extra virgin olive oil, co-owner Catherine Pepe treated us to a tasting of their hand-blended olive oils, created using sustainable practices. These olive oils have a vast array of flavors including, Le Caprice de Nature, White Truffle, Hickory Smoked, Fajita Frenzy, Picante Pepper, Fresh Basil, Luscious Lemon, and Citrus Reserve, their premier olive oil with the flavor of fresh blood oranges. Their vinegars include blends like Pomegranate, Hatch Chili, Vanilla, Fig, and Honey Balsamic. After this tasting, you will never look at olive oil in quite the same way as the diverse varieties have distinctively different tastes.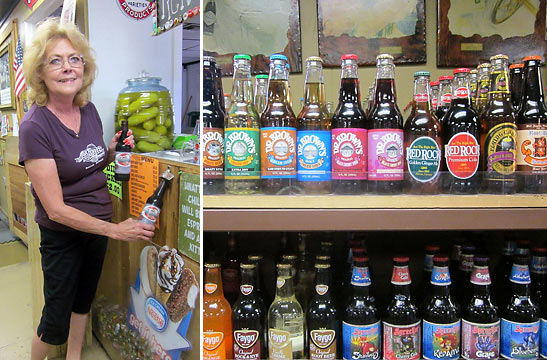 Left: Old Town Root Beer owner, Cory Montgomery, opens a bottle of Root Beer using an old-fashion cap remover. Right: The store is stocked with over 500 different varieties of Root Beer. Photo: Beverly Cohn
Just a few steps away is the family-owned Old Town Root Beer Company. Owner Cory Montgomery offered tastings of some of the 500 different flavors stocked on their shelves – a far cry from one flavor Dr. Pepper Root Beer, which many of us drank as kids.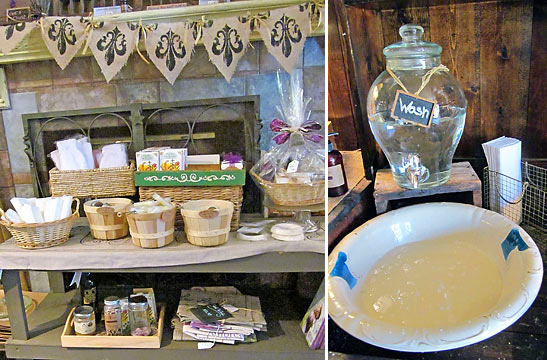 Left: A product shelf with everything lavender – from soaps and lotions to cooking herbs and teas. Right: Try dipping your hands in a bowl of lavender water and you'll find the soothing scent staying with you throughout the day. Photo: Beverly Cohn
Next up was the Temecula Lavender Company, a store that carries homegrown all things lavender, from soaps, lotions, creams, candles, lip lotion, salt scrubs, essential and massage oils, lavender shea butter, shampoo, conditioners, culinary lavender, and sachets, as well as pillows, dryer bags, cooking herbs, and teas.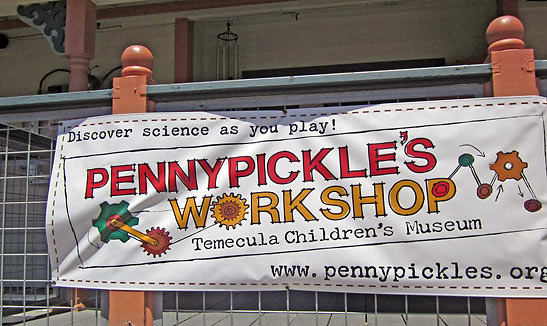 An interactive museum designed to stimulate intellectual curiosity. Photo: Beverly Cohn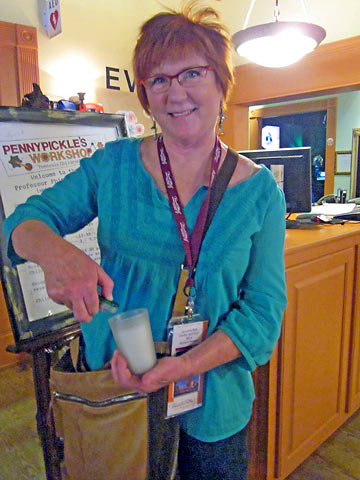 Fascinating live science demonstrations designed to tickle the imagination are offered and with an entrance fee of only $5.00, this is a fun, educational experience. Photo: Beverly Cohn
For the whole family, no walking tour of Old Town would be complete without a visit to the remarkable Pennypickle's Workshop, Temecula's Children's Museum. With interactive opportunities, the museum is a repository of electronic equipment from the past and is a wonderful peek at the good old days. There are things to crawl through and buttons to press, as well as Rube Goldberg-type contraptions, with a jumble of moving parts that go nowhere.
Our next extraordinary dining experience was at Palumbo's Ristorante, a landmark Old Town Italian eatery with indoor and outdoor seating. Family recipes guide the preparation of their cuisine with an emphasis on using organic ingredients sourced from their one-acre restaurant garden planted on their five-acre property. Their garden yields herbs, fruits, and vegetables used in the restaurant's entrées, as well as desserts, utilizing their pears, plums, figs, oranges, and lemons.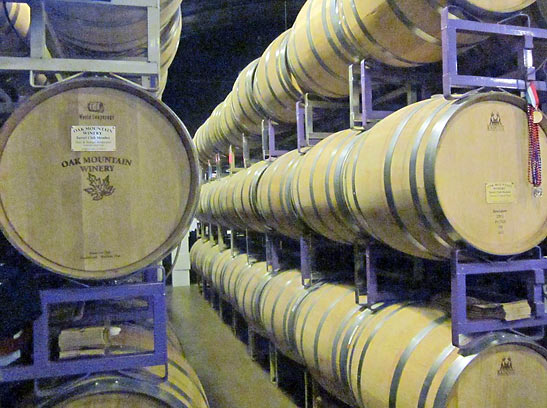 The Oak Mountain Winery storage barrels. Photo: Beverly Cohn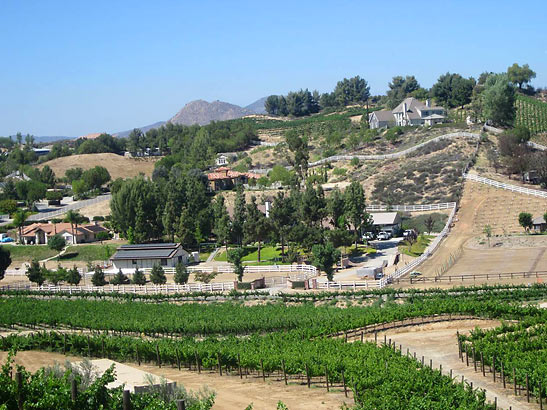 It's incredibly relaxing to sit on one of this vineyard's patios, sip your wine, and enjoy the breathtaking panoramic vista laid out before your eyes. Photo: Beverly Cohn
With tummies filled with fabulous food, we were off to a wine tasting and tour of the Oak Mountain Winery. Quietly tucked away atop the northeasterly hills of Temecula Valley Wine Country, the hillside vineyards produce a cross section of wines, which are sampled in their Tasting Room. This winery is the only one in Temecula with the distinction of housing two wineries under one roof – Temecula Hills Winery and Oak Mountain Winery. It's incredibly relaxing to sit on one of their patios, sip your wine, and enjoy the panoramic vista laid out before you.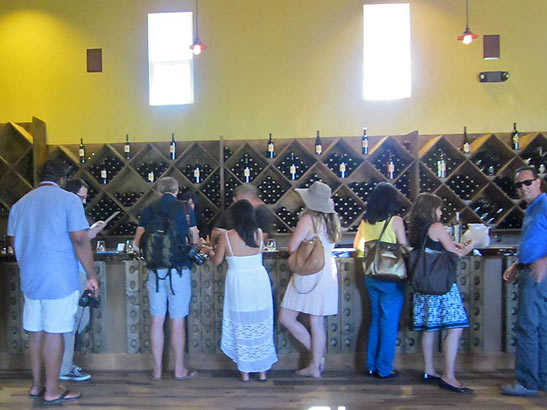 People belly up to the tasting bar of Renzoni's friendly Tasting Room.
Photo: Beverly Cohn
Another vineyard you might want to experience is the Robert Renzoni Vineyards whose family dates back to 1886 in Tuscany. Beside their inviting Tasting Room, walking tours are offered that talk about soil conditions, varietals, and the process necessary to produce great grapes for their wines, including their classic Bordeaux, as well as their Pinot Grigio, Sangiovese and Brunello Clones.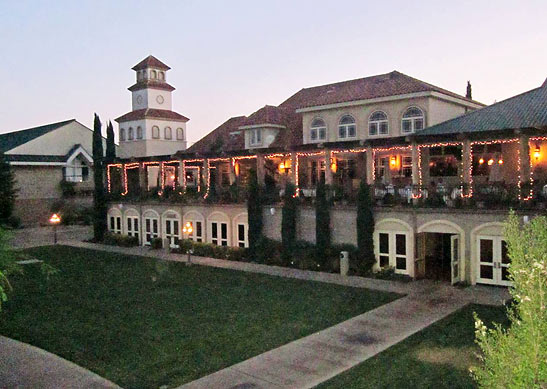 The South Coast Winery Resort & Spa has both a four-star rating for its hotel as well as hundreds of awards for its wines. Photo: Beverly Cohn
The last stop of this packed two-day Temecula get away, culminated with a gorgeous dinner at the South Coast Winery Resort & Spa, whose hotel has earned a four-star rating. Under the leadership of Owner/Vintner Jim Carter with Master Winemaker Jon McPherson and Winemaker Javier Flores, this vineyard is considered the diamond of Temecula Valley, having earned over 600 awards for their wines, including the distinguished "Golden Bear" award naming it "California Winery of the Year."
With views of the estate vineyards and surrounding hills, the Tuscan-inspired Vineyard Rose Restaurant serves California contemporary wine-country cuisine. This farewell dinner began with Charcuterie consisting of imported and house-cured meats, including Duck Prosciutto, Lonzino Pork Loin, Nostrano Salami, Cypress Grove Humboldt Fog & Midnight Moon Cheeses, with a wine pairing of South Coast Sparkling Brut.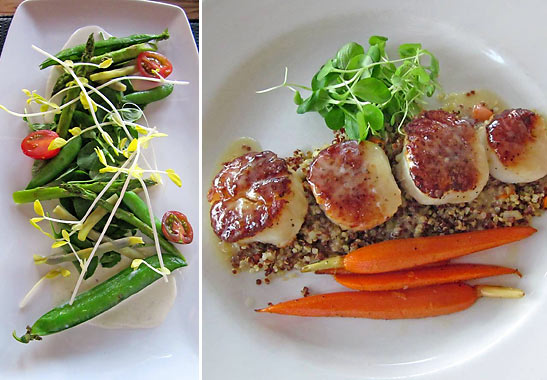 Left: Connelly Gardens Heirloom Tomato Salad. Right: Roasted scallops – heaven right here on your plate. Photo: Beverly Cohn
The next course was a most unique Connelly Gardens Heirloom Tomato Salad, with Wild Rocket Arugula, Roasted Tomato Oil, and Parmesan Chip, topped with Fresh Herbs and a Balsamic Glaze. The entrée was a mouth-watering Roasted Scallops served perched on top of a bed of Confetti Quinoa and Shallot Beurre Blanc. The wine pairing was a 2012 South Coast Grenache Blanc.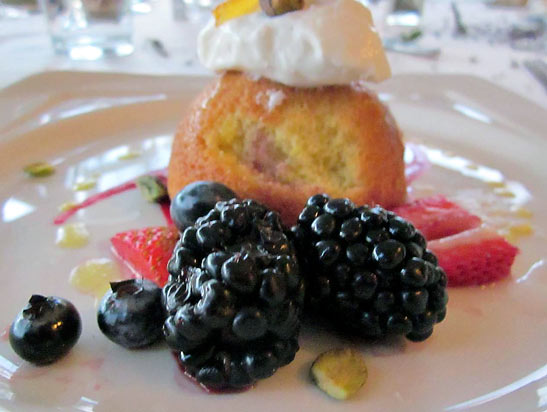 Life doesn't get much better than savoring this scrumptious Blood Orange Olive Oil Cake. Photo: Beverly Cohn
This meal, fit for the gods, was topped off by a Blood Orange Olive Oil Cake consisting of Tempranillo Rose Macerated Berries, Honey & Drake Goat Cheese Infused Whipped Cream, Candied Orange Peel, and Toasted Pistachios. Life does not get much better than this.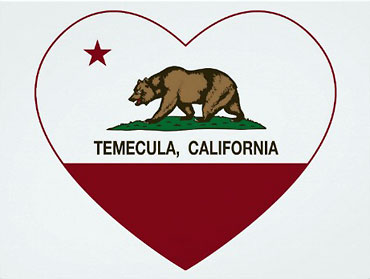 Temecula is truly a destination that has something for every one. Every Friday throughout the summer, the 12-blocks of Old Town are filled with the sounds of live bands performing on special stages with a variety of music from blues, reggae, and cajun/zydeco, to big band, alternative rock, and country. There are quant boutiques, restaurants, and cafes galore for every taste and budget, as well as live theatre. With so many events taking place throughout the summer, do go to their link for the Daily Events Calendar on the table at the upper right rail of this page.
This was an extraordinary experience thanks to Annette Brown and Marlene Wallace, two lovely ladies representing Visit Temecula Valley. Their joint effort created a trip that was fun and informative. It is a pleasure to share this experience with my readers who may be planning their summer get-away as we "speak."
Related Articles:
Ojai – A Little Piece of Heaven Off the 101; Coasting Through San Luis Obispo; Agua Dulce and the Sierra Pelona Valley; Wedding Bells in Charming Ojai; Warner Springs Ranch