Grazing Through
Northern Sonoma County
Story and photos by John Blanchette

was headed north of Los Angeles about an hour and a half to the Wine Country for a midweek getaway. No, not Santa Barbara, but Sonoma. With the new direct flight from LAX to Santa Rosa/Sonoma Airport just initiated by Horizon Airlines, Northern California's beautiful Sonoma County is an easy escape.
I had reservations with Wine-A-Bay-Go to be my designated driver and guide through the vineyards during my stay. Owner Jonathan Garner met me at the airport with his luxury vehicle and within 20 minutes I was in wine country. If you need assistance with your imbibing itinerary, Jonathan will design a route for you depending on your preferences in wine.
The Wine-A-Bay-Go deposited me at the lovely No Name Resort north of Healdsburg in the Chalk Hill area. The town of Healdsburg is the hub of the Russian River, Alexander, and Dry Creek Valley wine regions.
Nestled among the Lancaster Estate Vineyards, the vacation home is well appointed with an appealing country elegance and provides a convenient location from which to explore and graze among some of the best restaurants and wineries in the Alexander Valley.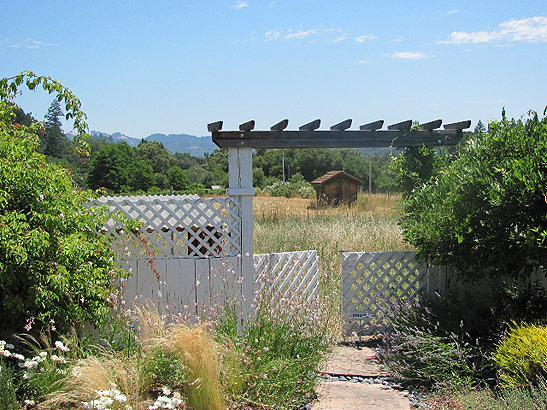 Side yard at No Name Resort
For a special treat, celebrated local chef and caterer Colin Curtis prepared the evening meal for my friends and I staying at the No Name, featuring a spectacular medley of fish en papillote (steamed in a paper pouch with a tomato garlic broth) and freshly caught steelhead trout from the mouth of the Russian River (and then quickly into my mouth).
Owner Nancy Beaton had arranged some interesting side tours as well. Over the three days I visited a pickle and sauerkraut factory, historic country stores, an Italian cooking expert who made everything in outside wood-burning ovens and some delicious wine and cheese pairings. Even a little scotch whisky made an appearance.
Sonoma County wine country is first of all spectacularly beautiful. Tall, straight redwoods line the bucolic two-lane highways, and gusts of warm summer breezes and fragrant aromas from newly mown fields drift in the window as you meander through the golden hills crowding the narrow country roads.
And then you reach the pickle factory and other olfactory scents come into play. Owner David Ehreth of Alexander Valley Gourmet left the high tech computer world of the late 1990s to explore the low-tech world of things sour, sweet and salty. I couldn't stop filling my face with his crispy and beautifully brined offerings. There's no sour in his pickle business, he sells everything he makes and will soon be moving into larger facilities.
A historic landmark and one of the oldest structures still standing in the Alexander Valley is the Medlock Ames tasting room. The hundred-year-old building was once a notorious speakeasy during prohibition. The winery restored the building complete with green energy and planted an organic garden and picnic area. They kept the bar and added an outdoor pizza oven where they cook using ingredients from their garden and serve slices at wine tastings on the weekends.
Property manager Kenneth Rochford is originally from Scotland and the pub reflects his eclectic tastes in beer and spirits. Look for some hard to find peaty island scotches, which he personally brought back from return visits to his homeland. Of the white wines I tasted on this tour, Medlock Ames were my favorites.
In the town of Healdsburg a lovely food and wine pairing was provided by Bill Williamson and his wife Dawn at the Williamson Wines tasting room across from the town square. He's a former Australian physicist and was able to describe the effects of wine on food in scientific terms. A delicious bargain at $10 per person.
Just outside Healdsburg in the Russian River Valley, C. Donatiello winery's tasting room is located on a beautifully landscaped property that offers free concerts on Sundays during the summer. They produce some excellent Pinot Noirs and for $20 per person will provide a flight of red and white wines to pair with Bellwether Creamery cheeses, conducted by the knowledgeable staff.
Jake Hawkes' tasting room is located next door to the landmark Jimtown Store in the Alexander Valley just north of Healdsburg. Artist and cookbook author Carrie Brown is the proprietor and makes some of the best sandwiches and spreads in the valley. You must try the spicy pepper jam, the fig and olive spread, Romesco sauce or any of the unusual and delicious sandwiches laced with her imaginative spreads and jellies.
Go next door to the tasting room and see if winemakers Jake Hawkes or Jeremy Spring will take you to the vineyard picnic area above their Cabernet vines, where you can indulge with the sandwiches and their reds, while enjoying a sweeping view of the Alexander Valley.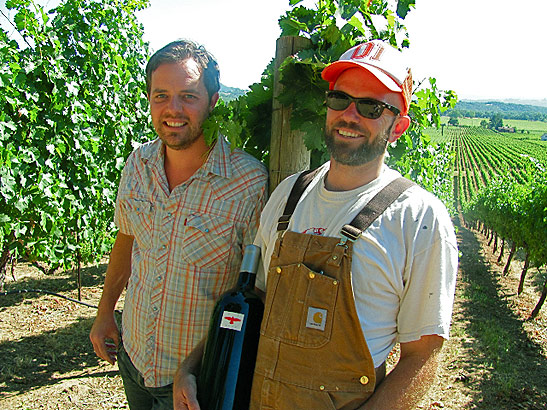 Winemakers Jake Hawkes (right) and Jeremy Spring enjoy a view of the Alexander Valley from their Cabernet Sauvignon vineyard
For a small winery experience, visit the D & A vineyards wedged between Dry Creek and the Russian River on some of the richest soils in the Valley. They make a nice Syrah.
Richard Arrowood recently left Arrowood Vineyards & Winery to concentrate on his new winery, Amapola Creek, making limited releases of organically grown Cabernet Sauvignon, Zinfandel and Syrah. Associate Winemaker Charlie Tolbert gave me a close up view of this spectacular mountain property in Glen Ellen. They don't have a tasting room, but wines can be sourced from the website, www.amapolacreek.com.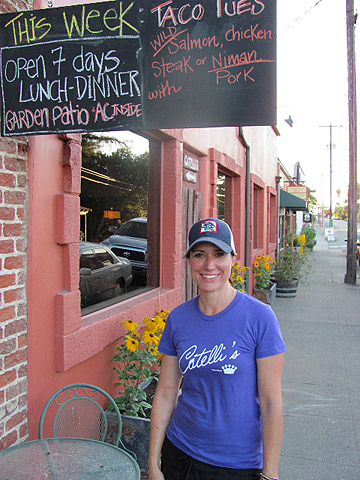 Oprah Winfrey and Food TV Network chef Domenica Catelli is a third generation restaurateur in Geyserville
One of the best dining experiences was in the 75-year-old Catelli's restaurant in the picturesque wine country town of Geyserville. Domenica Catelli and her brother Nicholas are third generation owners and chefs. You must try the raviolis, thin, delicate and amazingly good. Dominica cooked for Oprah Winfrey both in Chicago and Santa Barbara and twice judged on the Food Network's "Iron Chef."
Best breakfast can be found at the Downtown Bakery in Healdsburg, which also boasts two Michelin-starred restaurant Cyrus and Charlie Palmer's Dry Creek Kitchen inside the Healdsburg Hotel. On Tuesday nights during summer the town square in Healdsburg hosts free concerts, 6 p.m. to 8 p.m. It's a popular picnic event with locals who pack the park.
To learn how to cook in an imported Italian open hearth, wood-burning oven, take lessons and lunch with cookbook author Andrea Mugnaini, a next door neighbor to the No Name Resort on No Name Road in Healdsburg.
Yes, it's a place that's making a name for itself.
If You Go:
For a Wine Road map, winery, housing and restaurant information and lists of events and festivals, contact the Wine Road Northern Sonoma County at www.wineroad.com, 800-723-6336 or www.healdsburg.org. Free guides to the area include Discoveries magazine, 101 Things to Do in Sonoma County and Spotlight's Wine Country Guide. The Healdsburg Tribune is the local paper.
No Name Resort, www.nonameresort.com
Catelli's restaurant, www.mycatellis.com
Jimtown Store, www.jimtown.com
Medlock Ames, www.medlockames.com
Sonoma Brinery (formerly Alexander Valley Gourmet), www.sonomabrinery.com
Jake Hawkes, www.hawkeswine.com
Williamson Wines, www.williamsonwines.com
C. Donatiello Winery, www.cdonatiello.com
Wine-a-Bay-Go, www.healdsburgtours.com
Andrea Mugnaini, www.mugnaini.com
Colin Curtis, cloc@att.net
D&A Vineyards, 707-433-1776