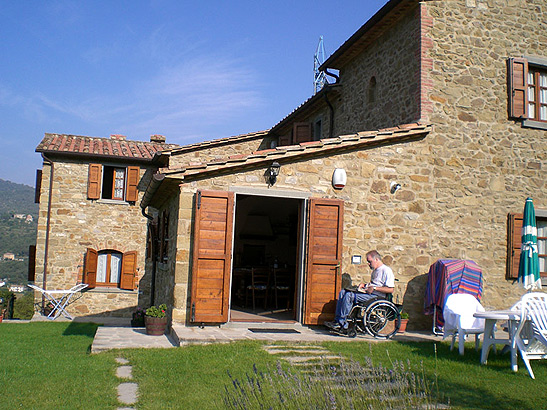 The Hill Towns of
Tuscany and Umbria

sometimes wonder what I was thinking about taking a wheelchair to the Italian hill towns of Tuscany and Umbria. It was a given that the ancient cobblestones would punish my wheels mercilessly and that the transportation would be a challenge to put it mildly, not to mention the currency exchange. The language barrier however would not be a problem as my wife Anne lived in southern Switzerland for a few years and speaks Italian fluently. She also has traveled throughout Europe enough to recommend areas to visit and assorted friends that we could look in on or contact in case of an emergency.
As much as I desired to stay in the larger cities in order to avail myself of as much culture as possible Anne was just as determined to secure a villa rental in a small village where she could assimilate with the locals and get a feel for living as a native Italian. Since she would be handling my needs as well as marketing, cooking and driving during our three-week adventure I was happy to acquiesce and she assured me that we would have ample opportunities to see museums, cathedrals and art institutions in the larger cities of Rome, Florence, Venice and Milan. Surprisingly, some of the more exciting museums we would visit were in the smaller towns that were key to the development of the Renaissance including Perugia, Sansepulcro and Urbino.
We had given serious consideration to the type of car we would rent. As I'm am quite long and unable to transfer myself in and out of a car independently we required a 2-door car that would give Anne enough room to do a pivot transfer. We have a special board that we carry along that straddles the gap between my chair and the front seat and this time we made sure to get a hatchback in order to store my chair easily. We have used a bike rack to hold my chair in the past and this usually works all right unless it's raining. We were to first fly to Zurich, get our rental car and drive south and spend a few days in Lugano, Switzerland where Anne lived and still maintains friendships with people she knew from those days. While there we toured the lake by passenger ferry and drove to serene Lake Como and the extraordinary Valle Versasca where mountain cataracts pour their torrents down the mountainsides and echo throughout the valley.
We spent a memorable evening with friends in the small Italian village of Bessano on our way to our marvelous apartment above the southern shore of Lake Trasimeno in the heart of Umbria. Our well-appointed space afforded a terrific view of the sunset over the lake and we were pleased to sample some of the bounty provided by our hosts. Wine, olive oil and honey were just a few of the items produced on the grounds and Anne would harvest sprigs of rosemary from the garden to spice up some fabulous meals that we shared with friends who later joined us. We were welcomed to an introductory meal by our hosts who lived in an ancient mansion on the high ground and they were always available with suggestions on local attractions and provided laundry and phone service since our rustic apartment had few extra amenities.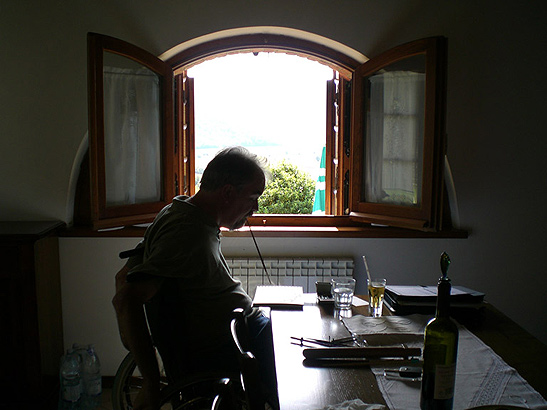 Our apartment would require some minor modifications due to my wheelchair including a short ramp to access the main room and the removal of the narrow bathroom door. Our hosts allowed us to drive our rental car up onto the yard in order to load easier and Anne made special arrangements with the estate chef to prepare an amazing Tuscan feast to celebrate my birthday the night before we returned home.
It was mid September when we arrived. Though the days were beginning to shorten and the weather starting to cool, the mobs of tourists would be lighter and younger students would have returned to their schools. We had studied various tour books including Rick Steve's comprehensive publications that gave us a good idea of the area's history and though the recommendations omitted information regarding wheelchair access we were able to plan our daily excursions around art, food and cultural amenities of all kinds. There were requisite towns that had to be explored including Siena, Orvieto, Assisi and Cortona. Each of these towns presented special challenges for my wheelchair and we were very glad to have brought my handicapped-parking permit with us. This allowed us to drive beyond the regular roadblocks in order to unload just off the main square (piazza).
As an artist and appreciator of art history it was fascinating and humbling to finally see in the flesh those masterpieces that I had long admired in art history books. It was especially gratifying to see those paintings that are still placed in the churches where they were originally intended. Most every small town has an art museum or historical facility that highlights the ancient Etruscan culture or documents some obscure event in world history. Lake Trasimeno itself was pivotal in history as the site where the Romans were ambushed by Hannibal and suffered a major defeat. It also is home to curious phenomena where the setting sun creates the illusion of solid ground and many warplanes have mistakenly crashed into the lake thinking they were landing on terra firma. It was also a pleasant surprise that at nearly every museum those using wheelchairs are admitted free of charge.
From our apartment it was a short drive to the train station in Chiusi where we could get some assistance to board for our trips north to Florence, Milan and Venice and south to Rome. This requires a day's notice in advance for the proper assistance in the smaller towns but the bigger cities have special offices for people needing assistance. Another train station just north of Chiusi is Terrentola and had very helpful attendants. For every museum or church that was frustratingly inaccessible (unless I wanted to elicit help from strangers to climb the steps) there were others that had undergone necessary improvements and were an exceptional treat to witness. Even in those cases where I was disappointed in not being able to access an attraction I was satisfied with enjoying a gelato or cappuccino on the town square and soaking up the historic ambience. We were traveling just before the Jubilee year of 2000 and most towns were in the process off cleaning their attractions and making the public spaces more accessible. This was also before the conversion to the Euro and foreigners seem to take the blame for the increase in prices for everything.
It didn't take long to arrange our daily schedule. Knowing that a 3-hour siesta begins at noon and all shops, cafes and museums, even churches shutter their doors, we were prepared to get up earlier than usual to load our gear and drive to our desired location in time to take in the sights before the requisite closing. The siesta time would either be occupied by driving to our next destination, enjoying a picnic lunch along the way or exploring gardens or doing some window-shopping. One of the joys for Anne was to buy our groceries at the local market where after a few days she was considered a regular and received suggestions on how to prepare a certain cut of meat or to try an unusual dish. Our hosts also had good information on the best place to procure smoked hams or particular olives or where the best bakery was located. The cuisine in Tuscany and Umbria is simple and fresh fare but whether it's the atmosphere or our hunger at the end of a full day I don't recall enjoying my meals more than I did while on our trip. Anne is a marvelous cook and we enjoyed her favorite porcini mushroom risotto or bruschetta and polenta recipes that seemed to taste much better while looking out over the hills with an exquisite glass of Brunello or Nobile wine. We learned that the locals purchase a 3-gallon demitasse of the regional vintage for their everyday needs and save the exceptional wine for special occasions. It is quite easy to forget your budget when faced with the temptation of the incredible abundance of first-rate wines and cheeses and it seems almost a sacrament to prepare a simple feast with the provisions that are so highly regarded around the world. I do not recall a single bad meal that we had either prepared at our apartment or in any of the cafes and bistros that we visited.
I was also anxious to attempt to capture the elusive quality of the light in my paintings while in Italy. I recall the misty landscape in the background of Leonardo's "Mona Lisa" or the silver quality of paintings by Corot who visited Tuscany on occasion and made an effort to emulate their work. Perhaps I tried too hard or the effects were too fleeting for me to render them effectively but it was well worth trying and the way the light reflected off the gold-colored buildings and the dark, vertical cypress trees were silhouetted against the bright blue sky was unlike anything I had ever seen. There is a particular glow, especially near sunset that is indescribable and the stillness of the countryside is extremely peaceful. It took some time to shed the urban habits I am accustomed to but once in the rhythm of the area I was pleased to let our days take a natural flow that was as graceful as it was illuminating and we were thankful that we had scheduled enough time to readjust our spirits. History is ever present and the towns we visited seem suspended in time somehow.
I was especially interested to visit Assisi and have always felt a special affinity for the pious monk who shunned riches and toiled on behalf of the poor and gave conscience to an increasingly corrupt church. For a simple shepherd of the poor his city is magnificent indeed. Two large cathedrals dominate both the lower town and the upper town where the early renaissance painter Giotto magnificently decorated the structure with murals. Now that the restorations from the devastating earthquake of 1985 have been completed the whole area is once again accessible and many improvements were made in preparation of the special jubilee year of 2000. Still, the town is very steep and crowded with tourists and pilgrims. We learned here and in equally steep Siena that we could bring along another strap and if we had another person with us they could pull from the front while Anne pushed from behind and we could manage when the terrain got extreme. Perugia is quite near Assisi and the view from the old town is spectacular. The main street is closed to traffic during the day and is a pleasure to stroll. The art museum here is first-rate and should not be missed.
Some of the smaller towns that were particularly accessible and a delight to visit were:
Pienza; Noted for its fine pecorino, a pungent goat cheese that comes in several varieties and is excellent with any meat or pasta meal. The picturesque town is located on a high promontory and the stunning views of the surrounding valleys are astounding. The main avenue is nearly level and the town church and museum are also accessible. A terrific restaurant at the end of the avenue is also quite popular and offers lunch and an early dinner menu.
Volterra: Famed for its alabaster production and also on a high hillside with outstanding views. There are modest slopes to the streets and the art museum here is not accessible but the ancient church is accessible and the town square is beautifully decorated with the coats of arms of prominent families from Volterra's illustrious past. Many of the shops selling alabaster items feature workshops where you can watch the artisans at work.
Cortona: Much can be learned about the joys of balsamic vinegar here and the shops are increasingly upscale partly due to the runaway success of the Frances Mayes book, "Under the Tuscan Sun". The cathedral at the far end of town has a rather steep hill down to it but can be driven to. The dark interior elicits mystical feelings and features a large collection of reliquaries. Tremendous views are afforded from the ramparts at either end of town.
Arezzo: North of Cortona is larger and has sloping streets but is fairly manageable. Not to be missed is the Cathedral of San Francesco with outstanding decorations by Piero Della Francesca. There are many sidewalk cafes that feature the local cuisine and the populace is trendy and cosmopolitan with designer stores along the main avenue.
Some towns well worth visiting if you have extra help or are using a power wheelchair:
Gubbio: A pottery center for ages, it has a public market and the church of San Francesco that is accessible on the lower level of town. Above town is a wonderful museum of history and art and a beautiful plaza that looks out over the Western countryside.
Siena: The cathedral is one of the most beautiful in all of Italy but the floor of the interior is carved marble and visitors are obligated to stay on designated pathways that can be congested. The main square (Campo) is famous for the annual horse race, the Pallio, and is difficult to access either by car because of the twisting one-way streets or by foot because of the steep hills. Once on the Campo however, it is majestic, historic and just plain fun to watch the proud Sienese people go about their affairs.
Montalcino and Montepulciano: These towns are close to each other and are the very definition of Tuscany with fine wines, excellent cafes and tremendous views. Wineries abound in the area and though few are accessible to wheelchairs the staff are happy to share their knowledge of wine growing and the rich heritage of the industry.
Orvieto: Only the main piazza and cathedral are readily accessible but the art within and the decorations outside make this an outstanding place to spend an afternoon. The murals inside by Signorelli are noted for having inspired the young Michelangelo. The entire town is situated on a high escarpment and is impressive even from a distance.
Castiglione de Lago: The western side of Lake Trasimeno has a peninsula where this historic town is located. The old town occupies the high ground with some terrific cafes and the lower town has modern supermarkets where dried porcini is a featured delicacy. Each town that lines the perimeter of the lake has charm peculiar to the area with accessible promenades and parks along the waterfront.
In spite of the many challenges that someone using a wheelchair will certainly encounter while visiting Tuscany and Umbria, patience, good humor and some preliminary research will yield rewards that will last a lifetime.