Las Vegas:
Still the Only Game in Town
Story and photography by
Nancy & Eric Anderson

ome travel destinations remain untouched to avoid confusing everyone. Some make changes to thrill the public. Las Vegas, Nevada has no illusions as to which it wants to be: it keeps reinventing itself and the crowds keep coming. Will this always work? Life magazine thought not. A cover story in the 1950s predicted Las Vegas' boom times were probably over. They certainly were -- for Life magazine.

Las Vegas has always exhibited supreme confidence in its future. Even today where the city has almost 140,000 hotel rooms and showcases 19 of the 25 largest hotels in the world, Las Vegas has plans to add 20,000 more rooms by the end of next year. But change is happening -- some over which the city has no control. The 2008 recession is hurting. More than 40 percent come by air and the public is not flying so much. But it's not driving the same amount either. A cover story in US Today in June 2008 declared rates are about 10 percent lower this summer from a year ago and guests are not gambling (gaming) so much. In fact the news from Las Vegas is how successful upscale non-smoking, non-gaming resorts like Signature are becoming by offering fashionable accommodations and a sensitive high quality experience without providing a casino.

And when prices are down, that's a great time to visit. For many of us Las Vegas is essentially destination resorts -that you don't want to leave, and now marvelous restaurants -- Wolfgang Puck sure started something, and the shows -- some leading-edge sharp, some old friends. We stopped by to take a look.

Signature, reaching for the sky beside the MGM Grand in three 576-suite high rises, uses its proximity to the MGM Grand as a guest convenience for restaurants, shows and casino yet those busy places do not impact the composure of the resort. The concept of the resort without a casino is not new: the Alexis Park Resort made a half-hearted effort with that concept a few years ago when it made changes to a 20 year-old hotel "as ugly as a hospital". And Trump has put up a new non-gaming resort on the other end of the strip called, as to be expected, Trump. But Signature comes with a Vice President and overall manager with better credentials than our Donald namely one Frederic Luvisotto whose credentials include the Beau-Rivage Palace in Lausanne, Switzerland, the Boca Raton Resort and Loews Don Cesar Beach Resort in St. Petersburg, Florida.

The three towers run efficiently like a Swiss watch - no surprise since Luvisotto trained in the School of Hotel Management in Switzerland. Valet parking is free (as it is almost everywhere in town), the suites all have high-end kitchenettes, flat screen HDTVs, WiFi in rooms and even iHome clock radios for iPods. Room service is 24/7 and the resort offers same-day laundry and dry cleaning. Although guests can use all the facilities of the MGM Grand including its pools, Tower 1 has a Starbucks, Tower 2 has a deli and Towers 1 and 3 have fitness centers.

And if the tranquility gets to you and gives you itchy feet it turns out access to the busy MGM Grand with its ocean-liner feel is a real plus. Your Signature concierge apparently carries clout: getting great tickets for KÀ, for example, is a breeze as is a reservation for one of the MGM Grand's new restaurants such as Michael Mina's Sea Blue with its "jet fresh" seafood. You need to give yourself time at Sea Blue, the meal is a show in itself. Pencils with planning menu sheets are provided so you can truly customize your salad components or even the entire meal. Chef Stephen Hopcraft believes what makes Sea Blue's items special, such as the very best crab legs we ever tasted, is they begin with fresh, never-frozen fish specially jetted from Alaska, start their grill with mesquite charcoal then use an apricot wood-burning grill that they lower as the wood burns down. His skills are infectious. Says assistant general manager, Luke Mathot, "Since working here, I've learned about sauces, found how to shuck oysters and where to buy the best produce in town."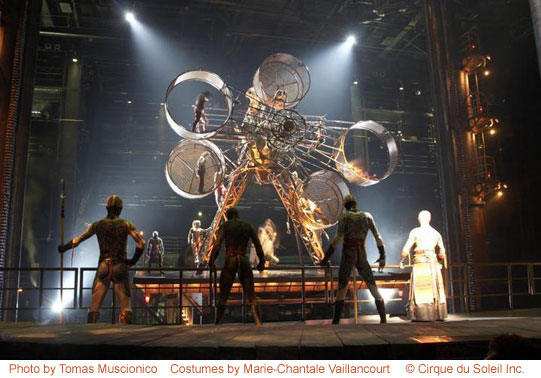 KÀ is described as "the epic tale of twins on a perilous journey to fulfill their shared destiny." It's helpful to know that because this further example -- that demonstrates how Cirque du Soleil is beginning to dominate Las Vegas -- is the first company product to try and tell a story. And how does it do that? First separating the twins by political enemies then sending each on a voyage of discovery, fraught with danger, using barges, acrobats, soldiers and experts in martial arts throwing spears and shooting arrows. We see kick boxing, a shipwreck with beautiful representations of drowning and salvation. We see sea monsters crawling in the sand then the stage turns upright and the sand cascades off like a waterfall. The stage becomes a cliff, rescuers help those shipwrecked ascend to safety and to their primitive home atop the precipice. The home becomes a flying bird that pirouettes in space and flies to refuge.

Yes it could be confusing so just settle in for the ride. We get a battle scene and suddenly the audience gets a bird's eye view of the battle field. We see prisoners imprisoned in rolling cages, a magic flute, an acrobat with a baton in a performance cheerleaders would die for. We get cartwheel and high wire, jugglers and trapeze artists. And smoke and fire. And scorpions, centipedes, lovers, cone heads, factory slaves, maypole dancers, and a marvelous exhibition where two acrobats skip, dance and jump from heights atop rotating Ferris-like wheels.

It's all hard to follow and any description will, of necessity, be incoherent. Watching KÀ with its diverse points of visual interest is like trying to find that guy with the red-striped shirt in the game, "Where's Waldo?" It is dazzling. It is about costumes and music, the confrontation of good and evil, the triumph of love, the symbolism of faith, the rewarding of good deeds. In ancient Egypt KÀ was though to be a component of the human soul, one of the five parts that merged to form a person. Here it is taken to be the spiritual duplicate that accompanies a person through life. This concept produces a colorful, exciting, fast-moving spectacle that suggests a far away place with exotic strange people in a performance that lingers long after the curtain comes down.

If money is tight, you can afford high-priced shows if you can find inexpensive places to put your head down at night. Silverton Casino Lodge is where many Nevadans stay when they come to town because the price is right. With 300 large rooms it sits 3 miles south of Mandalay Bay on the west side of Interstate 15 as you come into town. Its current $130 million expansion program will increase its gaming space from 60,000 sq ft to 95,000 and its slots from1400 to 2200. It will add three restaurants to its current four and build a separate $15 million concert hall that will seat 2000 patrons. Meantime it's called the "Best Local Casino" by the 2007 City's Bestâ Award and more recently the "Best Budget Hotel" and the "Best Free Attraction" in the Best of Citysearchâ 2008 awards (for the magnificent 117,000 gallon saltwater aquarium in its lobby. The aquarium holds more than 4000 tropical fish including four species of stingray and six species of shark - and while we were taking photographs, one mermaid).

Silverton also has what the PR representative for Monorail said was the best steakhouse in Las Vegas, the Twin Creeks Restaurant. She got that right but Twin Creeks is much more than a simple steakhouse. It has undergone a $4 million renovation, the first location in the lodge to be upgraded and is now an elegant, peaceful place with wonderful wines, exciting menus and boutique bourbons,. It has for example, 21 bourbons priced from $6 to $58 a shot (for a 23 year-old Pappy Van Winkle) and 14 single malt Scotches for $8 to $33 (for an 18 year-old Macallan).

Lance Burton (Monte Carlo)
Magic changed in Las Vegas with the debut of Siegfried & Roy at the Tropicana in 1967. They moved to the MGM Grand then Stardust then performed at Mirage from 1997 until Roy was attacked by their 7 year-old white tiger in 2003 effectively wiping out their show. The clear successor is Lance Burton who was chosen as "the World's Champion Magician" by the Fédération Internationale des Sociétiés Magiques in Switzerland in 1982 at the unprecedented age of 22.

Magicians live and work in a virtual secret society. They honor their own. Alexander Hermann, for example, came from a family with a 100 year history of magicians. When he died in 1896, Harry Kellar became the acclaimed leader in America. When he retired in 1908 he declared Howard Thurston his successor. Before Thurston died in 1936 he appointed "the Great Dante" his successor. Dante retired in the late 1940s selecting Lee Gabel as his successor. Gabel retired in 1959 and in 1994 chose Lance Burton to succeed him as America's premier magician. And so we move into the present.

The Monte Carlo, at a cost of $30 million, built Burton a special theater in 1997 and he has been performing there ever since. "Lance is a classical magician and a classy act," says his publicist, Wayne Bernath. "He does it all. He's laid back and loves his audience. Some analytical people may think they know how his tricks are done, but they're going to be wrong. Besides, if you were ever able to puzzle out how a trick works it would be like finding out there's no Santa Claus."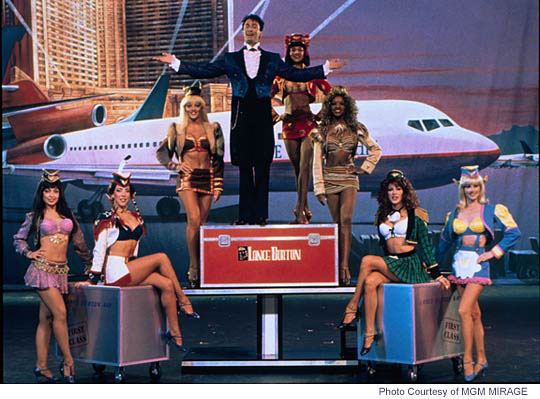 It's not likely we're going to puzzle out Lance Burton's secrets - or want to. On stage, he has a very easy style. "Welcome to Las Vegas," he says, "That's an Indian word for 'empty pockets.'" He notices a guest eating popcorn. "Why not," he tells his audience, "This is a dinner show." He produces doves from candles - a trick he has started his show with for years, then produces six beautiful assistants from his suitcase. "You should always travel with a six-pack," he says. He turns napkins into budgiegars, and transfers bars of gold from a safe into a gold costume for his assistant. He appears as a native American shaman and makes his tepee disappear, he produces a Corvette from the blue then has it vanish. Ducks and geese appear from nowhere in the middle of a masked ball. Children in the audience are suspended in space or evaporate.

For us the funniest part of his show was "The Magic Zone," a one-act play with murder and mayhem that unfolded like a French Farce or a scene from the "Twilight Zone." He uses virtually all his cast including his marvelous funny juggler, Michael Boudeau, in a six-minute romp where people appear and disappear faster than you can keep track of.

Burton works the room by coming to the front edge of the stage and chatting with his audience, he's sweet with small children and seems like a really nice guy. This is a fun show that is not as frightening as some magic shows can be. Maybe that's why he has so many repeat visitors.

JW Marriott Las Vegas Resort, Spa & Golf
Travelers to famed locations all have, of course, their favorite places for their heads at night. No doubt some glitterati want to be right there on top of the action, to see and be seen. Others might seek serenity or a refuge from the heat and noise and from any fellow guest competition to attract a waiter or any kind of service. This upscale oasis in Las Vegas lies 20 minutes north of the Strip in Summerlin, an area that has already caught the eye of fashionable developers. The resort has a history: Built in 1999 at a cost of $270 million by a Swiss company that had misjudged how soon Summerlin would be developed, it was sold to a Canadian company for a mere $80 million. Marriott came on the scene at the end of 2001, negotiated with Rampart Casino to take care of the gaming and found itself with a magnificent building inexpensively acquired in a beautiful setting which it could turn into a flagship resort. Marriott has 3,060 world properties in its stable but only 26 currently carry the hotel's most prestigious designation with the founder's initials before the resort's name. A Marriott with the JW title surely endeavors to please as it has a mandate to do so and a reputation to maintain.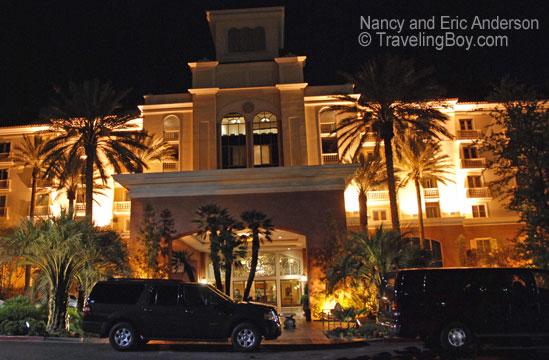 What's to like? For starters 24-hour room service and WiFi internet access but we expect that in most luxury hotels these day. A casino in the rear if you want it. More than eight restaurants including the upscale Ceres where you can enjoy Mediterranean fare while gazing out at waterfalls and keeping a protective eye on the resort's mother duck and her five little ones wandering outside -- proud of their decision, like yours, to stay off the Strip. Guests, but not the ducks, can utilize the complimentary shuttle to the Las Vegas Strip, and benefit from the free shoeshine and daily newspaper.

And they can enjoy 54 acres of gardens with more than 3500 trees. A grass-edged 11,000 sq ft swimming pool with a cascading waterfall and four 75 ft swimming lanes (an Olympic pool is about 164 ft). A 40,000 sq ft spa and a fitness center with, in the spa, 36 treatment rooms. The resort is particularly proud of its "Aqua Sulis" spa and when you try its fare you'll see why. Preferred tee times are granted guests at the celebrated TPC (The Players Championship) course next door -- and more than a half dozen local courses are nearby.

A particular charm is the proximity 10 minutes away of the Red Rock Canyon National Conservation Park If you can see those calico mountains at sunrise (they mostly face East) you will find the colors unbelievable. That would mean an early start to get there at the best time (the park opens at 6AM) but Hey! you're not dragging in at midnight from the Strip. You were asleep like a baby much earlier because in this resort you've had a relaxing day.

Phantom (Venetian)
So much has been written about The Phantom of the Opera, Andrew Lloyd Webber's 1986 musical based on the original 1909 novel by Gaston Leroux, that we wonder what can possibly be said that's new. After all it's the longest running Broadway show in history and the most profitable entertainment of all time, out-grossing even the box office take of James Cameron's Titanic.

The production has been edited down to about one hour short of the performance time of the original show in London. Having seen the show both in London and Los Angeles we wondered if we'd feel cheated by the Las Vegas shortened version but, no, we felt the pacing was better and the story line improved by the editing. We certainly hardly noticed what was missing.
What was not missing were the spectacular stage settings and the sumptuous sense of a Victorian opera hall with velvet curtains and organ music, box seats used for props and performers, and the subtlety of the stage direction that had actors positioned as if in a tapestry or painting. This was not only music for the ears but a visual feast; in one scene, as Christine sang, the chorus was being instructed in dance by the ballet mistress. The scene was reminiscent of paintings by Degas. The costumes for the masked ball, the great visibility from just about all seats and the awe-inspiring acoustics absolutely delighted the senses and made this visit to the theater (specially created by the Venetian) an enchanting event. The actors seemed truly to be living their roles, throwing their hearts into their performance. Much has been written about the creation of the complicated and high tech Opera House chandelier for the Las Vegas show but in our opinion its descent here had nothing like the impact of the contrived collapse of the chandelier at Her Majesty's Theatre in London.

The melodies are familiar. Would the Phantom now seem old hat? No, popular musical scores can live for ever. Phantom was a stunning production and the epitome, the height of set design -- literally the height -- as even the clouds moved across the sky in the rooftop scene.
END