Romania:
More Than Vamping through Transylvania
Nancy & Eric Anderson
Photography by Authors
We are wandering wide eyed in Bucharest, the capital of Romania. We are in an unknown country of 23 million people, walking in a city of three million, most of whom do not know our language. We're about two miles from our hotel. It is night. And dark. That's OK. We're not worried about crime and are comfortable with the few words of Romanian we know: Buna seara, or something like that, is Good evening; Buna! is Hi! And Da is Yes and Nu is No. We even know the Romanian for Bye-bye! It's Pa, pa! So we're cool and we are perfectly safe, safer perhaps than we would be in a major US city such as, for example, Detroit or Houston, Texas. And we are not lost. How could we be? We are passing the monumental Palace of the Parliament, the second largest building in the world after the Pentagon - and this in a country of about 92,000 square miles, roughly the size of Oregon.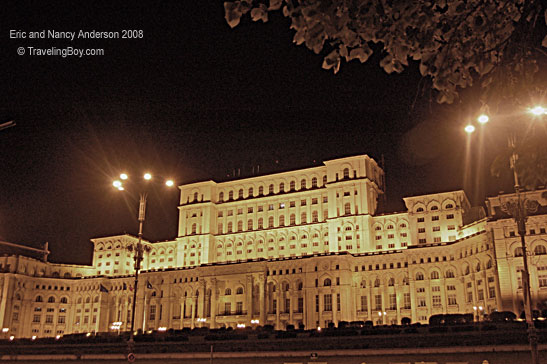 We return next day to explore this huge building, once the headquarters of the communist regime in Romania. It has 1,000 rooms and 4,500 crystal chandeliers. The floors are marble, the tapestries hand-woven, the ceilings enormous. It is beautiful. It is magnificent. It is shameful. This grandiose construction was built by the megalomaniac dictator Nicolae Ceausescu, the self-styled "Genius of the Danube." Destroying 26 churches and 7,000 homes to make space, and at a cost that bankrupted his nation and created widespread poverty, it is his -- and sadly his country's -- disgrace. It is also his epitaph. When the communist regime was toppled in Bucharest, a ravaged city formerly so beautiful it was called "The Paris of the East," he and his wife tried to escape by helicopter but were captured, brought back and executed by firing squad on Christmas day 1989.
We needn't dwell on this as Romania joins the European Union, embraces the Euro and gets ready to welcome visitors. But it's helpful for tourists to understand what happened in this gracious and exciting country as they travel into Romania's future. And walking around Bucharest it's hard to ignore history. For example: You can't avoid noticing the powerful statue to Iuliu Maniu, a former Prime Minister who became the leader of the National Peasants' Party and successfully plotted to join the Allies in 1944 in World War II. And who wouldn't notice the inspiring Revolutionary 2005 Memorial of Rebirth even though its critics call it "the Olive on a Toothpick"? The revolt against Communism came to a head on December 22, 1989 when about 1500 students and protesters fell in the fusillade of shots that faced their uprising. It is sobering to see the names of the fallen on street signs and bullet holes in walls circled with black paint so those who died are remembered. Such is the price of freedom.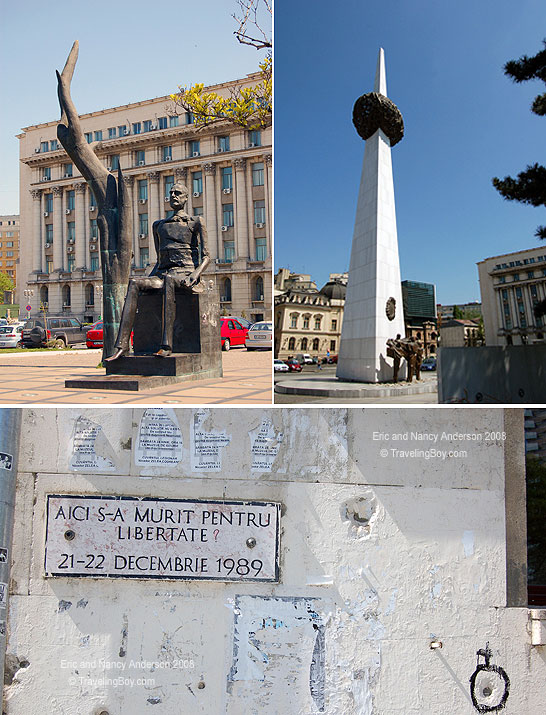 Almost two decades have passed. Life has to go on. Friends sit chatting on a secluded park bench. Families listen to opera in the famous 1888 Romanian Athenaeum with its magnificent domed ceiling. A man walking by sees second hand books for a bargain price on the street and pensively sits down to contemplate a paperback on War. A woman devotedly reads her Bible in the Patriarchal Cathedral, one of Bucharest's most magnificent churches.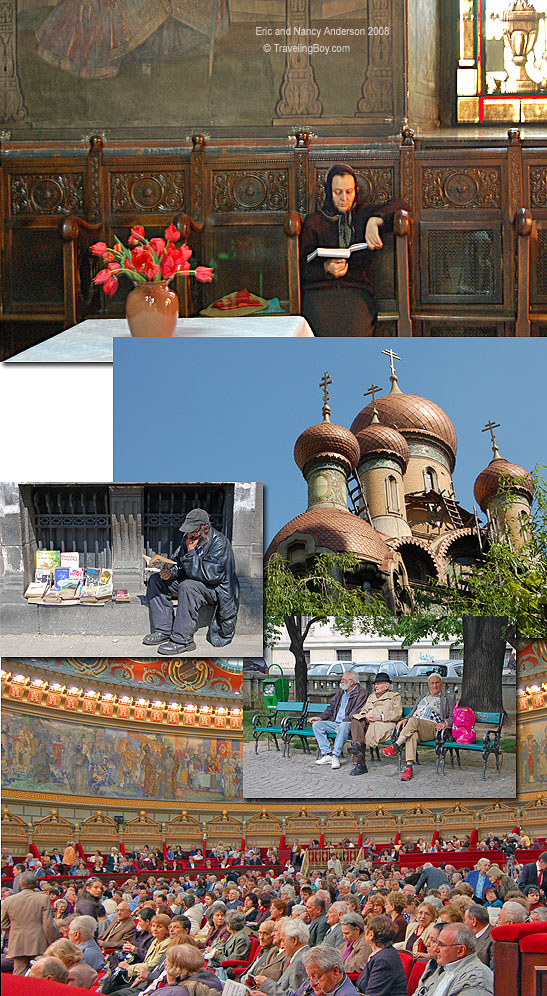 The churches are indeed magnificent and the St. Nicholas Russian Church with its seven onion domes is particularly photogenic. Czar Nicholas II provided its construction funds in 1905. At the outbreak of World War I its contents and records were shipped to Saint Petersburg for safety (where they vanished during the Russian Revolution in 1917). "The church," says a guide, "is now used by the University of Bucharest and often called 'the Students' Church,' the professors probably praying here for their students to be more diligent and the students praying they can pass their exams with the minimum of study."
Many churches are in a state of disrepair and their frescoes desperately need restoration. This is true of most of the classic ones tourists will visit whether the Patriarchal Cathedral itself (built in 1655-1668), or the famous Stavropoleos Eastern Orthodox Church with its restful courtyard (built in 1724 beside an inn whose receipts kept the church solvent) or the Maramures Church in the Village Museum, brought from one of the traditional villages in northern Romania that are now a World Heritage Site.
Maybe tourism will bring the funds needed to bring back their glory.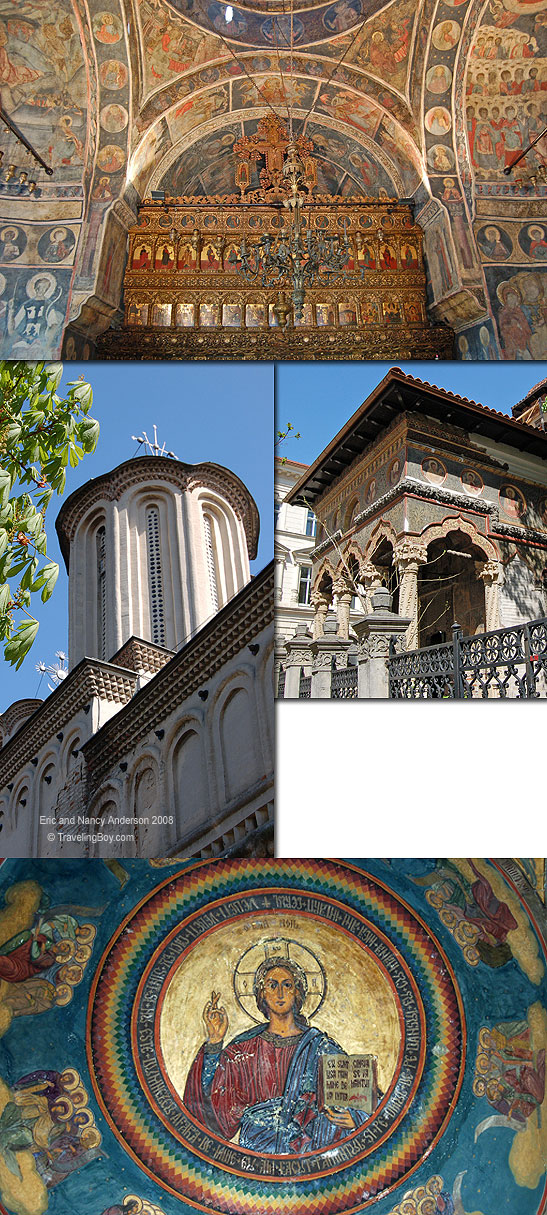 We met an English couple once in Greece who had taken a cathedral tour of France. As we stumbled up a hill with them to visit one more acropolis, we heard the husband grumble to his wife, "ABC!" We asked what he meant. He explained, "It was our code after a hard day in France when we were all tired but the guide wouldn't cut back on the activities. It stands for 'Another Bloody Cathedral!"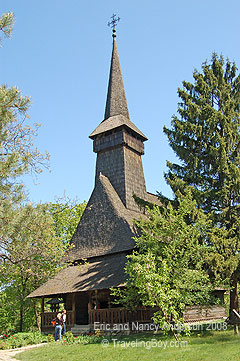 We didn't think ABC in Bucharest because the churches are close together, quite different and essentially unvisited by American visitors at this time when Eastern Europe is just opening up to tourism. That may be partly why Bucharest was such a joy -- it is the unknown.
It's also romantic. Some women might declare it so while dining at the Locanta Jaristea restaurant if a debonair musician complete with violin and flashing eyes serenades them in the style of the 1930s even though the restaurant on Georgescu Street was built as recently as 1992.
A less formal -- by European standards -- restaurant is quite near (on the same street Stavropoleos, as the church itself) namely the Caru cu Bere which literally means "the Beer Garden." It's no surprise with a name like that to find a Bavarian ambiance in this dark paneled and elegant pub, built in 1879.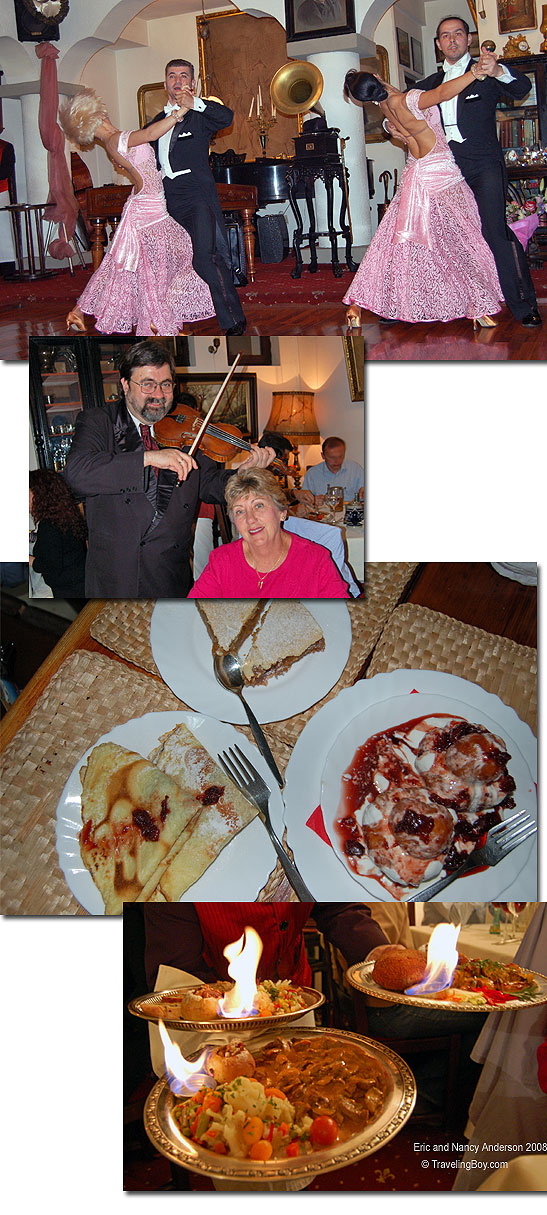 Another restaurant built as recently as 2001 that nevertheless captures Romania's past with original 1920 décor and traditional dishes is the Restaurant Vatra on Brezoianu Street. It's the kind of place where you see locals more than tourists and the helpings are generous. If you avoid obvious touristy places meals in Bucharest are not expensive.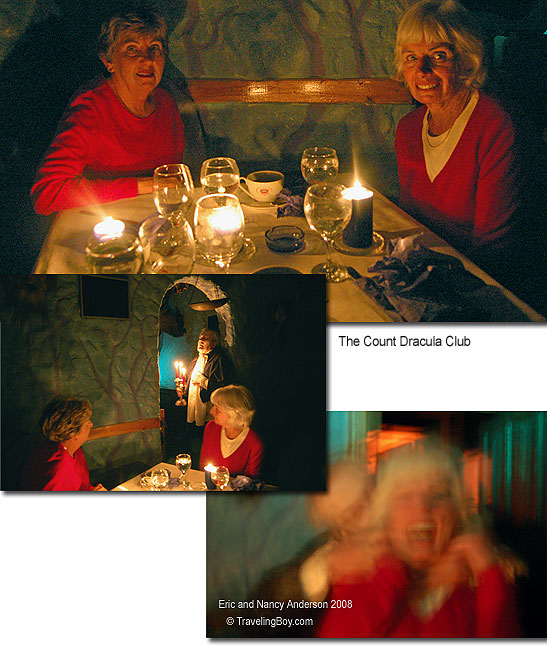 And when do tourists avoid tourist traps? Not us, especially if it sounds like fun. You can't visit Romania without thinking of Brad Stoker or more recently Elizabeth Kostova and her award-winning novel about Dracula, The Historian. Vlad Dracula, in fact was born in 1431, reigned as the prince of Wallachia and had a palace in Bucharest. There's no record, however, he ever ate at where we're heading now, the Count Dracula Club. This is not high cuisine though they do brag about their bloody steaks. If you go later in the evening you may catch the proprietor doing what he's done for years: coming in with his candelabra and looking menacing. Male diners needn't be concerned: he has just come in for a quick bite. Women may have a problem.
IF YOU GO
The Romania New York office is most helpful for visitors but give the office time to deal with your questions.
We found our hotel, of course, on the internet. Hotel Rembrandt at 11 Smardan Street. Its website is not intuitive and when Americans book, they are switched to Expedia.com When we chatted with the helpful English-speaking front desk staff they demonstrated a website of theirs others can access with prices correspondingly low. It would be worth while telephoning to try and book direct (telephone numbers at Contact Us on its website). This hotel reminds us why the experts say: Location, location, location. It's right in the middle of the old town and that's really where you want to be.
As the sun sets on a marvelous Bucharest day, we stand on a balcony, look over the city and sigh with contentment. This is a place, a city that will give us memories.