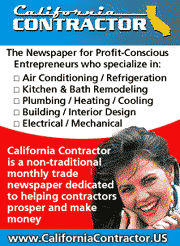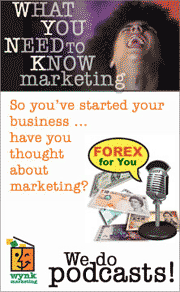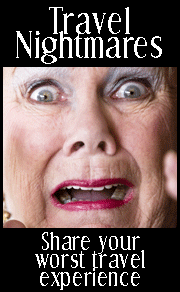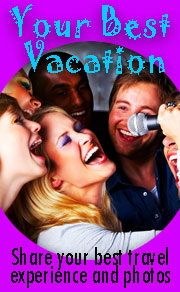 San Sebastian's harbor and beaches
Basques Build the Replica 16th Century Whale Ship SAN JUAN
How Basque Shipbuilding Changed My Understanding
Of the History of the Americas
Story and photographs by Richard Frisbie

was in San Sebastian, Spain, in May to help celebrate its being named the 2016 European Capital of Culture. I ate, very very well, as San Sebastian's restaurants have the highest concentration of Michelin stars in the world, drank the excellent local wine, visited many museums and enjoyed walking the charming old city as the festivities occurred.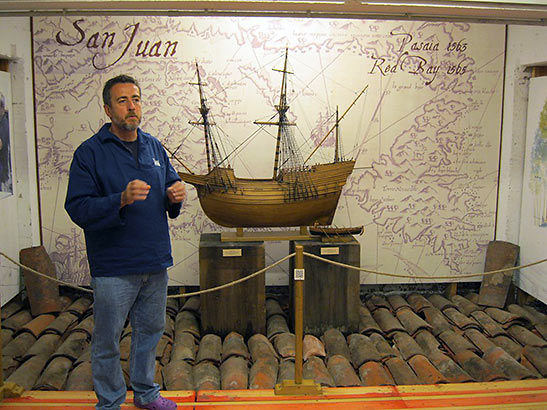 Museum director with a model of SAN JUAN
But I have to admit that the strangest thing was to travel to the Basque region of Spain to learn the truth about North America's early exploration, stranger still to explore where it all began: Albaola, the Sea Factory of the Basques, located at the entrance of the Bay of Pasaia, in San Sebastian. That is where they are building the replica of one of its most famous of Basque ships, the 16th century whale ship SAN JUAN.
When the British arrived in Newfoundland in 1610 they found ships of many nationalities anchored in the harbor, attracted there by the abundance of cod and whales. Nevertheless they had the hubris to claim the land for Great Britain. At that time all the fishermen in Newfoundland knew that only the Basques understood how to hunt the many whales congregating in these waters. Using ships built in San Sebastian, Spain, where the museum Albaola is located now, the Basque people explored the world, most notably the Outer Banks of the United States and the Canadian Maritimes. They brought home many barrels of whale oil and so much salted cod (the cod was salted and dried to preserve it for the long voyage) that Spain is still known for its cod dishes.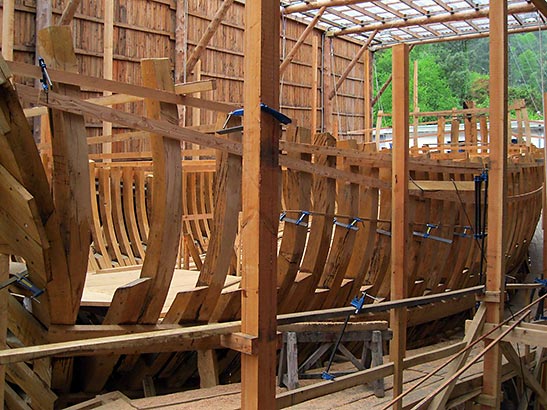 The ribs and planks shape the outline of the replica SAN JUAN
The Basque fishermen were well-known to the Native Americans of both countries, so much so that Basque was the lingua franca of the New World. So much trading and interacting occurred between them in Basque that fishermen of other nationalities learned enough Basque to communicate, too. In fact, Basque fishermen were fishing in American waters when Christopher Columbus "discovered" America.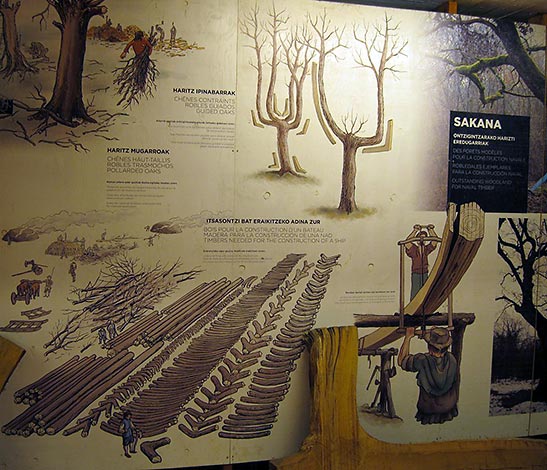 Drawing of the oak harvesting and shaping
In the converted ship factory Albaola, now a museum, the largest sailing ships of the 15th, 16th and 17th centuries were built. Using wood from a nearby oak forest, first just harvesting it, but later shaping the trees as they grew to provide the correct angles and curves, centuries of Basques earned a reputation as the best ship builders. The other Basque product, the widely drunk hard apple cider, was how the sailors avoided scurvy in their travels to and from distant fishing and trading grounds.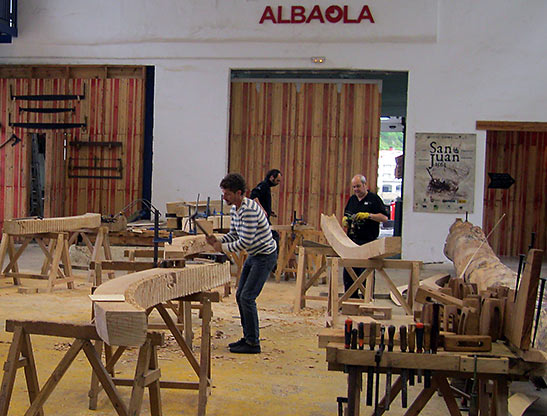 The tedious and exacting hand work of ancient shipbuilding
In the 16th century the Basque whale ship SAN JUAN sank in Newfoundland. Its recent discovery, perfectly preserved in the frigid waters, gave archeologists the best look at the complex construction techniques and materials used by the early Basque shipbuilders. Beneath the hull they also found a complete whaling boat. Drawings and photos, along with exact measurements, are being used at Albaola to build a replica of each. The large open-room of the museum is a ship building showcase where volunteers use ancient hand tools to measure, cut and shape the oak ribs and planking for the replica.
By coincidence, I visited the museum on the 115th anniversary of the killing of the last whale by the Basques (the skeleton hangs in the nearby Aquarium) lending this visit more significance. I was one of nearly 100,000 visitors expected this year, all of whom will see the replica SAN JUAN being built, rib by rib and plank by plank, as ships were hand-built there for centuries. Many will learn a greater awareness of the Basque influence on the history of the Americas. I know I did.
For more information on this and other attractions of San Sebastian (Donostia in Basque) during the European Capital of Culture year, please visit this website.
Related Articles:
A Food & Wine Tour of Alcala; Valencia, Spain is Burning Hot; The Land of Caballeros; Spain, Portugal, Morocco with Insight Vacations; Can't We All Just Get Along In Córdoba?



Let Richard know what you think about his traveling adventure.
* * * * *
Hey Richard - another winning series of words, all put together in your usual brilliant, and very creative format. And hey, love those glorious photos - Wow, what scenery - looks like some sort of paradise. What a super life you lead!!!
--- John Clayton, Palos Verdes CA
* * * *
I want to go there!!!!!!! Mmmmm! Yes! Love the photos and your article, Richard! Have read the book, seen the play several times and now dream of seeing these historic places. I've been wanting to go to Spain for some time. Now at 12:30 a.m. I'm heading off to bed with songs from Man of La Mancha ringing in my mind. Thanks!
--- Betsy Tuel, Rosendale, NY
* * * *
You are fortunate to have Richard on your staff. Richard is a fantastic writer and a wonderful person. Congratulations to Richard and to you.
--- Denise Dubé, New England


Journey to the Bottom of the Globe: Exploring the White Continent of Antarctica

As a travel journalist I am constantly asked what are some of my favorite travel experiences. The list is endless. But there is one destination that seems to raise the most eyebrows. That destination is a cruise to Antarctica. Sadly, that cruise line I was on is no more, but today there is a plethora of cruise lines that offer similar packages. Here's a look back at my Antarctica cruise.


Hanging Out in Huntington Beach, California

Huntington Beach is legendary around the world as one of the best surfing spots. Its waves and beaches are so great, it is also officially known as "Surf City." But as I learned on a recent getaway, the town is more than just tasty swells and beautiful white sand; it also boasts gourmet restaurants, luxury, ocean-front hotels, great shopping, and tons of California coastal charm.


Would You Believe She Can Carry 800 (Yes, 800!) People!

As she came around the corner we could not believe how big she was. Massive, and yet incredibly beautiful – almost elegant in fact. Her lines were so symmetrical she seemed to blend into a classic example of astonishing good looks. The other fact that amazed all of us was how quiet she was. We felt sure that with the obvious overwhelming power she evidenced, she'd be extra loud. It's a cliché, but she was as quiet as a church mouse – or "as quiet as dreaming trees."


Highway 49 Revisited: Exploring California's Gold Country

In the 1840s, the population of California was only 14,000, but by 1850 more than 100,000 settlers and adventurers had arrived from all over the world – and they came for one reason: gold. James Marshall had discovered the first gold nugget at Sutter's Mill in El Dorado County, creating the largest gold rush in history.


Lake Charles' Family-Size Low-Key Mardi Gras

The Southwest Louisiana Mardi Gras in Lake Charles, the second largest in Louisiana, does not need parents there to avert their children's eyes. This is family entertainment and children are very much part of it. The main office of the Lake Charles CVB has costumes from last year's Mardi Gras but it also has figures to fascinate little ones from country boys fishing for their dinner to alligators who have already fed and are rubbing their stomachs.


Puerto Vallarta: Magic and Mayhem on the Malecon

So I heard that you could spend from dawn to dusk on the Malecon in Puerto Vallarta, Mexico and never get bored and I thought, "Okay, I'm up for that challenge." Well, maybe not the dawn part – I'm not a morning person – so I had no problem leaving those early hours to the joggers and those seeking an early start to catch their red snapper for dinner.


Costa Rica's Green

Sitting at an umbrella table in downtown San Jose overlooking the Plaza de la Cultura is like a page out of Hemingway's "The Sun Also Rises." The plaza is laid out in a maze of stalls where passive vendors sell sparkling silver jewelry by the trayfull, hand-carved clay masks, colorful Guatemalan belts, area rugs, and hammocks perfect for a midday siesta. Three men play an old wood marimba over the buzz of the crowd while a steaming plate of Gallo Pinto (rice and beans) is served to an elegant lady who was performing with her guitar...


Tahiti and Her Islands

Just their names (pronounce each vowel!) conjure up romantic images: Tahiti Nui, Moorea, Bora Bora, Huahine, Ra'iatea, Taha'a. Her people are gentle; the air, tiare-perfumed. Warm lagoons, majestic peaks, tropical fruits from the land and bounty from the sea all tantalize the senses. Paradise! As near as can be found on planet earth. And, in my experience, the finest way to explore her is on a ship designed for that single purpose.


Japan: Bullet Trains, Monkey Shows and Whale Steaks

Last month, I went to Japan for three things... Ok, let me back up a little bit already. The #1 reason I went to Japan was to visit my girlfriend, Yuki, and she will kill me if I don't say that, so there it is. Hi Yuki! Anyway, so after that, reasons number 2, 3, and 4 were the following: I wanted to ride a bullet train, go to a monkey show, and eat a whale steak. That's right. That's right.


Tim Robbins On His Road To Stardom

Award-winning Tim Robbins began his career on episodic television. Robbins' film work, however, is what catapulted him into becoming a major movie star including "Bull Durham" and "Mystic River" for which he won multiple awards. Equally at home behind the camera, he directed the riveting "Dead Man Walking." He is Founder and Artistic Director of The Actors' Gang, which he formed thirty-five years ago and has directed multiple provocative productions. Robbins recently sat down for an exclusive two-part interview, which has been edited for content and continuity for print purposes.


John January and Linda Berry Have Chemistry

Chemistry by its very definition is the spontaneous reaction of two people to each other, especially that sense of mutual attraction and understanding. This month John January and Linda Berry release their new project, Chemistry 101 and together they explore a range and depth of musical styles on both organic and physical levels. As a joint labor of love, January says Chemistry 101 is pretty straight-forward.


NOLA: New Orleans, Louisiana

Mardi Gras, the French Quarter, the Garden District, the streetcar (now a bus) to Desire, the jazz clubs, the beignets at the Café du Monde and breakfast at Brennan's come to mind when you think of New Orleans. But that's not all there is to this unique American city, filled with treasures both culinary and cultural.
---
© TravelingBoy.com. All Rights Reserved. 2015.
This site is designed and maintained by WYNK Marketing. Send all technical issues to: support@wynkmarketing.com