The IV Beira Interior Wines Competition Award Dinner
At Jardim do Paço
Story & Photos by Richard Frisbie

Ballroom seen from the formal gardens of Jardim do Paço

ntering the glass-roofed ballroom where the dinner was held, I was amazed by the sight of the 30 tables, laden with fine china, crystal and candelabras, all twinkling like stars in the reflection on the glass ceiling. I found my way through this elegant setting to Chef Rui Cervera's table.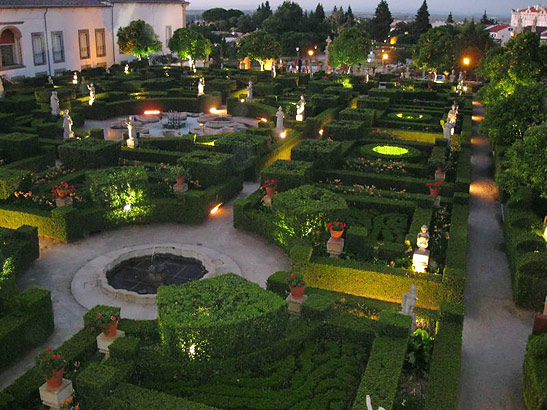 View of the formal gardens from the ballroom
Chef Rui was an excellent dinner companion, flowing effortlessly from Portuguese into English to include me in the conversation. This was a dinner about wine, for wine lovers, honoring the best wines of the Beira region of Portugal. But he was a chef. We could talk about food together, too. He graciously explained the different foods served as we discussed why they were paired with the wines offered.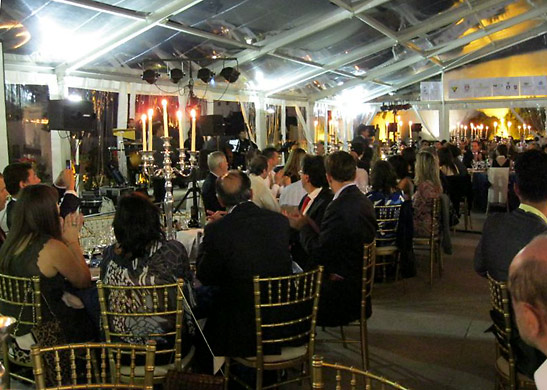 Award Dinner in the glass-roofed ballroom of Jardim do Paço
About the food he explained: "You never know what influences you'll taste from Portugal's vast colonial history; Africa, Asia, South America – it all finds a way to the table as 'regional dishes.' Goat, pork, maranhão, bacalao, chicken and mint rice could all be on the menu as 'local'. " They were, including a charcuterie of Casa da Prisca cured meats that contained one I hadn't tasted before: farinheira. It's a mushy but deliciously spicy (and slightly sour) variety that complimented the selection of chorizo, morcella and blood sausage I was familiar with.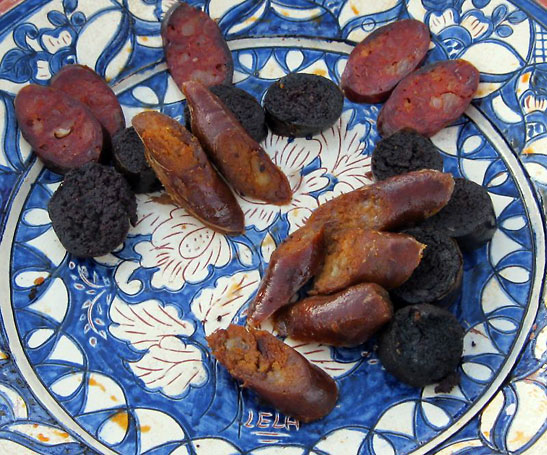 A charcuterie of Casa da Prisca cured meats on a classically decorated
Portuguese platter
Our table setting included 4 bottles of wine, both red & white, with new ones, even a rose', brought with each course. It was an informal wine tasting, truly the best kind, that left a lot of room for experimenting with taste combinations. About the wine, Chef Rui said that "Beira's wines are coming into their own. There are five really good whites, and the reds are exceptional, really something to take note of." When I pressed him for particulars, he was too much of a gentleman to name his favorites, but he did speak very well of the Quinta dos Termos wines.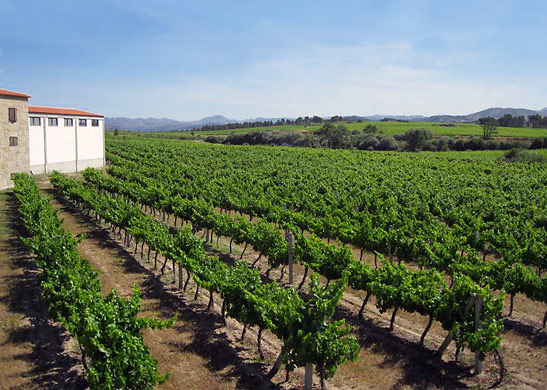 Quinta dos Termos winery
That was a serendipitous connection. I'd toured the Quinta dos Termos winery that morning, enjoying a tasting of many regional wines. The Terran de Belmonte, Monte Serrano, Quinta da Caldeirinha, Quinta dos Currais, Quinta do Cardo and several of the Quinta dos Termos stood out as particularly good wines. After the wine tasting, at the Herade do Regato (an ancient olive oil processing facility converted into a restaurant specializing in regional foods,) I sat next to João Carvalho, the owner of Quinta dos Termos vineyard.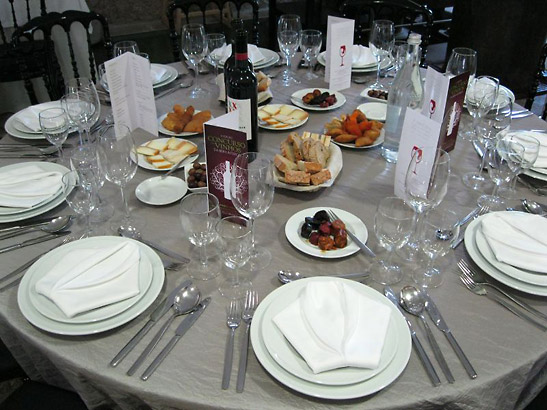 Luncheon table set at Herade do Regato
João Carvalho is an award-winning businessman, a leader in the textile field, and the largest textile manufacturer in Portugal. When I asked about his awards, he explained that his latest was for "innovation in marketing. My company developed a fabric that is half wool and half biodegradable polyester. It is 30% warmer than wool in the winter and 30% cooler in the summer."
How that connects with wine is, "I use the success of my textile business to finance the development of my new wine making facility. Everything I do: wine, textiles, everything, is to preserve the environment for future generations, for my grandchildren." He explained that his facility is state-of-the-art, with innovations such as exterior stainless steel wine fermenting vats that use specially designed instruments to allow fermentation at the natural ground water temperature.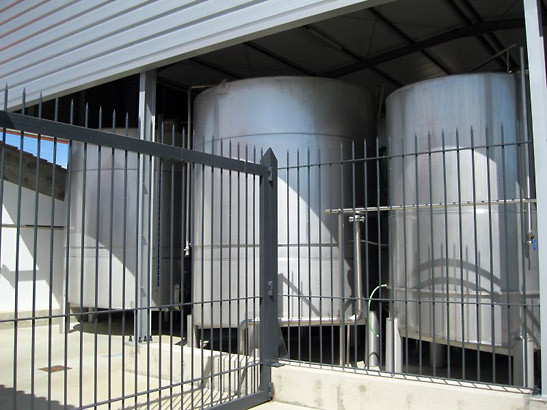 The exterior stainless steel fermenting tanks at Quinta dos Termos
João Carvalho consulted with Portugal's foremost winemaker and yeast specialist, Prof. Virgílio Loureiro, in the process of creating his Quinta dos Termos wines. The yeast he uses is naturally occurring on his property, with no foreign yeast added. In addition, no herbicides or pesticides are used.
While all his red wines spend some time in French oak barrels, some of the stainless steel tanks have oak linings to introduce the taste before being barreled. He supports research into the cultivation and cloning of fonte cal, the native grape of Beira, with an experimental planting of vines in a section of his over 50 hectares under cultivation. He is also very active in the local wine growers' organization, actually allowing his neighbors and competitors to exhibit their wines for tasting at his winery that morning.
On top of all that, while talking about the wines of his native Beira, he tasted each of the wines at the table, (again there was at least one bottle per person) rather than just drink his own, which were amply represented. What a gentleman! I found him to be worthy of the accolades to come.
That brings us back to the award dinner. Chef Rui told me that his restaurant was very near Quinta dos Termos. "João Carvalho is a good neighbor and a great wine maker. I'm glad to see his wines winning so many awards." In category after category, from honorable mention to gold, Quinta dos Termos wines received more awards than any other winery, including 'best of the best'.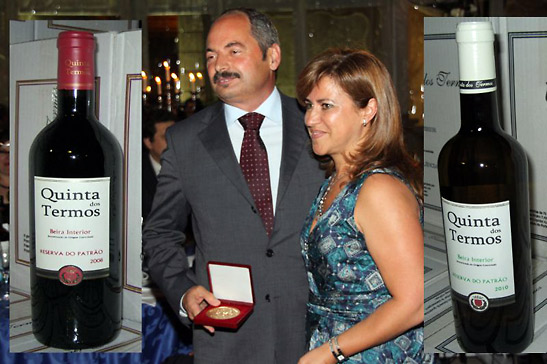 João Carvalho receiving his top honors
Accepting the many awards, João Carvalho's gracious humility had his competitors cheering for him, even as they lost. Quinta dos Termos wines are reliable and sometimes exceptional, and João Carvalho is deserving of the honors they bring him.
With the final award given, there was nothing left to do but eat the desserts. A local pie, my favorite, is Tigelaga de Beira. It is basically a flan cooked in a single pie crust and served in wedges rather than individual dishes. Even the top is toasted to a dark caramelized sugar crispness. I could have eaten seconds, but then the waiters brought out sardines to finish the meal!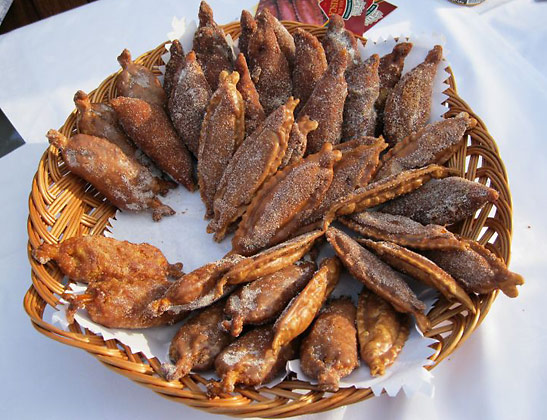 Sardinhas Doces de Trancoso
Sardinhas Doces de Trancoso, little sardine-shaped pastries, are a local specialty also made by the meat folks at Casa da Prisca. They take a custard similar to the flan but with almond flavoring, and wrap it in pastry that is decorated to resemble sardines. Then they are baked, dipped in a chocolate wash and sprinkled with coarse sugar. It was the perfect finger food to finish off a delightful evening of wine, food and new friendships.
The Beira Interior has great food, great wines and great people. In those few short days I was lucky enough to experience all this little-known region of Portugal has to offer.
João Carvalho's Quinta dos Termos Selecção, 2007, was named one of Tom Cannavan's 50 Great Portuguese Wines. His Quinta dos Termos Lda, 2008, won Silver & Gold medals, Honorary Mention, and was declared the best overall wine in the IV Beira Interior Wines Competition - quintadostermos@mail.telepac.pt