Cedar Hill:
Frederick Douglass' Home Is As Imposing
As the Man Who Lived There
Story by Fyllis Hockman
Photographs by Victor Block

aving recently received a misguided shout-out from the president during Black History Month – Frederick Douglass has done an amazing job… – it seems a good time to revisit the cultural icon's legitimate place in history. And a visit to his home in Washington, DC – surely a place the current president might want to consider visiting himself – would be a good place to start.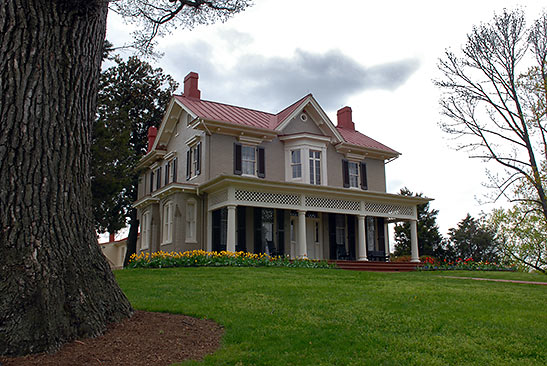 Built high atop a hill in Anacostia in southeast D.C., just 10 minutes from the Tidal Basin and overlooking the Washington Monument and the Capitol, Cedar Hill, the home of Frederick Douglass, matches the man in stature, eloquence and grandeur.
Douglass, whom many consider "the most eminent and respected African American of the 19th century," was a runaway slave in 1838 at the age of 20. By the time he was 60, when he moved with his wife, Anna, into the 1850s brick house that he called Cedar Hill, the former slave had distinguished himself as a renowned orator, fiery abolitionist, influential journalist and publisher, Ambassador to Haiti and outspoken advocate of voting rights for women. In his spare time, he served as advisor to five presidents: Abraham Lincoln, Andrew Johnson, Ulysses S. Grant, Rutherford B. Hayes and Benjamin Harrison.
The purchase of Cedar Hill by Douglass carries a sense of irony, yet at the same time, serves as a parable for his life's work. Douglass once again triumphed over the obstacle of race – and did so by perpetual agitation, a concept he'd adopted as a mantra.
When John Van Hook, the original owner, was forced to sell the property due to bankruptcy, he established a covenant that stipulated that it not be sold to anyone of color, including immigrants, the Irish and Catholics. He didn't expect that the financial institution which handled the sale would have Frederick Douglass as its president.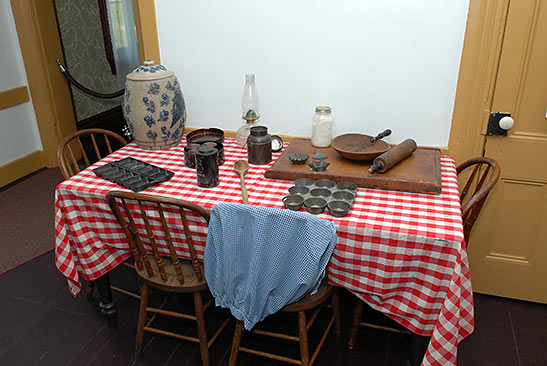 Still, the restrictions remained in effect for three years, while Douglass used his influence in Congress and elsewhere to maneuver around the covenant's intention in order to buy the home for himself.
The 1877 purchase continued to be controversial because Douglass himself was fostering dissension in the community. Within 18 months after his beloved Anna died, Douglass married his secretary, Helen. That was bad enough. Throw in that she was 20 years younger… and white, and it's clear why living at Cedar Hill, and the 15 acres on which it sat at the time, was not without its challenges. Nonetheless, Douglass happily resided there for the last 17 years of his life, and it was Helen who fought vigorously to preserve Cedar Hill as his memorial.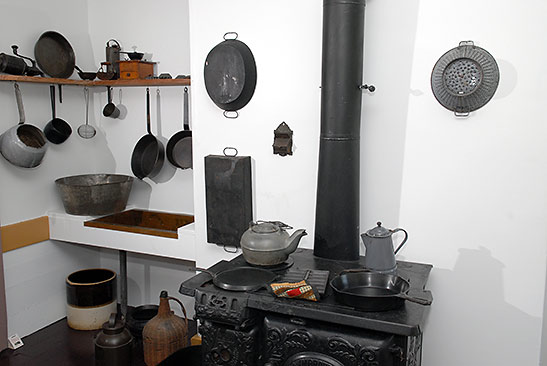 Because of her early efforts, 70% of the remaining furnishings and artifacts are original, very unusual in most renovated historic settings. Somehow you look that much closer at the picture of Abraham Lincoln in the study, knowing it was a personal gift from The Great Emancipator himself. And at the portrait of Elizabeth Cady Stanton, a present she gave Douglass in honor of the many years they spent together fighting for the women's right to vote.
Despite its grand size – Douglass added 7 rooms to the original 14 – I felt comfortable immediately upon entering, as if I could move right in and be at home.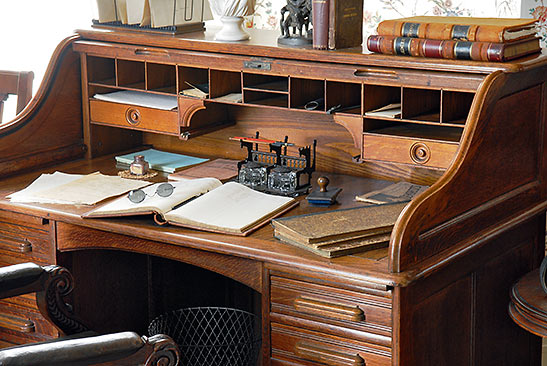 I could visualize Douglass sitting at the small table in the family room where an unfinished game of checkers remains, the chair slightly askew as if had just walked away for a moment. Adding to the sense of his presence, the wood-carved board and pieces reputedly had been made by Douglass himself.
Nearby, the library, Douglass' favorite room, appears eminently readable. Stocked with over 900 books, it's clear how big a part books played in his life. Since his early years as a slave, when he secretly taught himself to read and write, he recognized that literacy "was the pathway from slavery to freedom."
Among the many canes that Douglass collected, two especially are of great personal significance. One, displayed in the library, was hand-crafted by a former slave/friend, with different events of Douglass' life engraved into the wood. The other, an ivory-handled walking stick given him by Mary Todd Lincoln after her husband's death – a reflection of the President's high regard for Douglass – can be found in the Visitors Center, an important stop prior to the tour of the house. History buff that I am, the idea that both Lincoln and Douglass might have leaned upon that cane as each traveled his own rocky path into history brought me a chill.
Upstairs, in the master bedroom (so called because, unlike today, only the "master" slept there), try to picture the over six-foot Douglass in a bed only slightly larger than 5 feet. This required sleeping somewhat upright, akin to what a reading-in-bed position is now. Next to the bed stands the de rigueur chamber pot. Despite its function, I was very impressed with its elegant, intricate design ringed with gold trim.
A bed pillow, embroidered by Helen, reads, "Two is Company, Three's a Crowd." The tour guide claimed its meaning remains a mystery. Still, I entertained some fun fantasies. Subtle reference to a mistress, perhaps? Or to memories of her husband's first wife, Anna, whom Helen may have felt still shared their bed? Or just commentary on dinner party preferences?
Asked by Lincoln to recruit Black soldiers for the 54th Massachusetts Volunteer Infantry during the Civil War, Douglass did – including two of his sons. It was that regiment, and its last battle in which 80% of the soldiers died, that formed the basis for the award-winning film, "Glory." The only reason Douglass didn't lose both sons was because his younger boy was sick that day and unable to join the battle.
Indeed, the long and full life of Frederick Douglass is itself a glorious story – and his home on Cedar Hill reflects that in all its glory. Are you listening, Mr. President? For information, contact Cedar Hill, 1411 W. Street, SE, Washington, DC 20020; 202/426-5961; Frederick Douglass National Historic Site.
Related Articles:
The Newseum; Roadside Attraction Postcards from Washington, DC; The Cherry Blossoms
of Washington D.C.; Washington DC: The Dupont Circle Hotel's Package
(Posted 3-22-2017)