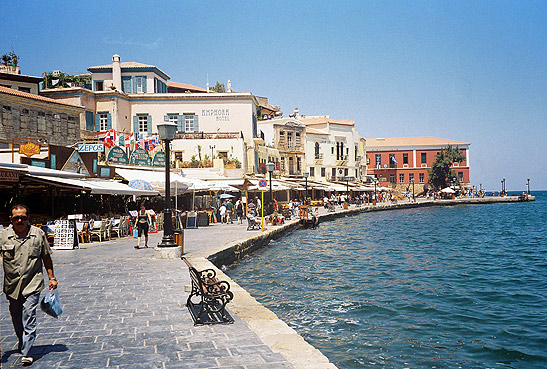 Chania Harbor
Crete:
Working Off the Farmer's Tan
Story and Photos by Gary Singh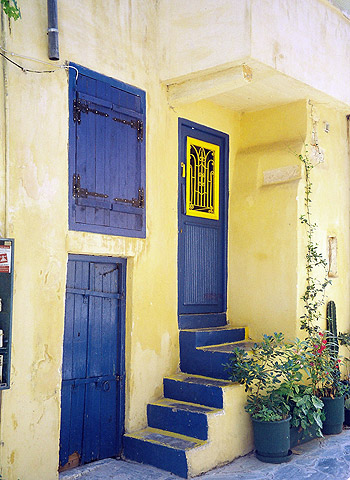 The colorful doors and windows of Chania

or what seemed like an epoch, the author was scared to take his shirt off in public due to a noticeable farmer's tan. He developed a paranoid fear that everyone would point at him behind his back. Since he walks quite a bit on the city streets of his hometown in Northern California, often with a short-sleeved shirt in the blazing sun, the farmer's tan naturally developed. Even though a plethora of hi-tech tanning salons populate his local landscape, he secretly longed for a real tan instead.
When an old friend from Greece invited the author to spend a week on the Isle of Crete during July, his eyes opened wide. He envisioned white sandy shores, clear aquamarine water, blistering sunrays and hordes of American tourists, all with farmer's tans. He would not be alone.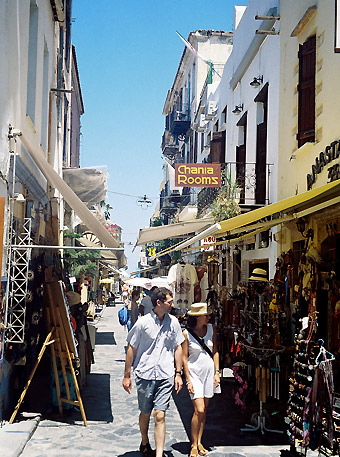 Chania features numerous narrow alleys for shopping
After an overnight ferry ride from Piraeus, a short bus ride landed him in Chania, Crete's second largest city and its former capital. Barely past seven in the morning, the temperature already approached 100 and the sun beat down upon him with relentless tenacity. He realized immediately that Crete was the ideal place to work off his farmer's tan.
With his shirt off, he spent that entire morning strolling through Chania's old Venetian quarter, where a labyrinth of narrow cobblestone streets, colorful facades, and crumbling ruins took him back to the 14th century. Many of these older buildings had long since been renovated and converted into pensions, restaurants, cybercafes or all of the above. In the summertime, the neighborhood bubbled with energy. Children kicked soccer balls in the streets, old men played backgammon at sidewalk tables and sunburned tourists sauntered around snapping photographs left and right.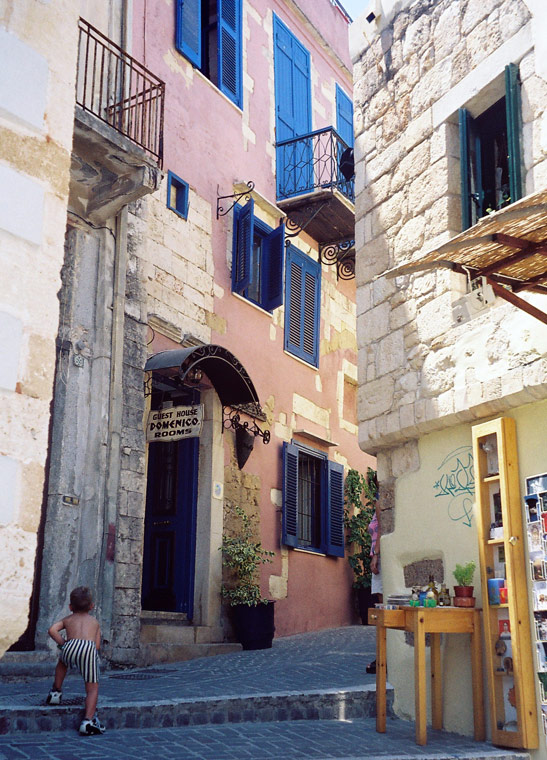 Chania's old town is a labyrinth of crooked streets
The author acquired a slight tan that day, but nowhere near enough, so a trip to the beach became a necessity. Crete's beaches need no introduction, but those near Chania usually fill up with tourists, so he opted to explore a much more remote location: the southern coast of the island.
Which required a drive through the Lefka Ori (White Mountains), a trip along a road that seemed to change, in every respect, with the moods of the day. Sometimes paved and sometimes not, the mountain road snaked its way through uncompromising peaks and tranquil valleys, always distracting the driver with views of harrowing switchback paths that were yet to come.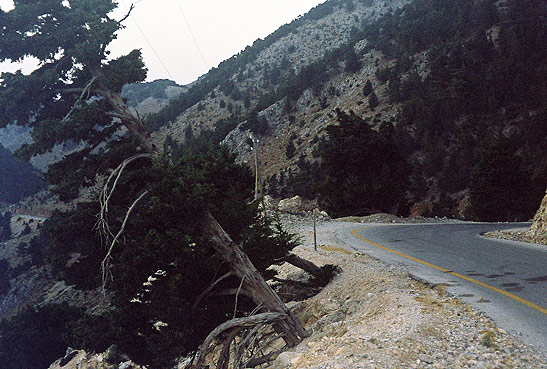 Driving through the Lefka Ori (White Mountains)
The drive provided a multitude of shifting scenarios. One minute, overwhelming stenches of billy-goats dominated the scene, while the next, aromas of thyme, sage and wildflowers took over. Talk about local flavor. For a few miles the road bisected a plateau spotted with dark green shrubs and then suddenly it moved along a steep precipice of nothing but silvery gray rock, falling off the edge at a 100-metre drop. For one mile, the driver scooted along a flank of mahogany brick and within a second he suddenly reverberated from a colorful symphony of flora—cherry, bright yellow and lavender. The smattering of scenery robbed his attention and he almost drove over the cliff a couple of times. The temperature fluctuated without any prior anticipation, often dropping five degrees as the road merely turned a corner.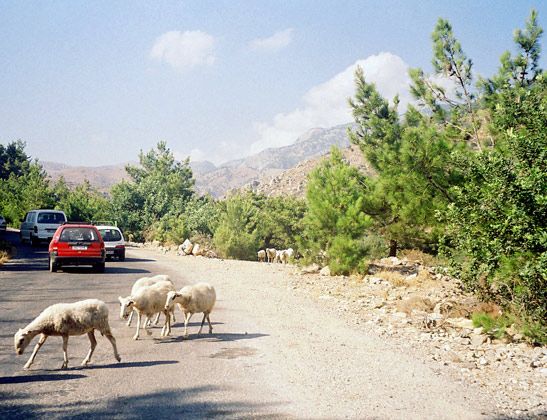 In the mountains, livestock roam freely
An obstinate herd of nomadic pigs even blocked the road at one point, forcing the driver to stop until a man in a jeep approached from the opposite direction. The man lowered his arm out the window and banged his hand on the side of his vehicle a few times, urging the pigs to meander away. And they did.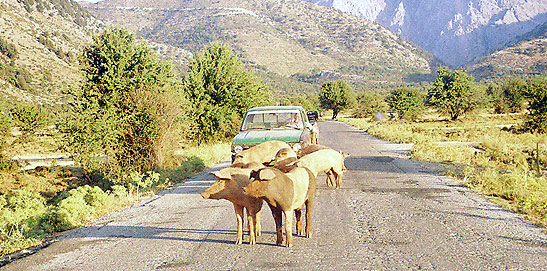 Obstinate pigs in the middle of the road
After going over the top of the White Mountains, the narrow road eventually descended through more of the same and collapsed at Sougia, an isolated beach town on the southern coast of Crete. Sougia was the target destination: no tourists, no big hotels, no prearranged rows of sun beds.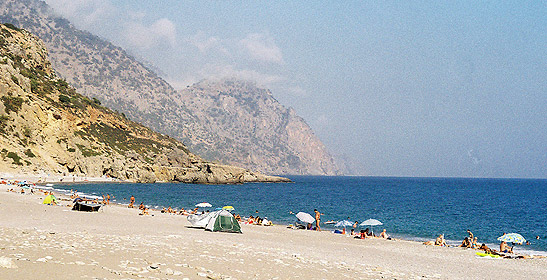 The beach at Sougia
Sougia temporarily satisfied the author's longing: crystal-clear aquamarine water, half-pebbly white sand and tree-flanked leisure paths beckoning one for a few beers at the beachfront taverns. A few scattered umbrellas and dome tents dotted the sand where campers had set up shop. An occasional mountain goat emerged from the nearby hills and wandered down to the rocks. Since the beach was nearly empty, he chose a roomy spot to work off his farmer's tan. A glaring sign cautioned that nudism wasn't allowed, but once he reached the far end of the beach, he noticed almost everyone was indeed in the buff.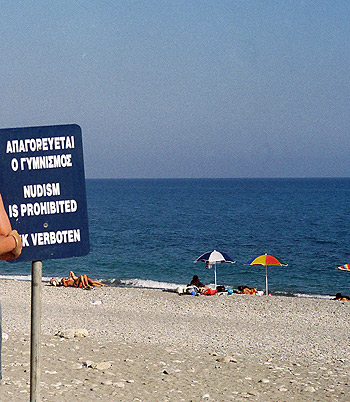 In spite of the rules, parts of the beach are
clothing-optional
Regardless of what dreck the dermatologists might spew, there are only two ways to go about this tanning thing: (1) Spend many days at the beach, about two hours a day, with adequate amounts of lotion, and even out your farmer's tan safely and gradually. This option is suitable for sedentary types who go through life thriving on security and predictability, and whose character traits include self-discipline and rational consideration of the results of their actions ahead of time. (2) Sit out in the blazing sun all day with no lotion and roast yourself like a pig. You acquire your major tan in just one day, but then you have to wait two weeks for the burns to go away and the dead skin to fall off. This plan works for impulsive, spontaneous individuals with restless brain chemistry, those who go high hog and take their punishment later.
Naturally, the author chose the second option and wound up with sunburns almost everywhere. His torso and legs were beet-red by the time he left. The next morning, he could barely roll over in bed because it hurt so much. About a week later, after he had returned home, he shed flakes of dead skin all over his apartment for two weeks.

View of the water at Chania
Despite the extreme masochistic nature of this endeavor, it did not ruin the rest of his trip in the slightest bit. He immersed himself in the quality of Cretan life. That same night, he drank an ocean of Tsikoudia and danced to Greek music on a rooftop amidst crumbling ruins overlooking the harbor. And he gorged on enough lamb chops and souvlaki to feed three people. His faith was back. He knew he could return home and eventually parade around Northern California with his shirt off. No one would laugh at his farmer's tan anymore.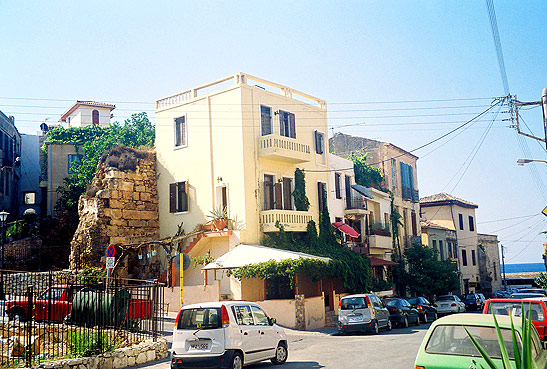 In Chania, homes are built amidst crumbling ruins