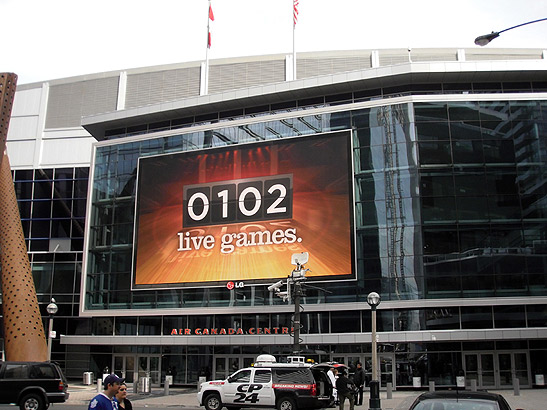 The Air Canada Centre provides a giant screen outside the venue
A Lustful Search:
Hockey and WiFi in Toronto
Story and Photos by Gary Singh


am one of those rapscallions who turn sour when yet another billion-dollar hotel has the belligerent audacity to charge everyone $15 a day for internet access in each of its "newly-remodeled" rooms. I can't tell you how much time I've wasted futzing around with Rube Goldberg $15-a-day accounts while going from hotel to hotel on the road. I mean, why is it that one can find a roadside Cozy 8 in the middle of suburban wasteland America with complimentary Internet in every single room, while so many upscale accommodations refuse to incorporate such simplicity?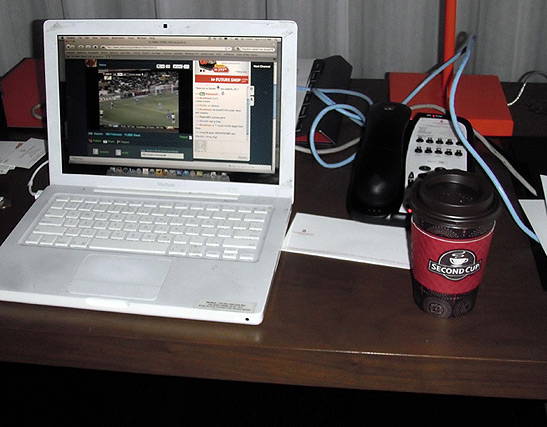 Some hotels provide complimentary WiFi, while others don't.
This is why I fell in lust with Hotel Le Germain Maple Leaf Square during a recent spree through Toronto. Lust at first sight. It was the Internet access. That's right—free. A new hotel with complimentary access everywhere. It was lust at first walk-through. In fact, I didn't even stay the night.
Situated right down the street from and overlooking the Air Canada Centre—home of the Toronto Maple Leafs hockey team—Le Germain challenges one to simplify the amount of verbs any public relations hotshot might use to drive the dialog forward. The property offers, provides, presents, supplies, bestows, portrays, reveals, imparts, conveys and delivers. You betcha.
If one is here on business, a room might even include a desk flanking the entire 20-foot length of a window overlooking the street below. That means loads of workspace and plenty of room for spreading out piles of paperwork.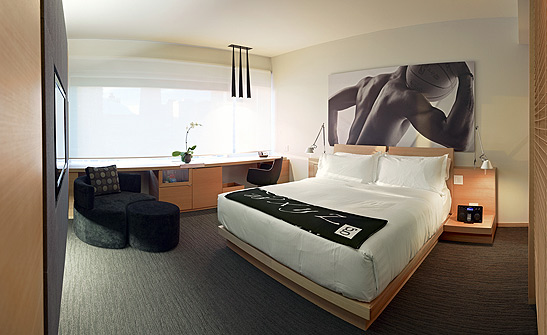 Hotel Le Germain Maple Leaf Square.
The meeting rooms are named after hockey terminology: The Defense Zone, The Neutral Zone, The Penalty Box. For that last one, I asked General Manager Paul de La Durantaye if I could rent the Penalty Box for two minutes or five minutes. He said they'd work on in it.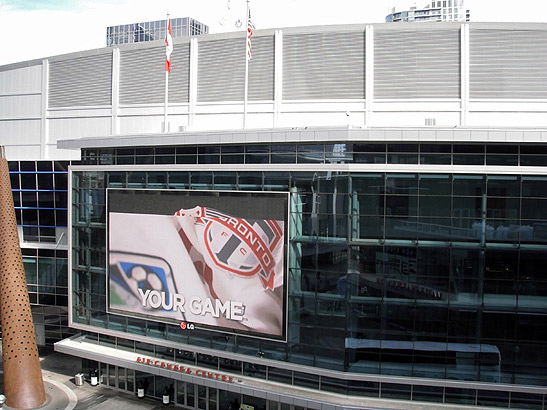 View of the Air Canada Centre from the window of the "Penalty Box" meeting room at Le Germain.
Of course, there's already another Le Germain in a different section of Toronto, on Mercer Street, around the corner from a zillion theaters, and down the block from Wayne Gretzy's Restaurant, which just happens to be on Blue Jays Way. Sports town, you ask? Huzzah!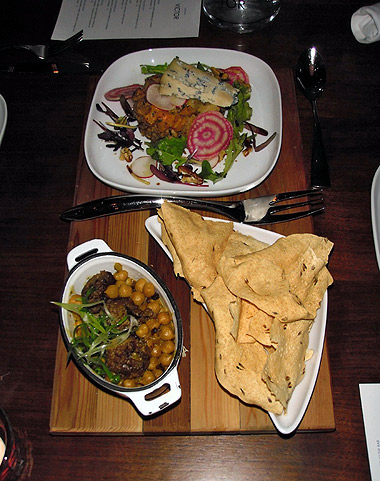 At this older Le Germain, I experienced an exclusively Toronto menu at the hotel's Victor restaurant, where one can order any number of specific dishes from specific ethnic neighborhoods throughout the city—all served family style, intending to be shared. One dish is $14 CDN while seven combined dishes total $79 CDN. Toronto describes itself as a beautifully convoluted and sprawled out mosaic of every ethnicity imaginable, so the idea makes sense. Items included Albacore Tuna Crudo from College Street in Little Italy, Berkshire Pork Souvlaki from Greek Town and Pickled Fish with Beetroot Horseradish from the Polish and Eastern European parts of Roncesvalles. I went for a plate of spiced goat kabob representing the Little India section of Gerrard Street East, as well as a roasted acorn squash salad with walnuts and blue cheese from Toronto's celebrated St. Lawrence Market. What a concept.
I then sunk deeply into the lobby area, an earthy welcoming milieu where one can lounge and choose from a wall of books, floor to ceiling. Plus there's a free coffee-and-espresso machine, and—Yeah!—a free computer with free internet access, 24/7. Other than that, it was unconditional lust. Again, I didn't even stay the night.
Back at Maple Leaf Square, the Vancouver Canucks were in town and since every game at the Air Canada Centre sells out, a huge screen sits above the main entrance. Anyone can watch the hockey game from outside in the street and complain about Toronto's team, which they do even when the Leafs win.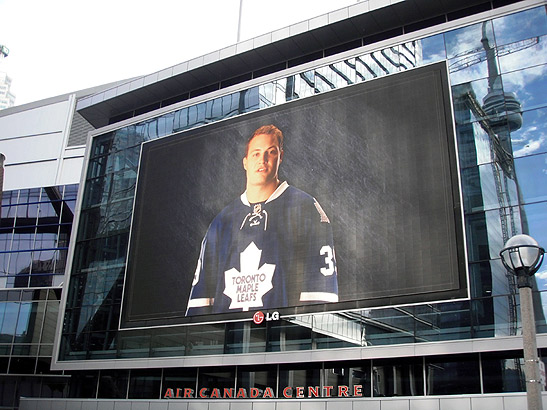 Street view of the giant screen outside Air Canada Centre.
What's more, situated next door to Hotel Le Germain and across the street from the Air Canada Centre, one finds Real Sports, a 25,000-square-foot multistory sports bar with 199 screens, including a beautifully ridiculous 39-foot HD screen, the largest indoor one of its kind in North America. There exists no better place in Toronto to wolf down a peabacon sandwich while watching 14 different games simultaneously.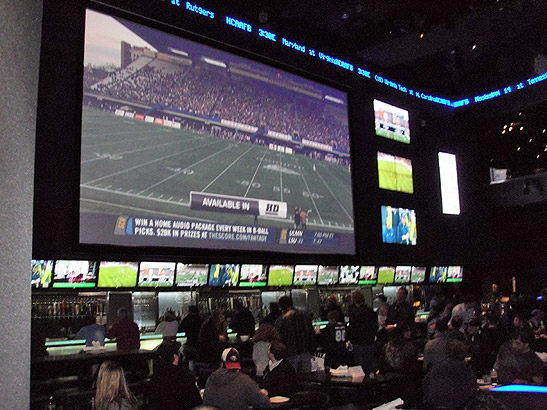 Real Sports, voted Best Sports Bar in North America by ESPN.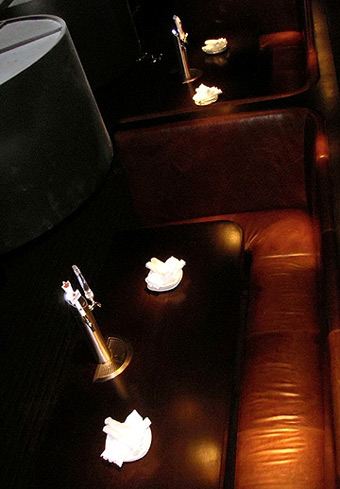 Elite booths at Real Sports come with beer taps at each table
The main space features an 80-foot bar resembling a sheet of ice when lit. The upper floor overlooks the main space and includes a golf simulator, three private suites and the Pitch Bar, which looks like a soccer field. Special booths even come equipped with beer taps at each table. In a recent article, The Globe and Mail compared the entire facility to the NORAD Command Center, which pretty much sums it up. There are screens everywhere, even above the urinals in the men's bathrooms. Everything is operated from the equivalent of a DJ booth, where employees toil away at the controls like royalty.
I walked into a chaotic scene, with even a few sporadic Vancouver jerseys buried amidst the throngs of Maple Leaf regalia. Toronto lost that match in the third period, unfortunately for them, which led to even more grumbling from the local fans, who seemed to be calling for coach Ron Wilson's head before the game even started.
After lusting over free Internet connections at Le Germain Maple Leaf Square, my quick spree through a tiny portion of Toronto was complete. I will now seek, perhaps in vain, to find another hotel just like her.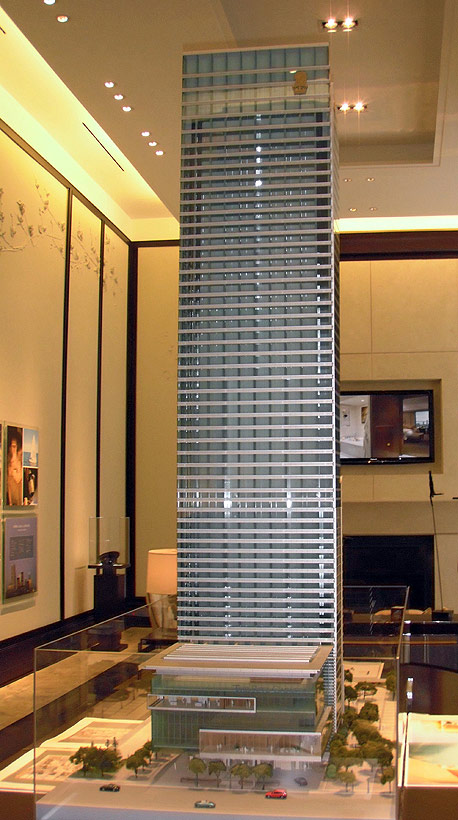 The new Ritz-Carlton in Toronto will be impeccable,
but will it offer complimentary Internet?