Summer Fun At
Bahia Resort Hotel in San Diego
Story and photos by Greg Aragon

ahia Resort Hotel has been a slice of paradise on San Diego's Mission Bay for more than 50 years. With lush gardens and swaying palm trees, Mississippi paddlewheel boats and sprawling beach-front charm, the resort makes a great escape from life's doldrums. Last week a friend and I snuck away to Bahia for a memorable day and night of fun and relaxation.


Bahia Resort is a paradise on San Diego's Mission Bay
Our getaway began when we exited the 5 Freeway near Sea World and found ourselves rounding beautiful Mission Bay, with its luxury hotels, tiny harbors, and spectacular views of the Pacific Ocean. When we got to Bahia, we parked beside a small tropical forest surrounding a large pond with two seals, and then checked into the lobby.
We then drove down a long driveway, past the pool and tennis courts to our modern suite overlooking the bay. The room was highlighted by a spacious living area, with sofa, love seat, large TV, office desk and a kitchenette with sink, refrigerator and granite counter tops and a coffee maker. There was also a spacious bathroom, and a separate bedroom with two double beds and another flat screen TV, and free high-speed Internet.
The suite's most attractive feature was the balcony overlooking Mission Bay, where we sat watching kayakers and paddle boarders drift past and fishermen cast their lines in the deep blue water.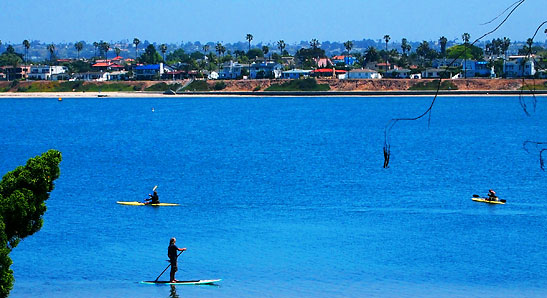 Bahia rooms offer great views of kayakers and paddle boarders
Outside the room we enjoyed the rest of the 314-room Bahia Hotel property, which sits on a secluded 14-acre peninsula, with one mile of white sandy beach and a year-round Mediterranean climate. One of our favorite spots was at the seal pond, watching Billy and Gracie, the resident seals who moved to Bahia from Sea World when they became blind and could not be released into the wild safely. The black and tan pair are fed twice a day, providing a fun environment for guests of all ages.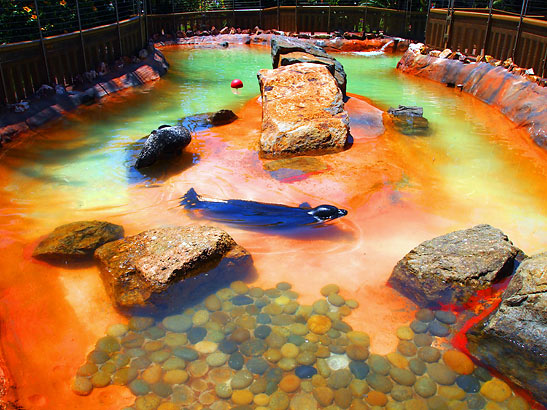 The hotel's seal pond has two seals who moved to Bahia from Sea World
Another cool attraction is the Bahia Belle, the resort's "turn of the century" Mississippi-style sternwheeler. Offering cruises across Mission Bay between Bahia and sister property, The Catamaran Resort Hotel and Spa, the boat features fun and romantic sailings, with live music, cocktail parties and themed cruises. Guests staying at either The Bahia or The Catamaran may enjoy complimentary rides around Mission Bay. The Bahia Belle cruises Wed- Sat evenings in June, and seven days a week in July and August.
Near the Belle, hotel guests can rent kayaks, pedal boats and paddle boards. We opted for the latter and practiced our balance on long surf boards, oaring our way through the calm bay and getting a great arm workout in the process.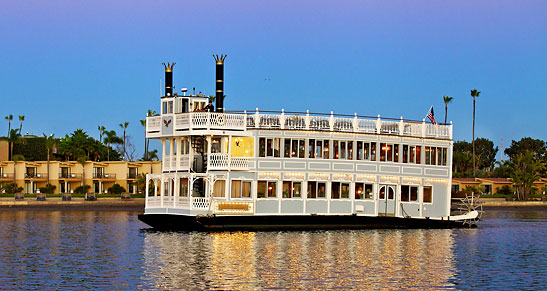 The Bahia Belle takes hotel guests across Mission Bay
Back on dry land we strolled through the property's winding paths, lined with thick tropical gardens, well manicured lawns and trickling streams. Along the way, we breathed in the ocean air and encountered friendly ducks, wondering across the shuffleboard courtyard.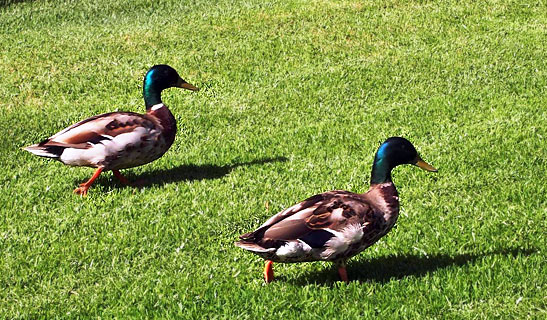 Bahia is full of friendly guests
For dinner, we experienced Café Bahia, the resort's signature Mediterranean-inspired restaurant. Nestled in tropical gardens, Café Bahia serves Southern California cuisine, with a flair for fresh grilled seafood and prime steaks.
Our meal began on the patio with Corona beers and two tasty appetizers: a jumbo shrimp cocktail, and fried cherry pepper calamari with tangy meyer lemon aioli . For the main course I had a tender blackened, Cajun-styled salmon, topped with an exciting mango salsa, and served with mushroom risotto and blue lake beans almondine. My friend devoured the Sriracha-glazed meat loaf, with pork, veal, and Angus beef, served with red bliss smashed potatoes and roasted corn off the cob.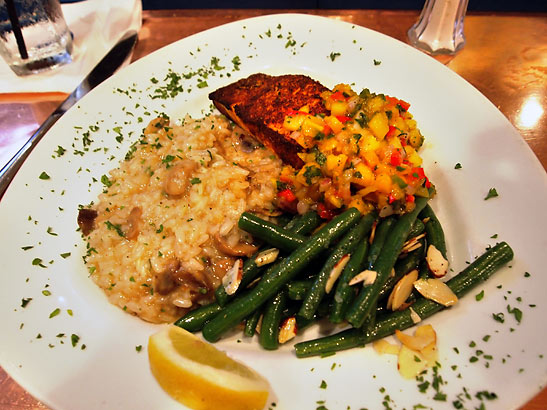 Café Bahia has a flair for grilled seafood and prime steaks
After dinner we had a nightcap at the Tangier Lounge, located next to the Café Bahia. Here in a Moroccan-influenced room with palm fronds, belt-driven fans and live piano bar, we sipped martinis and looked back on a wonderful day.
In the morning, I worked out at the fitness center and relaxed in the Jacuzzi, while my friend swam in the heated junior Olympic pool, which is surrounded by palm trees and has a classic Hollywood feel. We then walked about 10 minutes to nearby Belmont Park, which is located on Mission Beach and features shopping, restaurants and amusement park rides. While here we rode the Giant Dipper Roller Coaster, one of two original oceanfront roller coasters still operating on the west coast.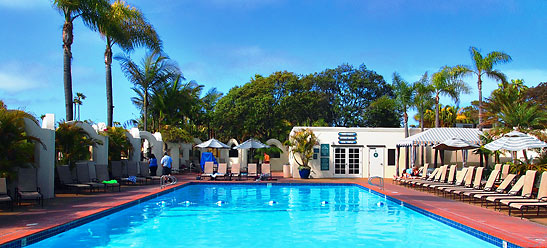 The resort's junior Olympic pool has a classic Hollywood feel
Besides all the regular fun at Bahia, the resort also offer numerous activities such as a video arcade and family movie nights for kids and their parents, bicycles, a Saturday all-you-can-eat "shrimp feast," and various themed dining nights and cruises. The hotel is also planning special beach barbecues for summer.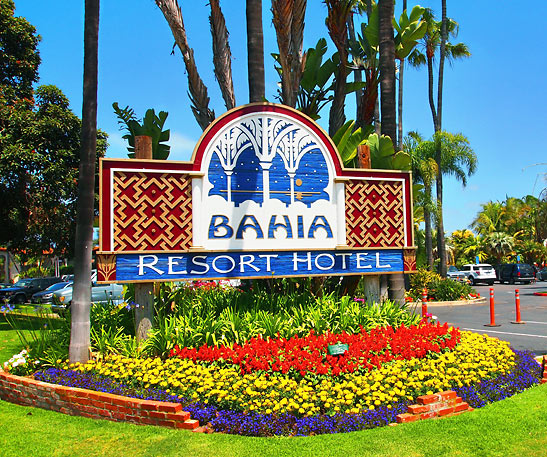 Bahia makes a great escape from life's daily doldrums
Bahia Resort Hotel is located at 998 West Mission Bay Drive, San Diego, CA 92109. For more information and current specials, call (858) 488-0551 or visit: www.bahiahotel.com.
Related Articles:
Hilton San Diego Resort; Passport to San Diego; By Train to San Diego; Coasting Through San Luis Obispo; Orange County Oceanfront; Fall Fun in Santa Monica; Warner Springs Ranch, San Diego; Laguna Beach