Exploring the Island of Kauai
Story and photographs by Greg Aragon

t didn't take long to settle into paradise. In fact, once our plane landed at tiny Lihue Airport, we were able to deplane, catch a free shuttle to the hotel, and begin relaxing on the beach within an hour! Now that's the way to start a trip.
My getaway to the island of Kauai began recently at the beautiful 350-room Kauai Beach Resort. Here, with a warm tropical breeze blowing through rows of palm trees and 25 acres of lush Hawaiian gardens, we checked into a modern room overlooking the resort pool and the majestic Pacific Ocean.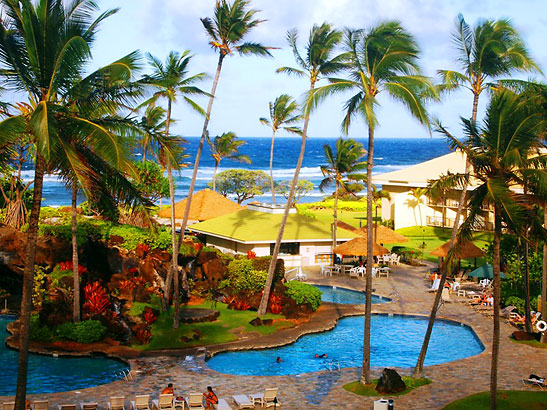 The Kauai Beach Resort sits on 25 lush, beach-front acres of Hawaiian gardens
Featuring a comfy king bed, sofa, flat screen TV, coffee maker, shower and tub, and office area with desk and wireless internet, the room had everything we needed for our 3-night stay. Add to this a large, private balcony with mesmerizing views and it is easy to see why didn't want to leave.
The room was great, but when visiting a post card island like Kauai there is so much else to see. So after unpacking we hit the beach, which is located steps from the resort. On the way to the sand, we grabbed a couple Mai Tais at the pool bar. While strolling along the shoreline, we watched colorful fish swim through coral in the emerald colored water, discovered a small, hidden lagoon next to the resort, and gazed at the rocky outlines of the islands' many mountains.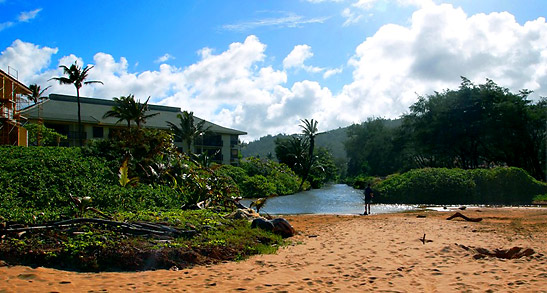 Set on a beautiful private beach, the resort is surrounded by ocean, sand, gardens, and serene lagoons
While sitting next to the lagoon, I read about Kauai, which is also called the Garden Island. As the oldest, fourth largest, and northernmost island in the Hawaiian chain, Kauai is enveloped in emerald valleys, pointed mountain tops and jagged cliffs. Eons of growth have created tropical rainforests, meandering rivers, and tumbling waterfalls. Adding to the magic and mystery of the island is its seclusion; much of Kauai is only accessible by sea or air.
Back at the hotel, we watched a traditional Hawaiian dance and music performance at the pool area. Called E Komo Mai or welcome reception, the weekly event features free mai tais, Polynesian music and hula dancing against the backdrop of an unforgettable tropical sunset.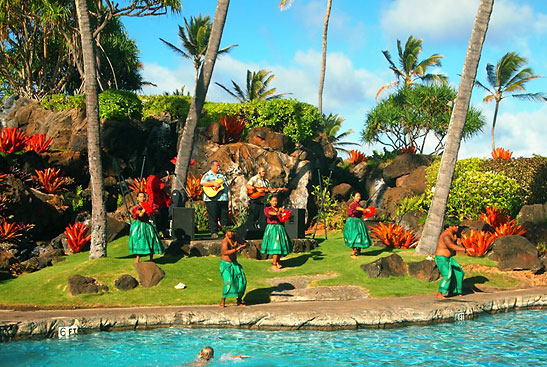 The E Komo Mai is a traditional Hawaiian dance performed weekly at the resort
After the reception, we had dinner at Naupaka Terrace, the resort's signature restaurant. Inspired by Hawaii's indigenous naupaka flower, the plantation-style restaurant features creative Hawaiian and Pan Pacific cuisine, Asian inspired dishes, fresh island catch, aged beef, salads, pastas and delightful desserts.
Our meal began with salad and red wine on the outdoor terrace, overlooking torch-lit waterfalls, fishponds and the ocean. For a main course, my friend had a sizzling New York steak, with grilled mushrooms and onions, and garlic mashed potatoes; and I devoured fresh Opah fish, with rice and veggies. For dessert, we shared handmade ice cream.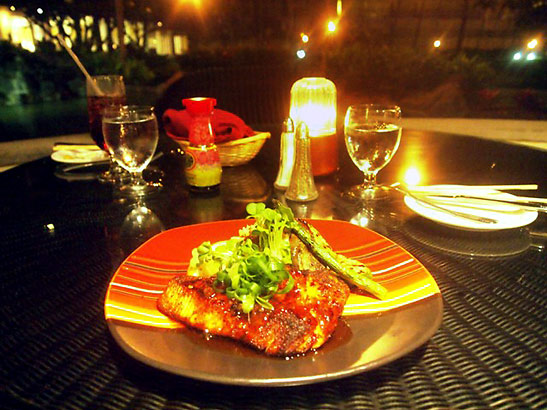 The resort's Naupaka Terrace serves creative Hawaiian and Pan Pacific cuisine, such as delectable Opah fish
In the morning we set out for a cruise along the legendary Napali Coast. Led by Holo Holo Charters, this memorable Sunset Dinner Sail began in Port Allen Harbor. Here we met the captain and crew of the Leila, a sleek, 28-ft-wide catamaran. Once aboard Leila, we got a quick seafaring lesson from Captain Amy, and then held on tightly as the boat zoomed into the gorgeous Napali Coast.
Featured in movies such as Jurassic Park, King Kong, and Raiders of the Lost Ark, the Napali Coast is one of the most scenic spots on earth. With its jagged peaks, secluded beaches, lost sea caves and sapphire waters, it's easy to see why Hollywood directors pay thousands of dollars per day to film here.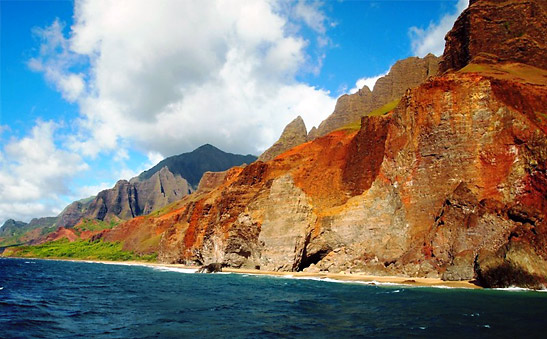 One of the most scenic spots on earth, the magical Napali Coast was featured in movies such as Jurassic Park, King Kong, and Raiders of the Lost Ark
During our cruise, the wind was blowing strong and the Leila surfed over large waves providing an exhilarating roller coaster ride that had all of us passengers screaming with joy. When the waters calmed, we saw wild goats climbing nearby rocks and sea turtles and dolphins swimming beside the boat. On our way back to port, the crew put up Leila's massive sails and we cruised into the sunset while enjoying a great lasagna dinner.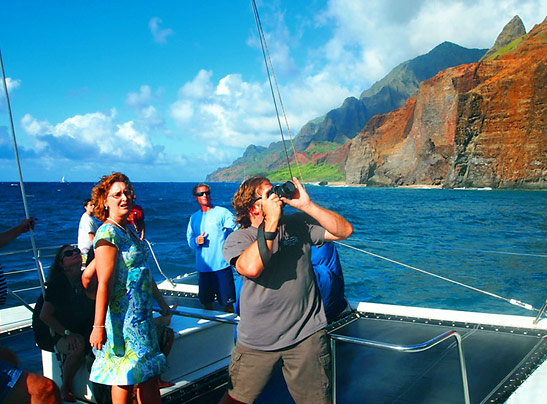 Holo Holo Charters sails along the Napali Coasts, offering dinner cruises, island hopping, snorkeling and more
The next day we rented a Jeep Wrangler at the hotel's activity desk and drove to Wailua Falls, a spectacular 170-foot doubled barreled waterfall. Made famous in the television show Fantasy Island, the falls are located in a lush, bowl-shaped canyon and tumble into a serene pool. Next to the lookout point, we hiked down a slippery, makeshift trail to the top of the falls, where we found a jungle stream feeding the runoff.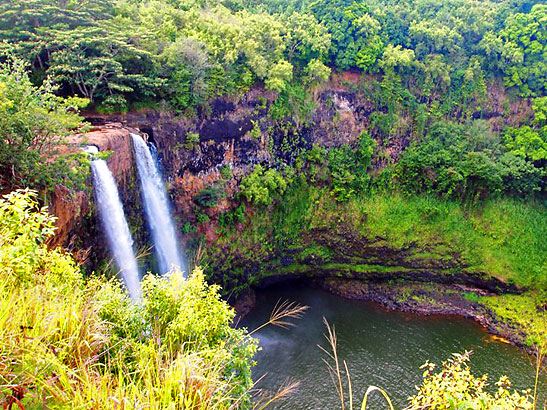 Wailua Falls cascades170-ft down into a serene pool
Back at the Kauai Beach Resort, we met two local artists in the lobby – one was painting gorgeous Kauai scenery and the other was making hand-crafted jewelry. We concluded the evening with live music at Shutters Lounge and a spell in the Jacuzzi, sipping Mai Tais as palm trees swayed, the wild chickens strolled by, and waves crashed against the enchanting "Coconut Coast."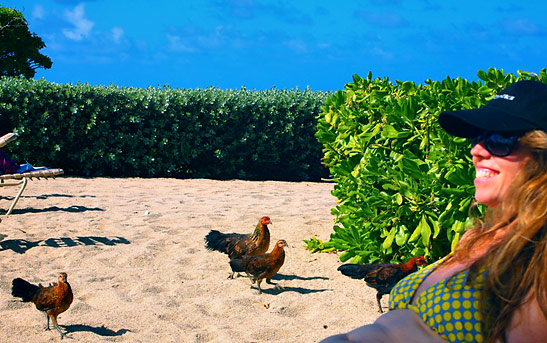 Kauai is known for its ubiquitous wild chickens that roam throughout the island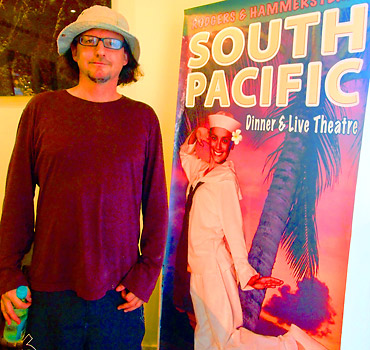 The Kauai Beach Resort hosts a South Pacific Dinner & Live Theater each week
The Kauai Beach Resort features four swimming pools, including 2 lagoon pools with waterfalls and a 75-ft lava tube water slide, and one with a sand bottom; a full service spa and salon; fitness center; gift shop; room service and more than 26,000 sq-ft of event space.
For golf lovers, the resort is currently offering a $59 gold package on Mondays and Thursdays that includes green fee and cart, as well as warm-up bucket, discounted club rentals, free beverage and free roundtrip shuttle to course. Every Wednesday in the resort's Jasmine Ballroom, the hotel hosts South Pacific Dinner & Live Theater, a live production of the iconic island musical "South Pacific," presented with dinner.
For information on staying at Kauai Beach Resort, visit www.kauaibeachresorthawaii.com. For more information on Kauai, visit: www.gohawaii.com/kauai.
Related Articles:
The Garden Island of Kaua'i; Oahu's North Shore; Big Island Hawaii; Maui's Upcountry; Lahaina, Maui; Hana Highway; Hawaii Surfing