Searching for Blue Whales At Aquarium of the Pacific
In Long Beach
Story and photographs (unless otherwise noted) by Greg Aragon

he blue whale is the largest animal to ever roam planet earth. It's bigger than any dinosaur. It can grow to 100ft-long, weigh 170 tons and eat eight tons of krill each day. Its tongue is even bigger than an African elephant. So when I heard that a couple of these magnificent monsters were currently swimming off the coast of Long Beach, I knew I had to investigate.
My journey began at the Aquarium of the Pacific, where I reserved a Blue Whale & Sea Life Cruise combo ticket that includes a whale watching trip with Harbor Breeze Cruises and a visit to the aquarium. I then boarded the brand new MV Triumphant, a 150-passenger, 83-foot-long catamaran, specially designed for ocean exploration and wild life viewing.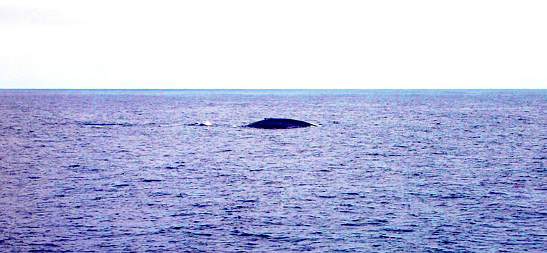 The blue whale is the largest animal to ever roam planet earth and its tongue is bigger than an African elephant
Once aboard the ship, I met two biologists from the aquarium, Captain Dan Salas, CEO of Harbor Breeze Cruises, and a few other passengers. After a brief update on the whales we would be looking for, Captain Dan put the boat in gear and we zoomed at about 20 knots toward the open sea, passing the Port of Long Beach and the fabled Queen Mary along the way.
About 10 miles out the captain cut the engines and we drifted in silence, scanning the surface of the water for signs of the giant creatures. The whales that have been spotted lately have been dubbed "Hook" and "Delta." As we searched for the pair, the captain told us to look for a "puff of steam or a puff of smoke" coming from the surface, and also watch for the animal's "footprint," which is a glossy, calm area in the water that resembles an oil spill.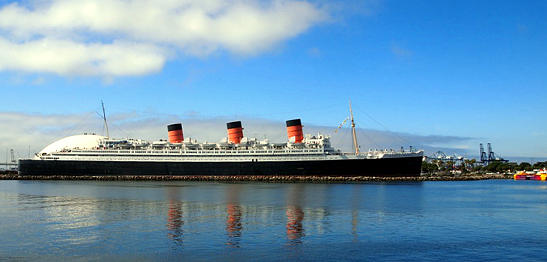 Whale watching in Long Beach offers views of sea life and famous landmarks
In a few minutes, a crewmember yelled, "there she blows!" and we all turned to see a spout of water, followed by a massive body break the surface. As it gently rolled, we held our breaths until its gigantic, distinctive tail popped out. The creature then dived back down for about 12 minutes, until coming up a quarter mile away.
While waiting for the next sighting, marine biologist Kera Mathes and senior marine mammal biologist Michele Sousa, both of Aquarium of the Pacific, answered passenger questions about the endangered whales, and showed us examples of krill, the animal's favorite food. During this time, I also explored the new ship.
Christened last month, the M/V Triumphant is sleek, powerful and efficient. It consumes 30 to 40 % less fuel than similar passenger vessels, and its hull design features a hydrofoil wing lifting system. It also boasts a wheelchair-accessible, wrap-around exterior walkway on the main deck, a bow with stadium seating, a snack bar and dance floor.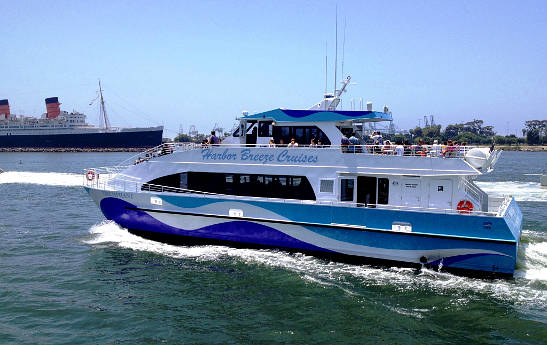 The new 150-passenger MV Triumphant catamaran is specially designed
for whale watching
After watching the whale blow off a little more steam, we headed back to port, followed by large schools of playful dolphin. Once disembarked, we strolled over to the Aquarium of the Pacific to learn more about ocean life.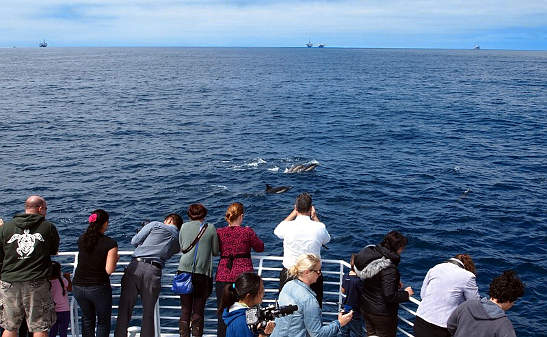 Playful dolphin love to follow whale watching boats
Showcasing more than 12,500 animals, the aquarium is built around three themed areas of the Pacific Ocean: the sunny Southern California and Baja region; the frigid waters of the North Pacific; and the colorful reefs of the Tropical Pacific. Sprinkled around these main areas are numerous other fun and informative exhibits, including Shark Lagoon and Lorikeet Forest.
The first thing I wanted to see at the facility was Toby, a 70-pound male harbor seal pup born at the Aquarium of the Pacific on May 1. Toby's mother Shelby came to the Aquarium in 1998 and his father Troy came to the Aquarium in 2007. After seeing the adorable seal, I checked out one Ocean Exploration, an exhibit which transports visitors into the pitch black world of the ocean's deepest depths. Here, in a place few humans have ever traveled, the Aquarium sheds light on mysterious creatures most people have never seen.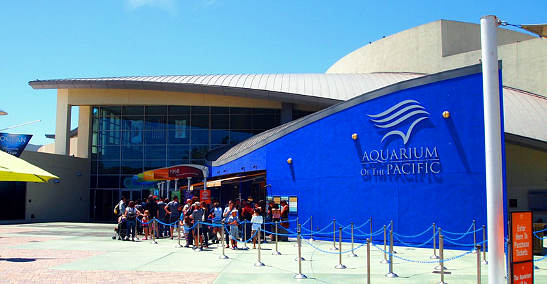 The Aquarium of the Pacific showcases more than 12,500 animals and is built around three themed areas of the Pacific Ocean
"Through this program, the Aquarium hopes to inspire a push to explore our planet's last physical frontier – the World Ocean," says Dr. Jerry R. Schubel, Aquarium of the Pacific president and CEO.
A highlight of the new exhibit is Wonders of the Deep, which features unique animals that live beyond the reach of light. Through lighting and audio-visual effects, I encountered bioluminescent flashlight fish that produce their own light and hagfish that emit slime. Also in this section I discovered how animals survive in extreme temperatures, with scarce food sources, and water pressure that could easily crush submarines and humans. One way they survive is by eating the bodies of animals like whales that die and very slowly sink to the bottom.
One of my favorite outdoor Aquarium exhibits is "Shark Lagoon," where visitors get up-close and even touchy-feely with more than 150 of the ocean's ultimate predators. On my recent getaway, I peered through glass and came within inches of the chomping jaws of sand tiger, sandbar, nurse, whitetip and other large sharks.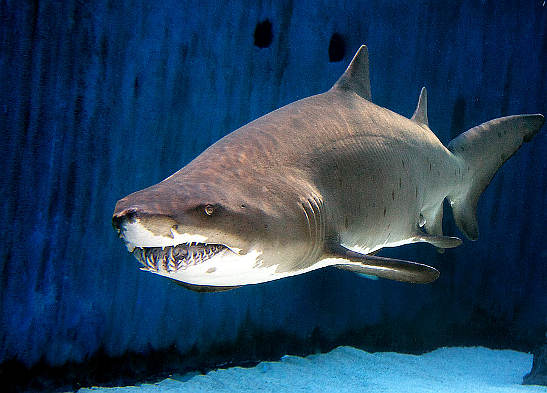 Shark Lagoon lets visitors get up-close with more than 150 of the ocean's ultimate predators. Photo Courtesy of The Aquarium of the Pacific
In another part of the exhibit, docile Zebra, bamboo, and epaulette sharks are available to touch in three shallow pools. I learned to use a delicate, two finger touch technique on the animals, which I think they liked since I still have my fingers. Swimming with the sharks are giant graceful rays, such as the reticulate whipray that can grow to 14 ft in length.
Leaving the sharks, I journeyed through "Lorikeet Forest," a 3,200-sq-ft outdoor aviary where a crashing waterfall and lush trees are home to brilliantly colored lorikeets, which normally live in the coastal lowlands of Australia. In this rainforest, I bought a cup of nectar and hand fed flocks of chirping birds as they landed on my arms and head.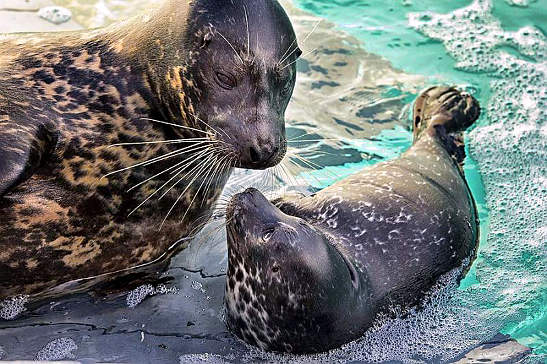 Toby is a cute 70-pound male harbor seal pup recently born at the Aquarium.
Photo Courtesy of The Aquarium of the Pacific
The Aquarium of the Pacific is located at 100 Aquarium Way in Long Beach, CA. For information call (562) 590-3109 or visit www.aquariumofpacific.org. The Blue Whale & Sea Life Cruise combo ticket is $59.95 – adults 12 or older; $55.95 – seniors 62 or older; and $39.95 – child. Harbor Breeze Cruises whale watching only tickets are: $45 on weekdays and $50 weekends per adult, $40 per senior, $30 per child. For more information, visit www.2seewhales.com.
Related Articles:
Escape to Catalina Island; Finding Peace in La Paz; Images of La Paz, Baja California Sur; Monterey Bay; Spring Vacation at Laguna Beach; Top Ten Things to Try at Catalina Island; Images of Laguna Beach